What is Deputy HR?
In July 2023 Deputy released Deputy HR, a new and separate subscription offering that comes with the following products and features:
✨ [New] Hire - applicant tracking system: This feature allows you to streamline your hiring process by managing and tracking job applicants efficiently. It simplifies candidate selection, communication, and overall recruitment tasks. Read more about Hire.

✨ [New] Documents - manage & store employee documents: With this feature, you can securely store and manage essential employee documents, such as contracts, certifications, and other HR-related paperwork. Read more about Documents.

New hire onboarding - paperless onboarding: ensures your new hires a seamless and welcoming experience. Read more about New hire onboarding.
Deputy HR is entirely separate from your current Deputy subscription. The new subscription gives you access to HR-focused tools, improving your HR management abilities.
What is the cost of Deputy HR?
Subscription Fee:
When you subscribe to Deputy HR, there will be an additional cost of AUD$2.50 (excl. GST) /£1.40 (excl. VAT) per active user per month.
This fee applies to all users within your account that are not archived. If you archive a user part way through a month you will still incur a charge for Deputy HR in that month but not the next month.
Changes in Hire Onboarding Fees:
As of October 1st, 2023, the previous one-time fee ($15/£8) for onboarding will no longer be available. Instead, the new subscription model will be in effect.
If you have any further questions or need assistance, feel free to reach out to our Support team.
What happens if I don't subscribe to Deputy HR?
If you decide not to subscribe to Deputy HR, you will still have access to your regular Deputy plan including the ability to add team members to your account, however, after October 1st 2023 you will no longer have access to the following features:
You can still subscribe to Deputy HR at any point after 1st October 2023.
Can I continue to use New hire onboarding with the current pricing?
No, New hire onboarding is only available as part of the Deputy HR subscription.
I have pre-purchased an onboarding pack, can I subscribe to Deputy HR
Yes, you can subscribe to Deputy HR. Here's how it works:
Using Pre-purchased Onboarding Packs: If you have already pre-purchased an onboarding pack, you can use any remaining onboarding credits until they expire. You will have access to Deputy HR at no additional costs during this time.
Transition to Deputy HR Subscription: Once you have used up all the onboarding credits in your pre-purchased pack, you will no longer be able to buy additional onboarding packs. To continue using the new hire onboarding feature, you will need to subscribe to Deputy HR.
For further assistance or any questions, get in touch with your Customer Success Manager or Account Manager.
How do I cancel my Deputy HR subscription?
If you have subscribed to Deputy's add-on HR subscription System Administrators can cancel that subscription independently of their Deputy plan subscription.
If you have cancelled your Deputy HR subscription after 1st September 2023 you will:
receive an invoice for the HR subscription charges for that full month in which you cancel
retain access to full Deputy HR functionality until the end of that month
However at the end of that month:
you will lose access to view, update or download documents uploaded during the time you were subscribed to Deputy HR
you will lose access to new hire onboarding forms completed during the time you were subscribed to Deputy HR but you can delete previously uploaded documents.
you can no longer access Deputy Hire. Therefore you can no longer create new job listings or manage existing job listings. The Careers page will no longer be available for your Deputy account.
To cancel your HR subscription:
1. Select Account Overview from the drop-down menu under your name.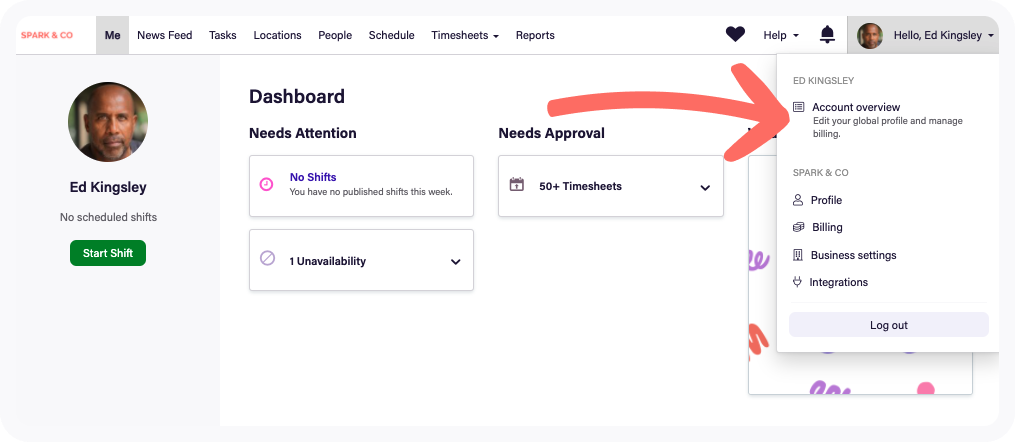 2. Locate the business you would like to cancel the Deputy HR subscription for and select Settings.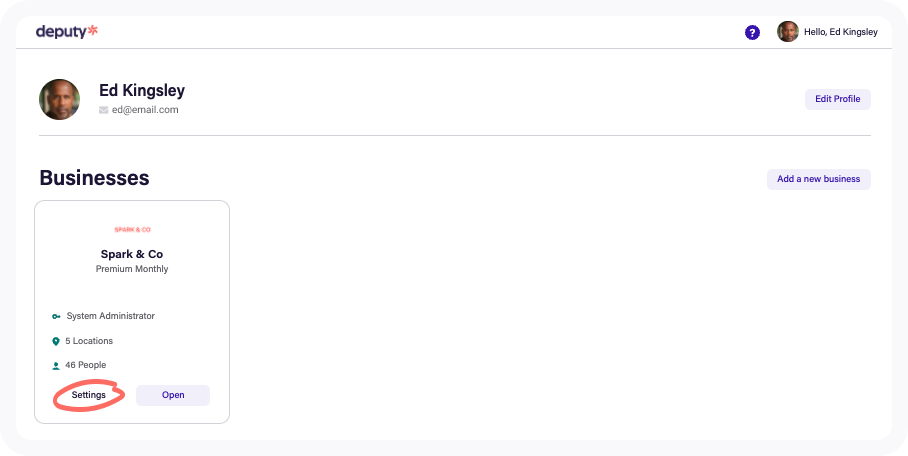 3. Select the Plan tab on the left-hand side menu then click on the link to Cancel HR subscription.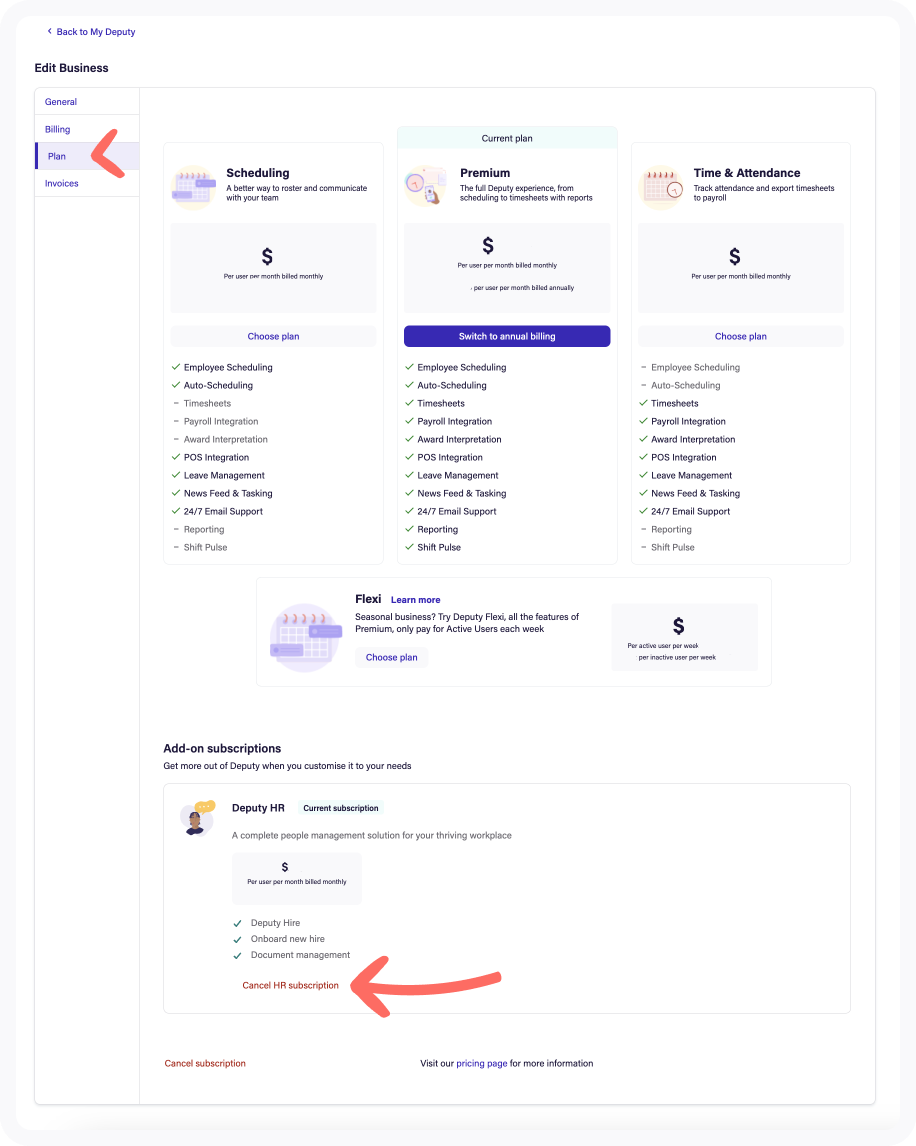 4. You receive a warning that you are about to cancel your Deputy HR subscription and when you will lose access to the features. Click Cancel subscription to proceed.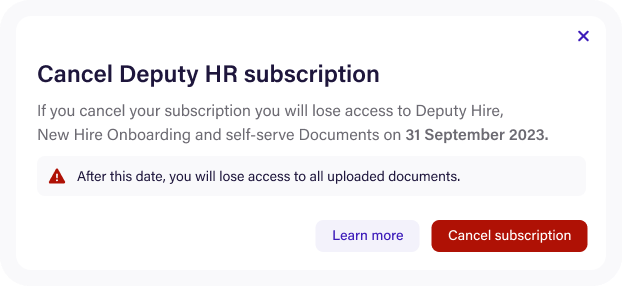 Note: if you used Deputy New Hire onboarding on a pay-per-use model in the period before you subscribed to Deputy HR, you will retain the permission to access the onboarding forms for the team members onboarded during this pay-per-use period.