What kind of notifications do managers receive from Deputy?
Let's look at the types of notifications Managers (Supervisors, Location Managers or System Administrators) can receive:
How do managers receive notifications?
If managers are logged into the Deputy mobile app then they will receive a push notification on their phone and no email notification.
If managers are not logged in to the Deputy mobile app they will receive an email instead.
On the Deputy website, a notification will also appear for managers under the bell icon on the top right-hand side of the screen.
Can I customise which manager receives the notification?
In some cases, the notification the manager receives is specific to them. Some examples are:
News feed message sent directly to the manager from a team member
Leave request with the manager nominated as the approving manager
Tasks completed that the manager created
However, in other cases, you can customise the recipient of a notification.
For notifications related to events such as:
open shifts that have been claimed
shift swap approvals
The System Administrator or Location manager can customise the schedule settings of their location so that these notifications can be directed to the desired manager.
1. On the Location page, click on Edit settings for the location you wish to customise.
2. Select Scheduling and select the Shift notifications recipient then click Save.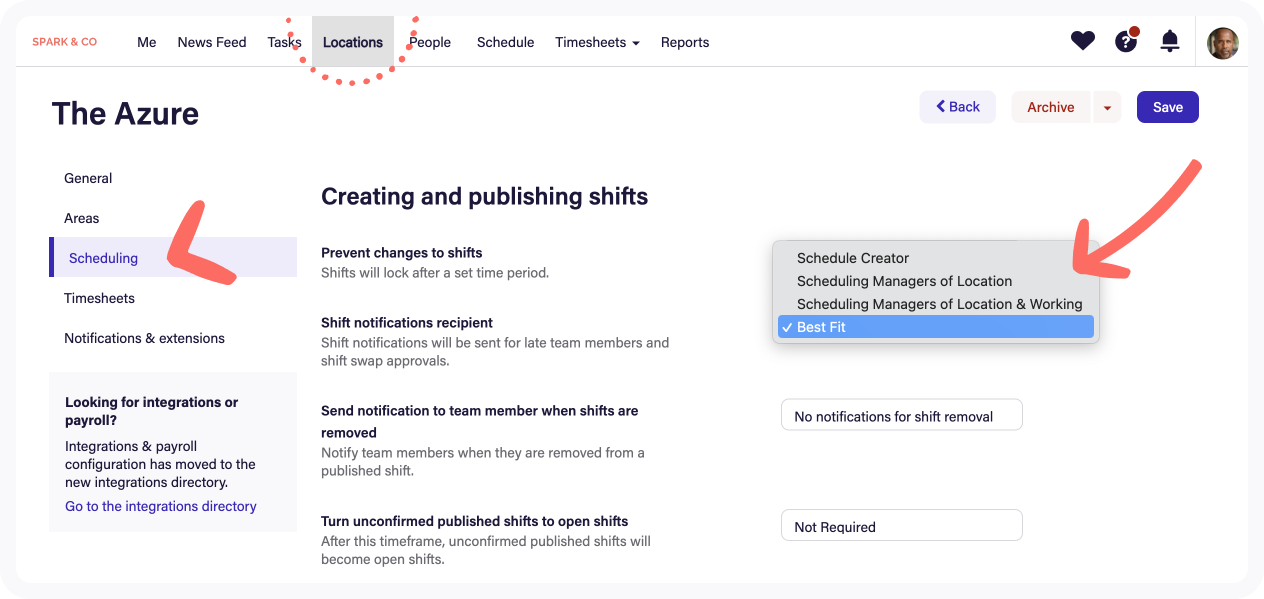 The below table describes the outcomes for each Shift notification recipient option:
Shift notifications recipient
Who is notified?
1
Schedule Creator

The manager (Supervisor, Location Manager or System Administrator) that created the shift that triggers the notification will be notified.

2
Scheduling Managers of Location

The lowest level manager (ie. Supervisor) associated with the location will be notified regardless of whether they created the shift or not. If there are no Supervisors then the Location Manager will be notified. If there are no Location Managers then the System Administrator will be notified.

Only the lowest level manager for that location will be sent a notification and no further notifications will be sent to higher managers for that notification event.

If there are several managers at the same level they will all receive the notification.

3
Scheduling Managers of Locations & Working

This option will apply rule 2 for Scheduling Managers of Location and add the criteria that they must be clocked into a shift to be sent the notification.

Eg. A Supervisor at a location is not clocked in for a shift but the Location Manager is clocked in so the Location Manager will receive the notification.

4
Best fit

This option will determine the most appropriate team member to notify.

First, it will apply rule 3 above:

Scheduling Managers of Location & Working

If none then rule 2 above:

Scheduling Managers of the Location

If none then rule 1 above: