New Unavailability > Send Notification
This extension enables the ability for managers to receive a notification when an employee enters a set of unavailability dates. The manager that enables the extension will receive a notification for each new unavailability entered.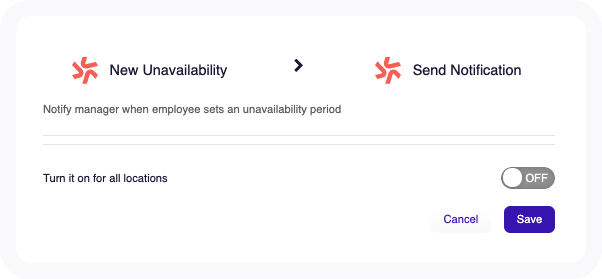 Upcoming Stress Schedule > Send Notification
As a timesheet can be altered from the original schedule, there may be instances where a schedule may cause an employee to exceed their set stress profile hours.
An example of this is a worker under a study visa may only work 20 hours a week. If they are schedued for 20 hours, their timesheets may show that they have additional time on top of their scheduled hours.
This extension will send out a notification in these instances. Which manager gets the notification?
Unfilled Open Shift > Send Notification
Open Shifts are sent out to all appropriately trained and available employees. If one of these employees does not take the shift, the manager will receive a notification to let them know.
You can set the time before the unfilled shift starts to be notified. Which manager gets the notification?