Connecting integrations
It's easy to connect third-party software, such as your payroll, to Deputy to sync over your employee information into Deputy. Read Connecting new integrations for general information to get started with this.
However, if you are setting up a new Deputy account and would like to connect to your payroll system to sync your employee information across to Deputy but aren't quite ready to invite your team members to Deputy, you can still do this via the People page. That way, you can:
Import people from your payroll
In this example, we will connect to Xero to import employees but the process is the same for other systems you can connect.
1. On the People page, click on Add People and select Add multiple Team members from the dropdown menu.

2. In the Add manually section, select the Deputy Location you would like to add these new employees to then click on Import or upload a file.
3. Select your payroll system from the dropdown list.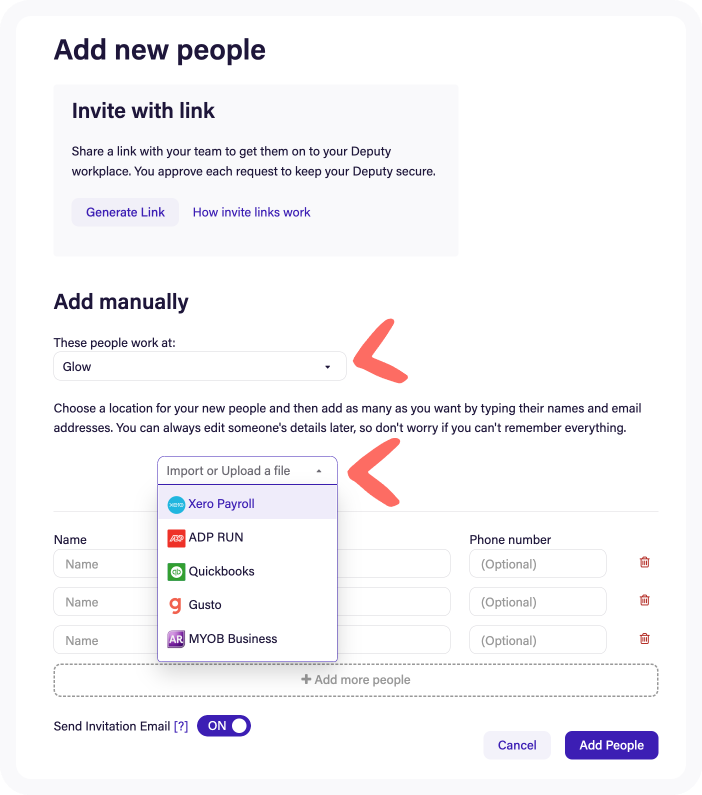 4. In a popup you will be prompted to enter your credentials to log into your third-party provider and allow Deputy to access as shown below in this example from Xero.
Note: If you are connecting to Xero and have multiple Xero accounts to choose from you may see a different popup here allowing you to select the correct Xero organisation to connect to as shown in Connecting Deputy and Xero.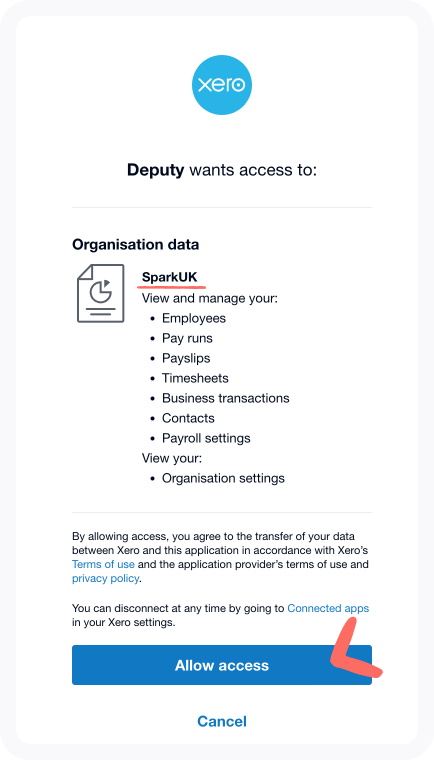 5. Once you have authorised access you will be returned to Deputy and you will see a list of all employees from your payroll system appear.
6. At the bottom of the list there is an option to toggle off Send Invitation Email. You should switch this to OFF if you are not ready to invite these employees to Deputy before you click Add people.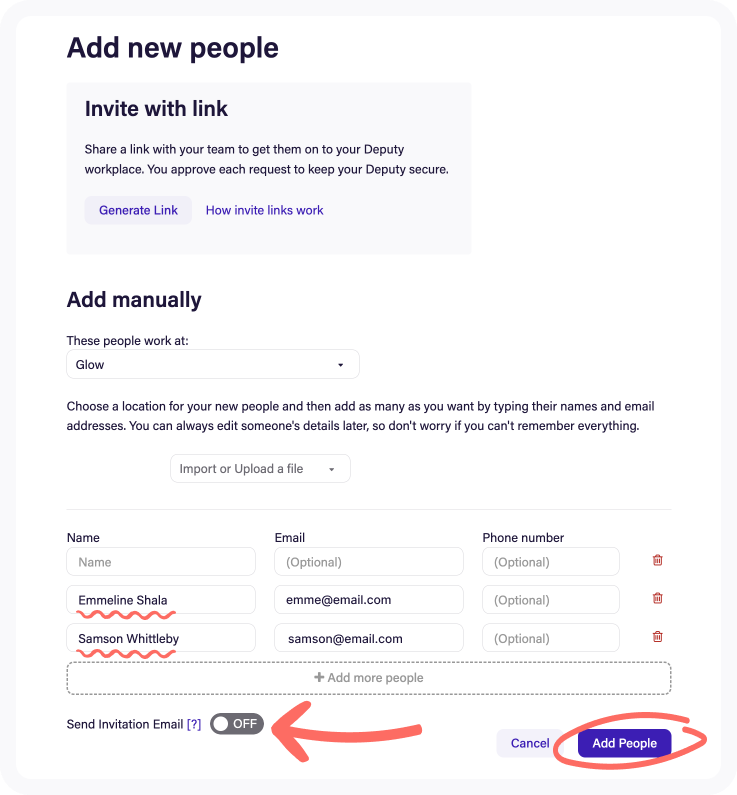 7. You can see now that the team members have been added to Deputy but not yet invited.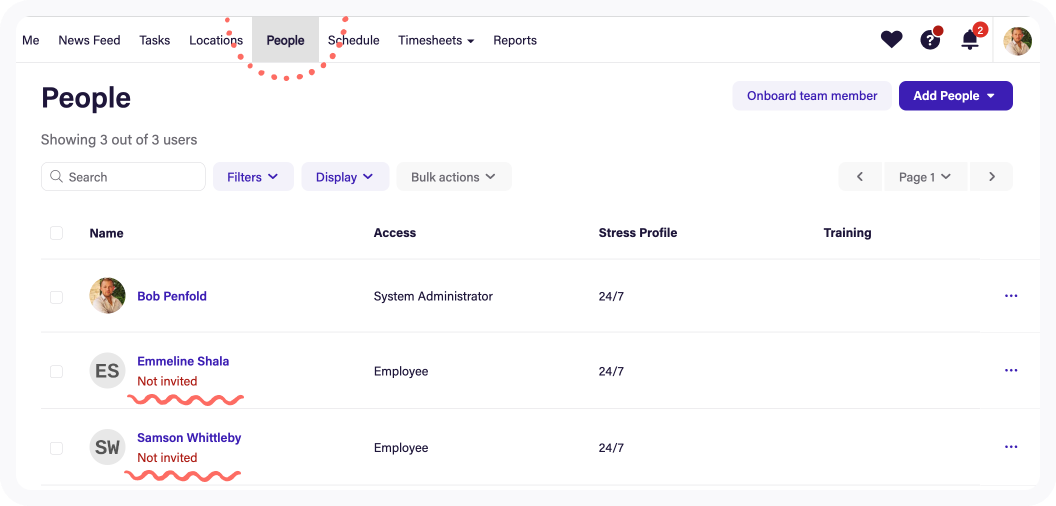 Send an invitation to Deputy later
Once your new Deputy account is set up and you are ready to invite your team to join it's as easy as going back to the People page and selecting the people you wish to send invites to and then selecting Bulk actions > Send Invite.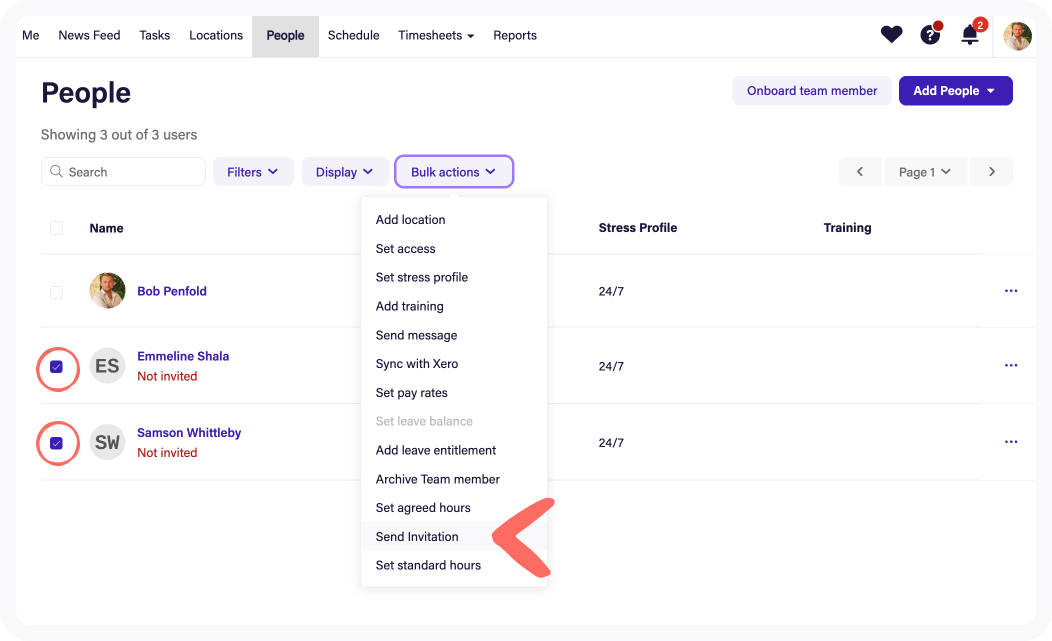 Don't forget you can use the Filter selection on this page to display all people without an invitation or any other subset of the list you require to filter before you apply the bulk action Send invitation.