The article explains how to use Deputy News Feed and Posts to communicate with your team members and will cover:
The News Feed allows you to communicate with your team members. You can:
send a post directly to a team member (or group of team members)
upload photos, videos and PDFs
request confirmation of a particular post.
It's a great way to track which team members have signed off on important policies and procedures. You can also view the full log of past announcements, meaning you'll be able to see who made a particular post and when.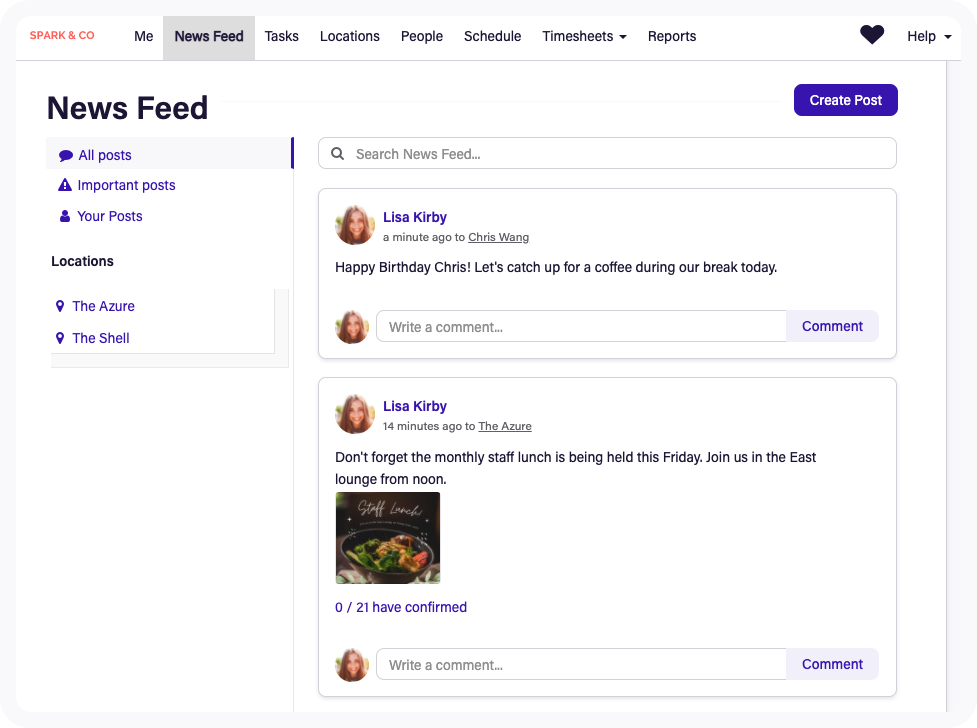 Who can create a post
However, users with Employee level access can not request read confirmation from any other team members. Only users with higher level user access may request confirmation from those below them in the hierarchy.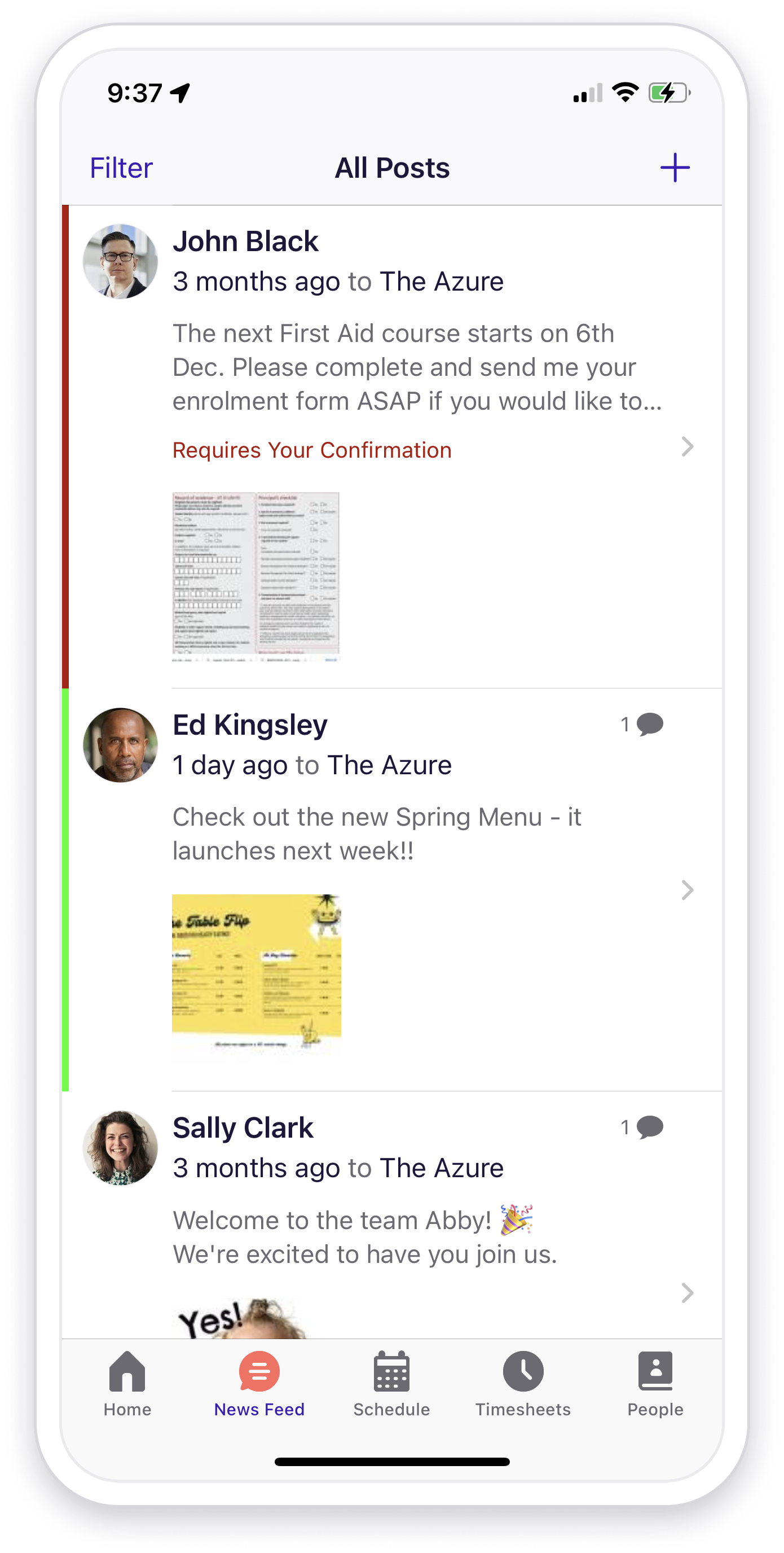 Who can see a post
You can see and share posts with team members you have access to, meaning those you share a workplace with or those you manage.
You are only able to see messages that are relevant to you. If a team member posts a message to a location that you work at, then you will be able to see and comment on the post. However, if one team member sends posts directly to another team member, only those two team members are able to see that post.
How to create a post
1. Using Deputy on the web, click on News Feed at the top of the screen.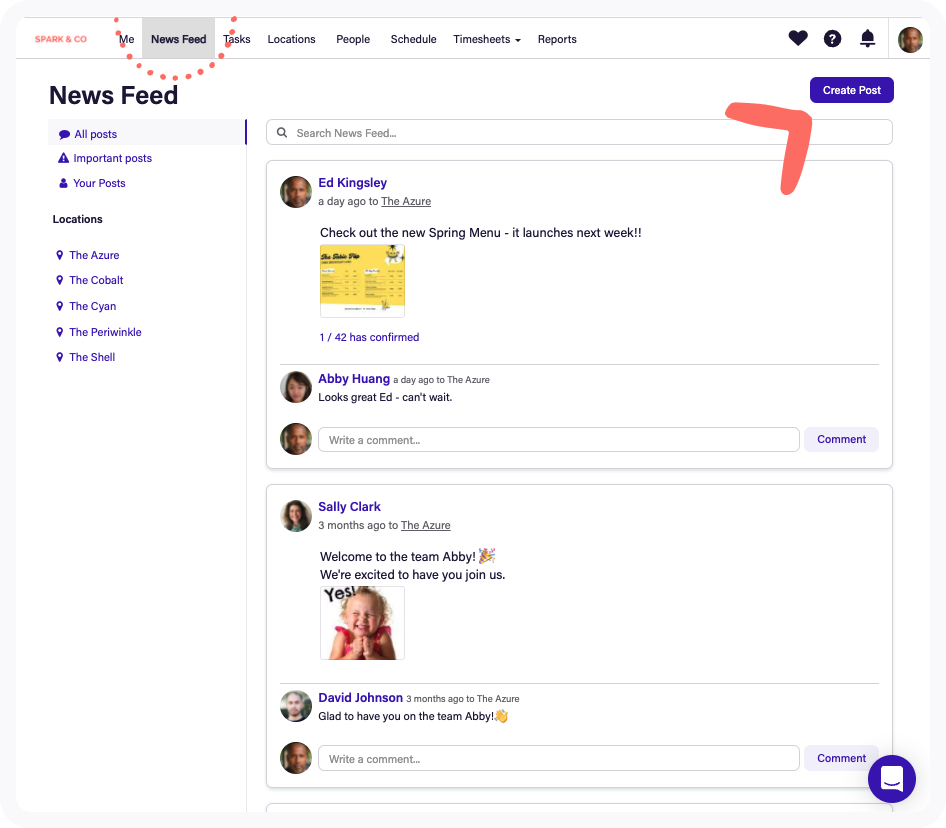 3. Select who you would like to share your post with. In the dropdown, you will see the full list of locations and team members you have the permission to post messages to
Rather than scrolling through the list, you may type the name of the location/person you'd like to share the post with, then click the name when it appears. Alternatively, you may select "All" to share it with everyone.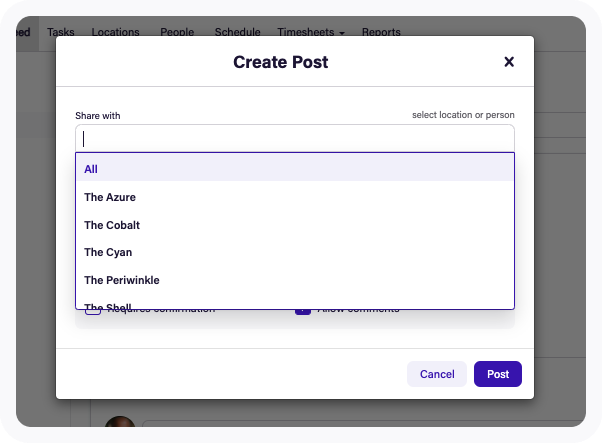 4. Enter the text you would like to send. This can be anything you'd like to add, whether it be a short message, a link, or a long post. The character count limit is 3000.
5. If you would like to attach a file to the post for your team to view or download, please click Add Media. You may attach JPG, PNG, MP4, MOV and PDFs to the post. To attach the file, find it on your device then select it and click Open. You may attach up to 4 files, however, there is a limit of 10MB per file.
6. Tick the check box if you would like your reader to confirm they have read the message or allow the reader to comment on your post.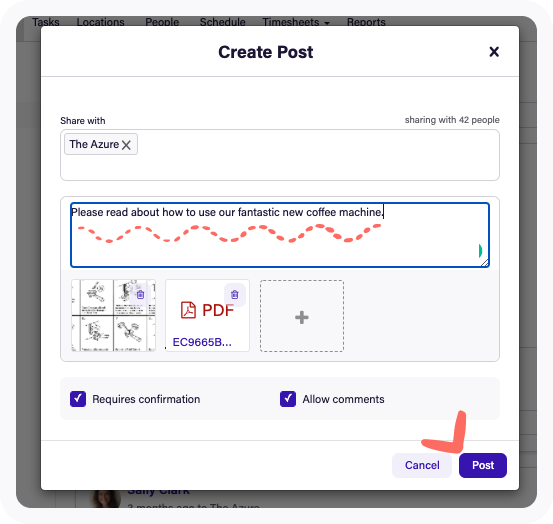 This means that any team members (subordinate to you) must sign off that they have viewed the post by clicking I Confirm. This allows you to track which team members have signed off on a post.
Confirming you've read a post
If the author of a post has requested you confirm you've read a post then I Confirm will appear under the post.
Click I confirm to let the author know you have received and read their message.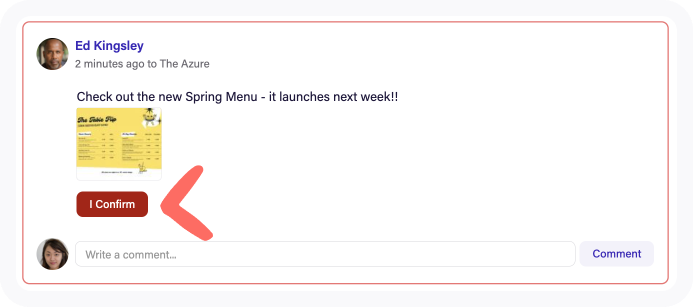 Once you have confirmed you've read a post, a green tick with Confirmed will appear under the post.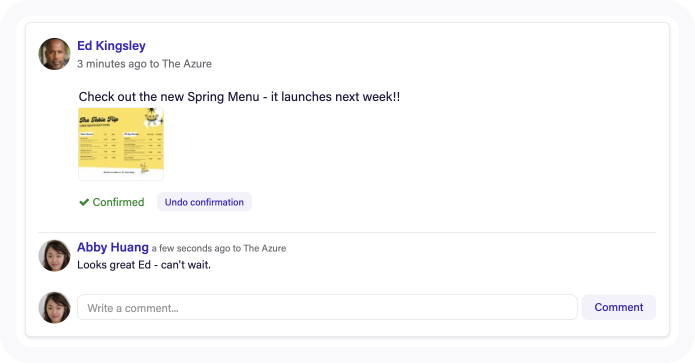 Commenting on posts
If you have permission to comment on a post, a text field will appear next to your profile photo under the post. Just type your message and click Comment.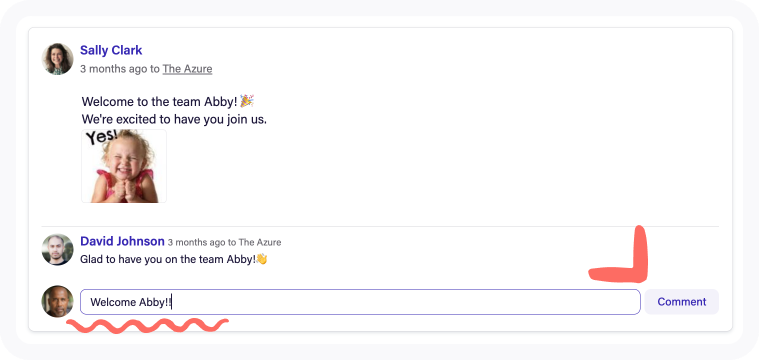 Permission to post and comment
By default, all team members in your organisation have the ability to post and comment on messages in the News Feed.
Enabling and disabling permissions at an account level
System Administrators do also have the ability to disable and enable specific user access levels from posting and/or commenting on News Feed posts if desired.
Setting permission to comment on a specific post
There is also the ability to decide whether you want team members to be able to comment on a post when you create the post.
If you would like to allow commenting on your post just select the check box at the bottom of the window before clicking Post.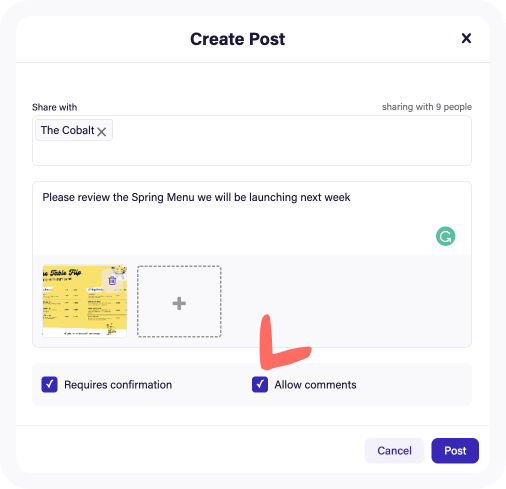 How will my team members know they have a post to read
New posts will appear on Deputy's News Feed page and members will receive an email to notify them of the new post. Team members who have the Deputy mobile app will not receive an email. They will receive a push notification to their cell phones to inform them off a new post. They can touch on this notification to read the message, confirm and comment to reply if required.
How do I see who has read/confirmed a post?
After creating the post with Require Confirmation turned on, you will be able to view who has confirmed the post by clicking the link under the text of the post.
In this example, 1 of the 42 people the post was sent to, has read and confirmed the post.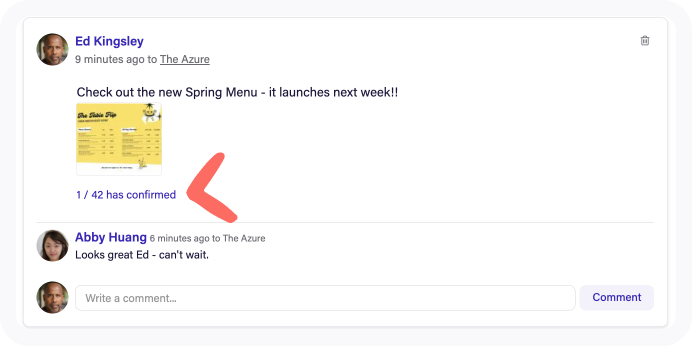 When you click on the purple link you can see a list of:
All recipient

Confirmed recipients

Unconfirmed recipients
You are also able to select additional people to share the post with at this point.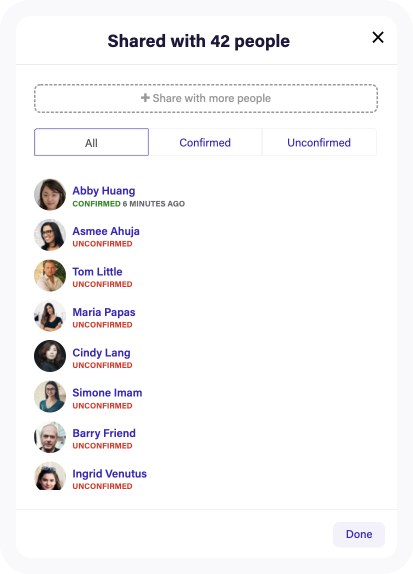 How to message team members currently working at a location
You can send a post to all team members at a particular location by selecting that Location group when you create the post. However, there is also a way to message team members currently working at that particular location at the time you create the post.
To do this, navigate to the Locations page. On the right side, you will see a list of team members. Select the location you are interested in and the team members that are currently on shift will be listed.
Now click the speech icon circled below: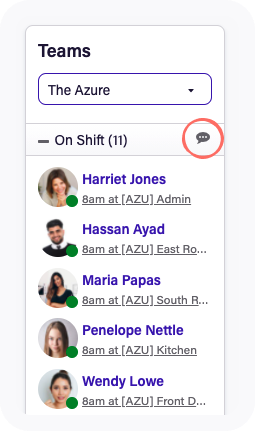 This will bring up the 'Create Post' modal, and will auto-populate the 'To' field with all the team members that are currently on shift in the location you selected and allow you to create a post.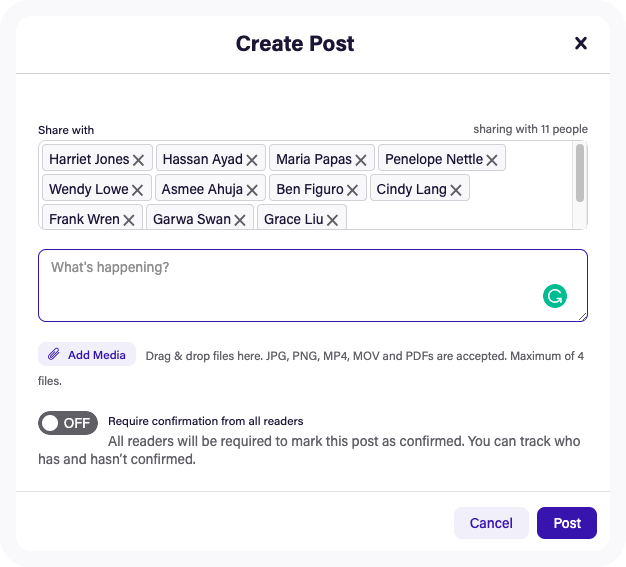 How do I find a post?
On the News Feed tab you can find your filters over to the left. Changing your filters will display the relevant post in the News Feed.
Important Posts (those marked as requiring confirmation)

Your Posts (those that you created).

Posts in a specific location by selecting that location on the left.
By default, any posts marked as "Requiring Confirmation" will be displayed at the top of the list of posts.
At the top of the News Feed you will also see a search bar. You can type in this search bar to search for specific content of a post, or for the staff member who posted it. The system will search for all posts fitting the criteria within your currently selected filter as selected on the left-hand side menu.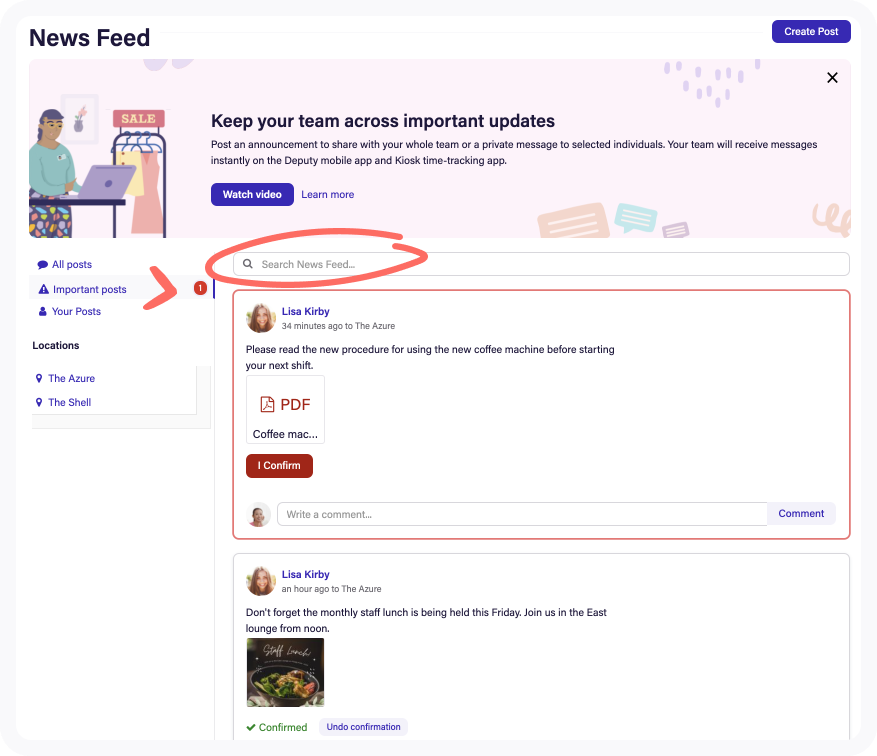 You can also find posts left by a team member by viewing their profile from any page such as People or Schedule.
Simply click on the Team members icon, click to view their profile and click the 'News Feed' tab.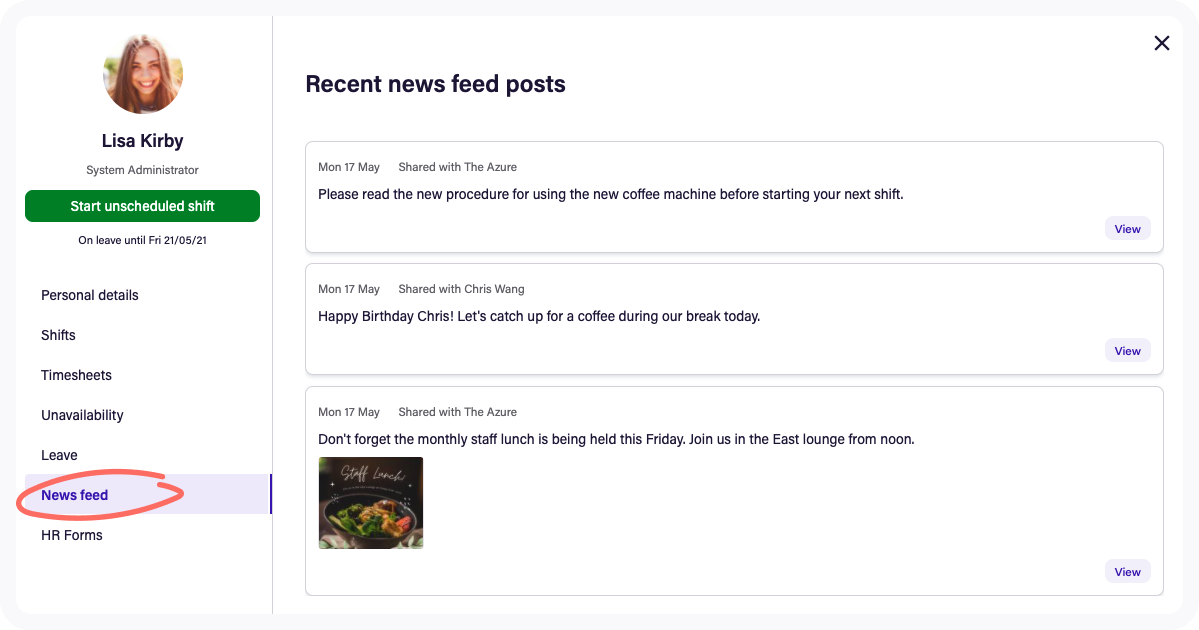 How to delete a post
To delete a news feed post, simply mouse-over the post you would like to delete and click the red 'Trash' icon.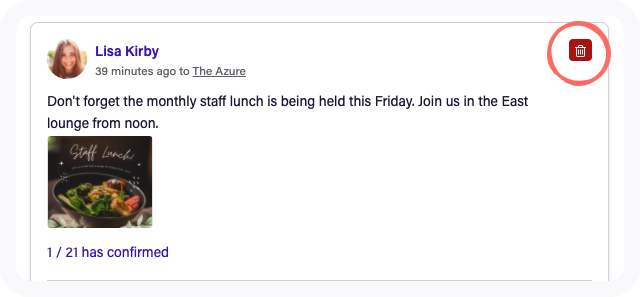 Please note that you can only delete your own posts, unless you are a System Administrator who can delete other team member's posts in their News Feed.
News Feed - FAQ