What is Deputy's Flexi Weekly plan?
Flexi Weekly is a great option for seasonal businesses, as it offers the exact same features as Deputy Premium with a pricing structure that works for businesses with significant changes in demand throughout the year.
Flexi Weekly is priced according to active and inactive team members on a per week basis (billed monthly).
Active users in your Deputy account each week incur the full flexi plan user pricing
Inactive users incur a significantly smaller fee
For more information on Flexi weekly pricing in your region, please see our pricing page: deputy.com/pricing/flexi
What is the definition of an 'active' team member on Flexi Weekly?
A team member is considered active when any of the following occur:
A shift has been published for the team member
A timesheet has been submitted by the team member
The team member has had a timesheet approved
The team member has performed management functions such as creating a schedule, approving timesheets or leave, exporting payroll information, managing tasks, creating journal entries or reviewing reports.
If the user has not met at least one of the above criteria in a given week, they are considered inactive.
Users only accessing the News feed section, adding people, adding locations, or running reports are considered inactive.
What is the definition of an 'inactive' team member on Flexi Weekly?
If the team member has not met any of the above criteria in a given week, they are considered inactive.
This means that inactive members are still able to access all parts of Deputy that will help them stay connected to the business when they're not on the schedule, such as staying up to date on any new information via the News Feed, submitting leave and unavailability requests and updating their employee profile.
Do inactive users still receive Open shift notifications?
Yes, inactive users will still receive open shift notifications. Once they accept an open shift they will become an Active user and be charged as such.
Should inactive team members be deleted?
No, to ensure you're only paying for what you need, we recommend archiving any users that are no longer associated with your business at all. By archiving these employees, they will no longer have access to your Deputy account, however, you will still be able to access their records as required and you can also unarchive them if they decide to rejoin your business.
Once a team member is deleted from the account, you will no longer be able to access their information so we don't recommend that option if you need to retrieve information in the future.
For employees that may be called into work in the future, keeping them on Deputy as 'inactive' team members allows them to stay connected with the business through having access to the News Feed and being able to follow any policy or company updates.
I
s there any easy way to see who is active and who is inactive in my account?
Yes, System Administrators and Location Managers can run a report under Reports> Team member details > View full report. Select your Location on the top left and then click on Activity.
This report shows Last timesheet and Next Shift for each team member and can be downloaded as a CSV file for further review.
Note: the Last Timesheet column only shows timesheets from the past 28 days. If the employee's timesheet was over 28 days ago it will appear as -.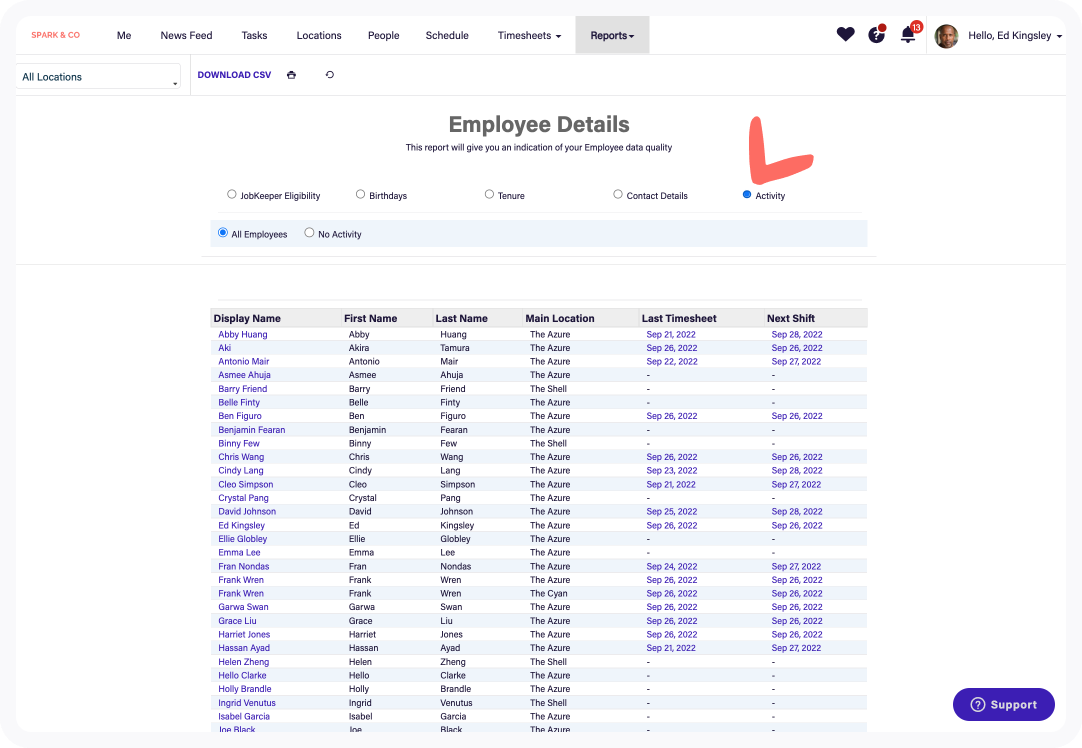 How do I know if Flexi Weekly is right for my business?
As a rule of thumb, if you are consistently scheduling more than half of your team each week, you might wish to consider upgrading to our Premium plan. The premium plan is charged as a flat rate per team member per month, with all team members considered active.
You may also be interested in:
If you have any questions about the Deputy product, please contact our 24/7 support team