How much does each SMS cost?
SMS charges apply if the SMS message is sent via the Deputy platforms (Web app/iPad/mobile apps).
An example of this would be, publishing schedules using SMS. There is no charge for receiving SMS messages, however, employees are responsible for normal carrier fees when responding to SMS messages from Deputy.
SMS charges vary by country and apply per 160 characters:
US - 1c USD

UK - 5p GBP

Australia - 5c AUD

Rest of World - 7c USD
Please note many SMS messages sent via Deputy exceed 160 characters.
The prices above are exclusive of any applicable taxes.
To disable SMS notifications from your account, check out our help guide.
Is there a minimum monthly spend?
Yes - there is a minimum monthly spend of USD / AUD $25 and GBP £15 per month per invoice on our monthly Premium, Scheduling and Time & Attendance plans from July 1, 2022. The minimum monthly spend helps cover our upfront set-up and ongoing support and technology costs. This includes any product demonstrations, training and 24/7 help and support required.
If you'd like to avoid the minimum monthly spend, consider switching to our Flexi or annual Premium plan.
How do we charge for our Premium/Scheduling/Enterprise plans?
Deputy charges customers a cost per user per month fee or you may choose an annual plan for our Premium or Enterprise Plan. Annual plans are prepaid for a nominated number of users.
All users will incur a charge regardless of invite status (ie. Users with the status of Not invited or invite sent or onboarding in progress will still be billed). The only users that will not incur a charge are archived users or users with Advisor status.
How does Deputy handle monthly billing for new, archived and unarchived users?
For plans other than Flexi, when you add a new user into Deputy for the first time, you will be charged at the full monthly per user price. For example, if you add a new employee 5 days before the end of the month, you will still get charged for that user for the full month.
When you archive a user in Deputy, the same logic applies as above and you will be charged the full month. For example, if you archive an employee after 10 days of a month, you will still be charged for that user for the full month.
However, if you unarchive a previously archived user we will bill for the full per user price for that month, regardless of the time or day that they were unarchived.
Do I still get charged for team members with a status of "not invited"?
Yes. Any team member not in an archived state within the Deputy platform will incur a user charge, regardless of their invitation status.
I've subscribed to an Annual plan during the trial period. When does my billing start?
Your annual period will run from the next month of the trial end date, giving you some extra days to use Deputy for free.
For example, if you sign up for an annual plan on 25th June and your free trial was due to run out on the 5th of July, your billing period will begin on the 1st of August, giving you the rest of July at no extra cost.
You will be charged immediately depending on your payment method, but you will still get the extra days for free.
What is the difference between Scheduling/Time & Attendance/Premium/Enterprise?
Scheduling
The Scheduling plan is the most basic Deputy plan. This includes Scheduling, News Feed, Tasking, SMS & Email Notifications, 24/7 Support, Open API, Templates, and Schedules. The Starter plan does not include any time and attendance functionalities.
Time & Attendance
Time & Attendance was built as an alternate starter plan to the Scheduling plan. This plan only provides basic time clock and timesheet functionality.
Premium
Premium is the most popular Deputy plan which includes all the features of standard, time and attendance functionalities, payroll integration, Point of Sales integration, Performance and Journaling, Standard Reports, Extensions and the ability to manage availability and leave. Premium is the perfect package for business as it has all the core features to manage time and attendance.
Enterprise
Enterprise is the most robust version of Deputy which includes all the features of Starter, Premium. Under our Enterprise plan, you can customise Deputy to your business needs such as advanced awards interpretation, organizational structures, training matrix, advanced reporting and the ability to customise roles and permissions.
Flexi
Deputy Flexi is an option for seasonal businesses and offers the same features as Deputy Premium. Flexi is priced on an active user and inactive user per week. For more information on Flexi pricing please visit our Flexi Plan page.
Can I have some users on one plan and some users on another?
No, it's not possible to have some users on Premium and some users on Flexi (for example). You can only sign up to one plan type at a time for each Deputy account.
What is our AU/US/UK Pricing? How much does each plan cost?
Pricing for Deputy is available on our pricing page:
What payment methods do you currently support?
Deputy accepts Visa, MasterCard, American Express, direct debit (AU, UK, & US only) and PayPal payment methods.
Do you offer manual invoicing?
If you are unable to pay via any of the above mentioned electronic payment methods and are on an Enterprise plan you can instead request a manual invoice.
Manual invoicing will incur a processing fee per invoice raised (monthly or annually).
Are system administrator /account owners/dummy employees included in the per user fee?
Deputy charges based on the number of people in the account. A system admin is always included in the per user fee as are any 'dummy or test' employees that are in the system.
Do you have annual pricing?
Annual pricing is only available for the Premium and Enterprise versions of Deputy. With annual you pre-pay for the number of users you will need in advance.
You can add more users above that amount as you go along and you will be billed for the extra users at the prorated annual rate for the amount of time remaining on your initial annual term.
eg. If you sign up for Deputy annual billing with 10 users, you will immediately be billed for 10 users for 12 months at the discounted annual rate. If you add another 5 users after 6 months you will then be billed 5 users at the annual rate for the 6 months remaining on the initial 12-month term.
Note: You can not reduce the number of users subscribed during the 12-month period once you have pre-paid for them.
Can I cancel my annual subscription and get a refund for the remaining months?
If you are on an annual plan, you can cancel your plan before your 12 months expires, however there are no refunds in this instance.
Is there an additional charge if I add more locations to the account?
Deputy does not charge for additional locations on the same account. You can have as many locations as needed on one account.
Why has my Deputy bill increased?
As Deputy continues to grow around the world, we're evolving how we operate locally. This means we'll increasingly be rolling out new features and updates to meet the specific needs of UK/US businesses. Part of operating locally also means complying with local tax laws and regulations.
You may incur charges, in addition to your plan costs, for SMS notifications sent from your account.
In Australia and UK, you may incur extra charges if you utilise the optional Employee Onboarding feature.
Who is Deputy EMEA Limited?
Deputy EMEA Limited is the UK arm of Deputy Group, based out of the UK.
Who is Deputy Corporation?
Deputy Corporation is the American arm of Deputy Group, based out of the USA.
We are still all the same company, and your Deputy experience will remain the same. This is purely a change to billing practice to ensure global tax and regulatory compliance.
(UK customers) Will the VAT charge be included or additional to my existing Deputy bill?
The 20% VAT is an addition to the existing price, which may mean it will be an additional cost for businesses that are unable to claim back VAT. We do not have the ability to charge or remove VAT, this is a requirement from HMRC that we need to comply with.
(Non-UK EU only) Why do you need my VAT number?
For non-UK customers in the EU, if you provide your VAT number, then we do not need to charge you VAT.
If I cancel my subscription with Deputy when do I lose access to my account?
If you cancel your Annual subscription with Deputy today, you will still have access to your account up until your stated subscription expiry date. System Administrators can find this expiry date in their Account overview then click on Settings for the Deputy account they wish to manage the subscription for.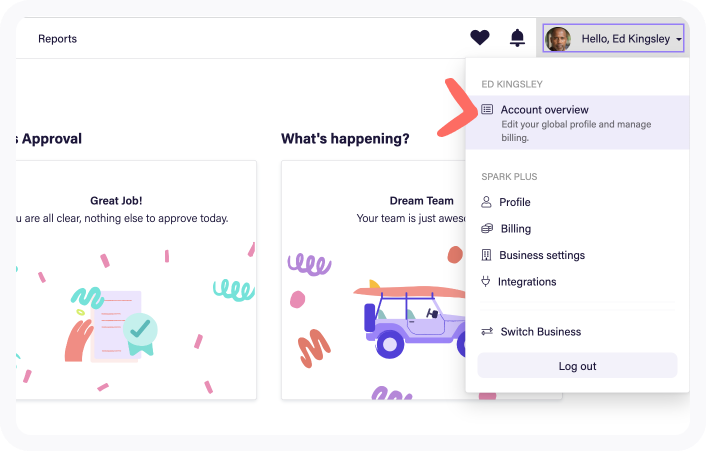 On the Plan tab you can see the Subscription end date.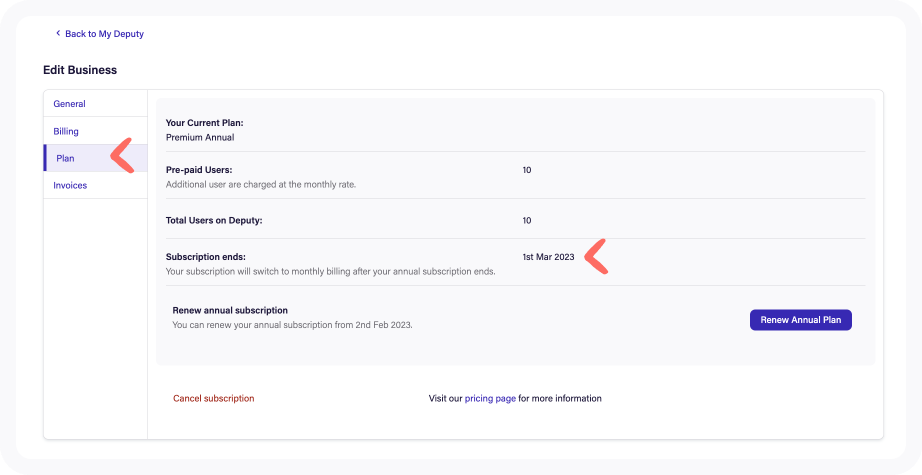 Monthly Deputy subscriptions that cancel their account will lose access to their account on the day they cancel and receive a pro rata invoice for the days used in that month at the end of the month.