This article outlines the most frequently asked questions we've received about our Deputy iPad Kiosk, including setup, retrieving your PIN, offline/connection settings, and facial recognition.
Kiosk FAQ
Is the Kiosk available on Android tablets?
Can I set up a Kiosk on a computer?
We advise you speak to a Customer Support representative while setting up the web kiosk.
What version is the Kiosk compatible with? What type of iPad do I need to have to run the Deputy iPad Kiosk?
Where do I get the Kiosk PIN for my team members?
System Administrators or Location Managers can retrieve a team member's Kiosk PIN if they have not yet accepted their invitation to Deputy.
Open the team member's profile on the People page and click Show PIN.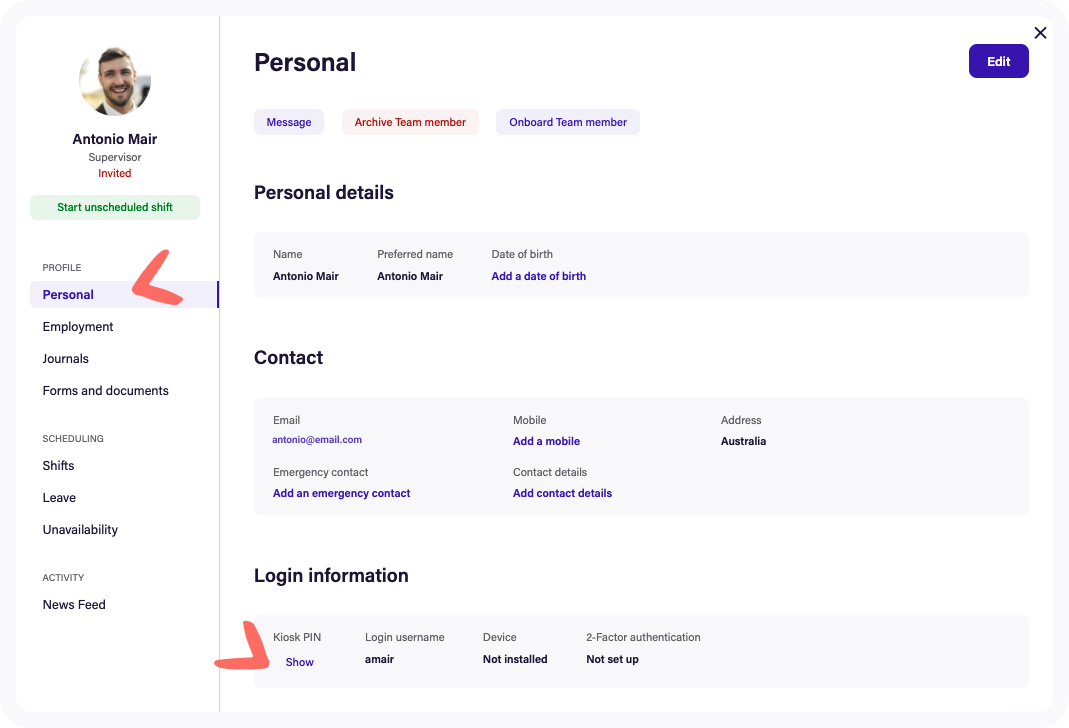 If your team member has already accepted their invitation to Deputy System Administrators and Location Managers can send them their login details.
Open the team members' profile on the People page and click on Send login details.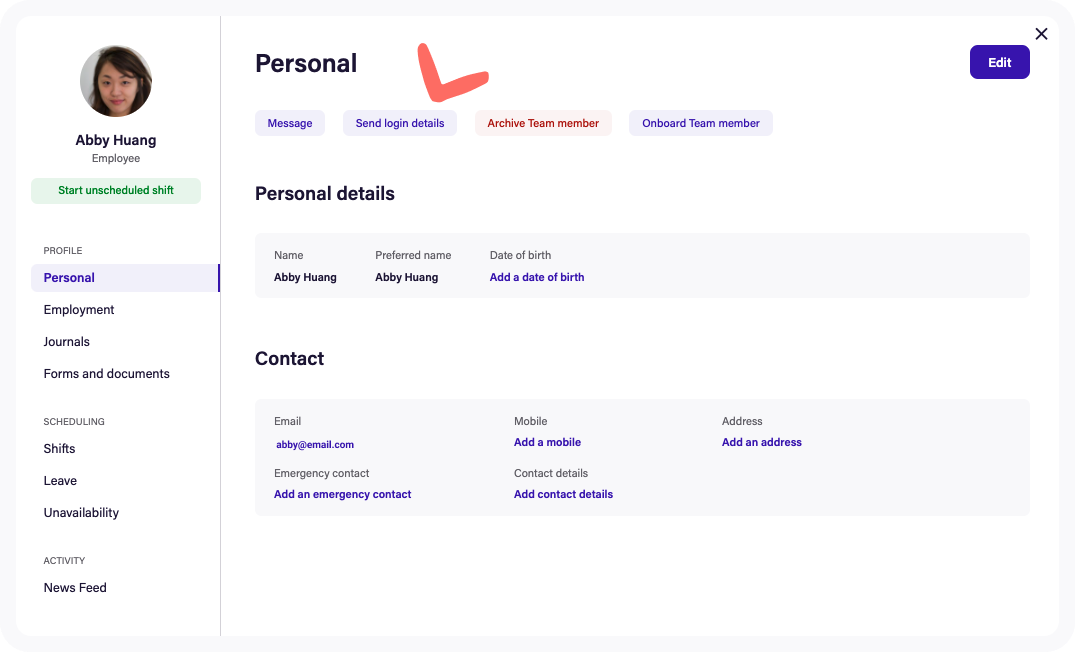 The team member will receive an email asking them to reset their password and the email will also inform them of their Kiosk PIN.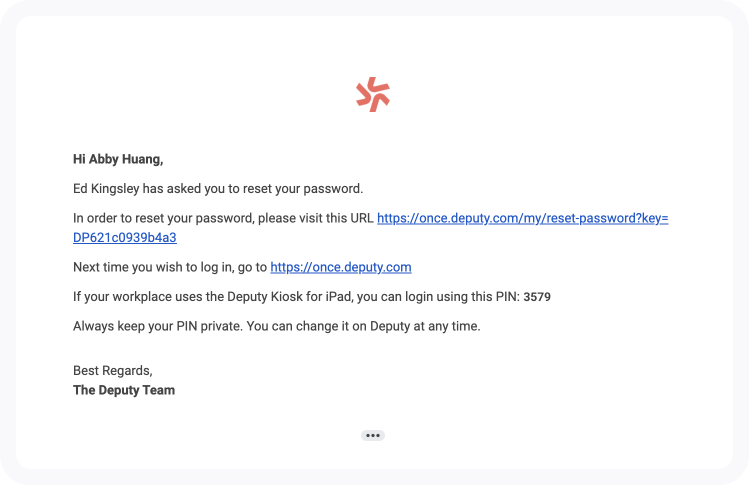 How can Team Members retrieve or change their PIN?
Team members can show or change their own PIN as described in:
Can I set up ONE kiosk for ALL locations?
Unfortunately, when you log into the Deputy iPad Kiosk, you can only select one location during setup.
Can I set up MULTIPLE kiosks for ONE location?
Yes, you can set up multiple kiosks for a single location.
Does the Kiosk use facial recognition and how?
Yes, in two ways. However, it's up to the manager to decide whether to enable each feature:
Managers can enable Face Unlock to allow team members to log in just by presenting their face to the device rather than logging in with a PIN

If the team member logs into the Kiosk via Face Unlock then the photo is automatically taken then.

If the team member logs into the Kiosk via PIN then the camera turns on after they initiate the start of the shift and takes a photo.
We recommend that you leave this setting ON, however, if you would like to turn off the ability for the Kiosk to take a photo as team members login you can do this in your device settings.
Go to Settings and go to the Deputy Kiosk app setting. Toggle OFF Disable Auto Face Detection.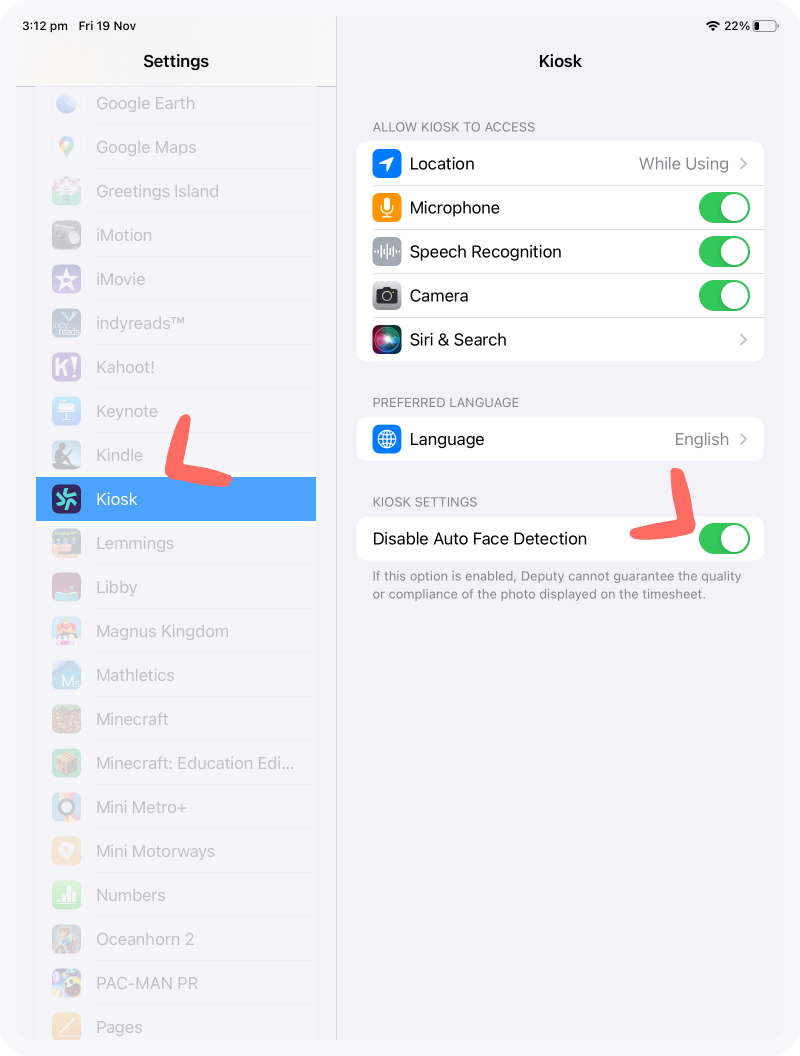 Why does the Kiosk say that it is offline?
There may be an internet connection issue with your iPad. Check your device's internet settings. You can also restart your iPad (long press on the power button).
You can still use your iPad Kiosk offline with some limitations.
The Face Unlock feature for Touchless Clock in will not be available while the Kiosk is offline, however, team members may still log in with their Kiosk PIN, use voice commands and a photo will still be captured when starting a shift. The photo and shift details will be uploaded to the team member's timesheet once the Kiosk comes back online to the internet.
Further reading about iPad Kiosk: