The Android Time Clock is an app on a device located at your workplace that allows all team members from that location to view their shifts and clock on and off from shifts and breaks.
This article shows you what you can do on the Android Time Clock:
Before you even clock in, you can see a list of all the team members at your work location.
ON SHIFT to see who is already working
SCHEDULED

to see who is scheduled to work today but not started yet
The coloured dots next to each team member profile also tell you:
Green - the team member is already on shift

Blue - the team members is scheduled to work later today

Red - the team member is late to clock in

no dot - the team member is not scheduled to work today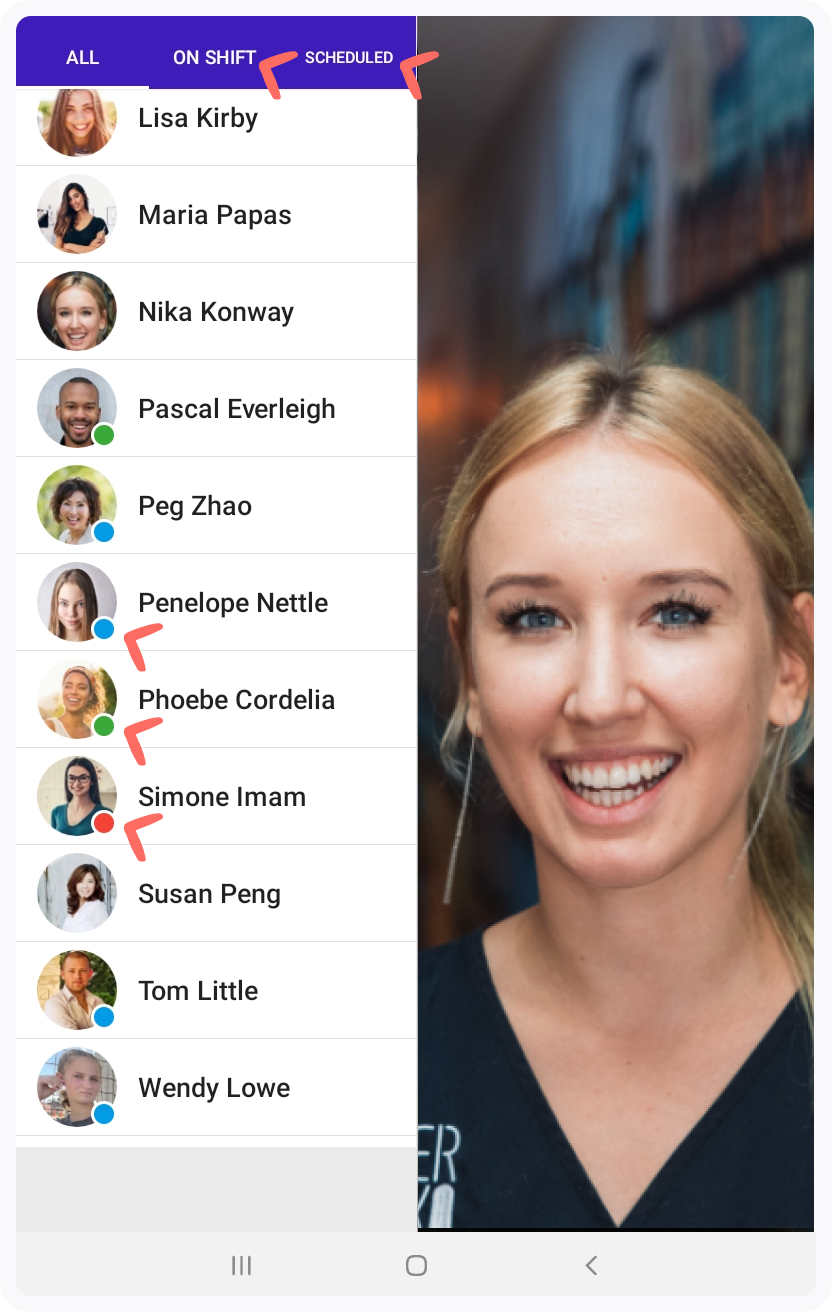 Log in to Deputy Time Clock
You have the choice to log into the Deputy Andriod Time Clock using a PIN or by using Face Unlock (if your manager has enabled it).
Using a PIN to log in
You will have received your PIN in your invitation email to Deputy. Can find it? see FAQ.
To log in locate your name in the team member list and use your PIN to log into your account.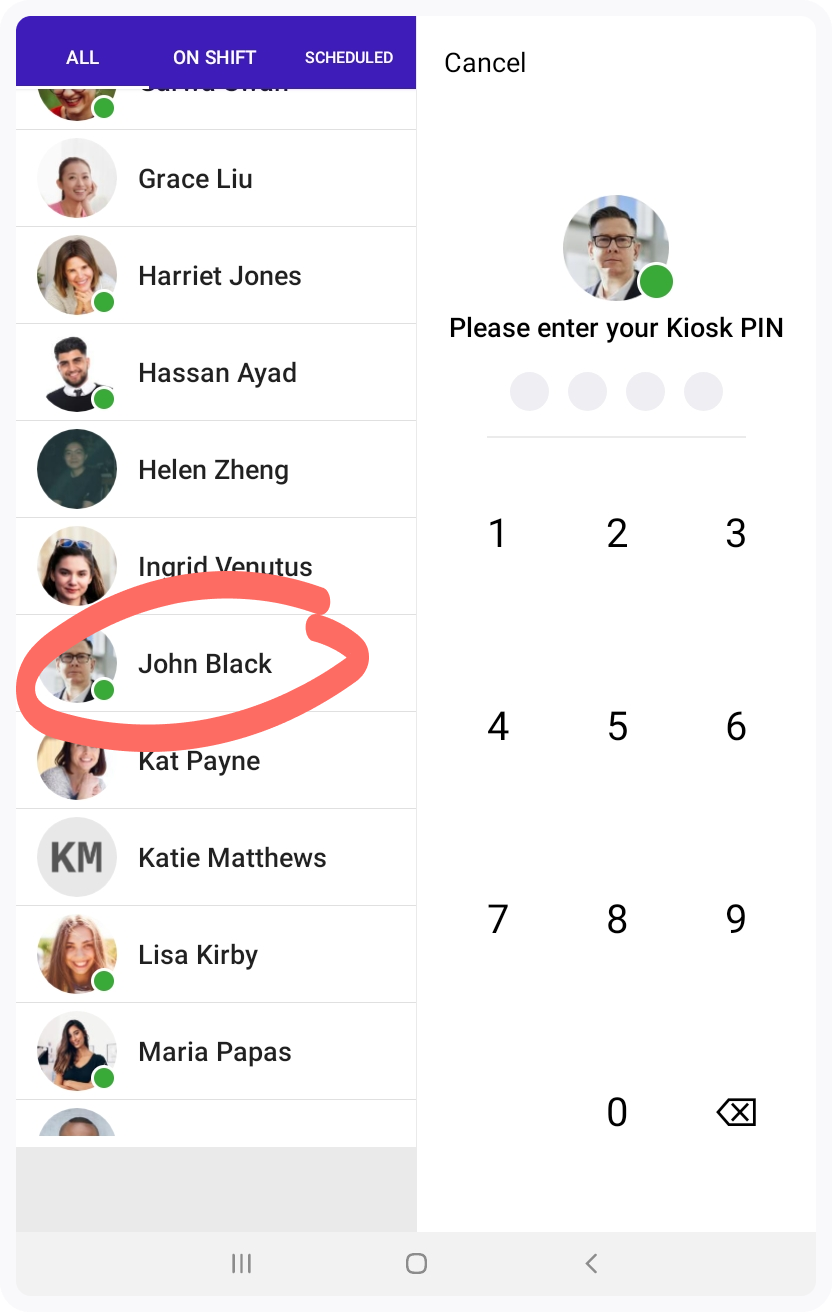 Using Face Unlock to log in
If your manager has enabled the Face Unlock feature, you are also able to log in to Deputy Time Clock via touchless clock in.
You should ensure you have uploaded a clear profile picture and opt in to using Face Unlock. Then, ongoing, you can log in simply by presenting your face to the device camera.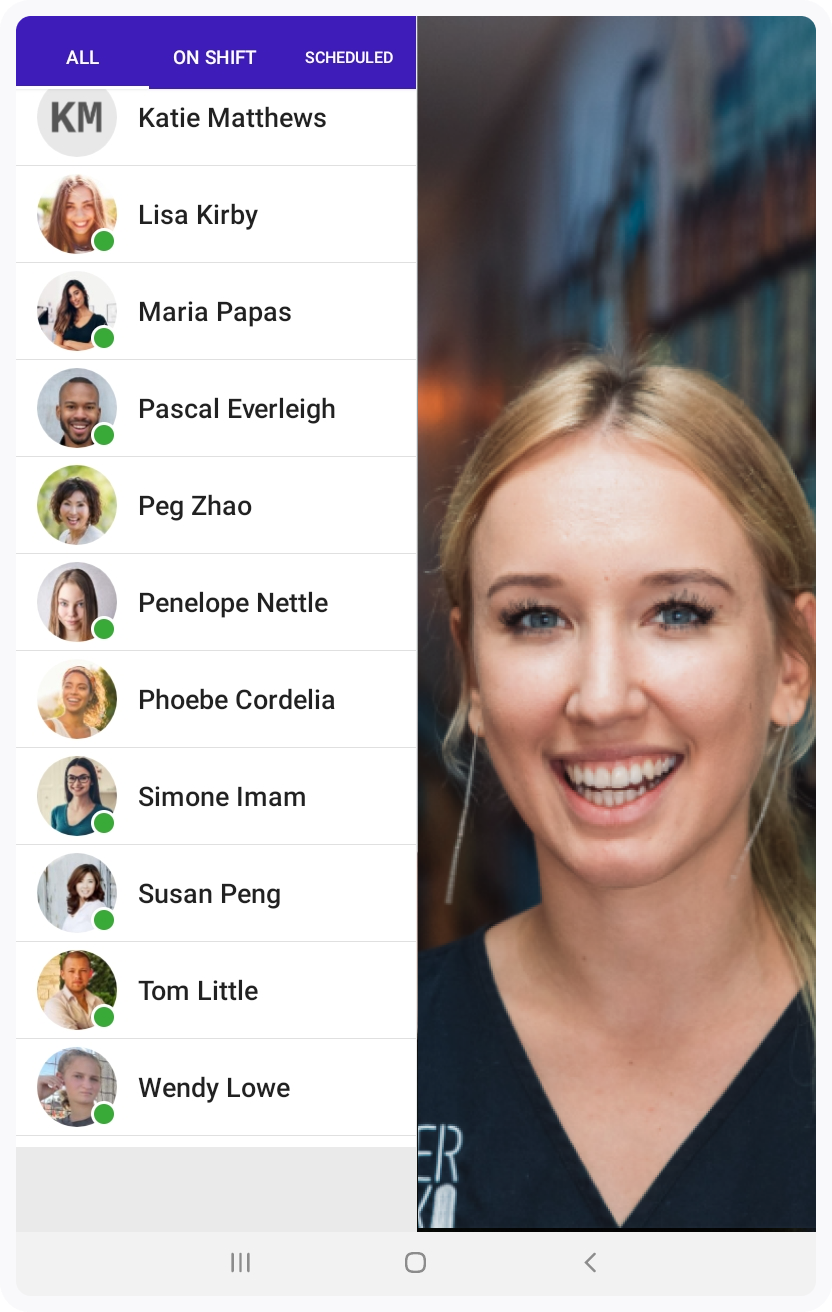 If you are having problems logging in via Face Unlock see FAQ.
Check shift details
Once you have successfully logged in, your shift details will be displayed if you have been assigned a shift for the current day.
In this example, Abby is running late to clock on.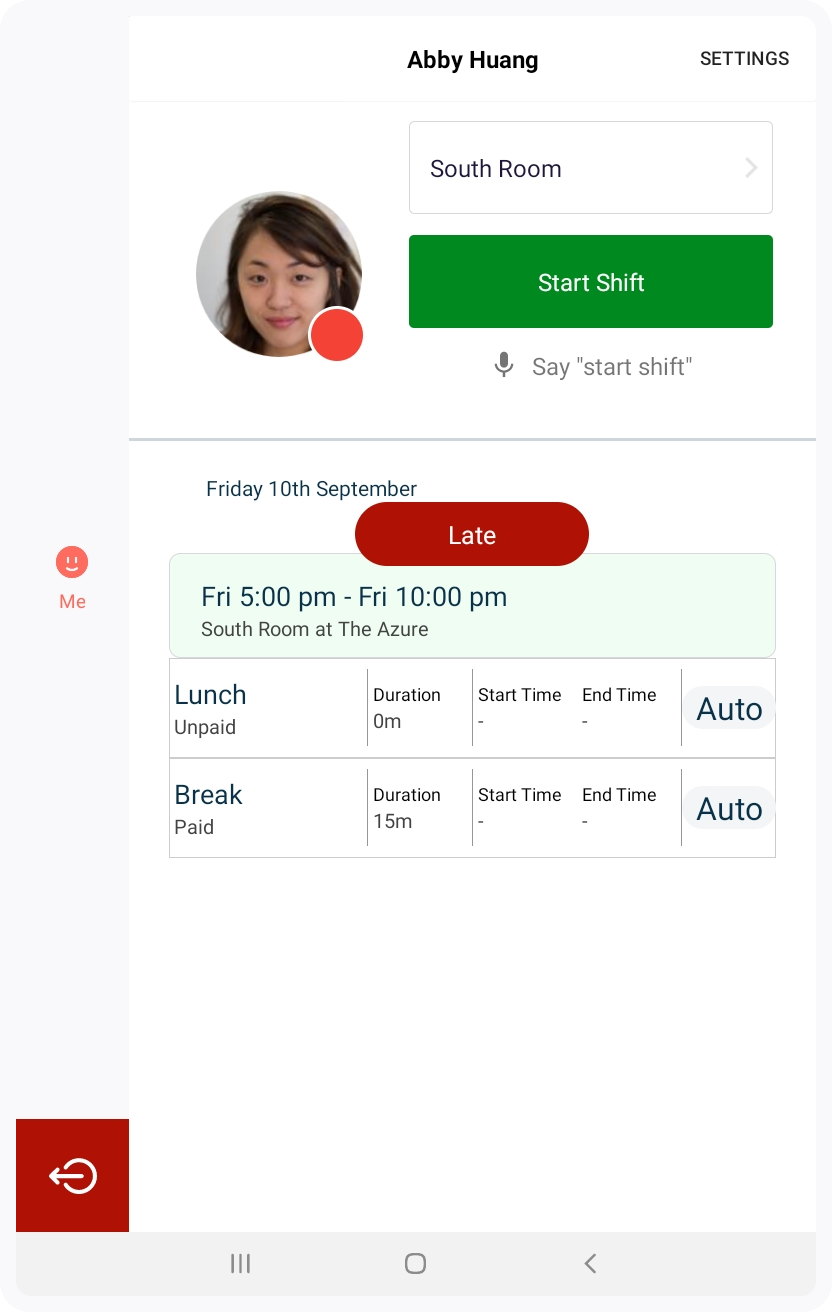 Alternatively, if you don't have a shift scheduled, you will see the screen below when you log in.
You will need to select the Area you will be working in and then tap on Start Shift or say Start Shift to start an unscheduled shift in that Area.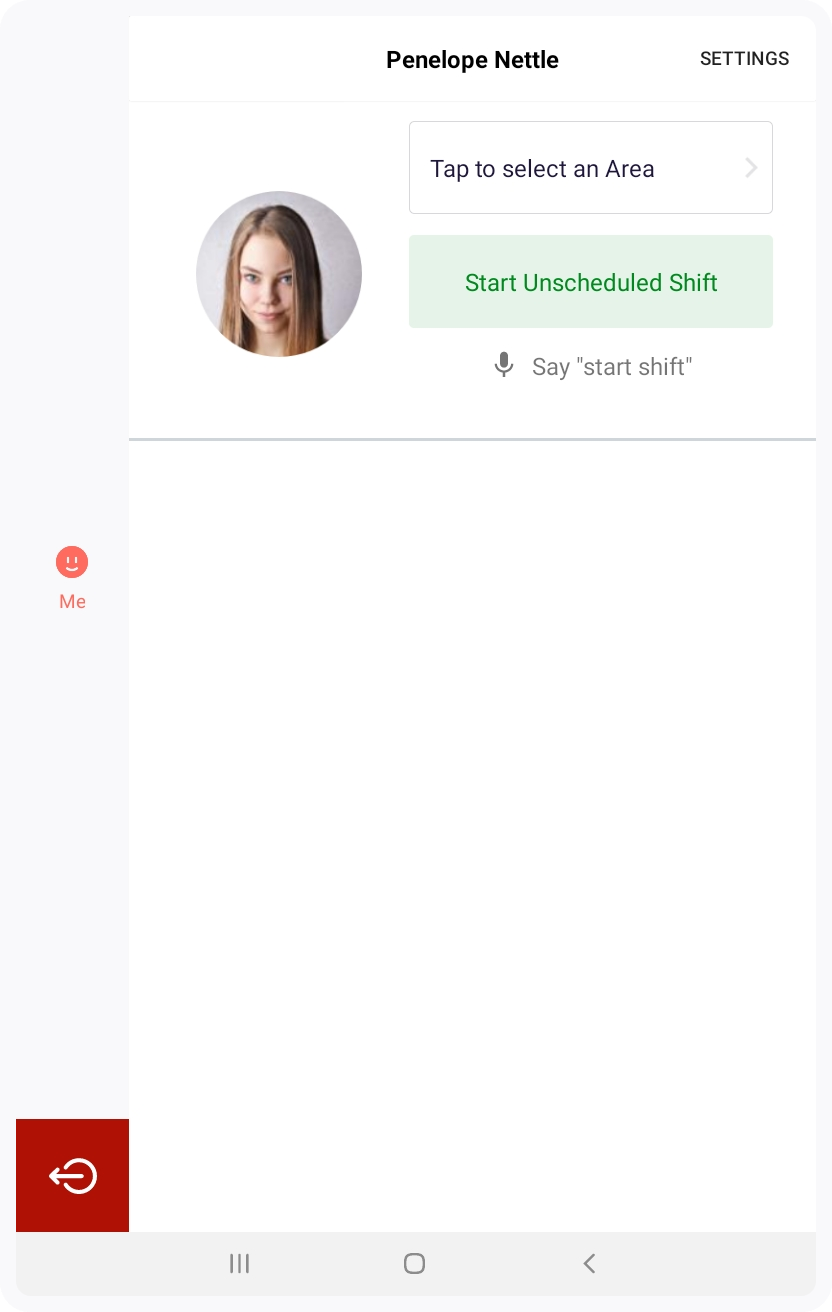 Start/end your shift and break
To start your shift either tap Start Shift or say "Start Shift".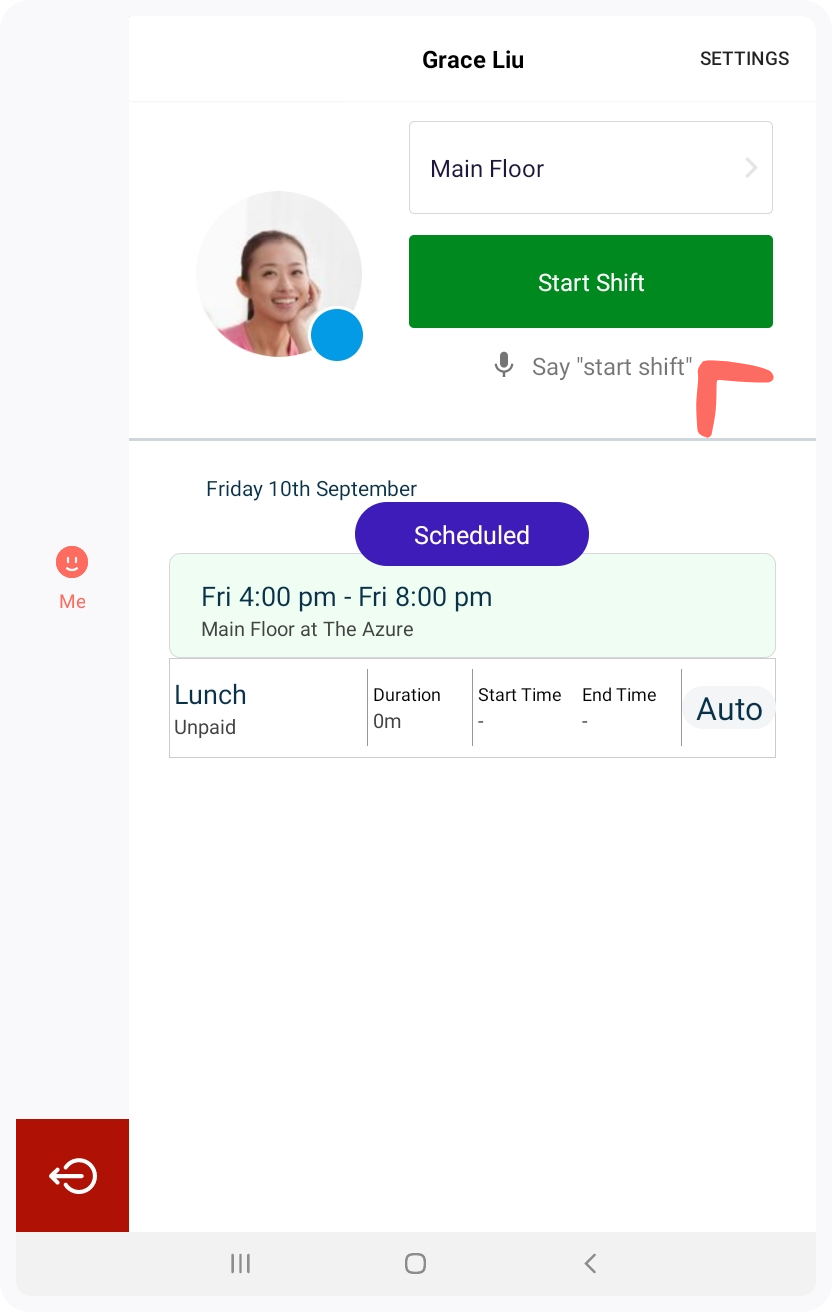 On the next screen, you can add a comment and complete any pre-shift questions your organisation may require you to answer before you start your shift.
Once you are ready to start, click Start Shift.
Note: If your organisation has enabled photo verification at the start and end of shift then you may be required to have your photo taken at this point to proceed.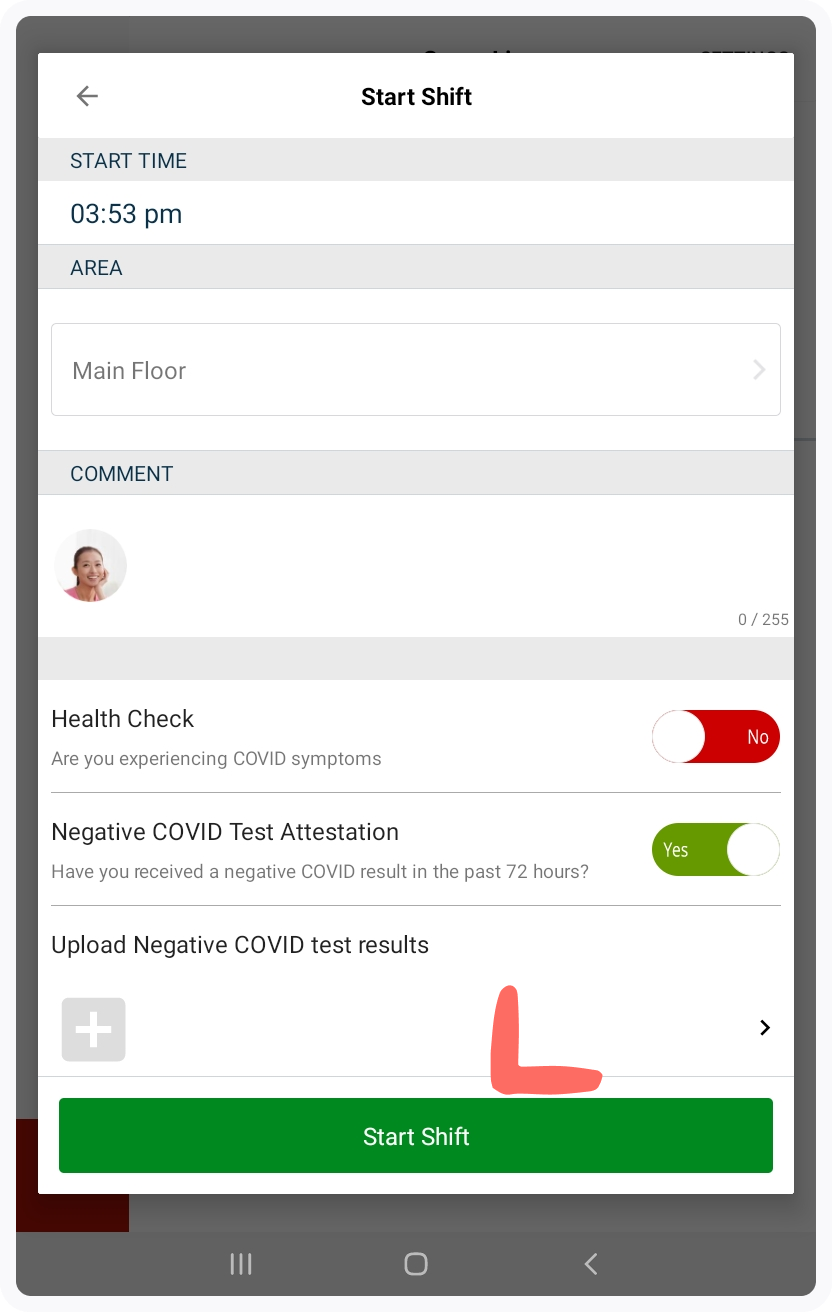 After the shift has started and when its time for a break you can start your break in the same way by clicking Start Break or saying "Start Break".
If you have completed your shift you can click End Shift or say "End Shift" using the same method as you used to clock in.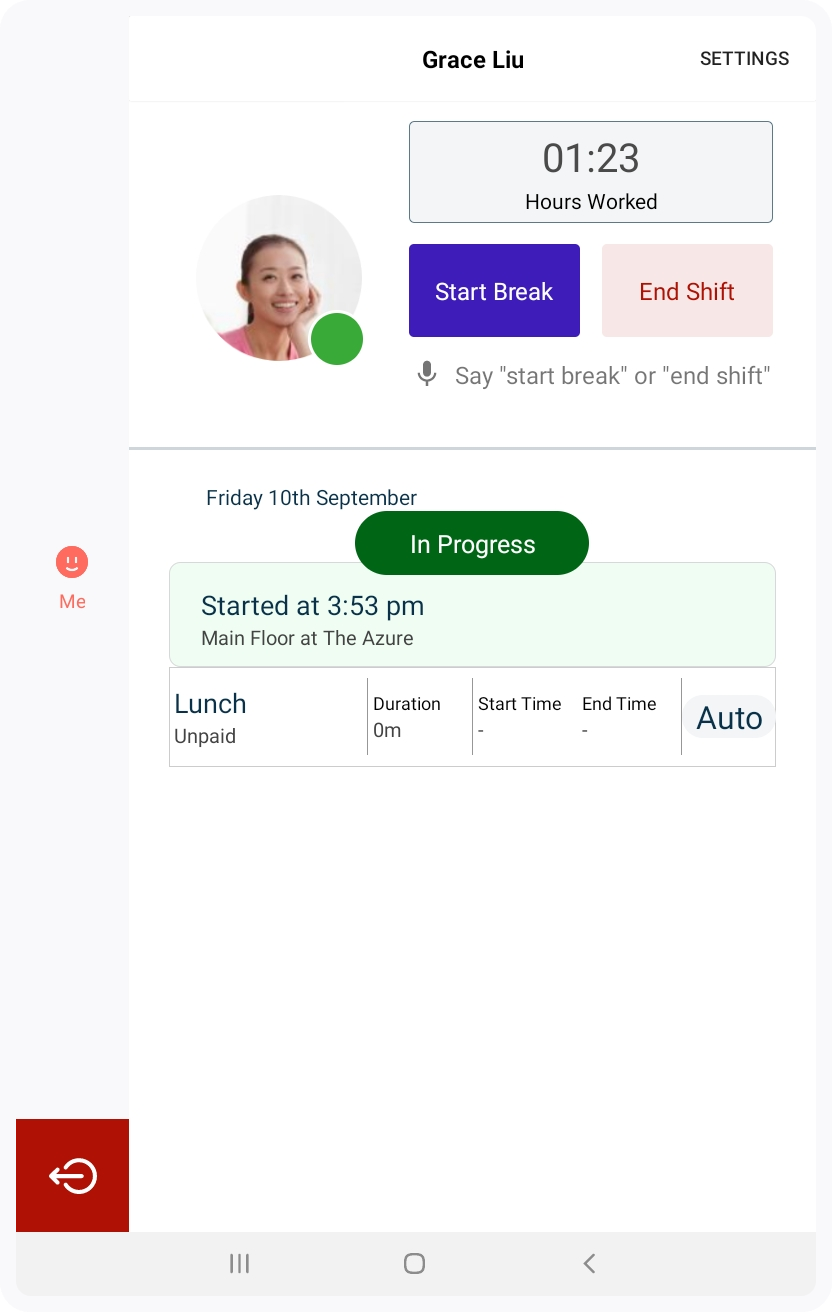 FAQ
I can't find my PIN
You can find your PIN at the bottom of your invitation email to Deputy.
You can also view you PIN by logging into the web application of Deputy and selecting the Security option in your Global Profile.
Your manager is also able to re-send your login details to your email from your profile in the Deputy web application.
I can't find my name in the list of team members on the Time Clock
If your name does not appear in the team member list, the Time Clock may be assigned to a Location that you are not assigned to. Please contact your Manager to find out if you are using the correct Time Clock device.
I can't log in with Face Unlock
Does the Android Time Clock Device have a reliable internet connection?
Can you see your name in the list for this device?
I don't want to log in with Face Unlock
If you don't want to use Face Unlock to log into the Android TimeClock then you can use your PIN to log in. Then go to setting in the top right-hand side of the screen.
On the next screen, you can opt out of Face Unlock.