The Deputy iPad Kiosk can be used at your workplace for team members to clock on and clock off. It is a free
download
and setup generally only takes a few minutes to get it going.
In this guide we'll cover:
Getting Started
What you will need to set up the Deputy Kiosk:
iPad or iPhone running iOS 13.0 or later (we do recommend running the latest iOS version)

Consistent access to the internet (you can use the Kiosk in

offline mode

but some Kiosk features are restricted)

Downloaded the Deputy Kiosk app from the

App store

.

A Deputy user with an access level of

System Administrator or a Location Manager

to set up the Kiosk. Employees or Supervisors cannot set up a Kiosk.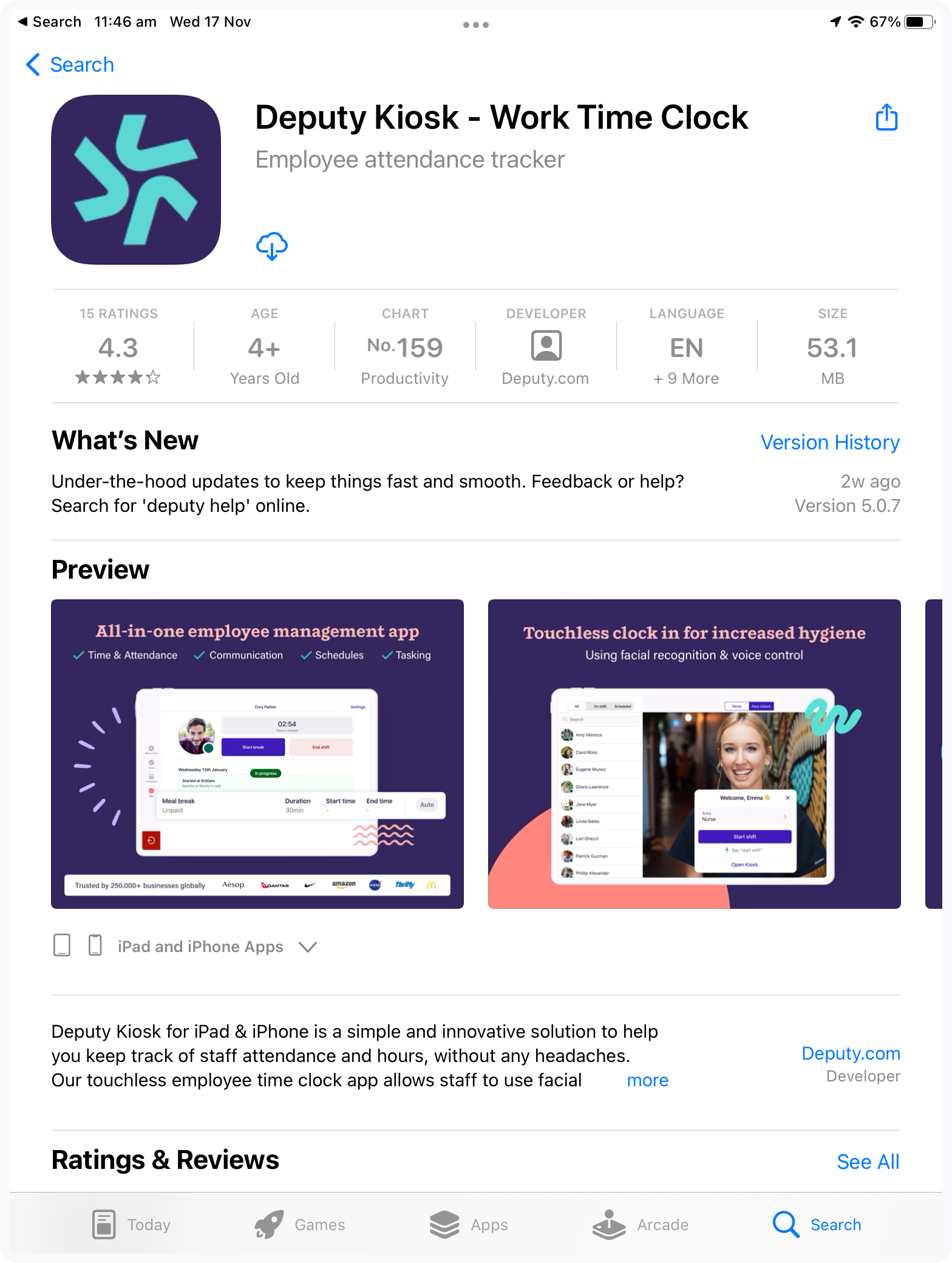 Set up the iPad Kiosk
1. After you've downloaded the Kiosk app, open it and tap Log In.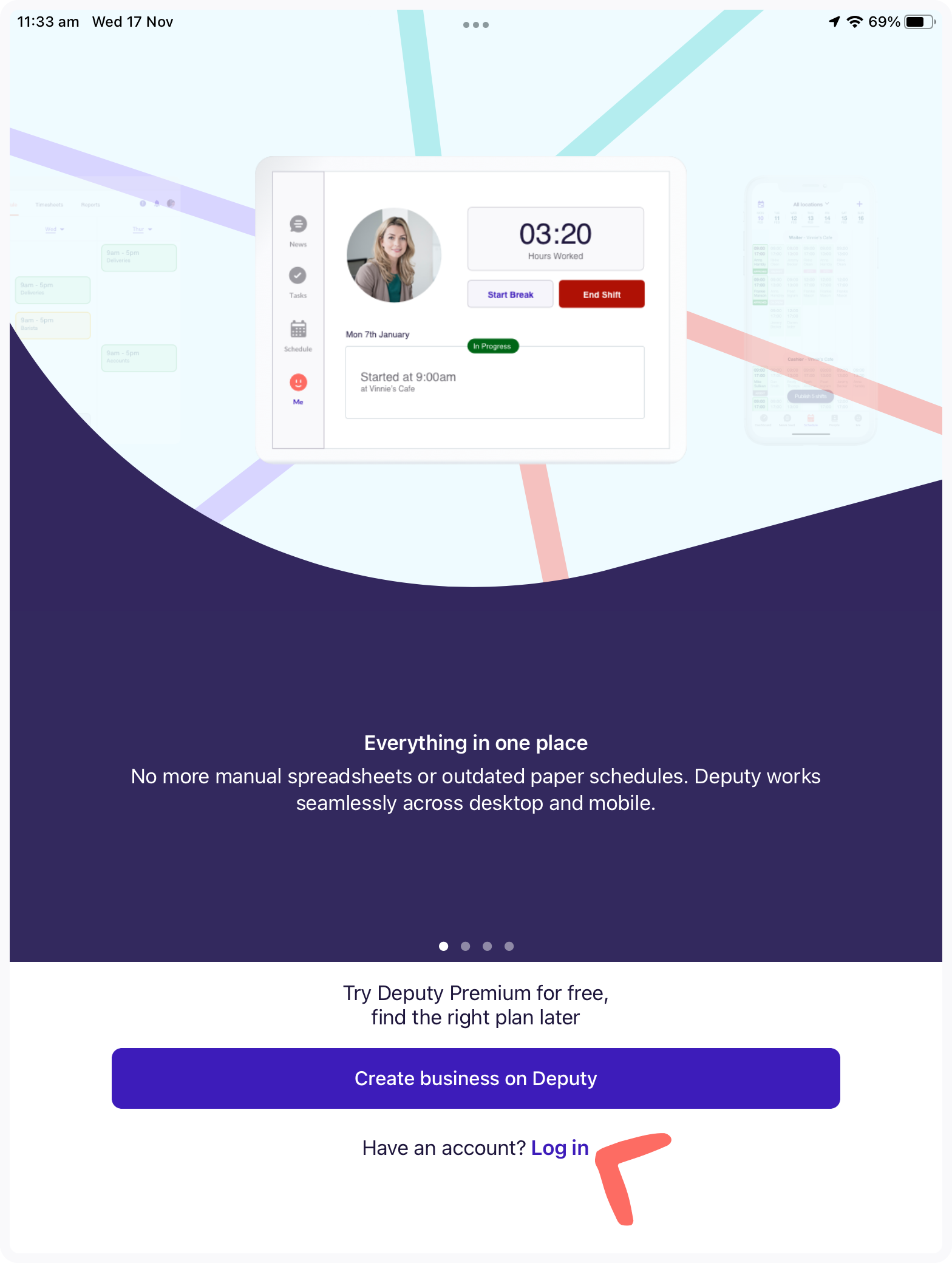 2. On the next screen, enter the email address and password associated with your Deputy System Administrator or Location Manager account.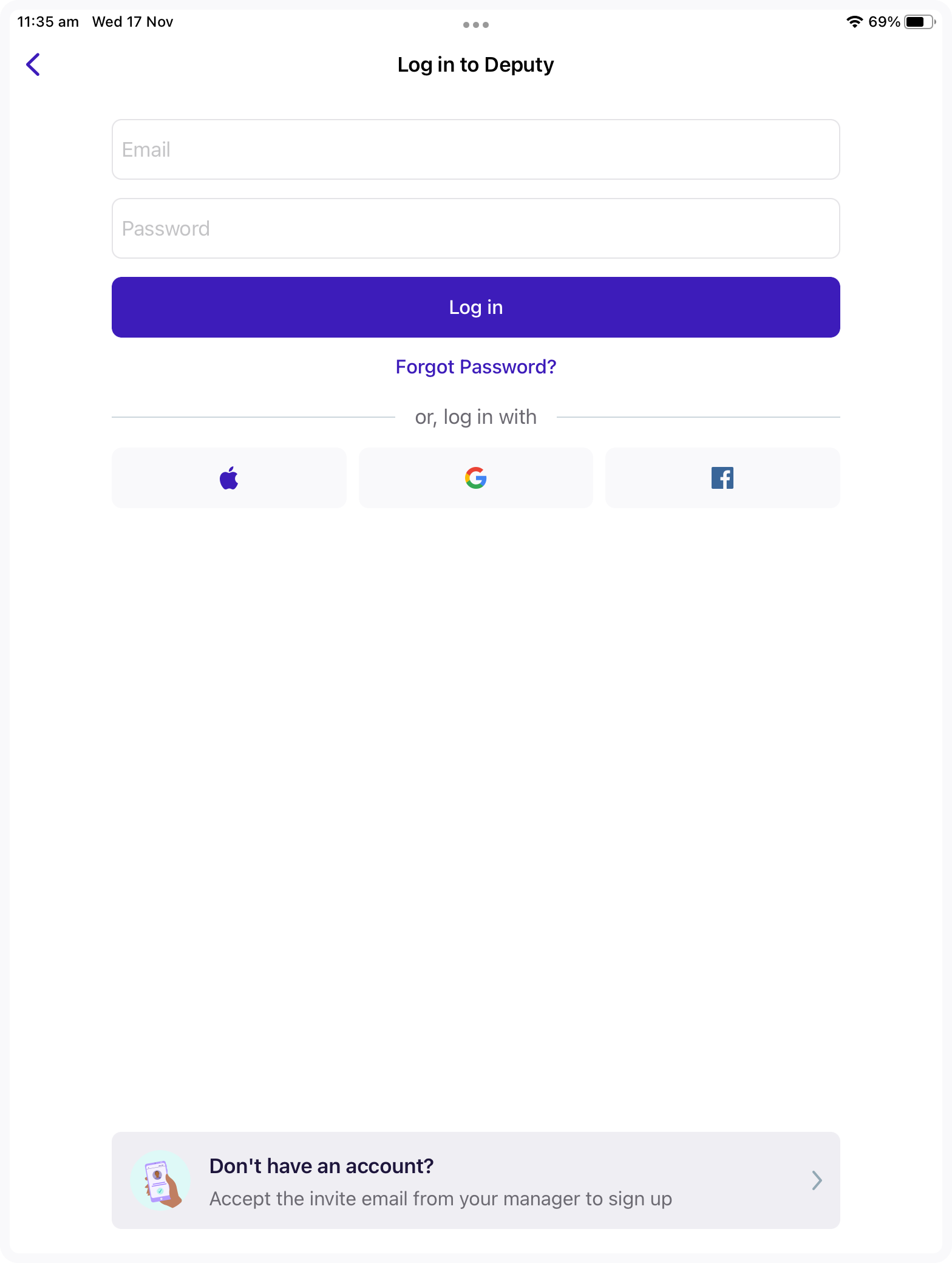 3. After logging in, you will need to select the Kiosk name, the correct organisation, and the correct location you would like to associate the Kiosk with.
4. Choose whether to allow your team to log in to the Kiosk by FaceUnlock or PIN only.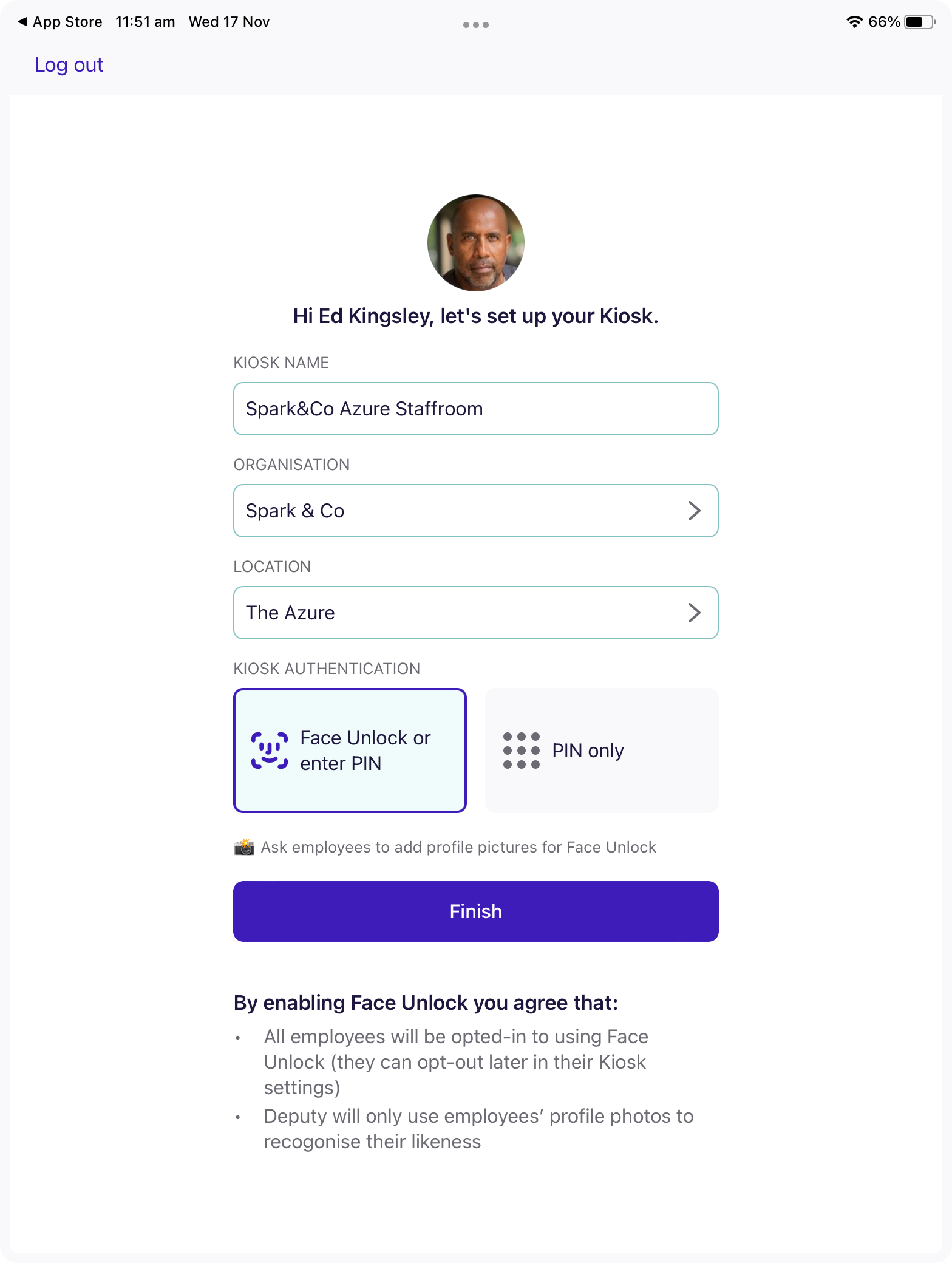 6. Tap OK to allow access to speech recognition and the microphone to allow your team to use their voice to Start and End Shifts for Touchless Clock In.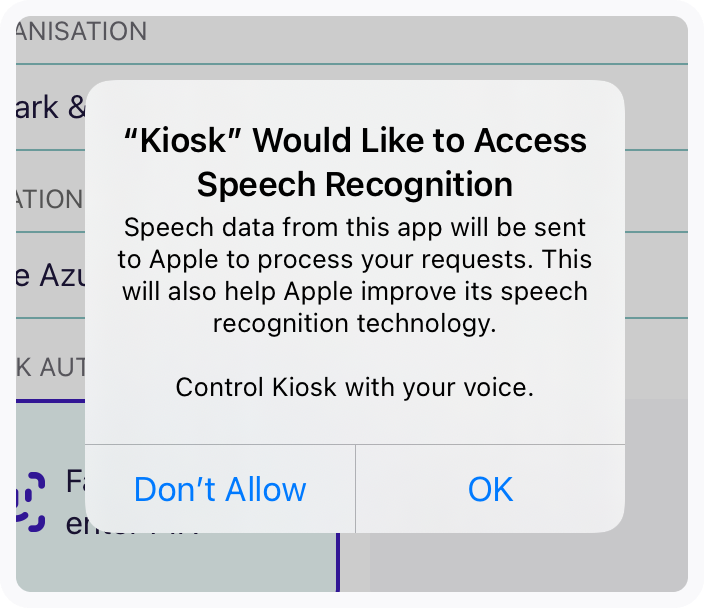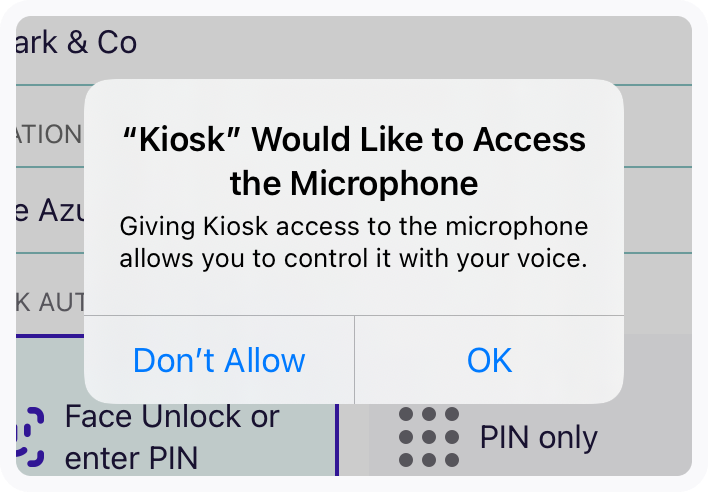 7. Tap Allow while Using App to allow the Kiosk to use your location services to determine the shift location start and end location.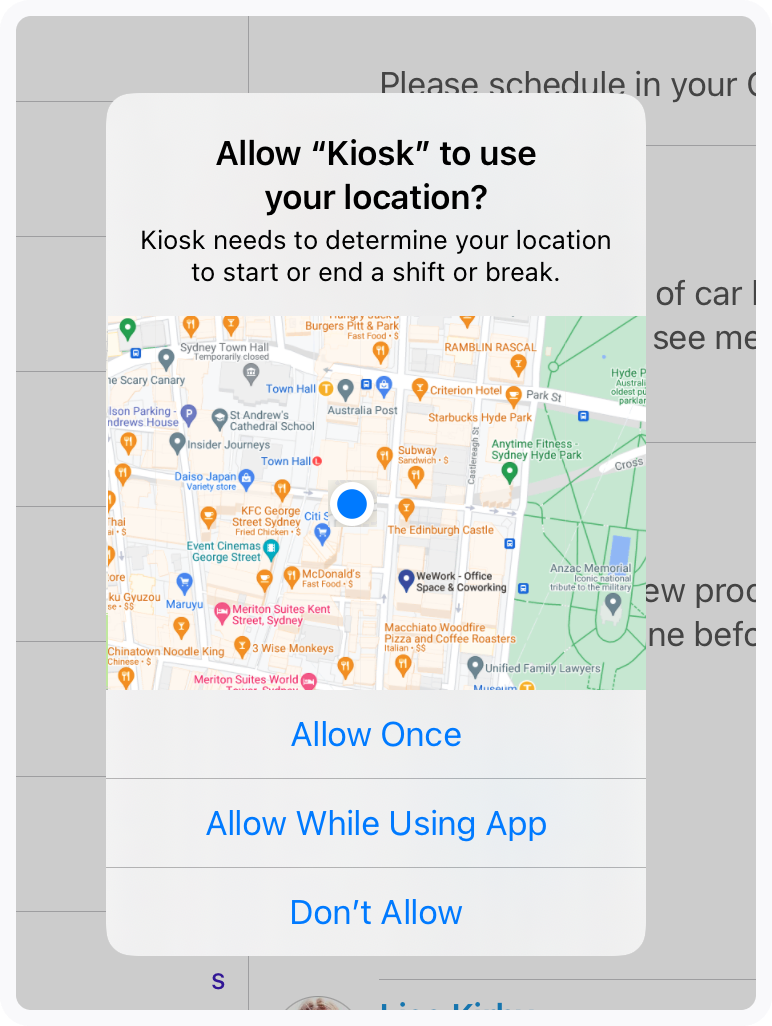 8. You will also need to tap OK to allow access to the device's camera so that you can use FaceUnlock and take photos of team members to verify the start and end of shifts for timesheets.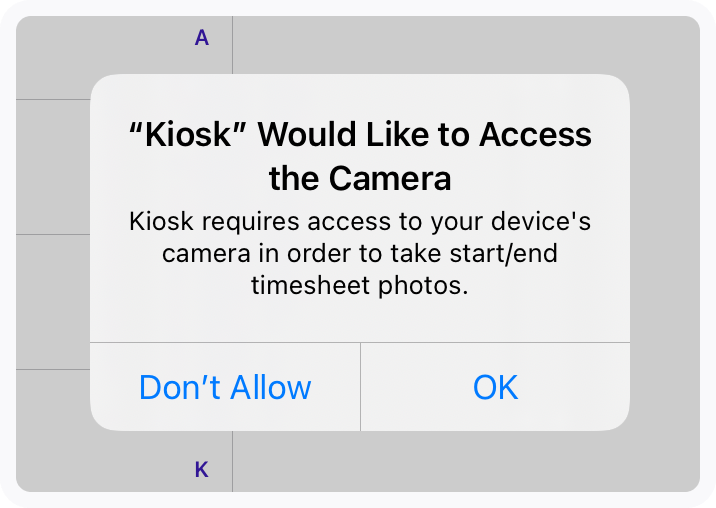 9. Once your Deputy Kiosk for Ipad is set up it will display the list of your team members at your location. Team members can either
present their face
to unlock the Kiosk (if available) or select their name from the list and
enter their Kiosk PIN to start their shift.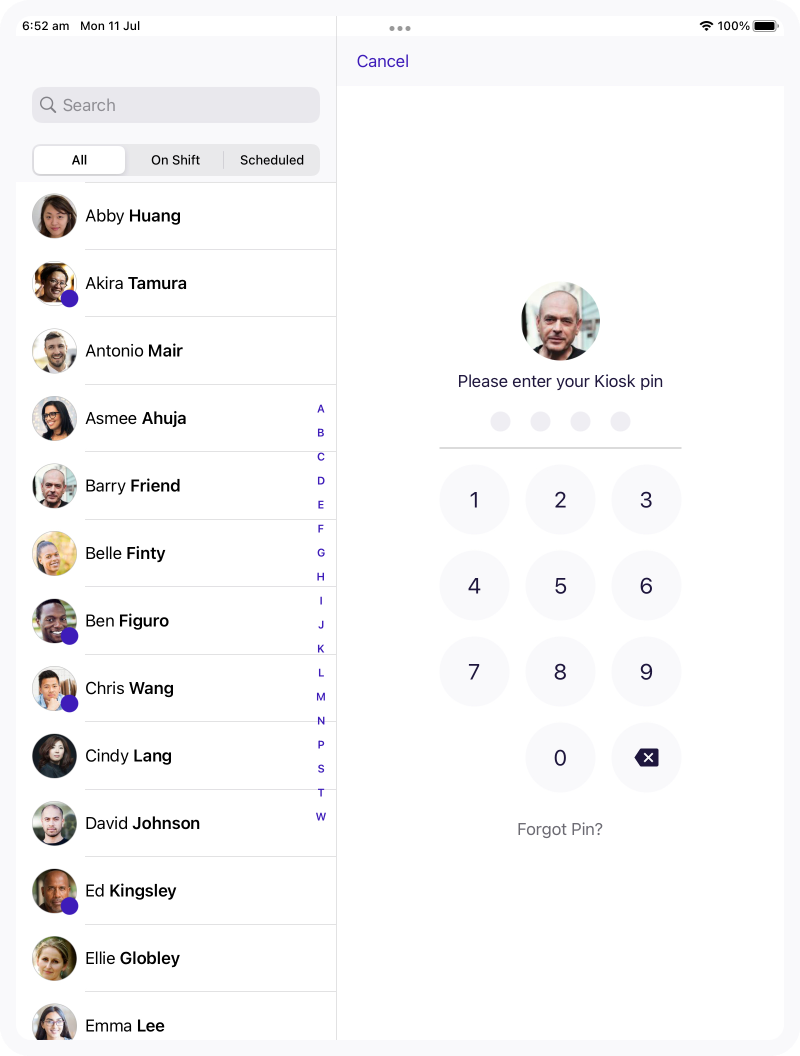 The dots next to the team members' names indicate:
purple dot = scheduled to work today
green dot = on shift right now
yellow dot = on a break right now
red dot = late for a shift
no dot = not scheduled to work today
Tips and recommendations
Please note that team members:
will use their PIN to clock on/off from shifts and breaks (or FaceUnlock if it was allowed at Step 5 above)

can find their PIN on the email that invited them to Deputy

can have their

PIN resent

to them by clicking on

Forgot Pin?

at the Kiosk

can change their PIN by logging onto

Deputy website

or using the

Deputy mobile app

.

without a PIN, mobile number or email address to retrieve a PIN, can provide a photo to log in.

Please note when team members use a photo, it will only allow them to start and stop their shift. No private information such as availability or tasks will be shown.
Kiosk set up recommendations
Kiosks are set up per Location and will only show a list of team members for that Location. For more on Locations check out this Getting Started Guide. If a team member is working from a different location than they usually would, then they need to be scheduled for a shift at that location for their name to appear in the Kiosk.

Set up the Kiosk tablet with a constant power supply so you never need to come back to it to recharge

Enable

Guided Access

controls on the iPad Kiosk to prevent team members from downloading apps or browsing illicit sites.

Mount the Kiosk in a case that will stop it from being tampered with.

Ensure the Kiosk is installed at head height level if you choose to enable

photo verification

for the kiosk.