Once you have set up the Kiosk on your iPad you are ready for your team to start clocking in.
In this article, we look at everything the Kiosk can do:
Start and end shifts and breaks with your PIN
Start shift
1. Select yourself from the list of people assigned or scheduled at this location and enter your PIN to log in.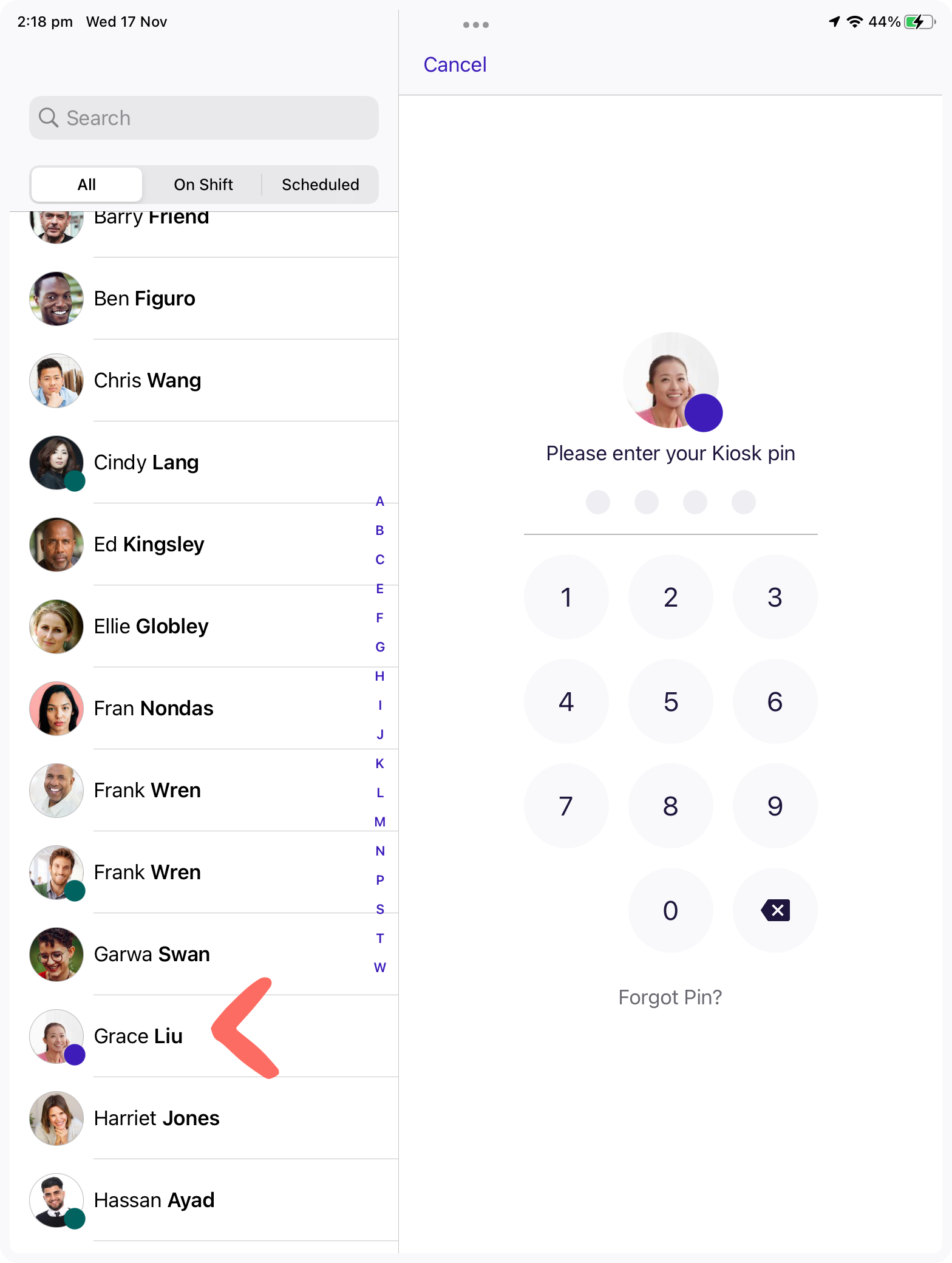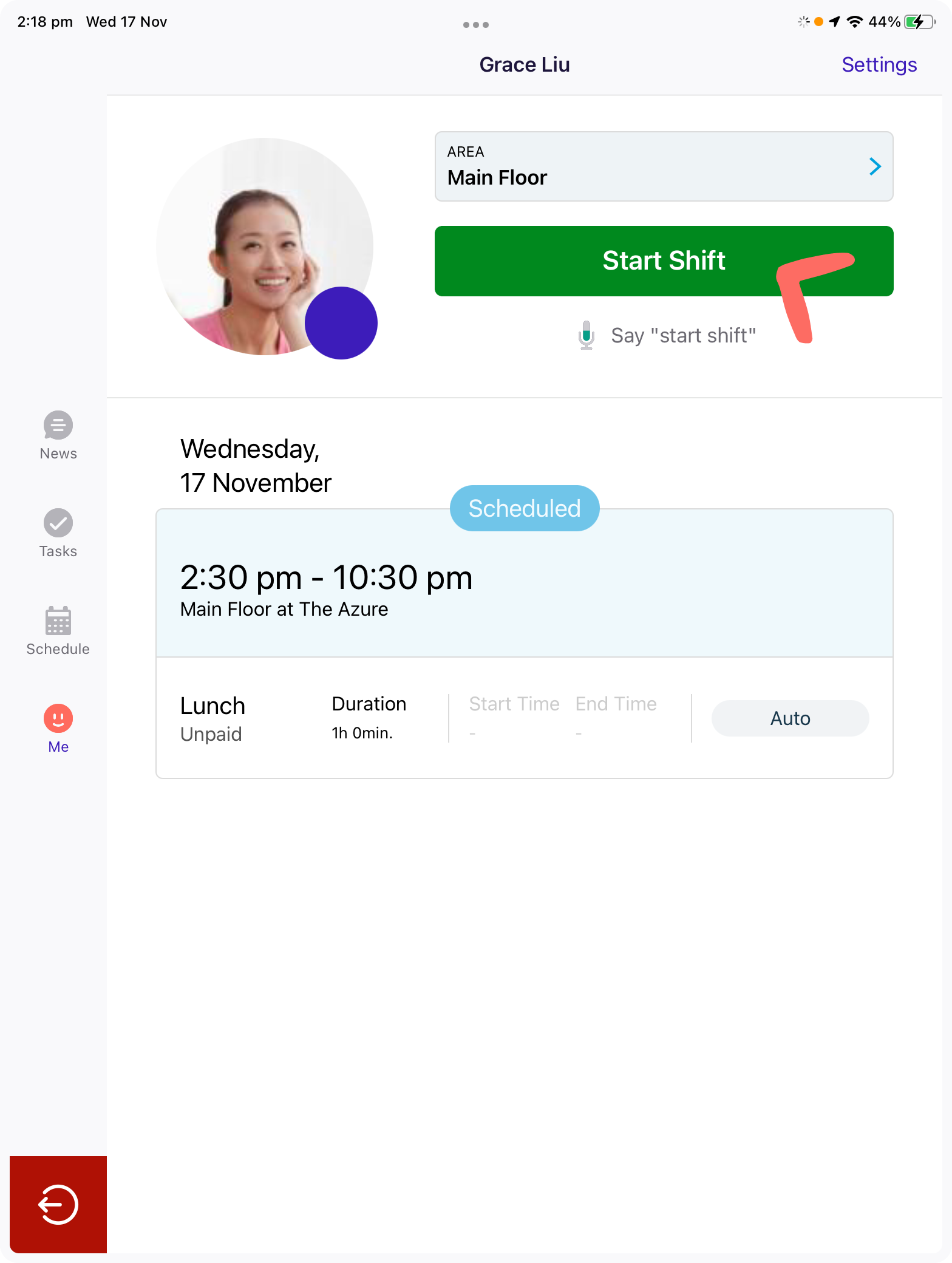 You might be required to provide a photo in order to start the shift if your organisation has requested it. If so, make sure you are standing in front of the iPad and it is just you. If multiple faces are present, it will reject you from going ahead! Remove any hat, sunglasses etc you are wearing in order for the face detection technology to work properly.

You may also be required to answer a question before you start your shift. Such as confirming you do not have COVID symptoms.
Breaks
To start and end breaks please follow the same steps as above but tap Start Break and End Break.
End shift
To end your shift please follow the same steps as above but please tap End Shift.
You may need to confirm the break period you have set.

You may also be required to answer a question before you end your shift. Such as entering the tips you received during your shift.

When ending the shift you may also leave a comment, which will be visible on your timesheet for your manager to see. This is useful if you need to communicate an unexpected event to your manager or to leave a note for them. Simply add the comment to the box then click "Submit". Please note that this will not appear if your shift was too short to register (generally under 15 minutes).
Once you have finished using the iPad Kiosk each time don't forget to tap the red button on the lower left to log out.
Start and end shifts and breaks with Touchless Clock In
You can also start and end your shifts and breaks on the Kiosk using Touchless Clock In.
Note: the first time team members use the Deputy Kiosk for iPad they will need to use their PIN to access the Kiosk then opt-in to FaceUnlock if they wish to use it. FaceUnlock does not automatically detect the face of new user until they have given permission.
To use FaceUnlock with the Deputy Kiosk for iPad you will need:
the manager to have enabled FaceUnlock when setting up the Kiosk

the team member to have a

profile photo

uploaded to their account

the team member needs to have opted in to using FaceUnlock
Then:
Walk up to the Kiosk device

Hold still and smile for the camera

Clearly state one of the following voice commands:

"End shift"
"Start break"
"End break"

"Start shift"
Amend shift details
If your manager has enabled permission for team members to amend shifts, you can edit the details of your shift In Progress.
Tap on Edit for the shift in progress.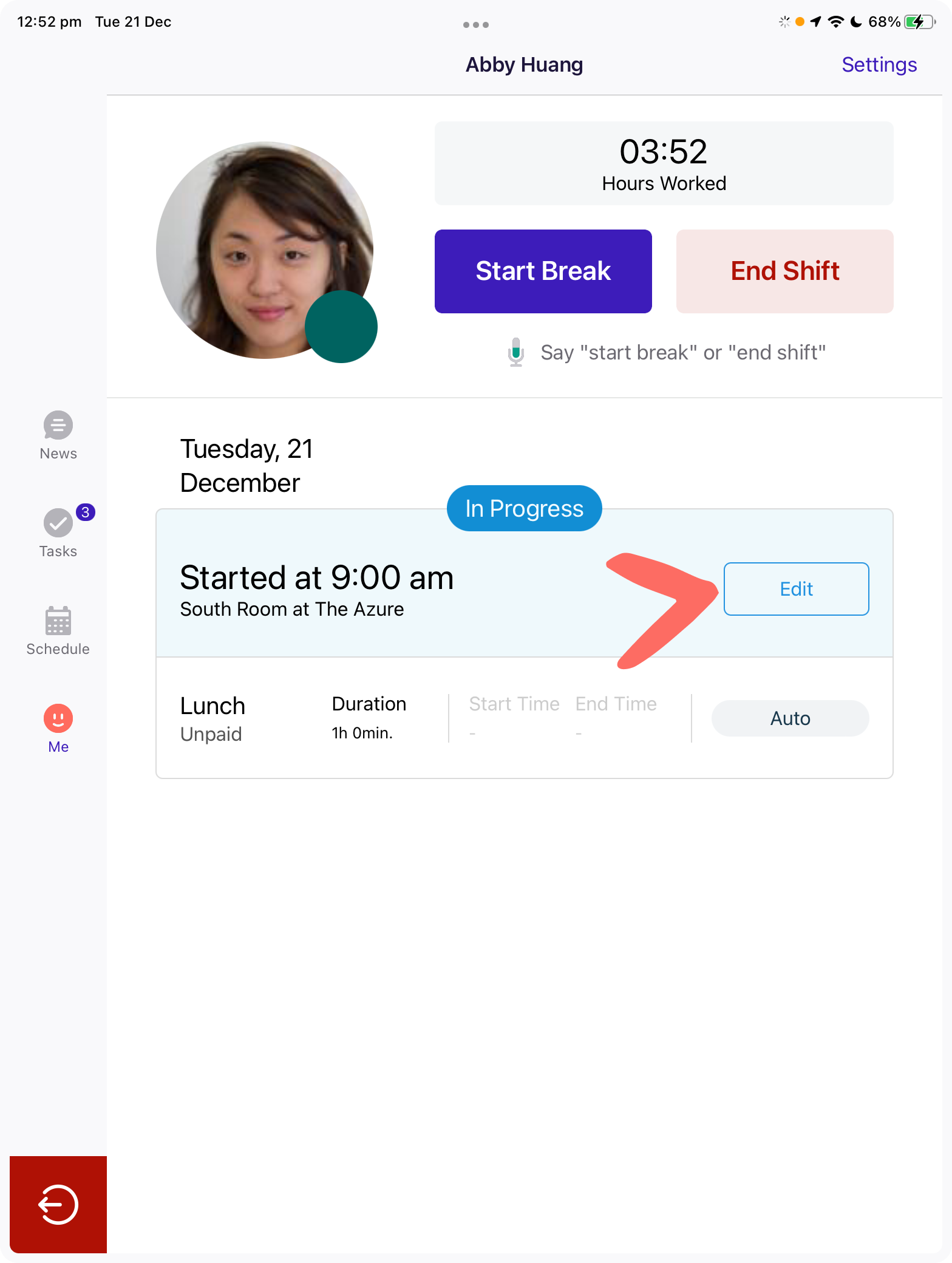 2. Amend the time, date or Area by tapping on the relevant section of the screen and changing the selected information.
3. Tap Update Shift to save the amended information.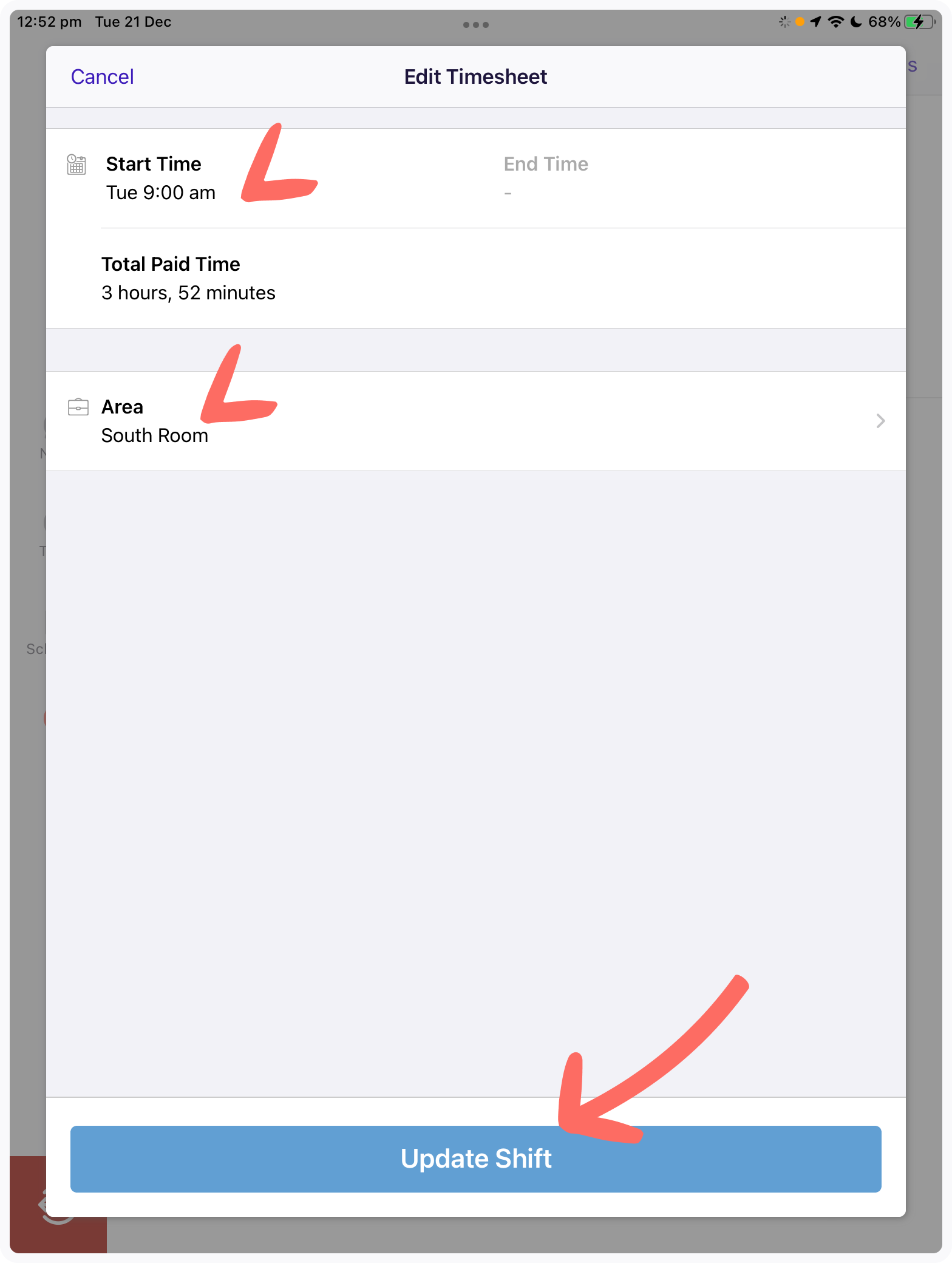 Note: All amendments will be visible in the Timesheet History when managers are approving timesheets.
News Feed
Read, create and comment on company announcements or message team members directly via the News Feed
1. To view the news feed, tap News on the navigation bar.
2. To create a new post, tap the + icon.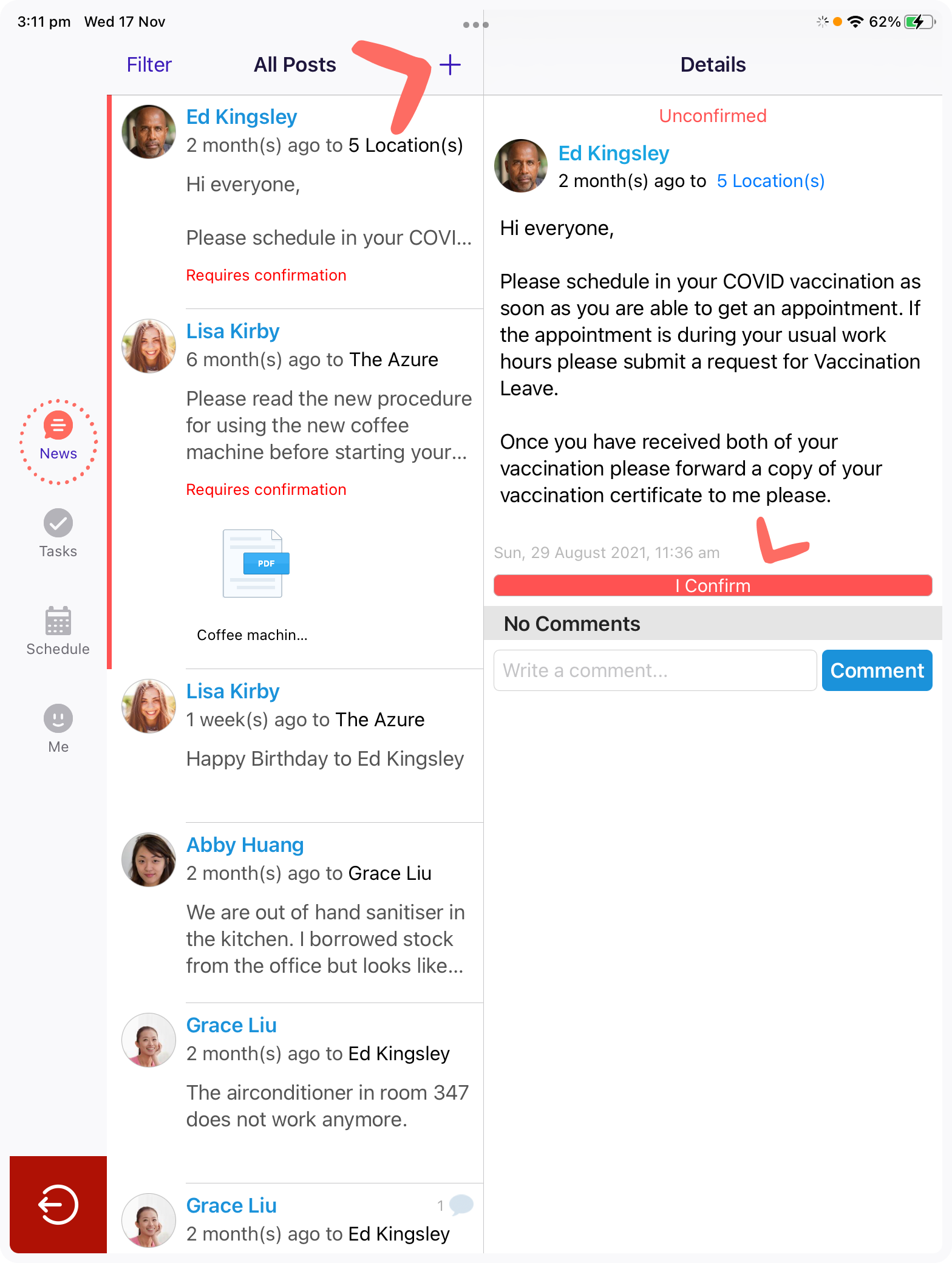 Tasks
View and create tasks for yourselves and other team members.
1. To view tasks, simply tap Tasks on the navigation bar.
2. To create a new task, tap the + icon.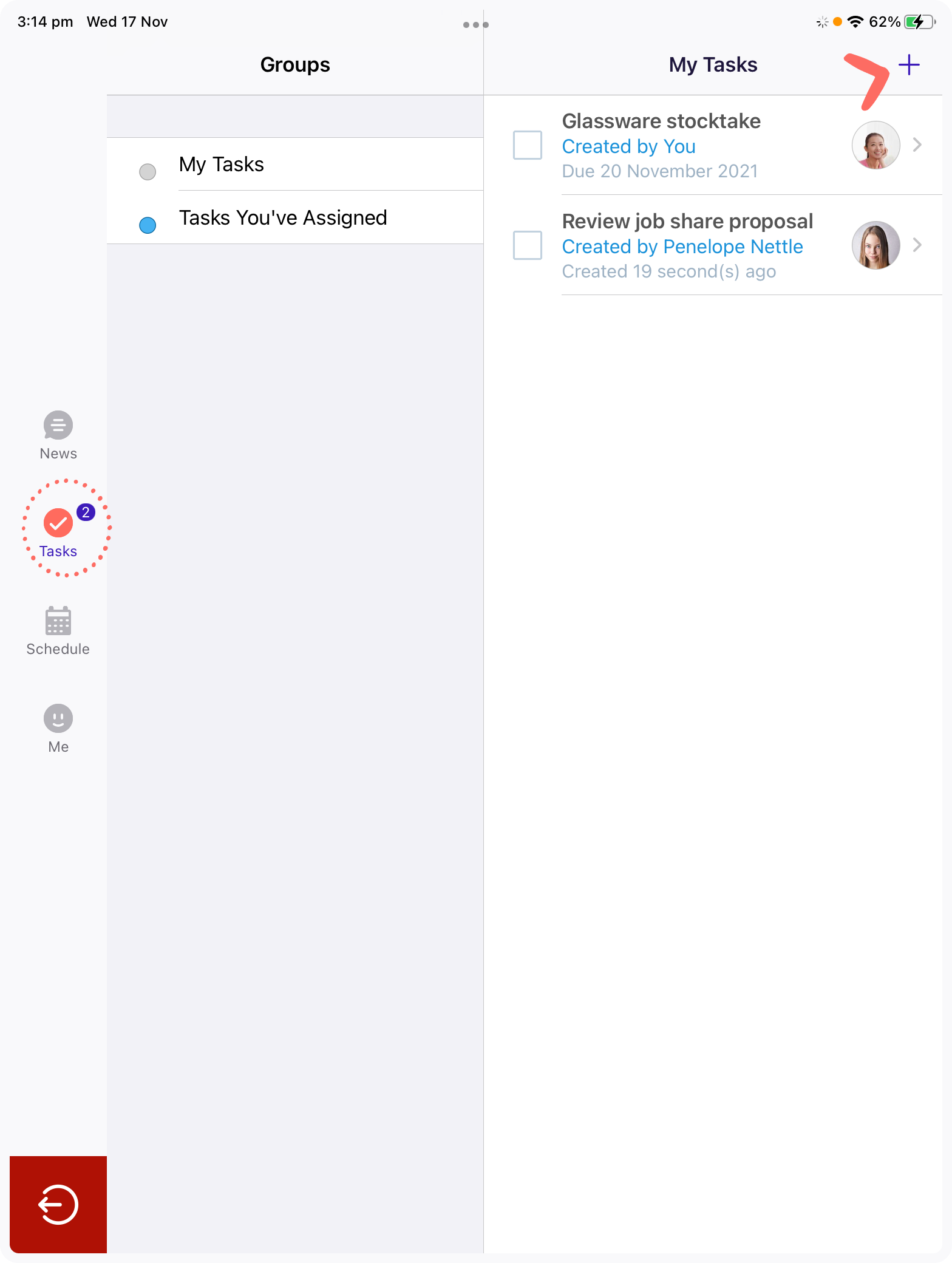 View your schedule and timesheets
View your upcoming schedule and past timesheets by tapping on Schedule in the navigation bar.
The green Timesheet marker will highlight previously submitted timesheets, while blue indicates your future shifts.
You can tap on each marker to see the shift details and who else is working that day. If you tap on the list of people working you can also see which area each person is working in (if your organisation has permitted this functionality).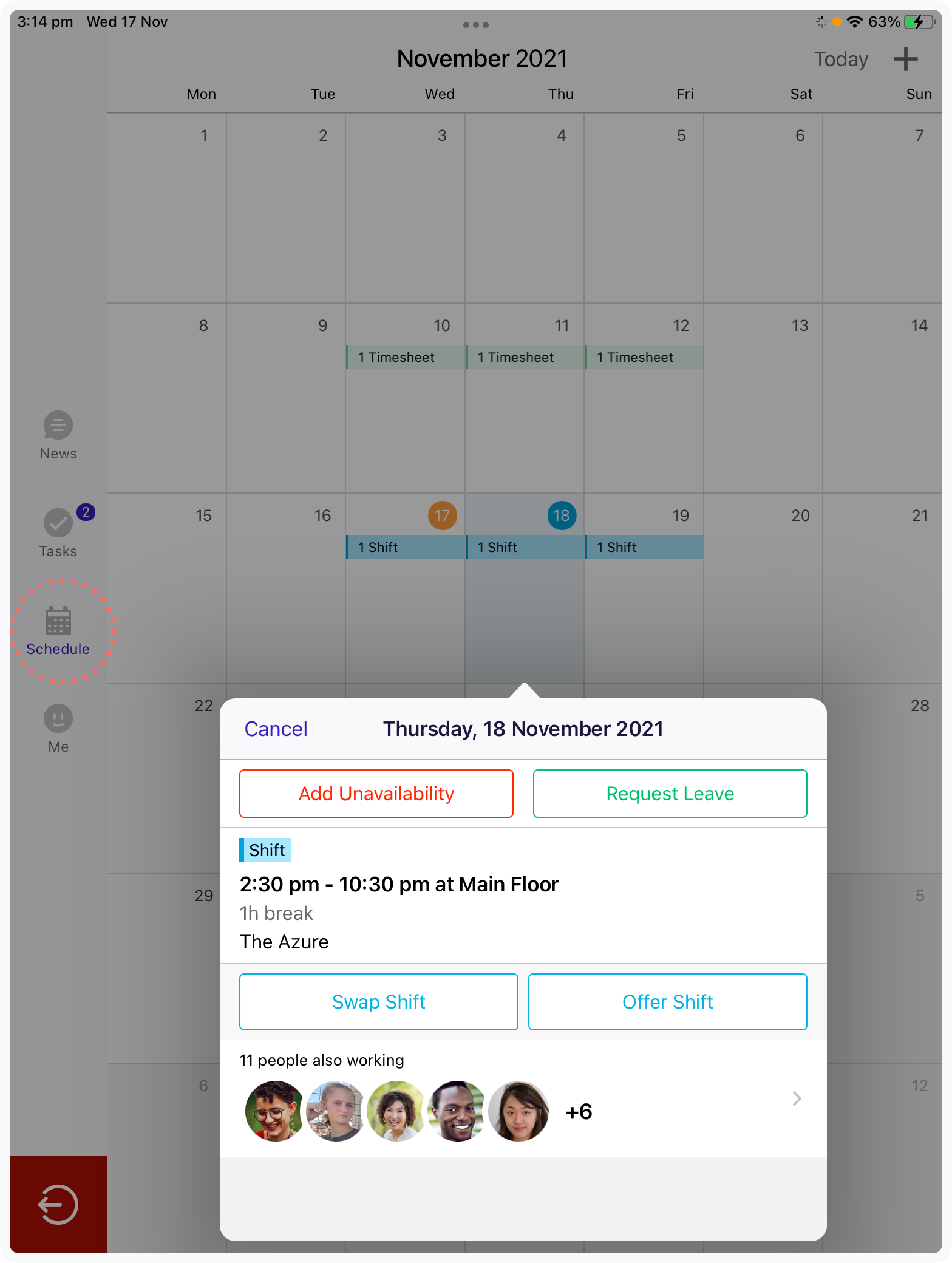 Swap or offer shifts
While in the Schedule tab you can also tap on an upcoming shift and choose to swap or offer it to other team members.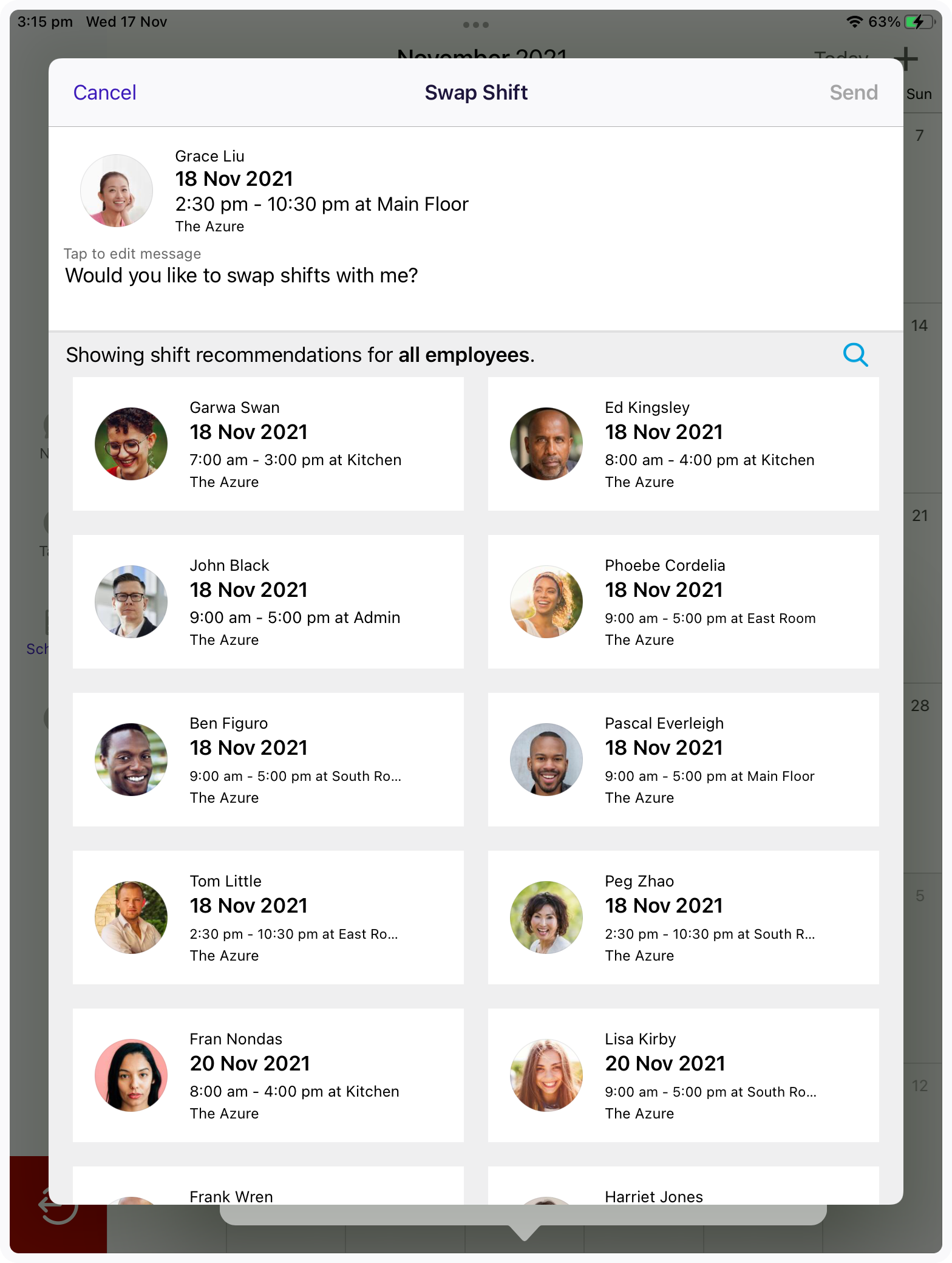 Add unavailability and request leave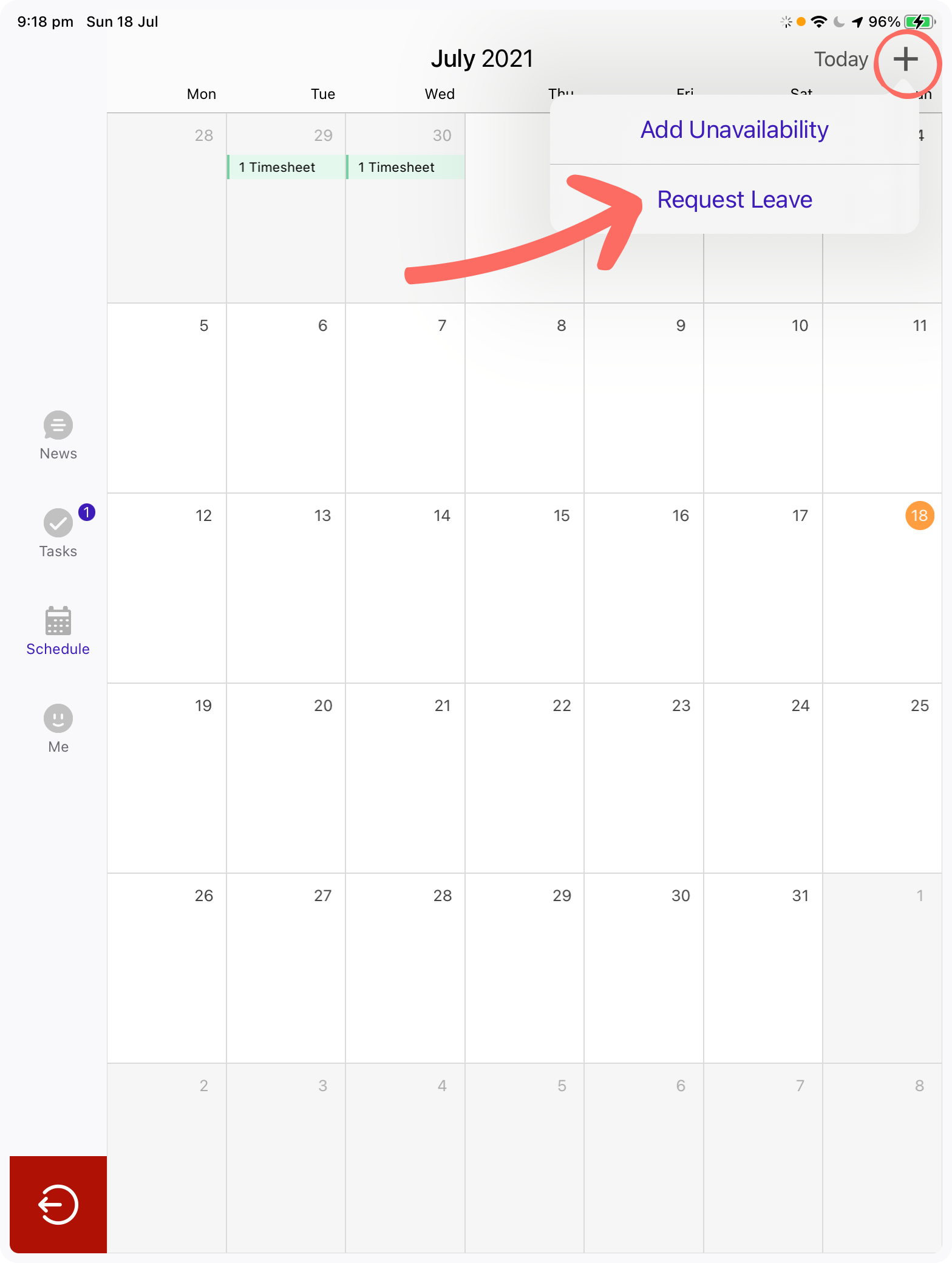 Adjust your own personal Kiosk settings
If your organisation has enabled Face unlock to allow team members to login to the Kiosk using facial recognition but you would prefer not to use this feature:
1. Log in to the Kiosk with your PIN
2. In the Me tab, tap on Settings and toggle OFF the Face unlock setting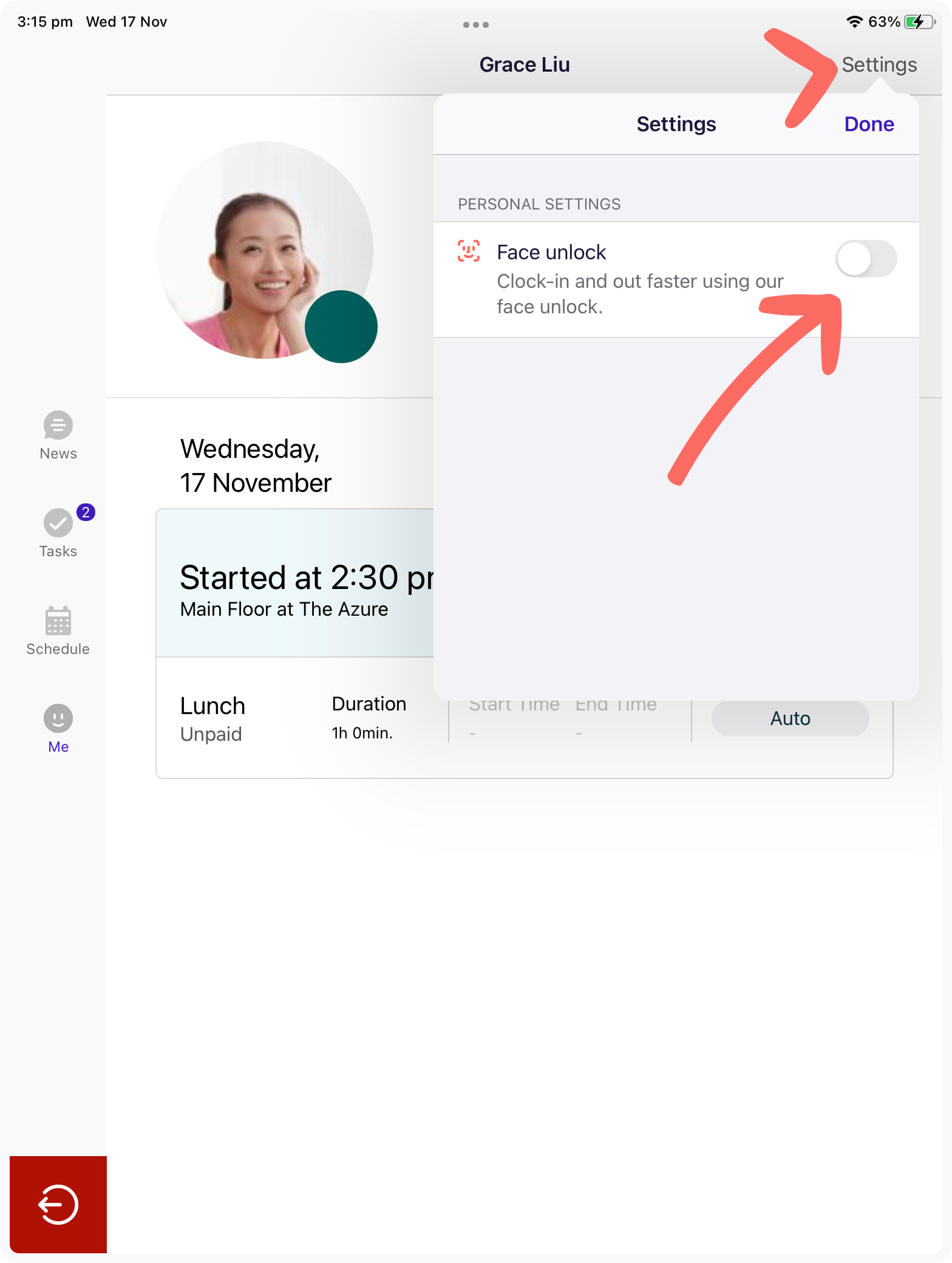 Troubleshooting
My name is not appearing on the Kiosk list
If your name is not appearing on the Kiosk list, then speak to your manager about this.
They must assign the location of the Kiosk in your profile, or schedule you for a shift in the Kiosk location for your name to appear there. You can drag down on the list itself to refresh the people listed on the kiosk at any time.
What do the coloured dots next to my name mean?
The dots next to the team members' names indicate:
purple dot = scheduled to work today
green dot = on shift right now
yellow dot = on a break right now
red dot = late for a shift
no dot = not scheduled to work today
I forgot my PIN
Your PIN was sent to you in your original email inviting you to join Deputy.
If you can't find it or have forgotten it, you can have your PIN sent to your mobile phone or email address or just clock in with your photo.
The internet is not working
The Deputy iPad Kiosk can still be used offline if there are connectivity issues surrounding the iPad it is hosted on. Please note that you will need to reconnect to a network for the timesheets to go through to your account.
Offline Mode will appear under your name if the Kiosk is offline.