Adding team members to your Deputy account is one of the first things you can do when you set up your account, with as little information as your team members' names. However, there are many other ways you can add your team members. This guide shows the different ways to help you decide which is the best for you.
If you have many employees, with data already stored in another system then you may find it easier to import the data or connect directly to the system via an integration.
Alternatively, you may wish to ask your team members to complete the information themselves by sharing a link and inviting them to join your Deputy account.
Before we begin, please make sure you have the required access to add new staff to the organisation. You will need to be either a Location Manager, System Administrator or Advisor.
Onboard new hire (AU and UK only)
This feature is currently is only currently available for Australian and UK customers and allows you to invite your team to join Deputy while also digitally collecting information from employees such as:
Personal details
Bank (payment deposit) information
Tax File Number
Emergency contact details
Superannuation details (AU)
Read more about Employee Onboarding with Deputy.
Manually adding single employees
When you first sign up to Deputy, you will have the option to add employees. Afterwards, to add new employees, you will need to navigate to the People page.
From here, click the Add People dropdown menu button: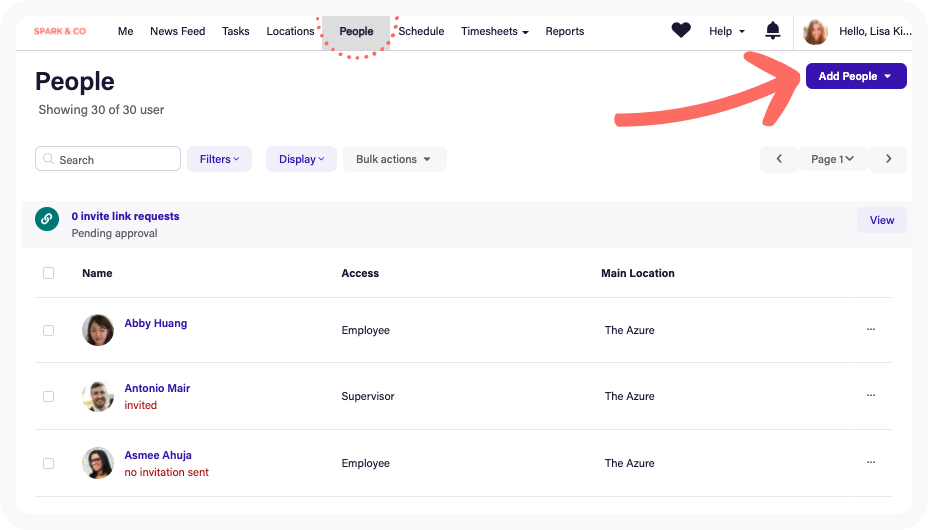 Then click, Add a Single Person: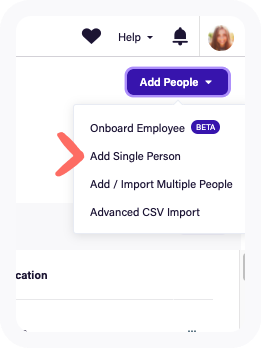 The Employee Profile opens in a pop-up window: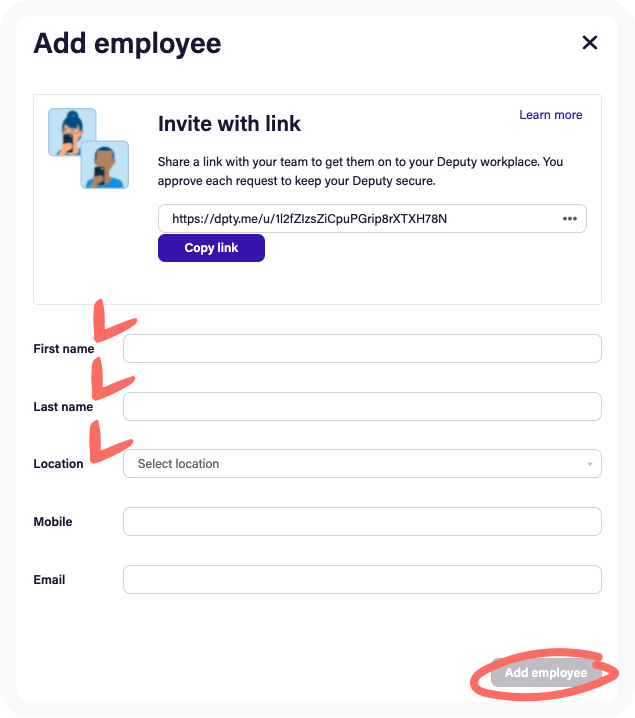 Here you can enter mandatory information:
First name
Last name
The location(s) the member works at
Mobile phone number
Email address (an email will be sent to invite the team member to join you on Deputy)
The Add Employee button will not turn purple and clickable until the mandatory information has been entered.
Once the employee has been added they will appear in the People list and you can click on their name to add more details in the Employee Profile page as required.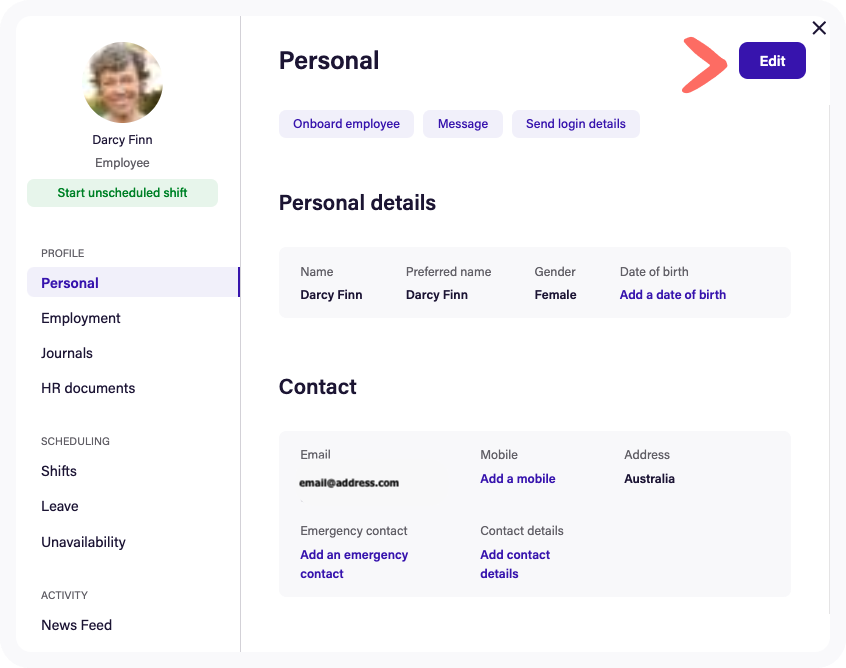 In the Employee Profile, you can also enter other optional information. To edit the information, click on the Edit button or directly on any information coloured purple.
You can add or update the following information on these pages in the Employee Profile:
Personal Details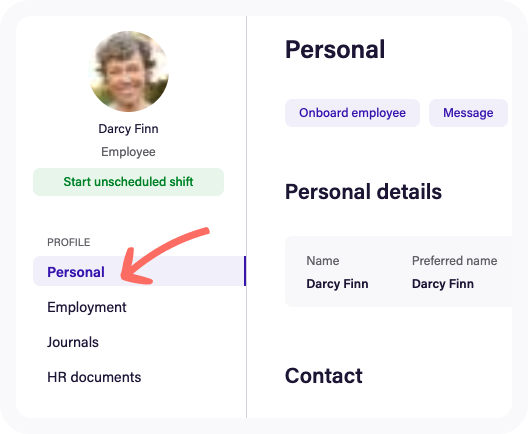 Upload profile picture (accepts JPG, PNG max 10MB)
First and Last Name
Preferred name
Gender
Date of Birth (see tip below)
Contact details
Emergency contacts
Tip: To quickly find the year when setting the Date of Birth for your team member, click on the calendar icon and then click again on the date at the top to select the month and click once more to select the year.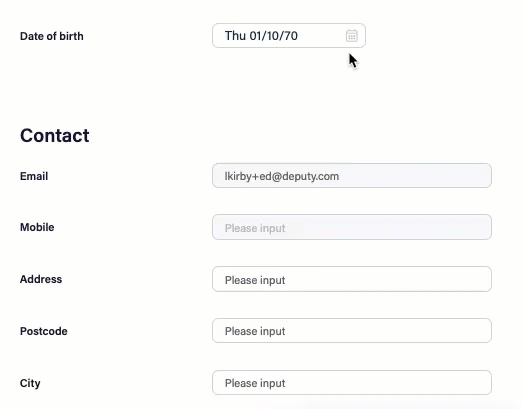 On this page you can also:
Employment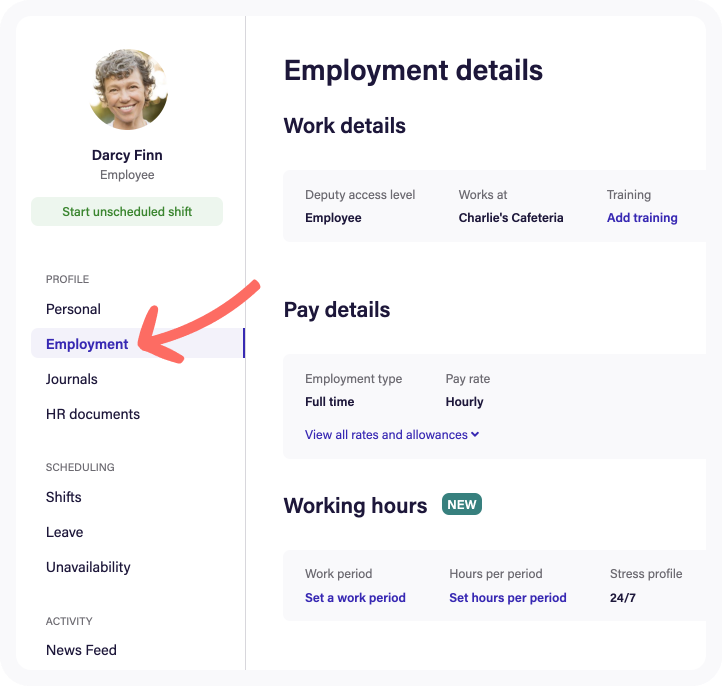 You can edit:
Don't forget to click Save after you have entered the information.
Inviting employees by sharing a link
To generate a link that you can use to invite employees to your Deputy account, follow the select the Add People option from the People tab, then either 'Add / Import Multiple People' or 'Add Single Person' from the drop-down menu. Click on the Copy link button.
Note: The option to copy the share link is also accessible from the Add/ Import Multiple People item in the Add People drop down menu.

The link inviting the employee to your business on Deputy will now be copied to your clipboard and can be pasted into social channels such as WhatsApp, Messenger, Email or SMS, for you to send to your employee.
When they click on the link they will receive an invitation to join Deputy and complete their employee information as described further in this article.
If you wish to deactivate a link you have created and generate a new one for your organisation, follow this process.
When not to use invitation by sharing a link:
If your organisation uses SSO to login to Deputy then you should not invite employees to your organisation using this method invitation by sharing a link.
If you have already entered your employee's email addresses into Deputy you can use this method

to send email invite links as a bulk action rather than one by one.
Adding multiple employees manually or via file import
From the People page, click Add People and then Add/Import Multiple People':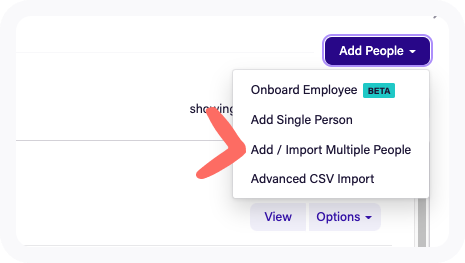 This will open a new pop out that has options to:
import from a file
enter multiple employees' names, emails and phone numbers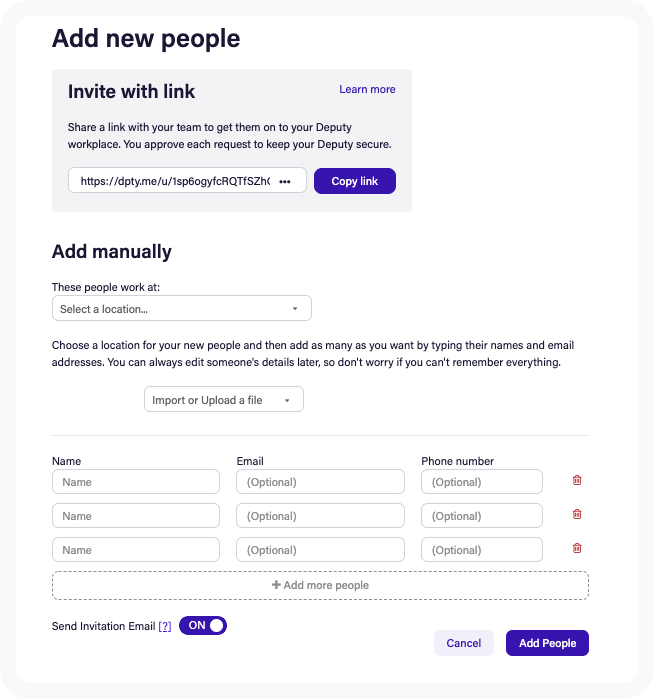 First, please select the location where you would like to invite the new team members into. You can only add staff to one location at a time. To add staff to additional locations later you can do this with a Bulk Action on the People page.
Next, fill in their name and either their email address or their phone number. You can also toggle ON the Send Invitation Email option, which will send your employees an invite to join your organisation on Deputy.
If you have too many team members' names and emails to enter manually and would rather import them, click Import or Upload a file which will display a drop-down menu of programs you may import from.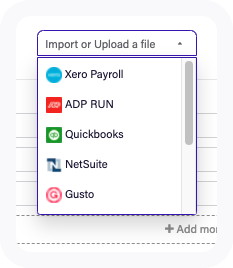 Xero Payroll, which will ask you to connect to your Xero account, then sync those details to fill the fields. Please be aware that if you have created the employees in Deputy already, they should not be set to Automatic pay rates, as this will duplicate them. Additionally, your employees' names and email addresses must be identical, which will avoid duplicating them.
ADP RUN
QuickBooks, which will ask you to connect your account to Deputy, then sync employee details into the fields.
Netsuite, which will ask you to connect, then import your employees into the fields.
Gusto
MYOB Accountright
MYOB, which will require you to follow a few steps to download a tab-delimited file, which you will then upload to fill in the fields.
WageEasy, which will ask you to connect, then follow a few steps to export your employee data as a CSV file, which you will then upload to Deputy.
Excel, which will require you to download and fill a CSV file, then upload it, filling in the fields for you.
Once this is done and you have double-checked the details, please click "Add" to send an invitation to Deputy.
Importing via integration connection
Another way to receive your employee data into Deputy is to connect an integration from an existing system in your organisation.
To see the integrations available in your region click on the right-hand side drop-down menu below your profile and select Integrations: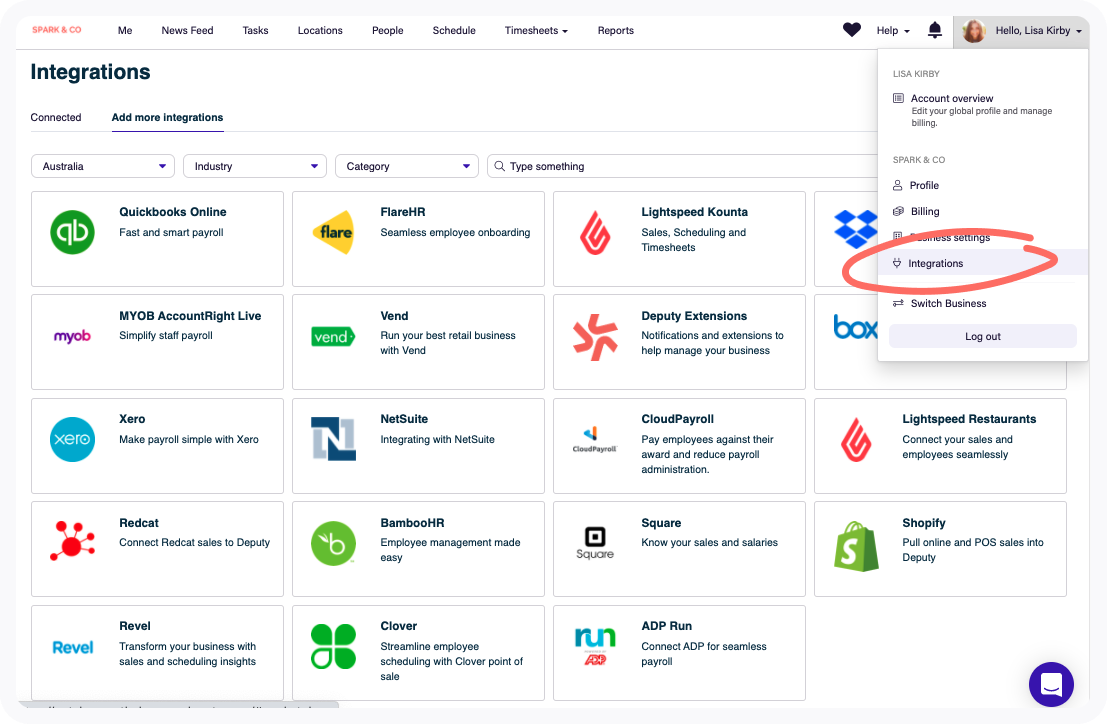 Click on the integration you wish to connect to and follow the instructions to access the third-party system. We have specific articles in our Help Centre that have been written for assistance with connecting to each integration.