For more information on setting up Leave in Deputy please first read Leave Management.
This article is written for users with an access level of Location Manager or System Administrator and will cover:
Getting started setting up leave
Before you can start accruing and deducting leave you need to ensure Leave is set up correctly.
As a refresher you need to complete the following steps:
Once you have completed these steps you are ready to accrue and deduct leave.
Accruing and deducting leave balance
Leave balance accrual and deduction can be manually entered via a number of ways.
Note: Only users with an access level of System Administrator or Location Manager can amend the leave balance of team members they manage.
It can also be automated so that you can set it up and leave it without having to worry about manual data entry.
Via extension (Accrual and Deduction)
Leave accrual is handled in Deputy via a built-in extension, which is turned off by default. Extensions can be used to activate automatic leave balance deduction. This can also apply for leave types that do not accrue, but which balances are still deducted as they are taken.
The extension you need to activate is called Approved Timesheet/Leave Request > Accrue And Deduct Leave Balance

Via employee profile
It's also possible to manually update leave balances
To update a single team member balance click on the team member's name on the People page then select the Leave section from the left-hand menu. You can edit the leave balance by clicking on Edit.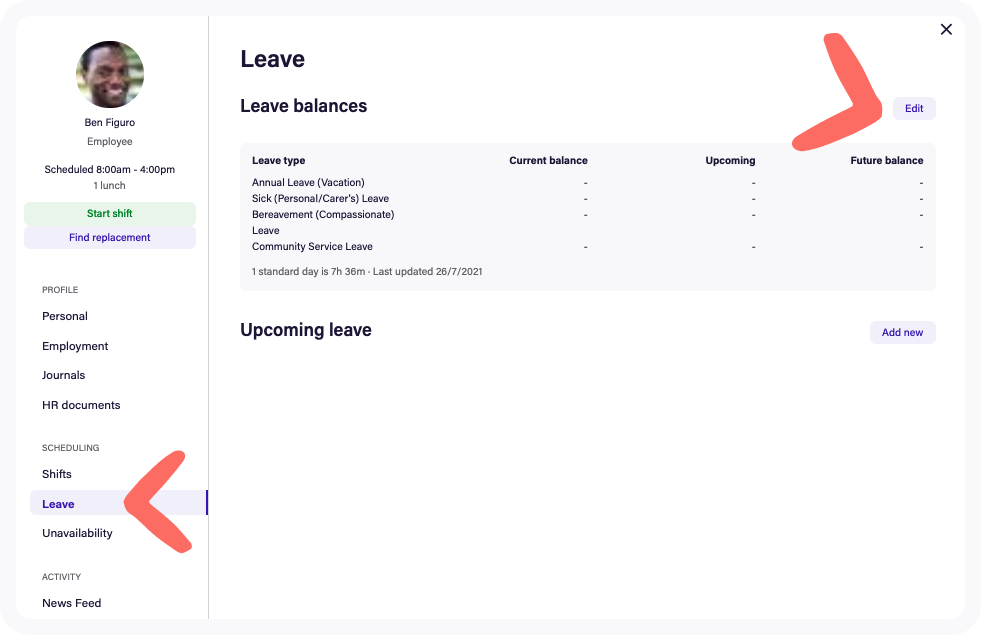 From here, you can manually enter in the values corresponding to the amount of leave the team member has for that leave type.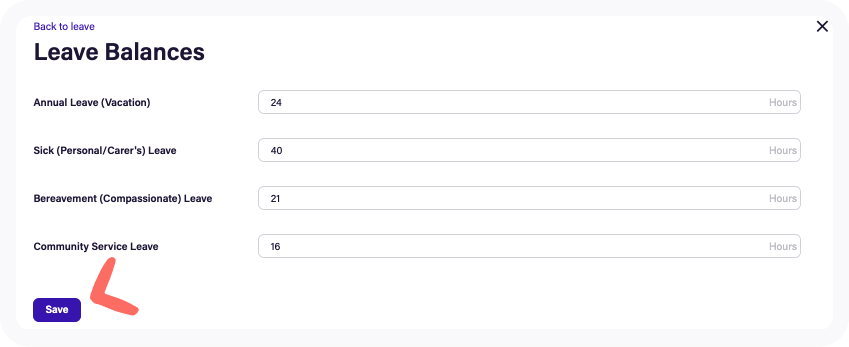 When you click Save you can see the leave balance reflected in the team members profile.

The above example shows the team member's standard day is 7 hr 36min. You can read more about how to set standard hours as it relates to leave management.
You can add leave balance amounts to multiple team members at once on the People page by selecting the required team members and clicking on Bulk Actions > Set Leave Balance.
Via payroll/HR software sync
You can now sync leave balance from the following payroll/HR systems:
Xero

MYOB AR

Gusto

BambooHR

FlareHR
To do this, you will need to add the function from the Integrations page.
Firstly, click on the drop-down profile menu on the top right-hand side of the screen and select Integrations.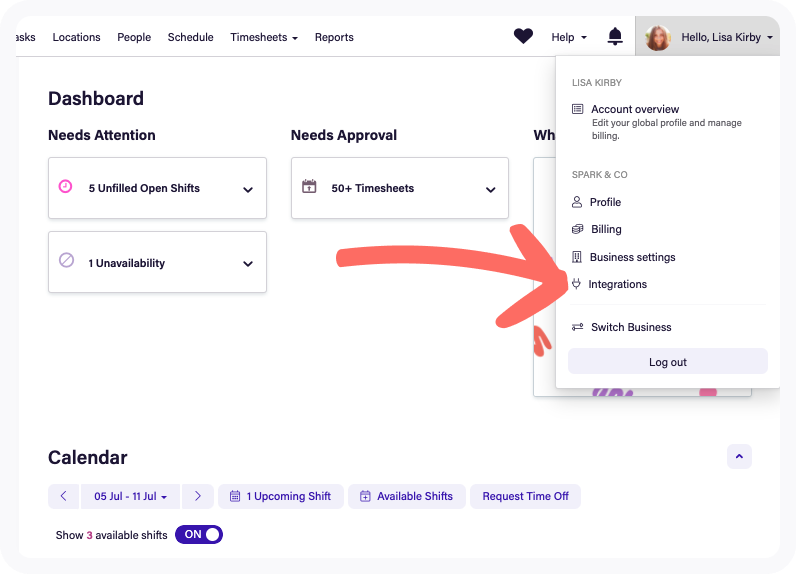 Then select the module for the third-party software from the Integrations available. In this example, we will connect to Xero.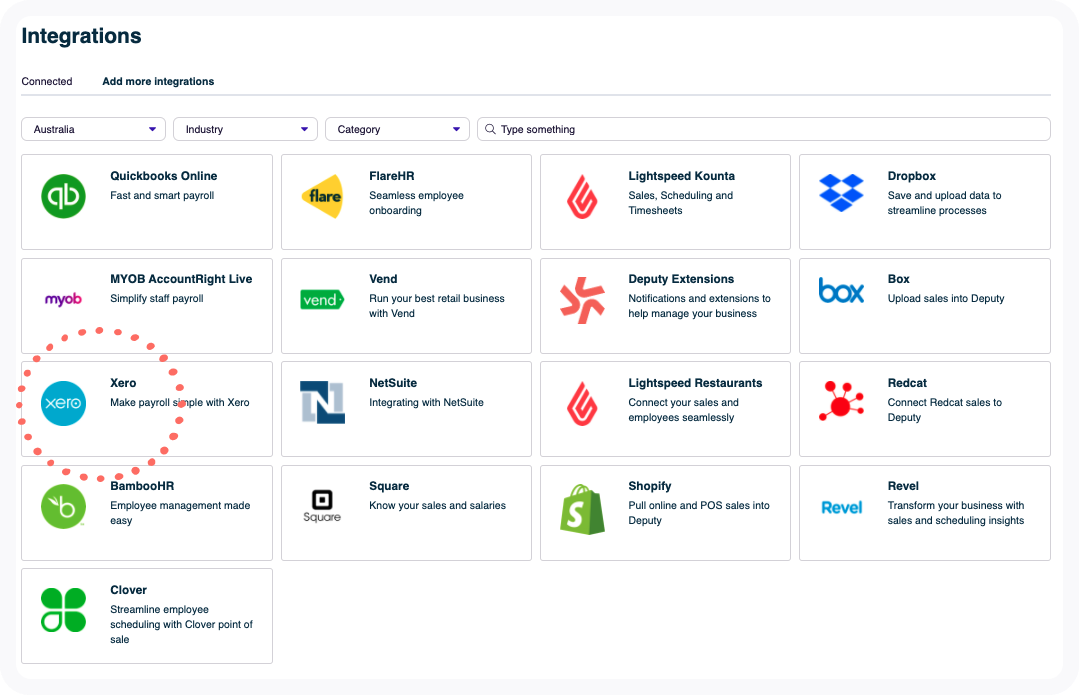 If you have not already connected to Xero you may need to login to your Xero account to allow Deputy to access the required information.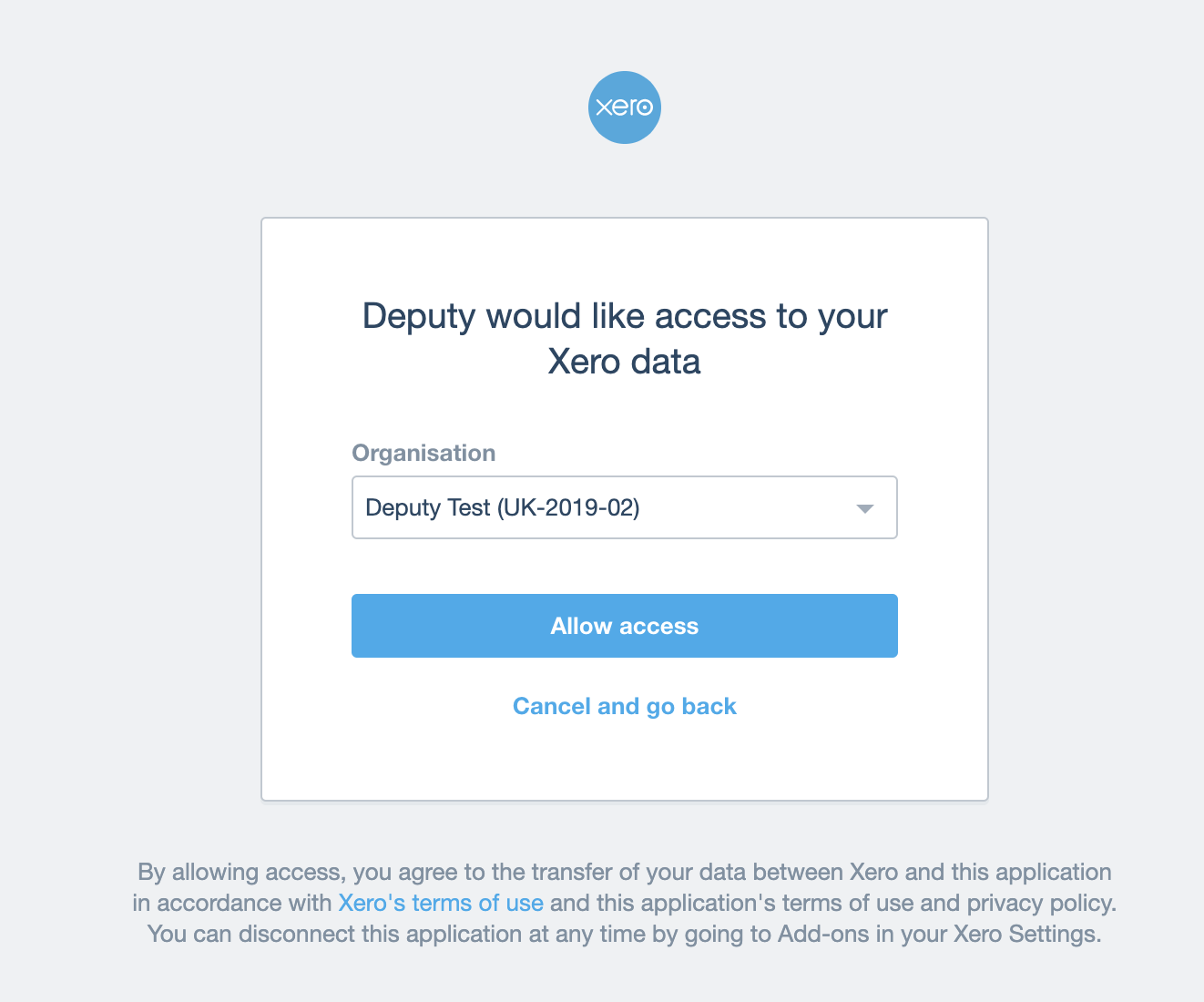 If you are already connected to Xero you can Connect new location or Configure an existing one.

Activate the extension called Import Leave Balance > Sync Leave Balance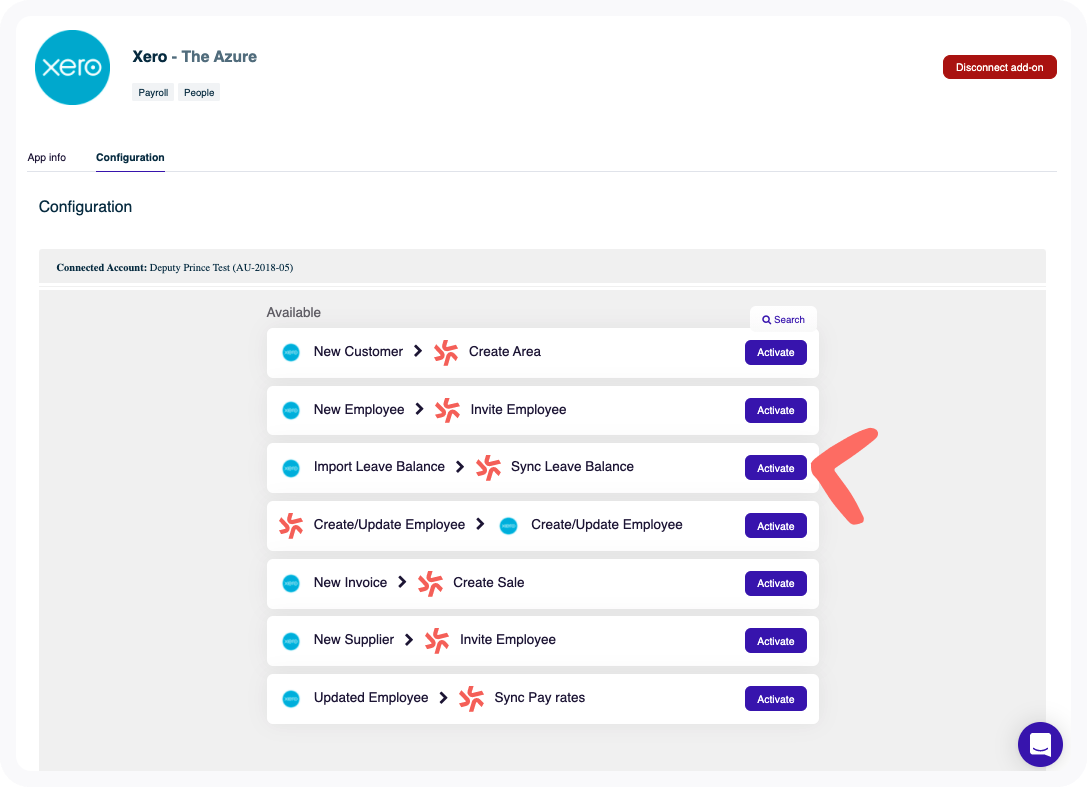 You may turn it on for all locations or just the one you selected.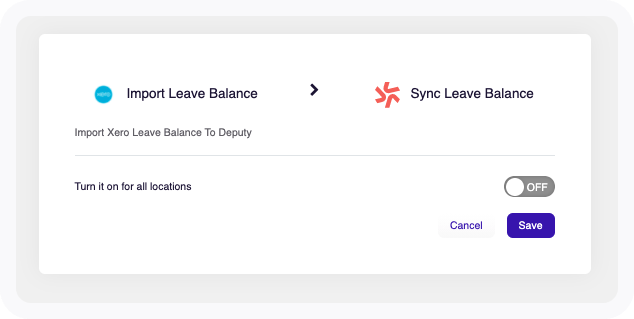 Don't forget to click Save.
Via backend link (For Advanced Users)
To add Leave Balance, you must navigate to the Leave Accrual Entry via the following link: 'exec/hr/leave_accrual'
You will need to enter this link at the end of your Deputy URL, for example, your URL will look like the following:
youraccountname.au.deputy.com/exec/hr/leave_accrual
You will be brought to the following page. To add a new Leave Accrual, press the 'New Leave Accrual' button in the top left-hand corner.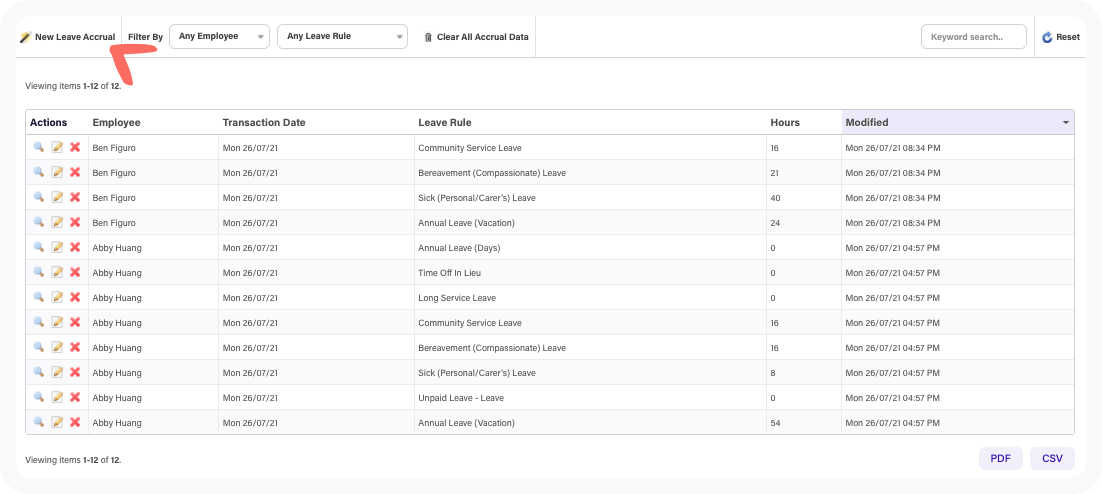 In the next page, you will be prompted to enter the details of the Leave Balance. This includes the team member name, transaction date, leave type, hours and any comments.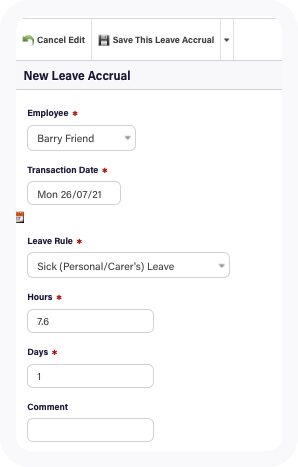 When you are done, click Save the Leave Accrual at the top of the page.
On the next page, you can click 'Info' on the left side to view additional information about the team member's Leave Balance, including the Record ID, Creator, the date it was created, and the date it was modified.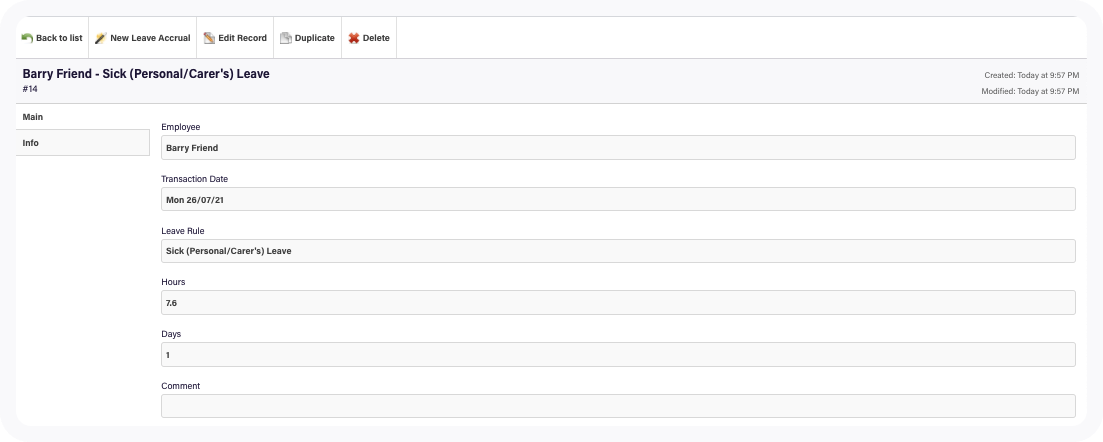 To view the full list of Leave Balances, click 'Back to list' in the top left corner. From here, you can view leave balances, as well as print the list as a PDF or CSV file.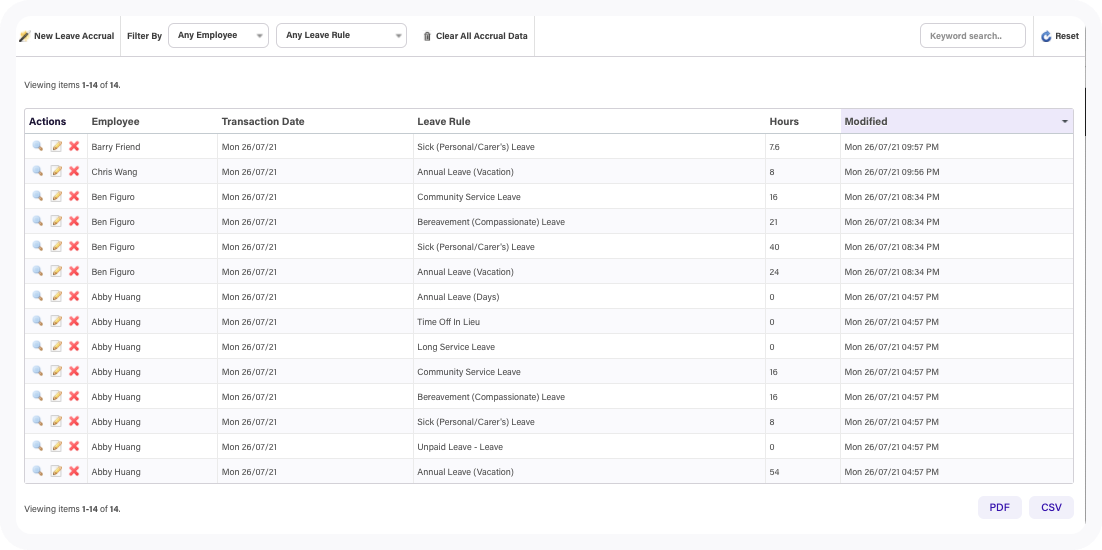 Reviewing leave accrual history (via backend link)
If you need to check the historical events related to an employee's leave balance you can review this in the Leave Accrual history.
You will need to enter this 'exec/hr/leave_accrual' at the end of your Deputy URL, for example, your URL will look like the following:
youraccountname.au.deputy.com/exec/hr/leave_accrual
The resulting screen will look like this: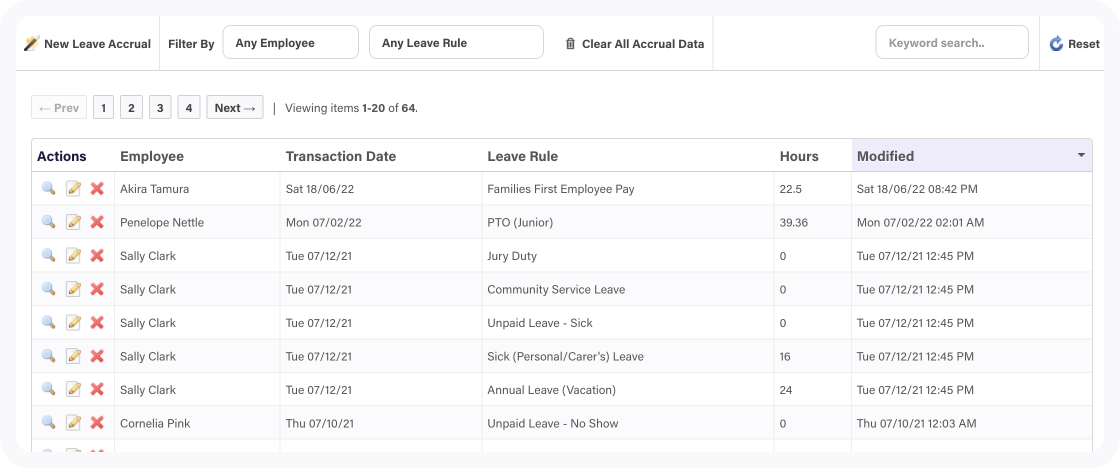 1. In the Filter by field select the name of the employee and the leave type you wish to review, then click on the magnifying glass icon to view.

3. Click on Info.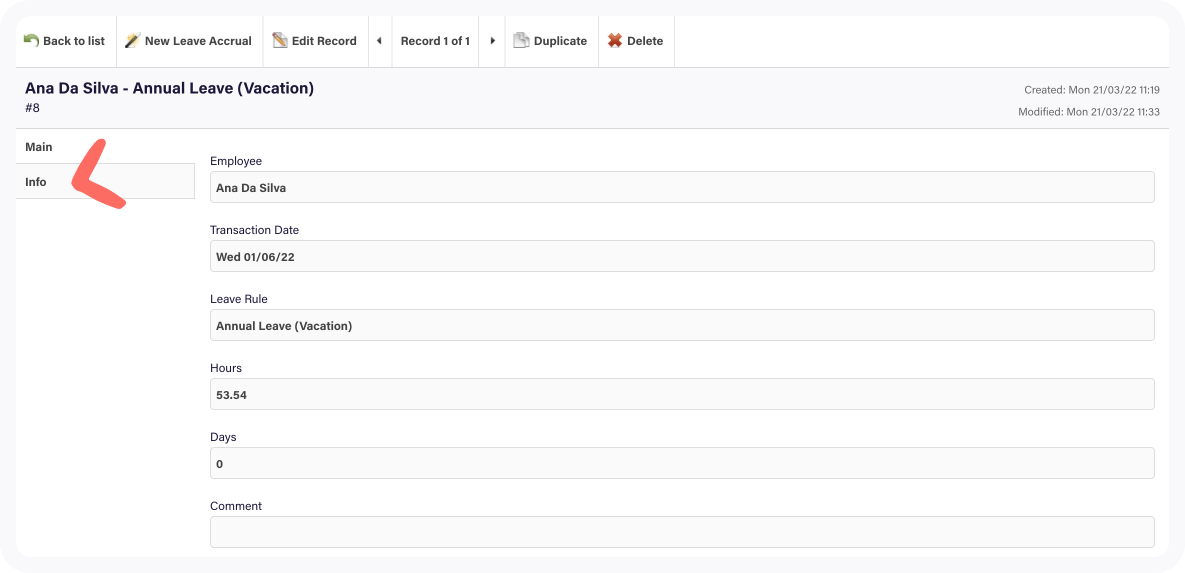 4. Click on Show History.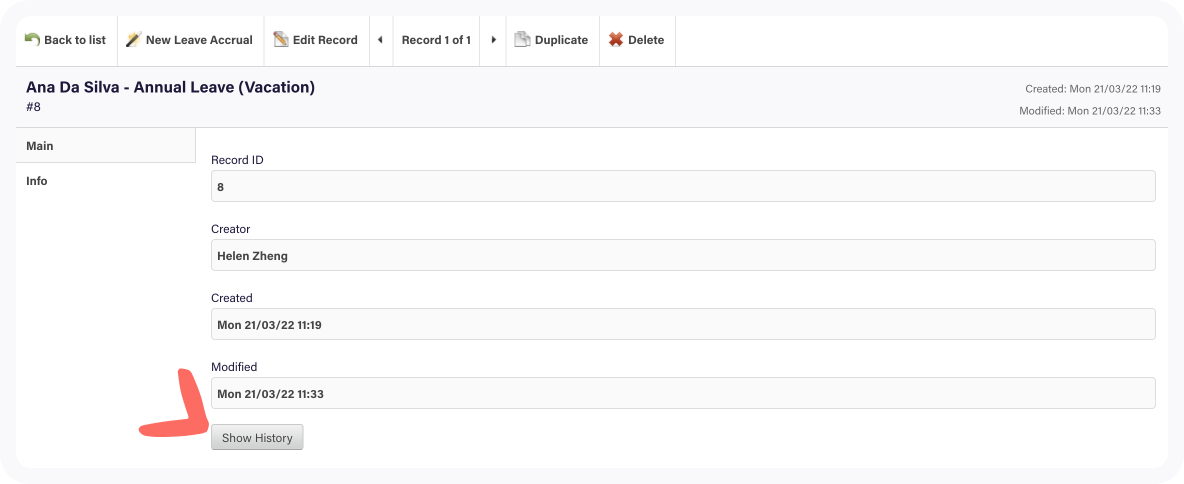 5. The Leave accrual history will be listed with the most recent events appearing at the top of the list.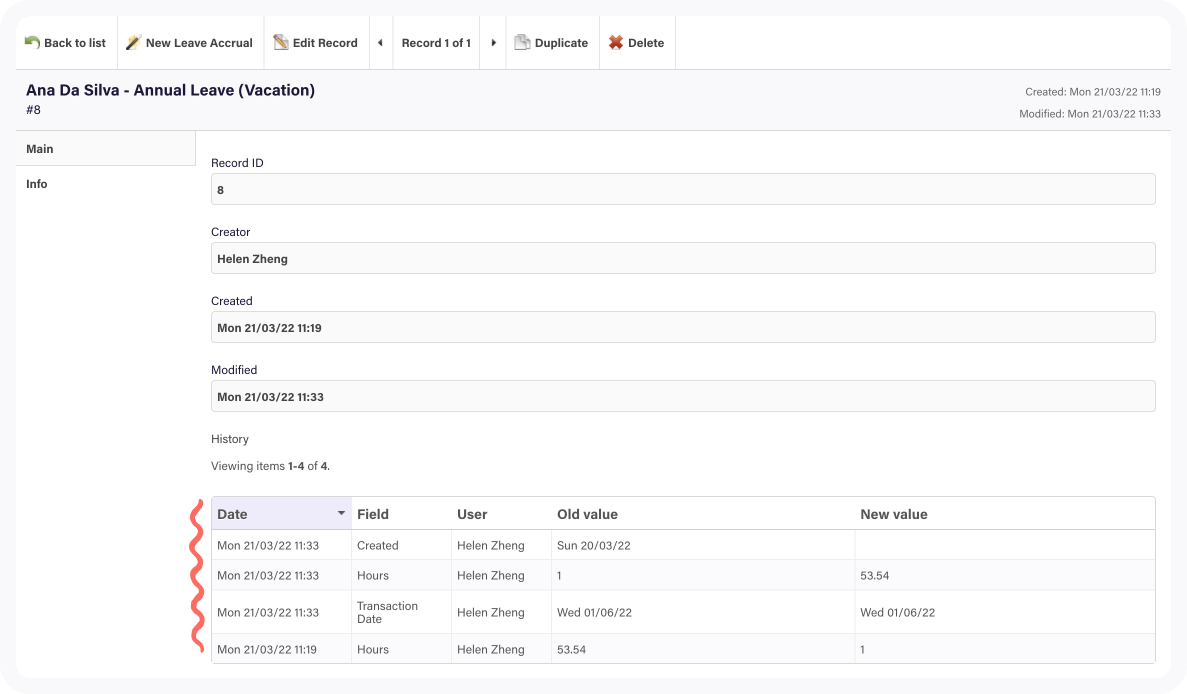 Allowing employees to view leave balances
If company policy dictates that employees can or cannot see their leave balance, we've made it easy to set this up within Deputy.
How to enable employee leave balance view
If the System Administrator has given permission for employee's to view their leave balance in Business Settings > Leave tab then employee's will be able to see their leave balance.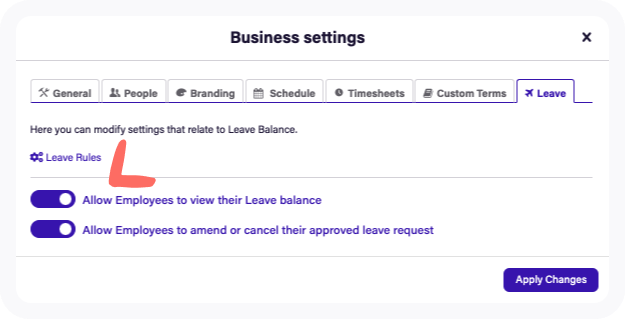 Employees can view their own leave balance on our Deputy web application as well as the Deputy iOS and Android mobile apps.
On the Deputy website
Click on Profile in the right-hand menu: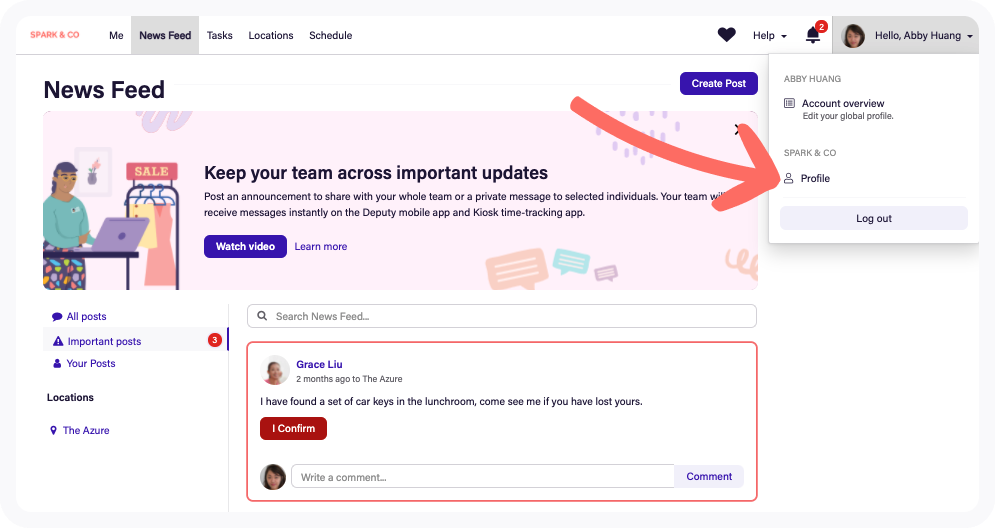 Leave Balances are shown under Leave.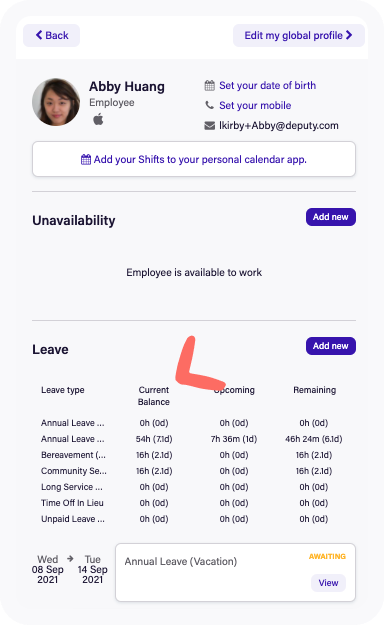 On the Deputy mobile application
Viewing Leave Balances on the Deputy iOS and Android mobile apps on the Home tab. Tap on Leave then select the Balance section to view your leave balance details.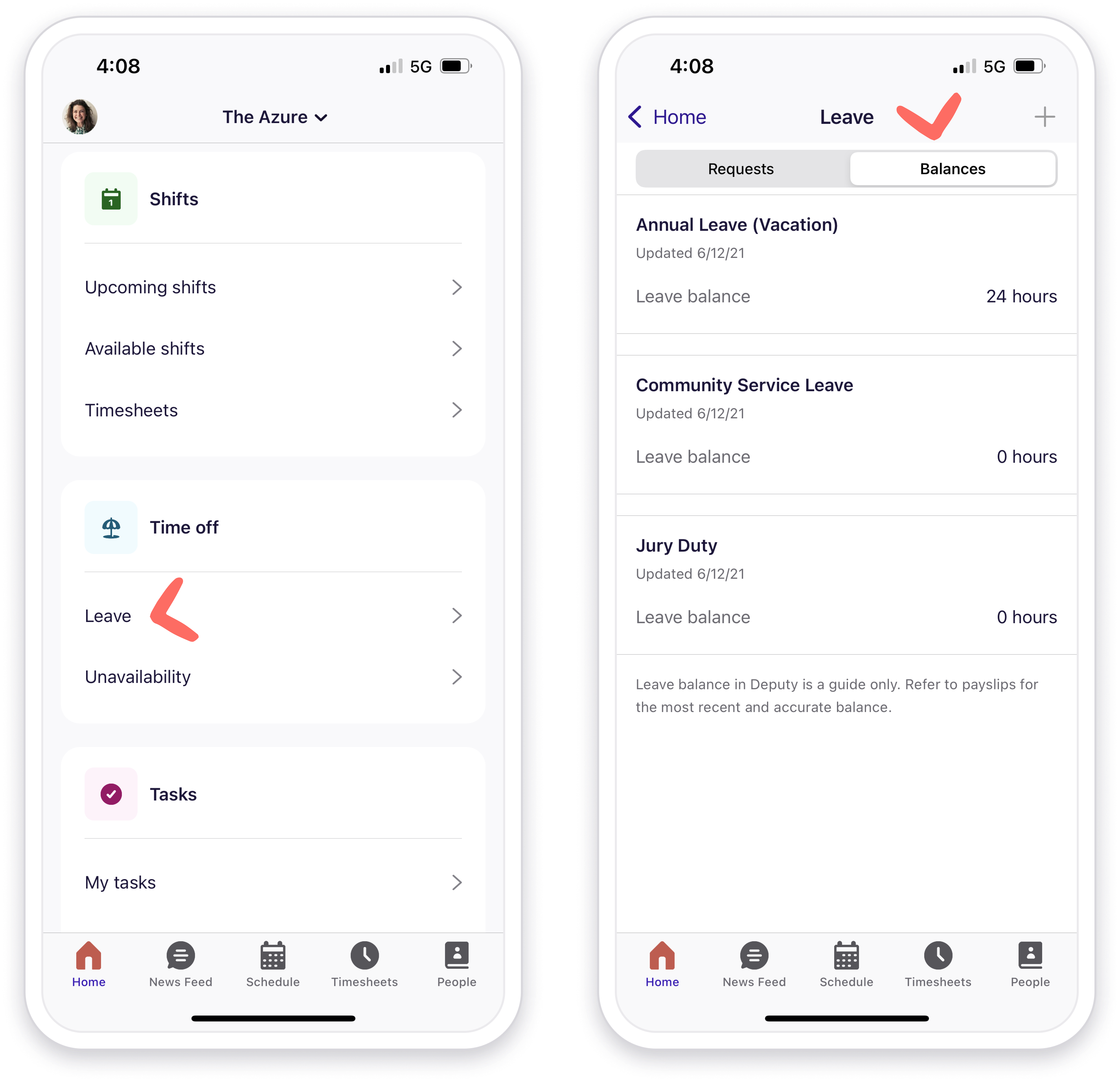 Viewing leave balances as a manager
You can view and filter Leave Balances in the Leave Dashboard on the Reports page.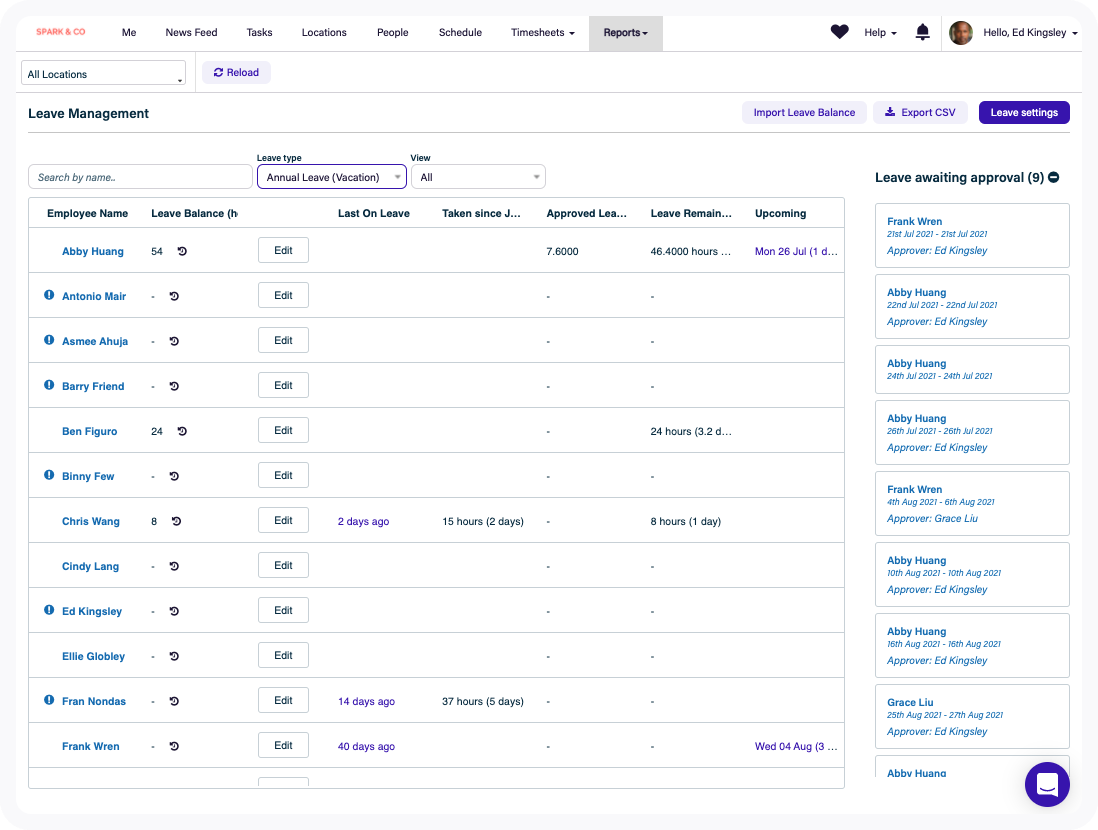 You can also filter and View Leave Balances on the People Page. A new column will appear labelled 'Leave Balance'.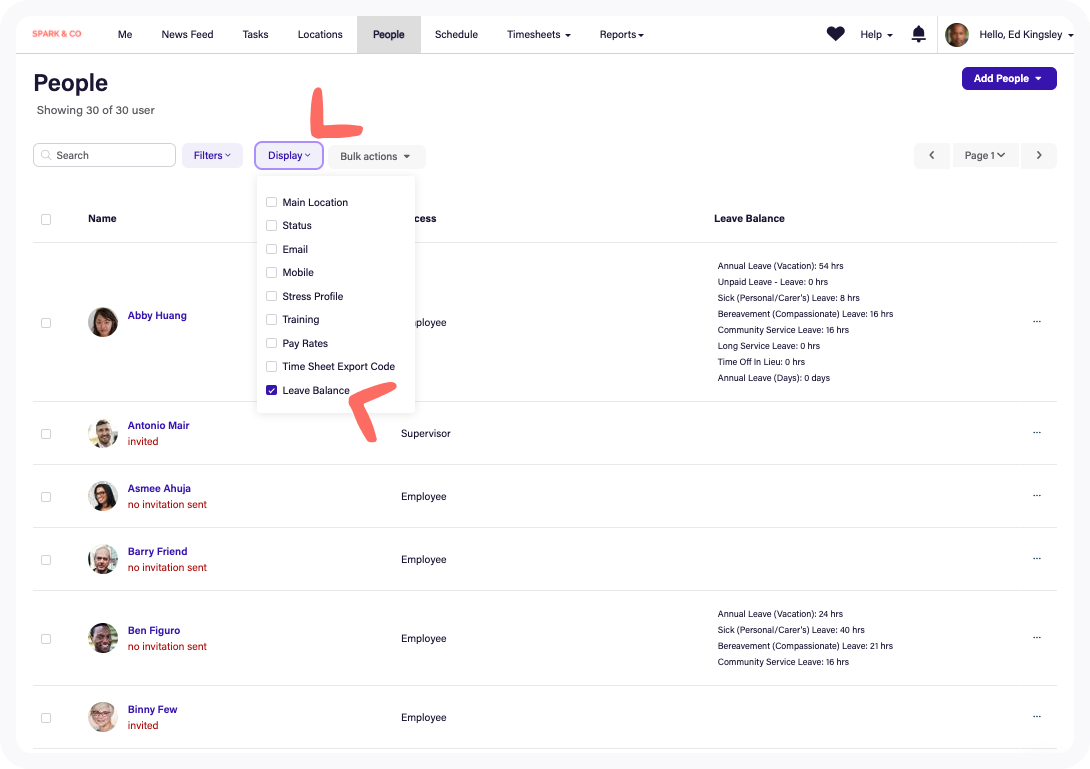 To further filter team members by leave balance and type, click the Filter drop-down menu. Under Leave Type, select the specific leave type that you would like to view.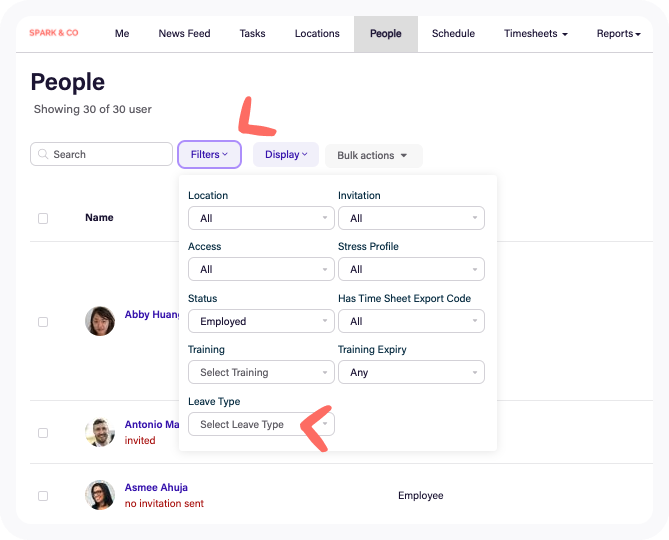 You may also be interested in these articles: