This article is written for users with an access level of Location Manager or System Administrator and will cover:
Who can access pay rate information in Deputy
Employees - can NOT view or edit pay rate information
Supervisors - can NOT view or edit pay rate information
Location Managers - can view and edit pay rate information for ONLY people they manage at their location
System Administrator - can view and edit ALL pay rate information
Why assign pay rates in Deputy
Assigning pay rates to people:
Allows a schedule to be created with a better understanding of the wage costs for the business

Is required before people can have leave entitlements assigned to them

Helps you to ensure your people are paid correctly for the shifts they work

Allows employees to use the mobile app to clock in for shifts (where mobile clock on is also permitted)
Assigning pay rates to a single team member
On the People page and click on the team member you would like to assign pay rates.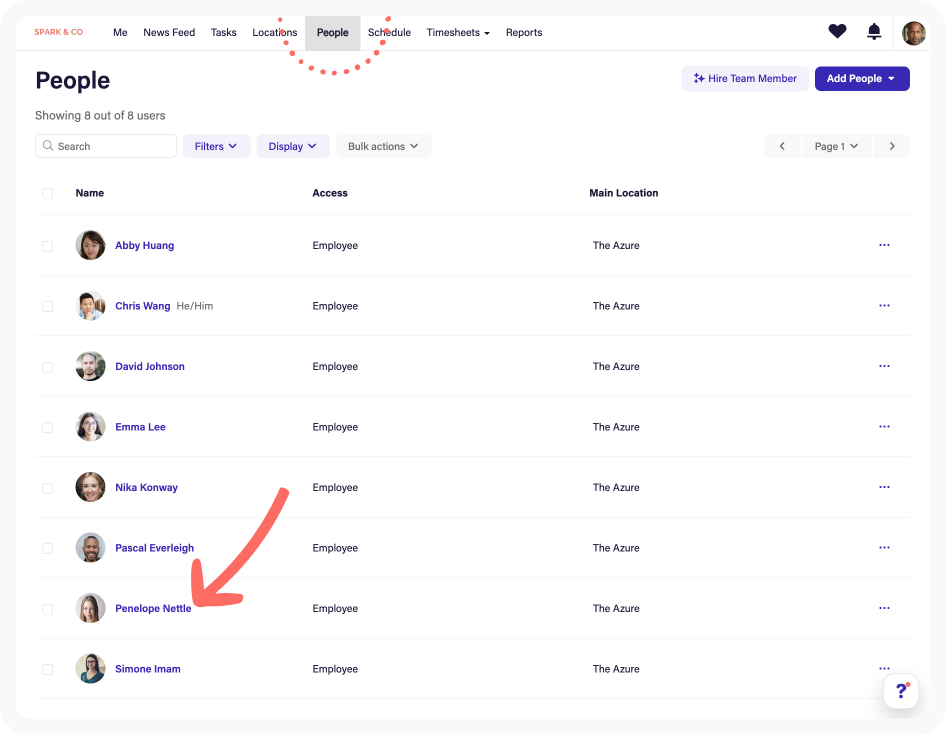 Select Employment from the left-hand menu and click on Edit.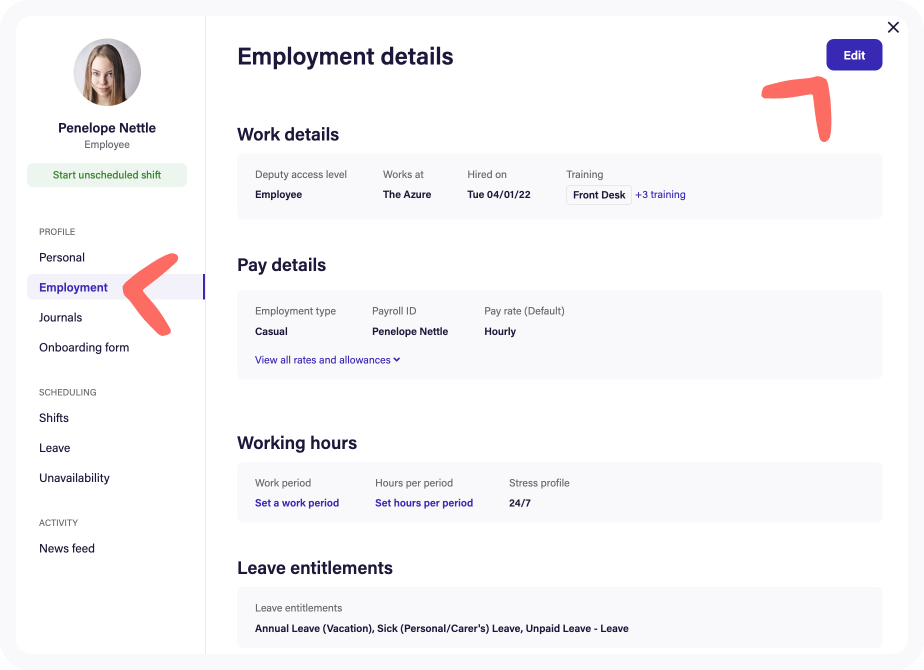 In the Pay Details section of Employment you can see there are several options to configure: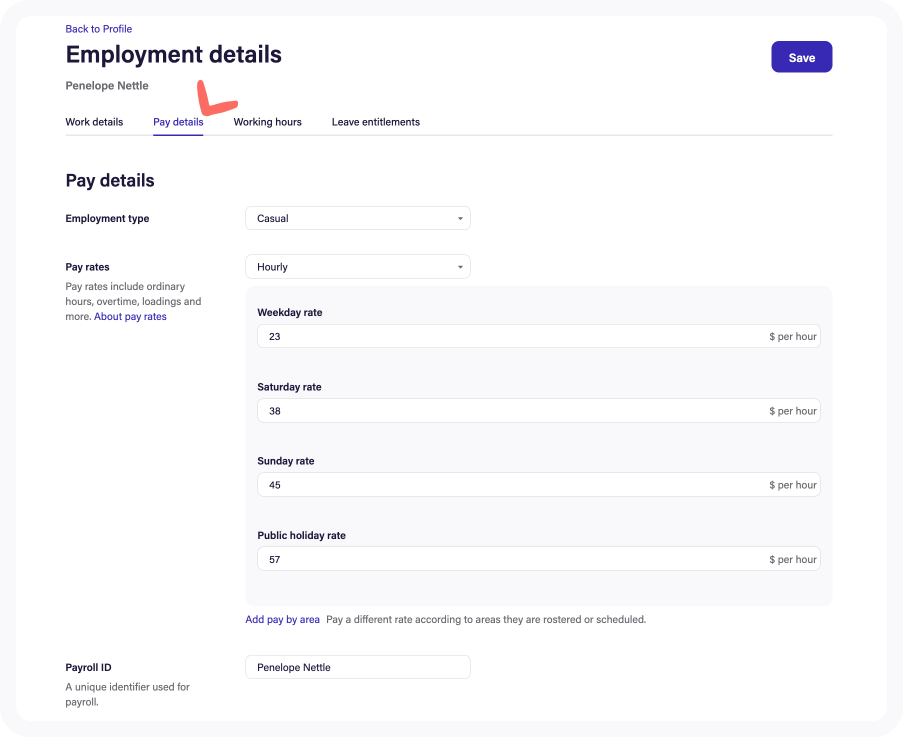 Employment types
Employment type is used to filter and categorise team members' pay rates. You may see different employment types available depending on the geographical location you operate your Deputy account in.
| | | |
| --- | --- | --- |
| | AU | UK and US |
| Full Time | ✅ | ✅ |
| Part Time | ✅ | ✅ |
| Casual | ✅ | ✅ |
| Contractor | ✅ | ✅ |
| Salary | | ✅ |
| Hourly | | ✅ |
Select the desired employment type from the drop-down menu.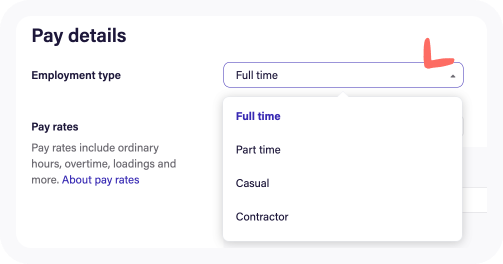 Important notes regarding Employment type selection:
Casual
If you select an Employment type of Casual you will need to add your casual loading rate into any base pay rate you enter to ensure overtime and penalty rates are paid correctly for casuals.

Contractor
If you select the Employment type Contractor they can only be assigned the following pay rates:
Hourly
Salary
Fixed Rates
Rates per Day
But you cannot currently assign any pay rates from the AU pay rate library for team member using the Contractor employment type.
Note: it is NOT recommended to select the Contractor employment type and then use Xero Payroll pay rates.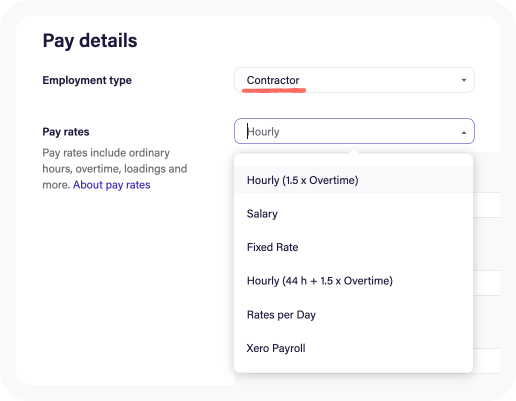 Pay rates - Hourly
If you select Hourly from the Pay rate drop down menu you have the option to enter a $ per hour for the Weekday base rate, Saturday rate, Sunday rate and Public Holiday Rate.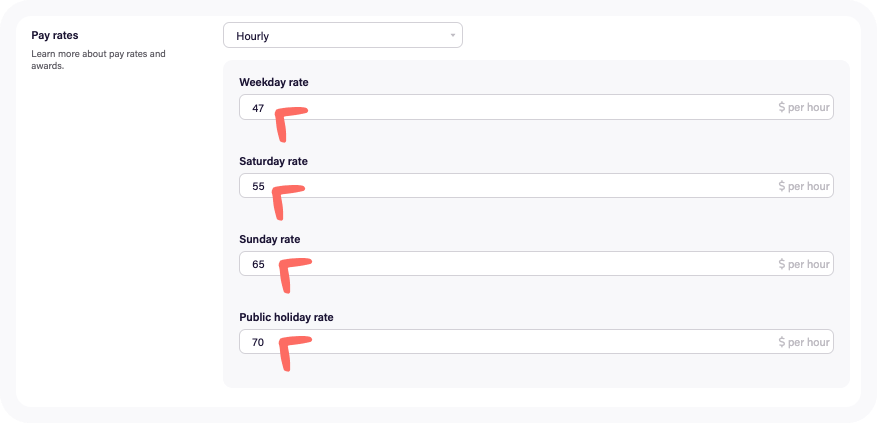 Pay rates - Hourly (1.5 x Overtime)
If you select Hourly (1.5 x Overtime) from the Pay rate drop down menu you have the option to enter a $ per hour for the base hourly rate and Deputy will calculate the overtime rate for every hour worked over 40hours.
If you wish to change the default from 40hours, there is also a field to do this, click on the purple working hours link.

Pay Rates - Salary
If you select Salary from the Pay rate drop-down menu you have the option to enter an Annual or Weekly Salary.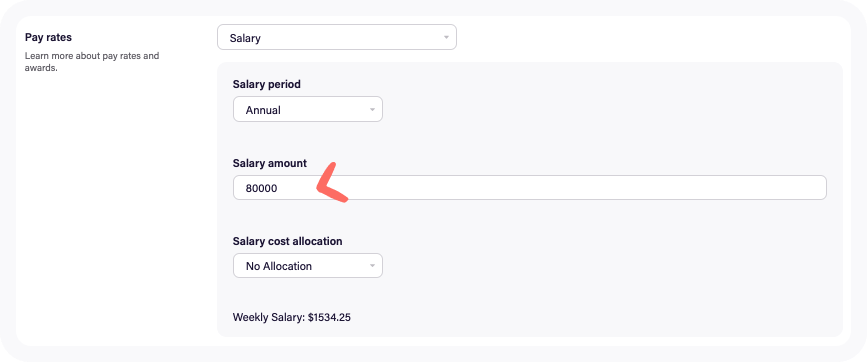 For the purposes of budgeting labor costs, there is also the option to allocate the cost of this salary according to this team member's scheduled hours and areas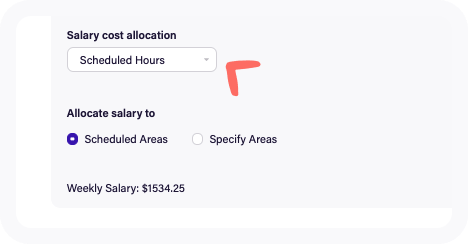 Or you can allocate the cost to fixed areas for specific days of the week.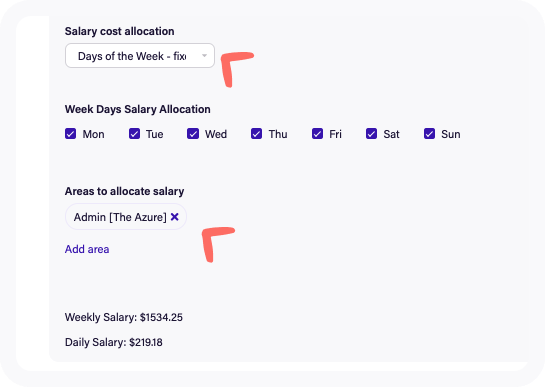 Changing Location of Salary Allocation
If a team member's primary location has changed, you may wish to also change the location and area that their salary costs are allocated to.
To do this:
On the People page, click on the name of the Team member you wish to edit. Select the Employment tab, and click Edit.
Ensure they have the new 'Works at' location added to their profile.
Remove the existing salary allocation selection so that 'No allocation' is shown in the drop-down menu and click Save.
Click Edit again, allocate the salary costs to the new location and click Save.
Pay rates - Fixed Rate
If you select Fixed Rate from the Pay rates drop-down menu you can set one fixed hourly pay rate for your team member regardless of the day worked or number of hours worked (no overtime).

Pay rates - Hourly (44h + 1.5 x Overtime)
If you select Hourly (44h +1.5 Overtime) from the Pay rates drop-down menu you can set an hourly pay rate for the first 44 hours and 1.5 x the base rate for hours worked over that.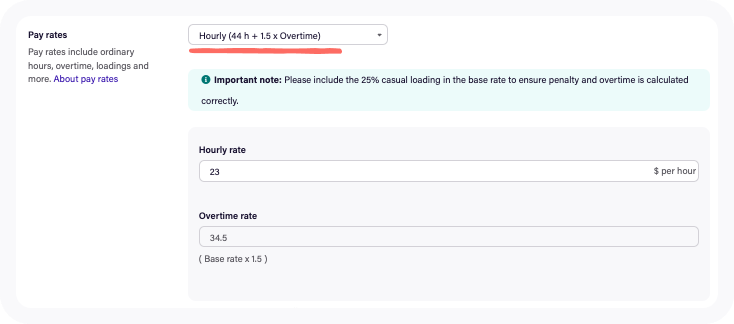 Pay rates - Rates per day
If you select Rate per day from the Pay rates drop-down menu you can set an hourly rate for each day of the week plus public holidays.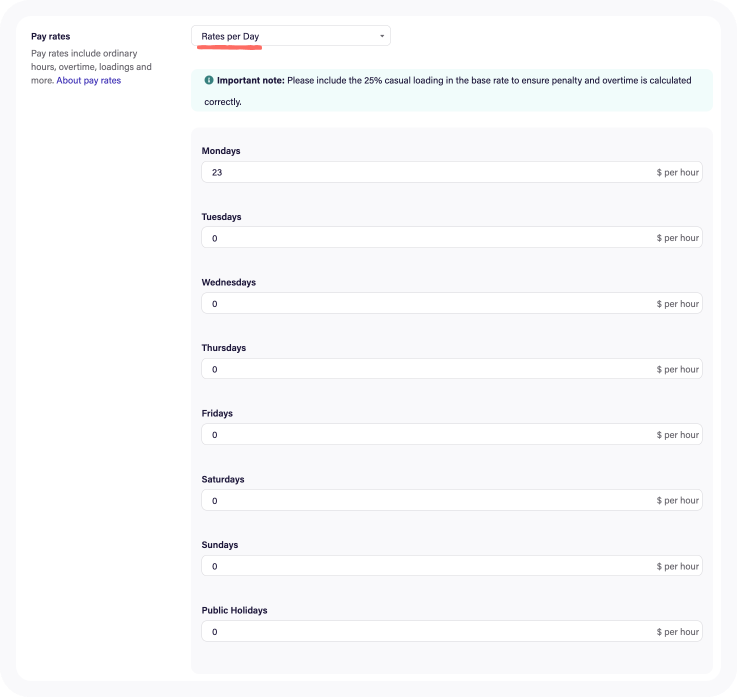 Pay rates - Pay rate library / awards (AU)
Deputy contains a pre-populated library of Australian Fair Work Awards, US Pay Rates plus others that you can apply to your team members.
Adding pay rates directly from our pay rate library, and applying awards (in Australia), to your team members' profiles allows Deputy to automate pay calculations.
You can select the correct pay rate from our library by scrolling through the list in the Pay rate dropdown or you may also find it easier to find the award you need by typing the abbreviation of the award name in the search field.
Once you have selected the correct award, simply enter the team member's ordinary base rate and it will automatically populate the other fields.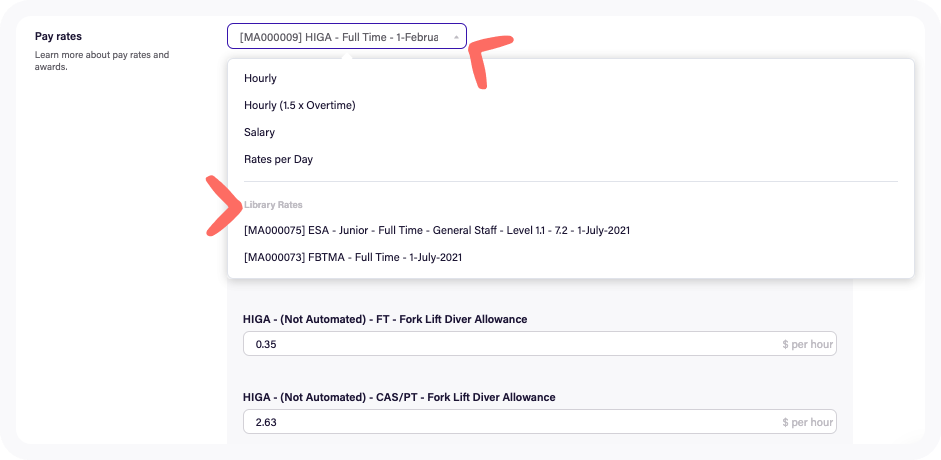 Note: if you have chosen to use an award or pay rate from our library, you only need to enter the base rate and the multipliers will be adjusted accordingly as shown below.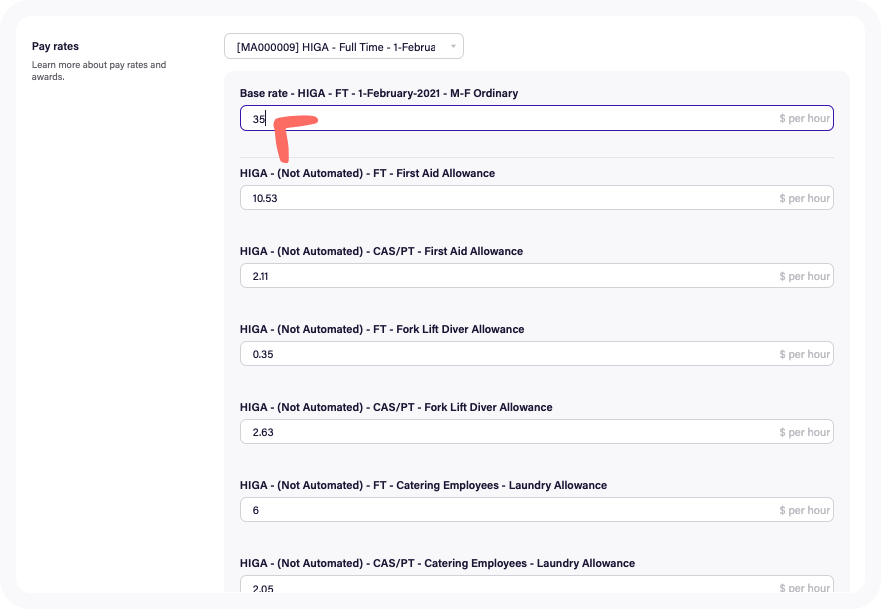 Sync pay rates from a payroll integration
If you are connected to a payroll system via an integration you can use the payroll system rates to sync to Deputy.

Note that if you are using Australian Awards to pay your staff, please read more about Xero integrations before syncing pay rates with Xero as we recommend using Deputy Awards Library pay rates as the source of truth.
Don't forget to click Save when you are done setting Pay Rates.
Bulk edit team member pay rates
If you have multiple team members on the same pay rates, you can enter this via Bulk actions on the People page.
This feature is available for Premium accounts only.
Simply select the team members you wish to edit, click the Bulk actions drop-down menu at the top of your team member list, then click Set rates.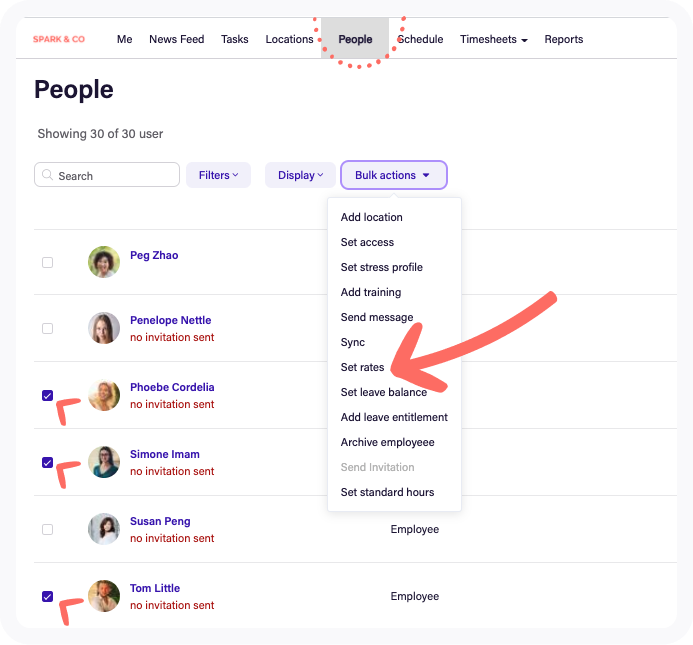 In the pop-up, select the pay structure you would like to apply, then enter the pay rates you would like to set according to the options described previously.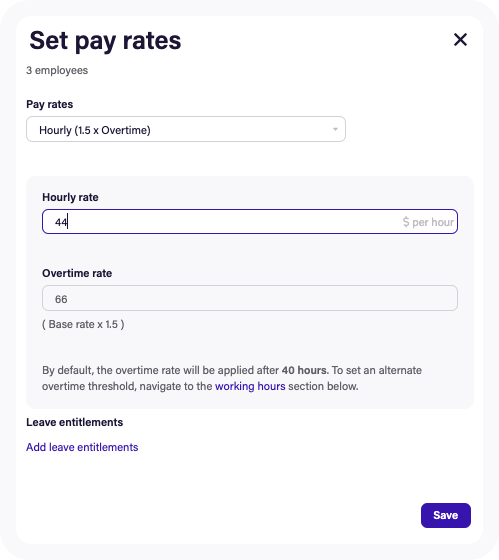 Click Save when you are done.
Note: you shouldn't use this feature to bulk edit pay rates if you use Pay by Area, as it will overwrite the configuration. In this case, you need to assign it manually, employee by employee.
Assign different pay rates to team members that work in multiple areas - Pay by Area
It's commonplace to have team members qualified to work across different roles and responsibilities in one organisation. For example, Alyssa works in both 'Drive-Thru' and 'Delivery' and will be paid two different rates depending on which area she works.
Use Pay by Area to allow team members to flexibly move between roles while ensuring they're paid correctly for the work they're performing in each role.
Please read more about setting up Pay by Area in your Deputy account.
Set up Payroll ID code
You can also set your team member's Payroll ID code. This allows you to properly export your team member timesheets to your payroll solution if it requires export code matching.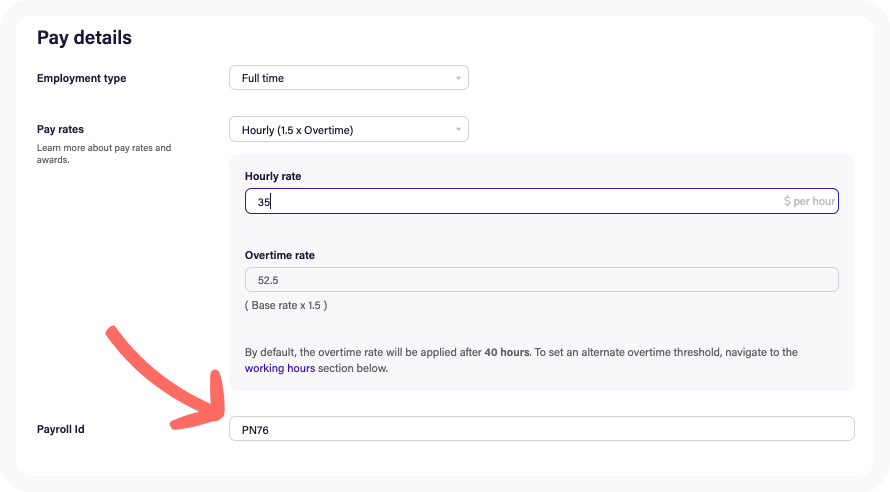 Click Save when you are done.
While Deputy's pay rate library is designed to Simplify Shift Work by reducing the time required to apply the relevant legal requirements through automation, it is not a substitute for payroll or legal advice, nor is it intended to relieve you of your obligation to comply with the legal requirements applicable to your business. It is ultimately each customer's sole responsibility to pay its employees correctly and in compliance with all Legal Requirements. Please review our Product Specific Terms for more information about your compliance responsibilities.