New hire onboarding is a feature that allows you to remove the need to collect paper forms from your team members as they join your team. Using this feature, team members can enter in some of their own details, upload required documents and sign forms electronically before they start their employment.
New hire onboarding saves you time and money during the recruitment process by allowing you to create template documents that you can use over and over again but customise for each new hire you onboard. Templates also provide a streamlined workflow to ensure all of your team members are receiving consistent and appropriate employment information as they come into your team.
This article is for users with system administrator access and will cover:
And more articles specifically for our
Setting up your default superannuation fund details (Australia only)
Before you can start onboarding you need to enter the details of the default Superannuation fund you offer at your organisation:
1. On the People page, click on Add People and select Onboard new hire.

2. Now click on the Settings button.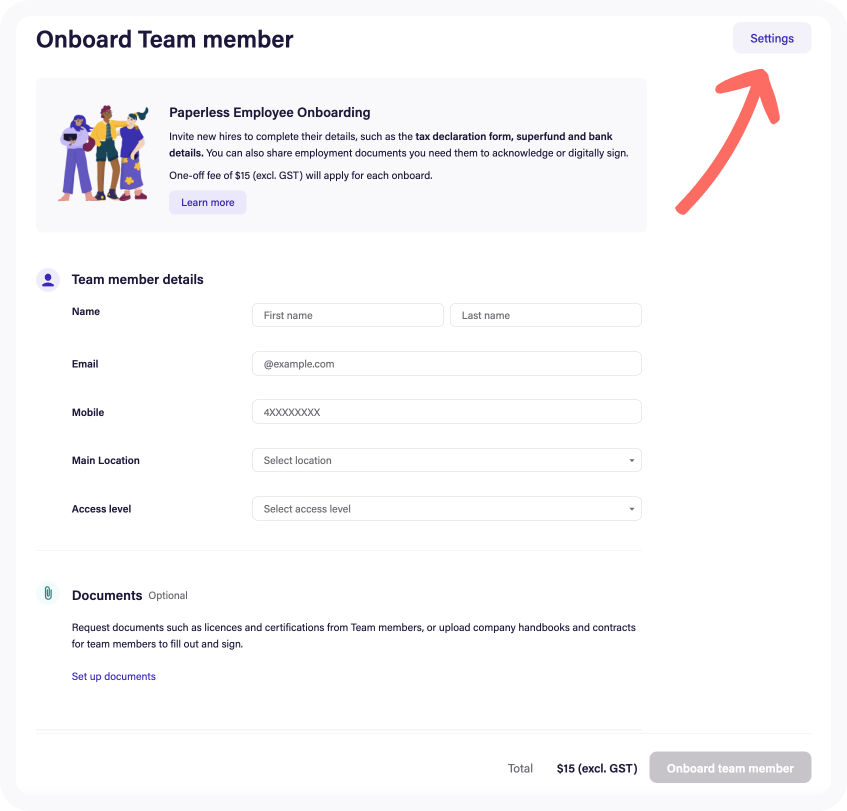 3. Please enter the default super fund Name / ABN / USI for your organisation.

Stapled superannuation funds
From 1 November 2021, if your new hires don't nominate a super fund or return the Superannuation Standard Choice Form, you may have to take extra steps to comply with choice of fund rules.
You will need to

request their 'stapled super fund' details from the ATO

, which takes a few minutes.

Take action depending on whether the new hire has a stapled super fund:
If a stapled super fund exists: You will need to pay superannuation into this account
If a stapled super fund does not exist: you can pay superannuation into their organisation's default fund
Requesting documents to be uploaded
You may have a set of documents that you regularly request from new hires in your organisation.
You can specify the complete list of documents here and then when you start onboarding team members you just need to check a box to request the relevant documents for that new hire.
To configure the list of onboarding documents you want to request:
1. Click on the Add People button on the People page and select Onboard new hire.

2. Now click on either the Settings or Set up documents buttons.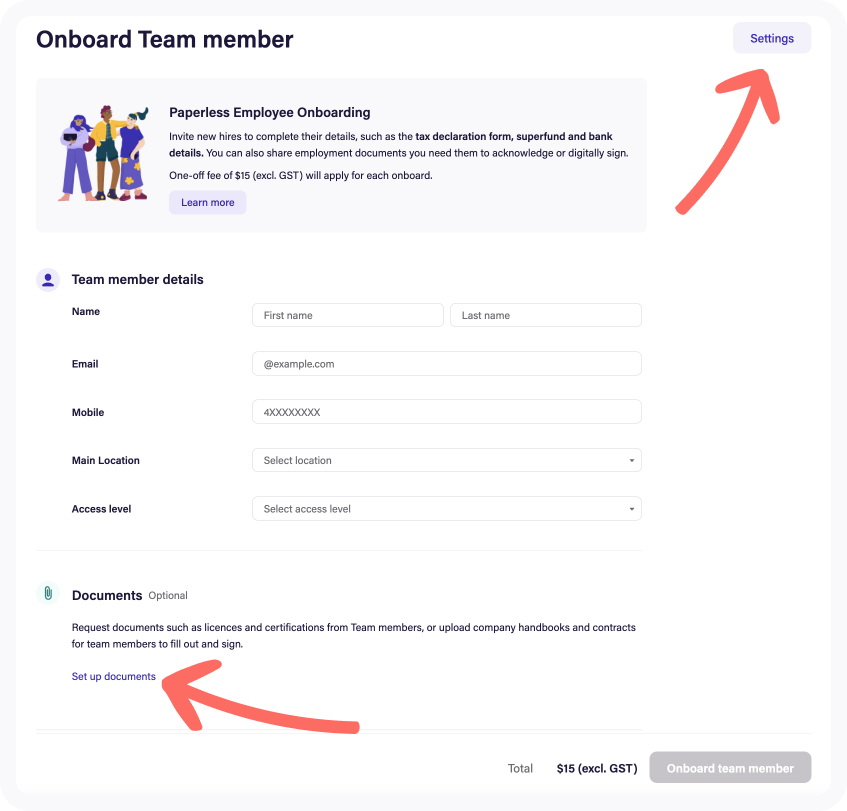 3. Enter the title and description (optional) of the document you require your new hire to upload as part of the onboarding process.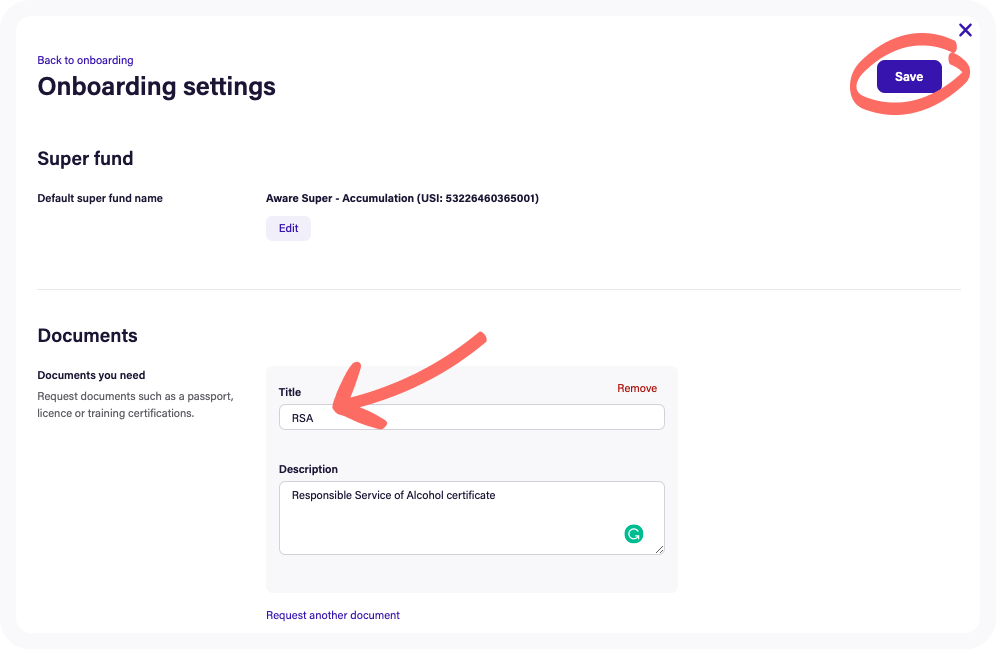 To add another document request just click on Request another document.
Note: If you need the front and back of a document to be uploaded (for a driver's licence for example) you would need to send this up as two separate documents to upload.
You can request up to 20 documents.
If you need to remove any documents, just click Remove.
Note: Clicking Remove does not affect employees that were previously onboarded and had these documents requested. It just means the document, once removed from this list, can't be requested from future employees being onboarded.
Adding template documents to be signed by your new hire
You can create up to 50 templates for commonly used forms that you send new hires (such as contracts), have them sign them electronically using Hello Sign and upload the signed forms as part of the onboarding process.
Read more about how to set up and manage these templates at Managing template documents for your new hire onboarding.
Create additional onboarding questions
If you need to ask additional questions as part of the onboarding process, you can!
You can ask questions that are important or specific to your business, from getting to know your new hire better or operational.
Some examples
Do you have any food allergies?
What's your uniform size?
What's your preferred location?
Do you prefer shifts in the morning, afternoon or night?
To create additional questions, navigate to the onboarding settings via Set up questions or Settings and click Create onboarding questions. This will take you to the questions settings screen.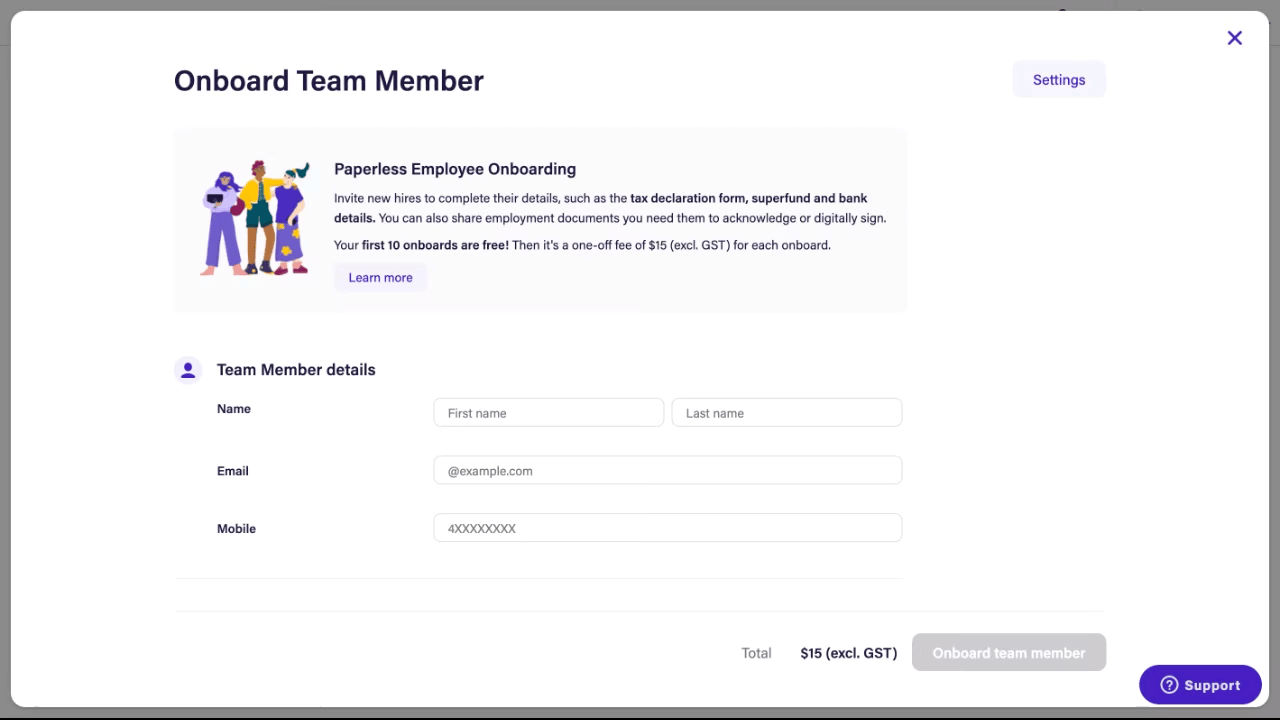 Here you can create your questions.
Type in the question you want to ask: What is your uniform size?

Select the question type - short answer, Yes/No, multiple-choice

Select whether the question is mandatory or not using the "Require a response" checkbox

Click Create another question to add more questions

When you're done, click Save
Hot tip: you can re-order the questions if you need them to be answered in a particular order.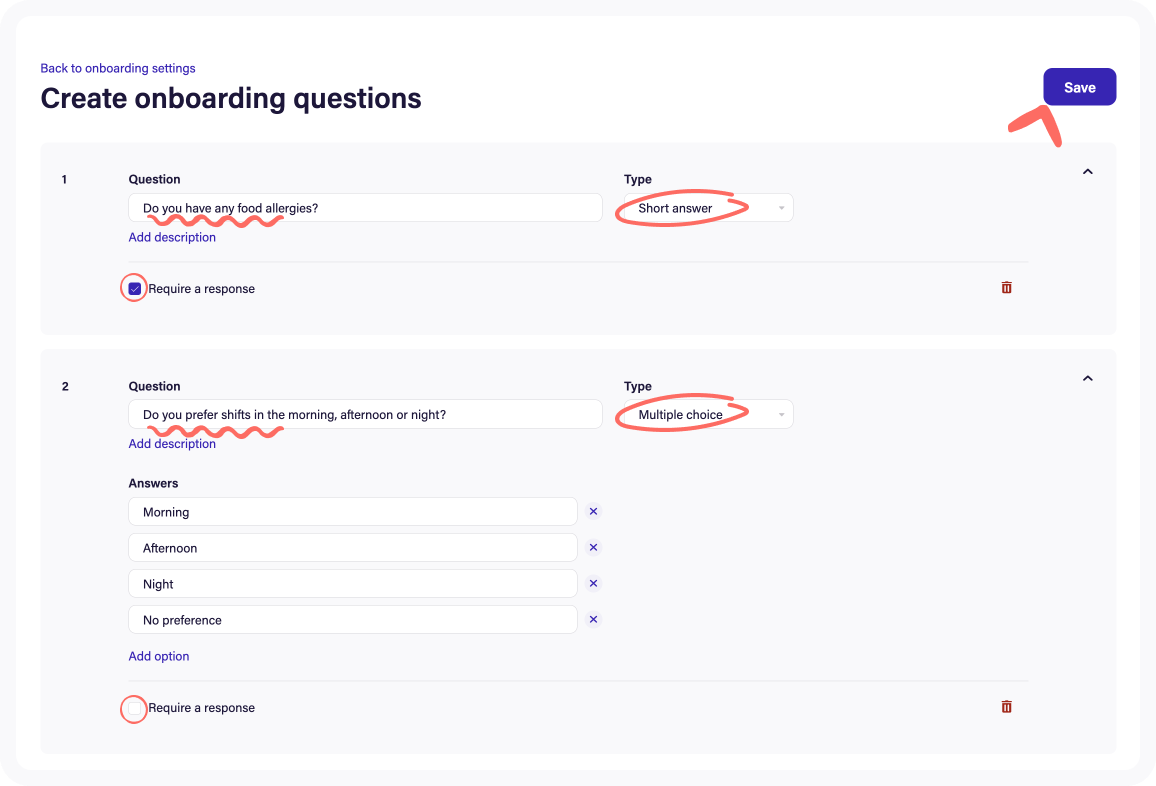 You can preview all the created questions in the settings and/or invite screen to make sure you have all the questions you need before sending an onboarding invitation.
Editing and deleting questions
You can easily edit or delete questions from the onboarding settings screen by clicking Edit. Deleting or editing a question will not update existing onboards. It will only affect new onboards.

Sending additional questions as part of onboarding
Once you have created additional onboarding questions, they will be included in the forms each time you send an onboarding link to a team member. Along with filling out the basic onboarding questions like personal details, banking and tax information, your team member will need to answer the additional questions you've created.
Employee view on mobile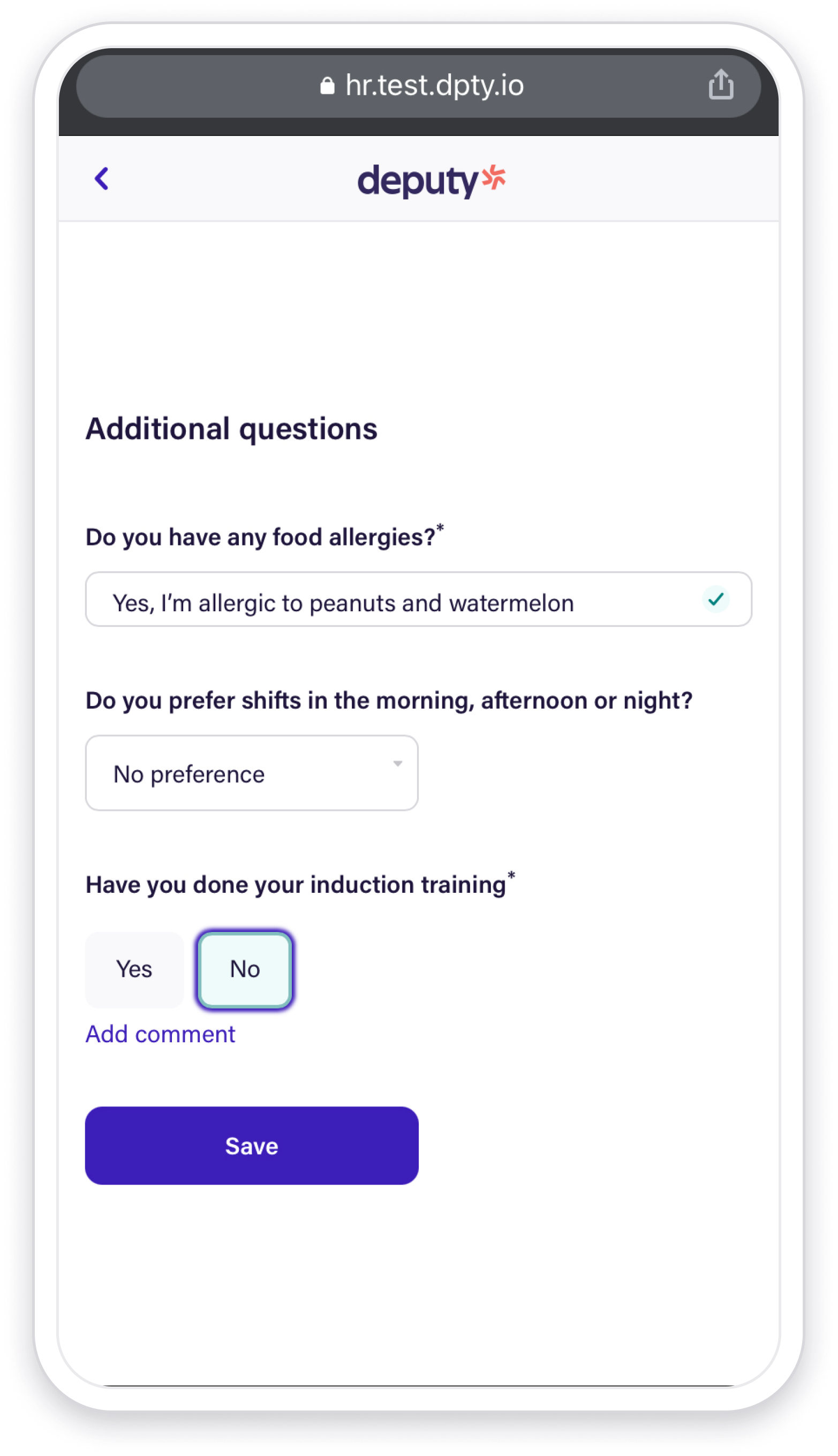 Reviewing the additional questions
Once your team member has submitted their onboarding forms including the additional questions, you can view this in the Onboarding form tab of their profile.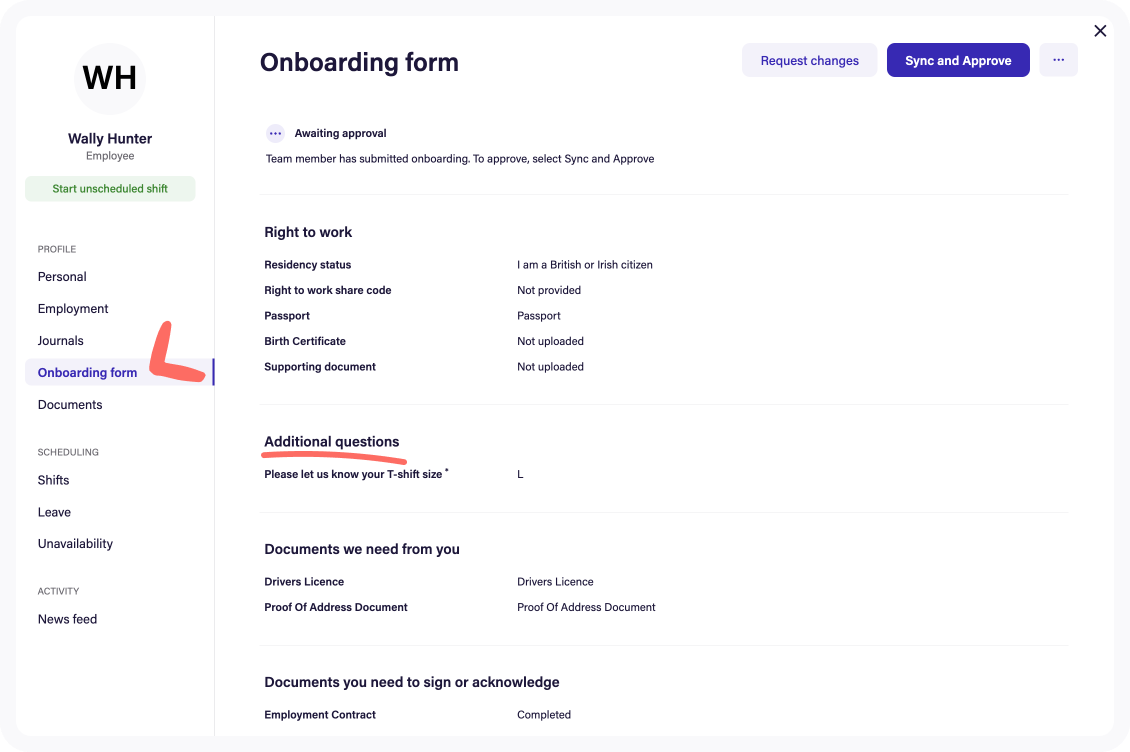 Once you've set up this information, you won't need to do this again each time you onboard, just hit Save to head back to the Onboard New Hire window. You are now ready to start onboarding a new hire.
Watch a video on how to set up onboarding
You may also be interested in: