Why can't I request documents from my team member?
Team member has not created an account with Deputy yet
The Request document button is disabled or greyed out if the team member has not yet created an account in Deputy.
Team members who have the Not invited or Invited status on the People tab and have not yet created a login with Deputy can not be sent requests to upload Documents.
This ensures that only the team member can log in and upload documents, preventing anyone else from doing it on their behalf.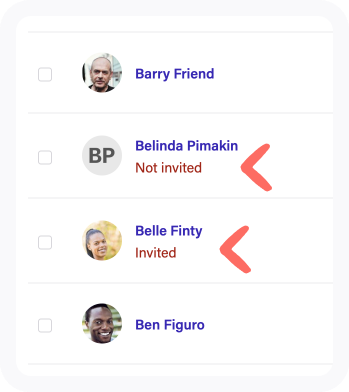 Onboarding not approved
If you have a team member where new hire onboarding has been sent but not approved by the manager then you can not request any new documents from that team member's profile until onboarding has been approved.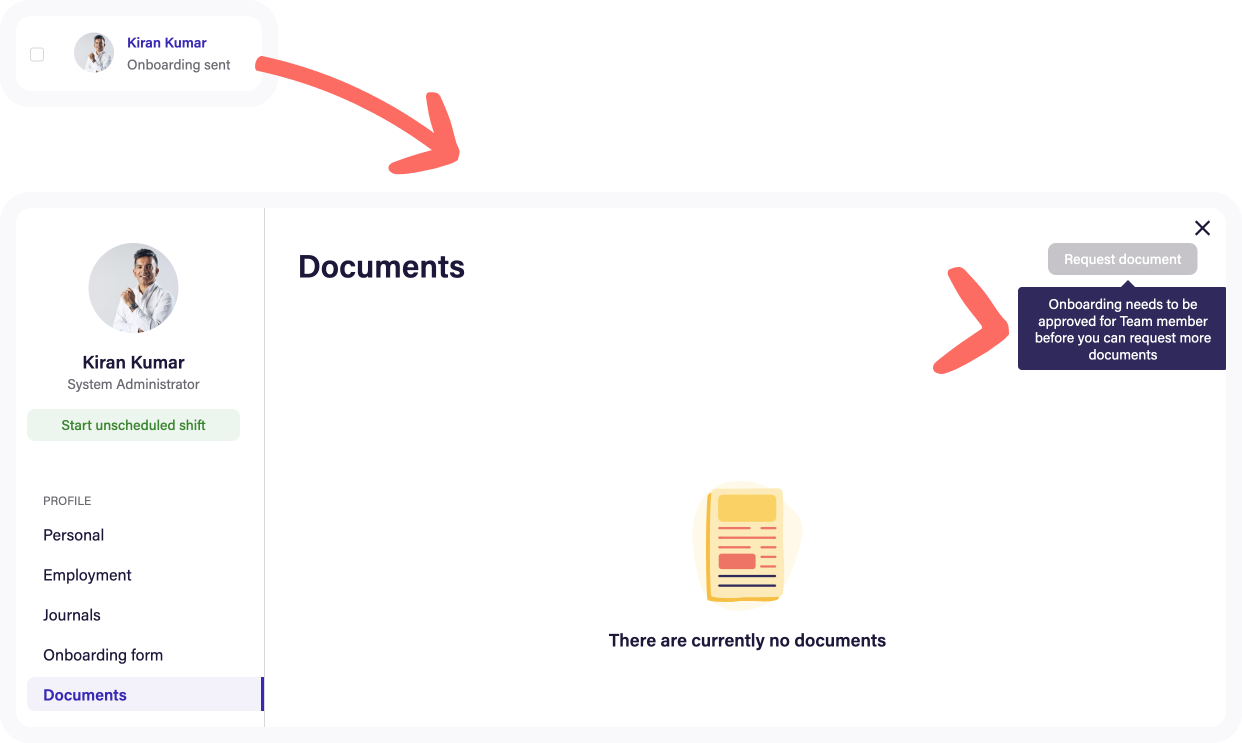 Why is the document missing expiry?
You may notice some documents have 'missing expiry.' There could be a few reasons this might occur:
1. If a document type has previously been set up without the requirement for an expiry date but the expiry setting is enabled at a later date then the previously uploaded documents may show "missing expiry". Managers can update the expiry themselves for these documents or request an update from the team member.
2. An expiry field is added by default for some documents that are automatically requested as part of the onboarding packet:
Passport - expiry is required
Supporting document (right to work) - you have the option to enter an expiry.

To add an expiry, click to view the document.
Click on the three dots icon on the top right of the screen and select Update.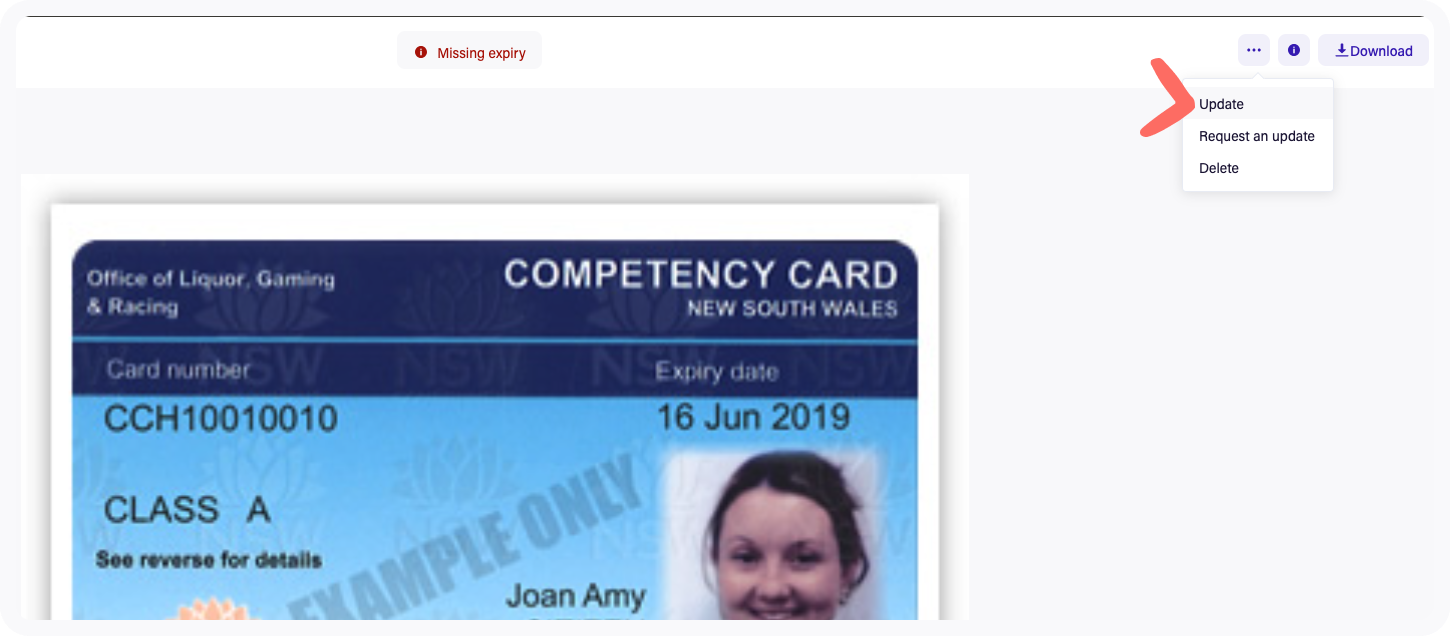 Enter the expiry date and click Save.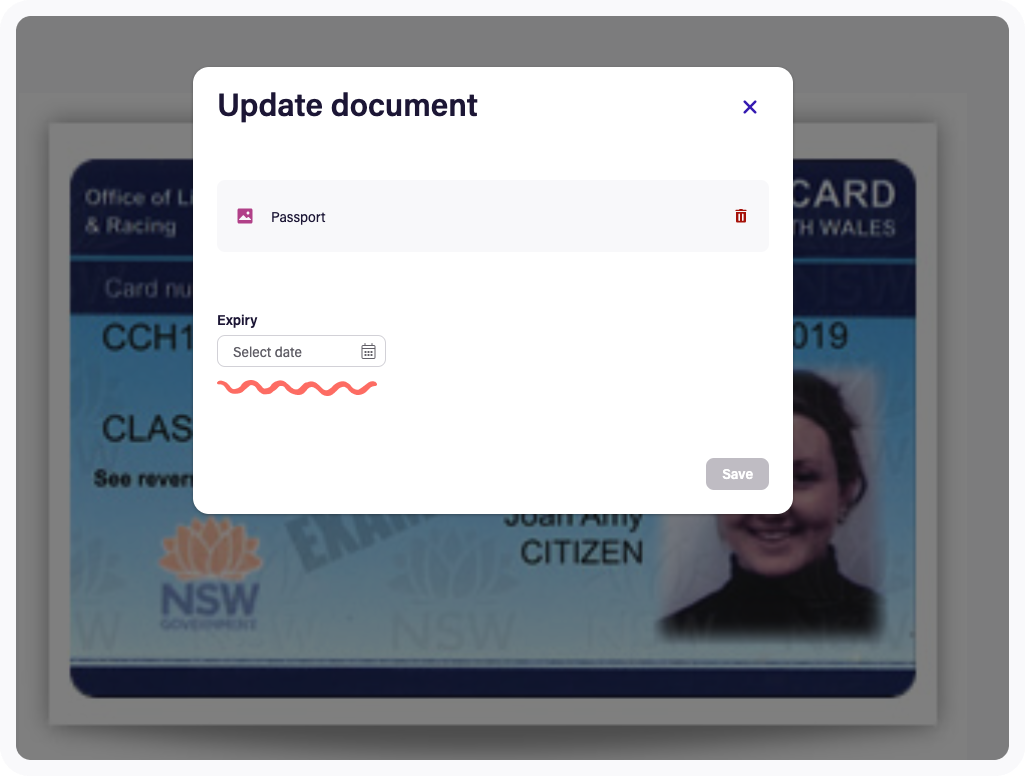 Why is the document type greyed out when I try to upload a file to my employee profile?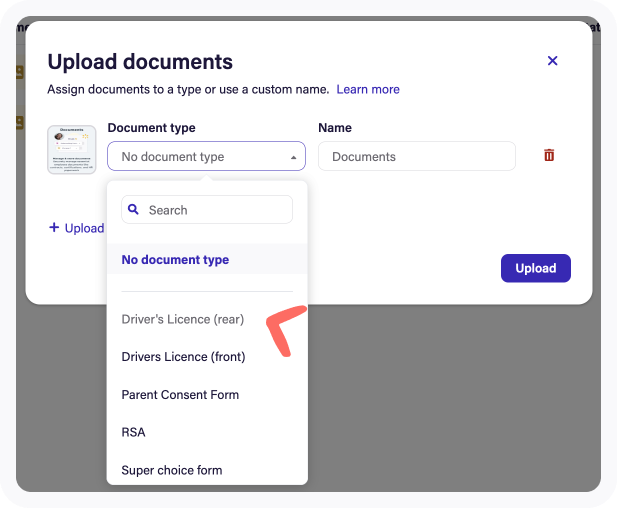 When managers are manually uploading documents to the employee's profile they will find that the document type list will be populated with the document types that have already been set up in the Deputy account.
If a file for a document type has already been uploaded then that document type will be shown greyed out in the list and can not be selected.
This is because you can only upload one file for each document type per team member.
How do I delete a document type?
System Administrators can delete a document type created in error by going to Business settings and clicking on the People tab then Manage Document types.
Note: Deleting a document type will also delete all previously collected doc types from each employee's profile.
Click on the red trash can icon that appears when you hover over the document name in the list.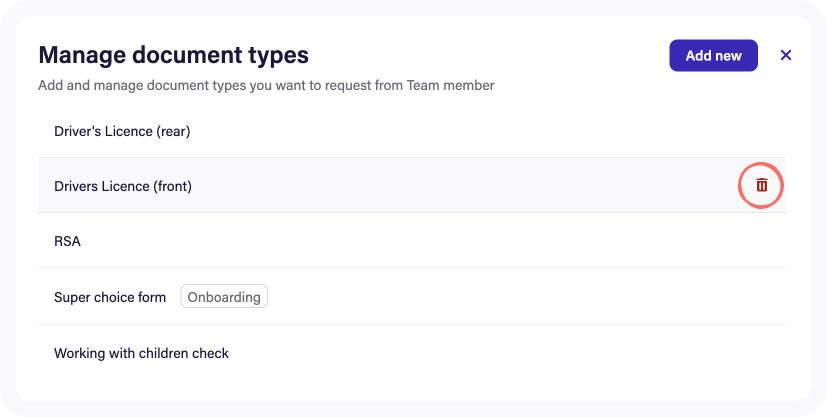 Note: You can not edit nor delete any Document type that appears in this list with the Onboarding label as it is used in new hire onboarding.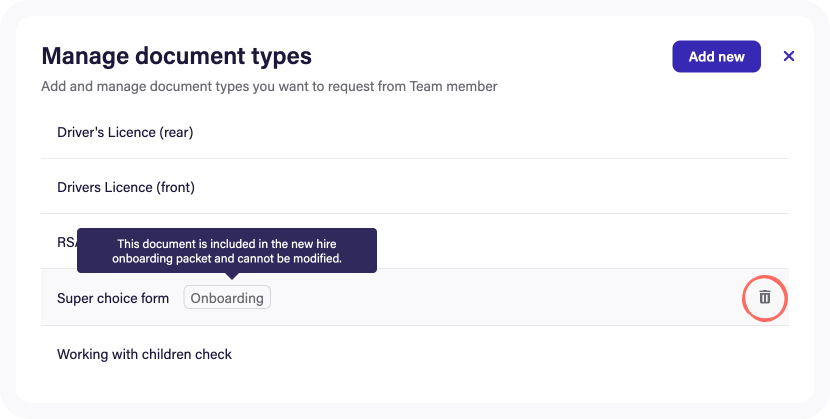 Can I use Deputy HR to store documents for team members in our organisation that are not currently using Deputy for scheduling and/or timesheets?
No, you can only store documents for team members that have been added to your Deputy account as an active user as part of our regular Deputy plans.
What document management features are in future development?
The new Documents feature will enhance your employee document management throughout their entire employment journey, extending beyond just the onboarding process and will include the ability to:
Request additional documents at any time not just during onboarding - available now
Sending documents that need to be signed by employees - coming October 2023
Manually uploading important documents to employees' profiles - available now
Access to a document library where you can store company documents and easily share them with your team - coming early 2024