If you are using Deputy HR's Documents feature managers can set up different document types to suit their organisation:
What is a document type?
A document type is basically just the name of the type of document you want to upload or save.
These documents will be governed by your organisation's HR requirements but some examples of documents types you might setup include:
Driver's licence
Passport
Working with Children's check
Training certificate
Vaccination certificate
Setting up document types
There are a few ways you can add and edit the different types of documents you request and store in Deputy:
During New hire onboarding
If you are already using Deputy's new hire onboarding you may already have created a set of documents you request from your new hire employees.
You will see these documents listed with the Onboarding label in your document types list.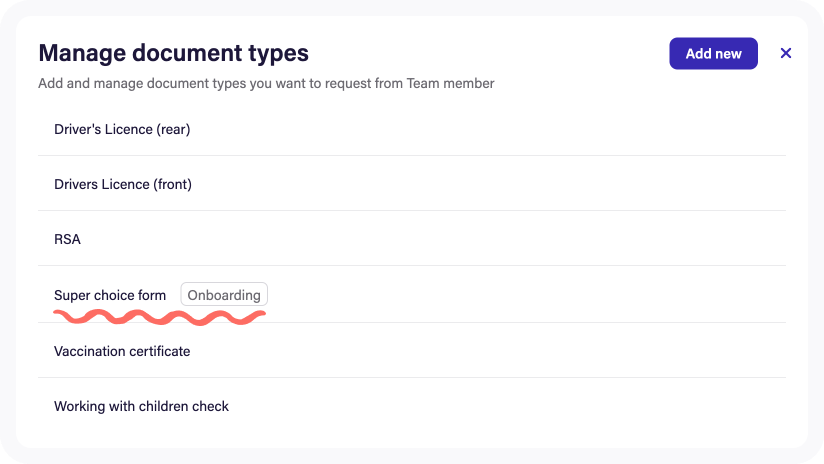 In Business settings
If you need to add, edit or delete existing document types, System Administrators can do this in Business settings.
1. Select Business settings from the menu under your name in Deputy.
2. Click on the People tab and scroll down to select Manage document types.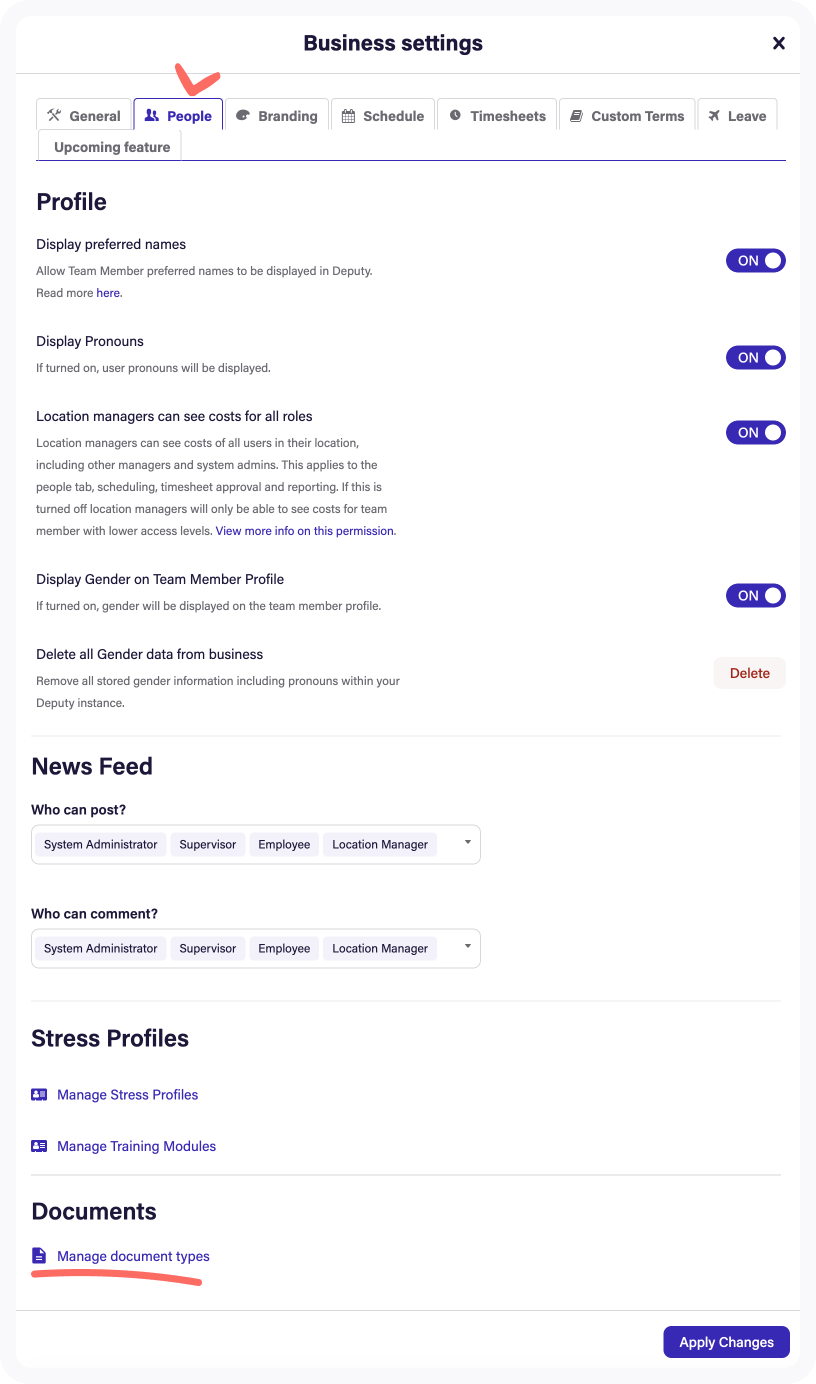 3. You can add a new document type by clicking Add new.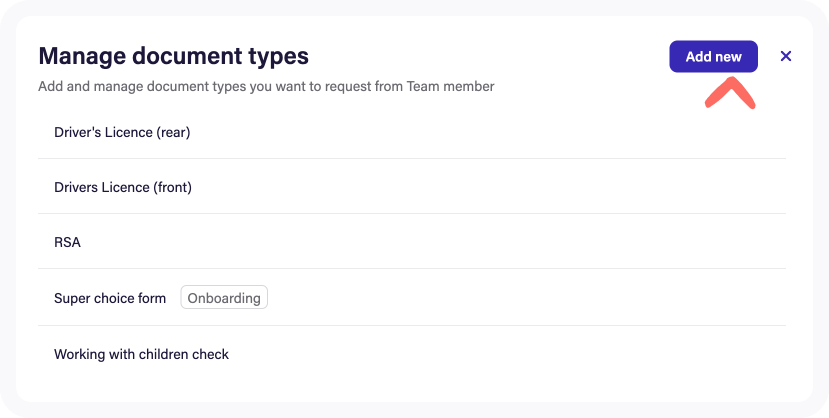 4. Complete the Document type and a short description then click Save.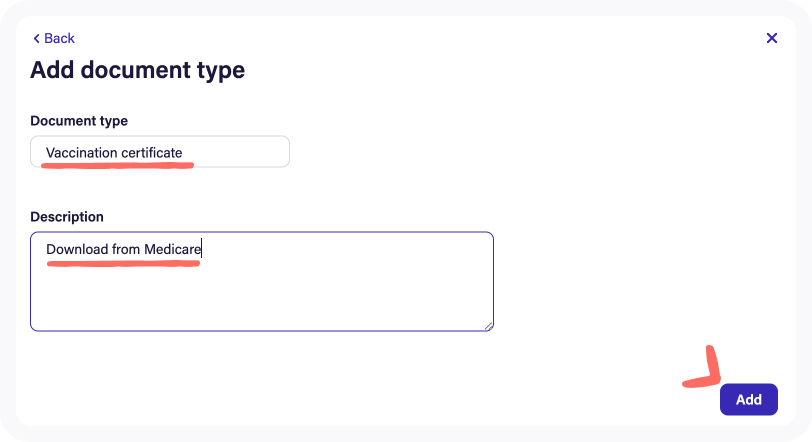 Note: you can later Edit the description of a document type by clicking on the document type in the list. Make the required changes and click Save.
5. If you need to delete a document type you can click on the red trash can icon that appears when you hover over the document name in the list.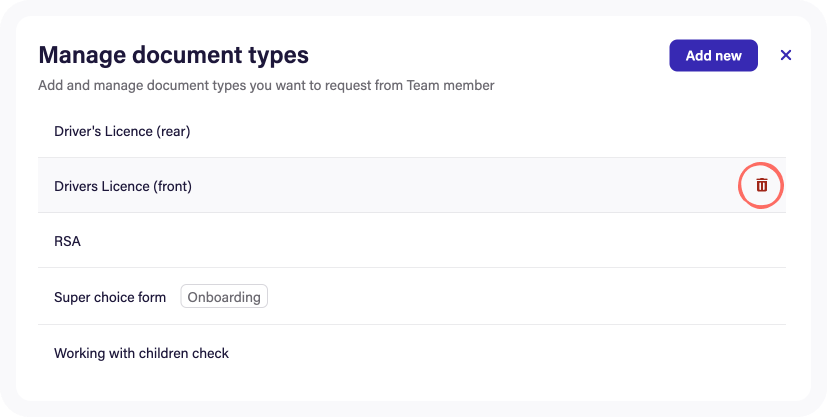 IMPORTANT: if you have already requested and stored documents for a specified document type and you attempt to delete the document type on this screen you will be warned that the documents will also be deleted from the employee profile.

Note: You can not edit nor delete any Document type that appears in this list with the Onboarding label as it is used in new hire onboarding.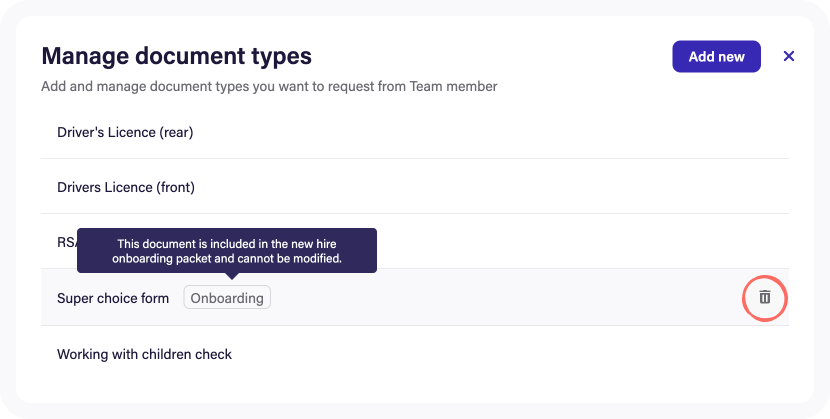 When requesting documents in the People profile
If you need to request a document from a team member and find the document you need is not listed already, you can also add it directly from the employee's profile. This new document type will then be created and available for selection in all future document requests from other employee profile pages as well.
Setting up a document expiry field (optional)
While you are setting up and editing your document types you also have the option of adding a document expiry setting to each document you need to request from your team members.
When you add an expiry requirement to a document type, the employee will be required to enter the document's expiry date when uploading the document. Managers are also able to update or change the expiry in the employee's profile if required.
For a document with an expiry date nearing expiry, the manager and the employee will both be sent a notification 1 month before the document is due to expire with a reminder to update the document. If the document hasn't been updated on the expiry date then another notification will be sent to both the manager and the employee.
1. To add an expiry field to a document type, either click Add new (to create a new one) or click on the title of an existing document type you have already added to edit it.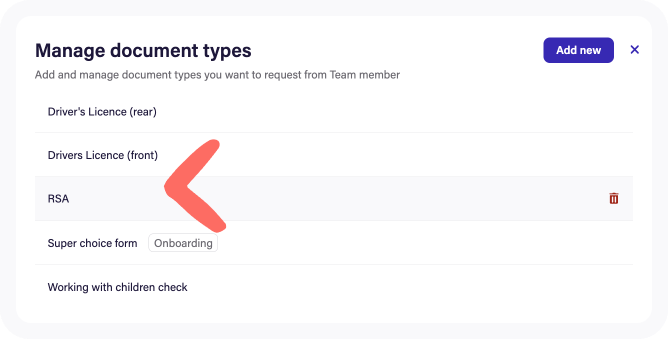 2. For the option Does this document have an expiry? select Yes.
3. Click Save.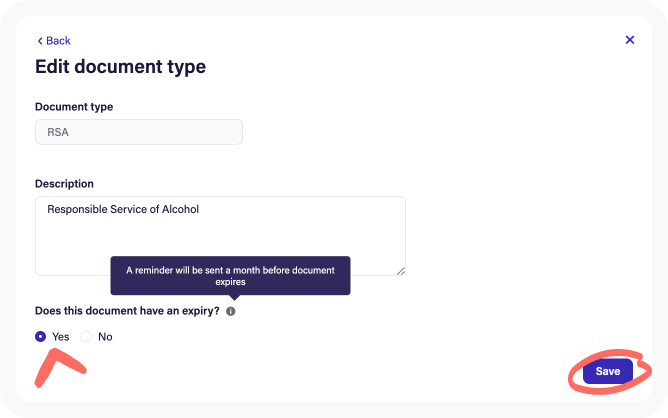 Read more about: