Managing your team's schedule over a public holiday
Deputy makes it simple to manage the shifts for your team members working over a public holiday or even a partial day public holiday. Managers can set up public holidays in the schedule specific to your region and also assign public holiday pay rates for your staff as required.
In some regions, including Australia, employers may also be required to issue a 'draft schedule' for public holidays, or otherwise issue requests for staff to work on upcoming public holidays. This is to give each employee the opportunity to agree to work the shift or otherwise provide their reasons why they will not work the shift.
Deputy can assist with this requirement using shift confirmation when publishing your public holiday schedule since it gives your team members an opportunity to:
view the proposed public holiday shift in advance
confirm or decline their scheduled shift on a public holiday
provide a reason why they can't work if they choose to decline the shift
Requesting permission using shift confirmation in Deputy
Read our help article on Shift confirmation for more detailed information on how to use this feature when seeking permission to schedule shifts.
Some key points to note are:
It's possible to configure an optional setting so that any shift that is not confirmed by a team member within a specified time period will automatically become an open shift so that other team members may claim it.
Shift confirmation requests are sent via email or push notification on your phone (if the team member has the Deputy mobile app installed). However, it's also possible to send a shift confirmation request via SMS which will incur a cost to your business. If you wish to avoid these costs System Administrators are able to disable SMS notifications completely in their Deputy account
Re-publishing public holiday shifts
If you have already published your schedule for the week or month ahead and then realise that you forgot to seek permission to schedule your team on a public holiday you can still do this.
1. On this Schedule page, we have an example schedule with Monday 16th Oct marked as a public holiday. We can tell it's a public holiday as it has a red background and an umbrella icon next to the date. We can also tell the shifts for this week have already been published as they are coloured green and the button on the top right says All shifts published.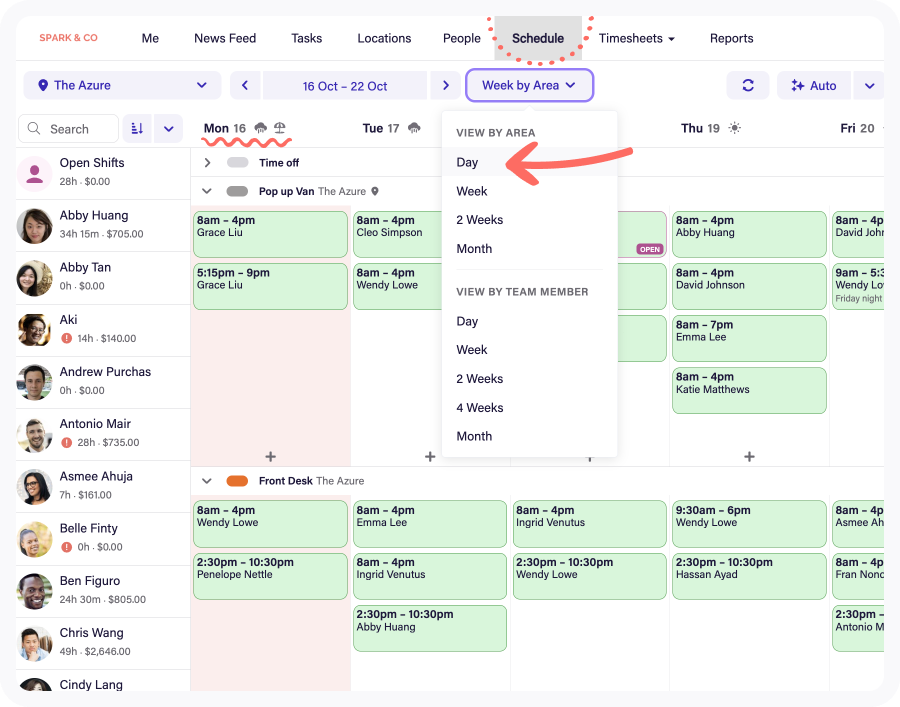 2. If you would like to republish only the shifts occurring on the public holiday and request confirmation from your team then click on either the Day View by Area or Day View by Team member view. Use the date selector to ensure you are viewing the date that is the public holiday.
Remember that Deputy works on a 'what you see if what you get' basis and any shifts displayed on the schedule page when you click All shifts published will be the ones republished. You can even collapse any Areas you don't require in Day View by Area to hide those shifts and exclude them from being republished if you wish.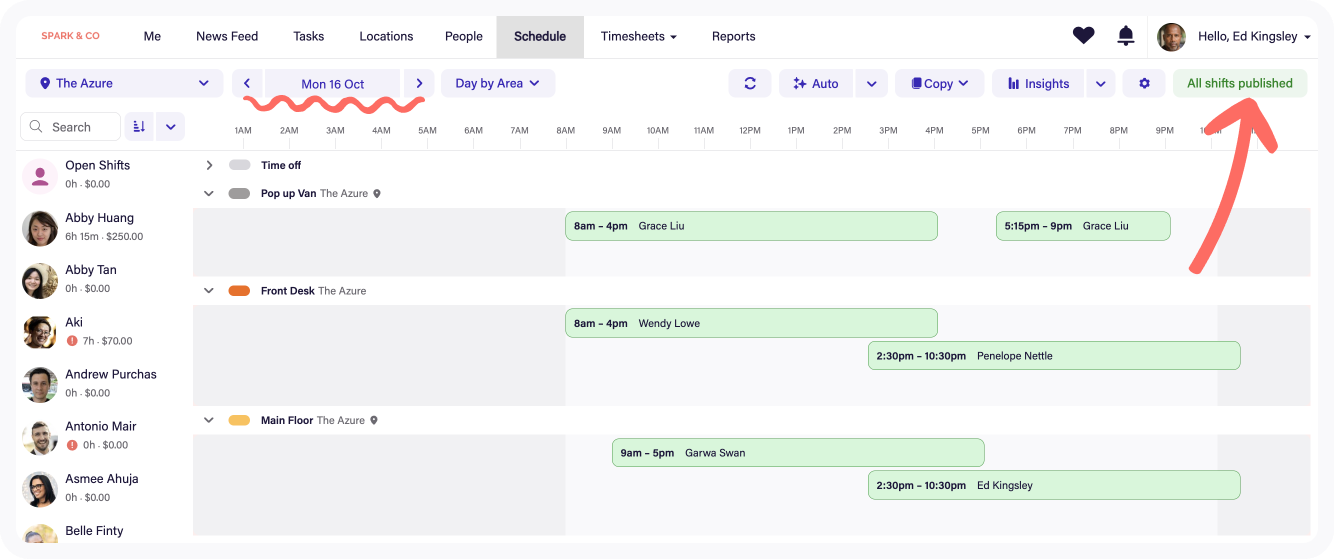 3. Select Publish all and then click Next.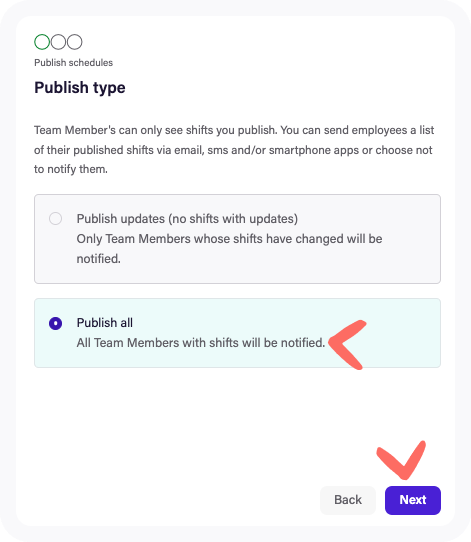 4. Select all your relevant Areas then click Next.
5. Select Require confirmation (remember to first disable SMS notifications if you do not want to incur these additional SMS costs) then click Publish.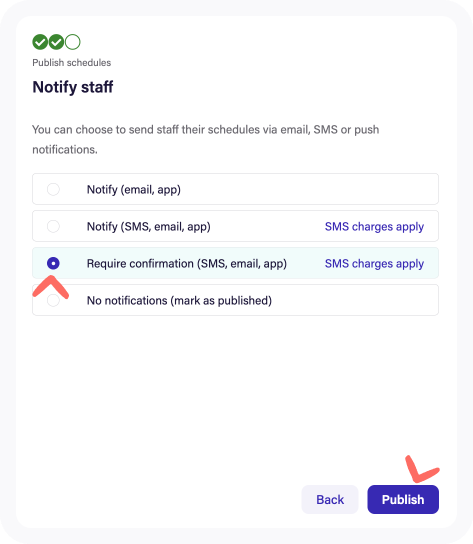 6. The employees will now be notified via push notification on their mobile (if they have the Deputy app installed) or via SMS (if enabled) or email that they have a shift that requires confirmation.
Employee confirming the shift
In this example, the employee (Pascal) sees they have a shift that requires confirmation on their home screen and taps on All upcoming shifts. They can either confirm shifts individually by tapping on the shift or tapping Confirm All.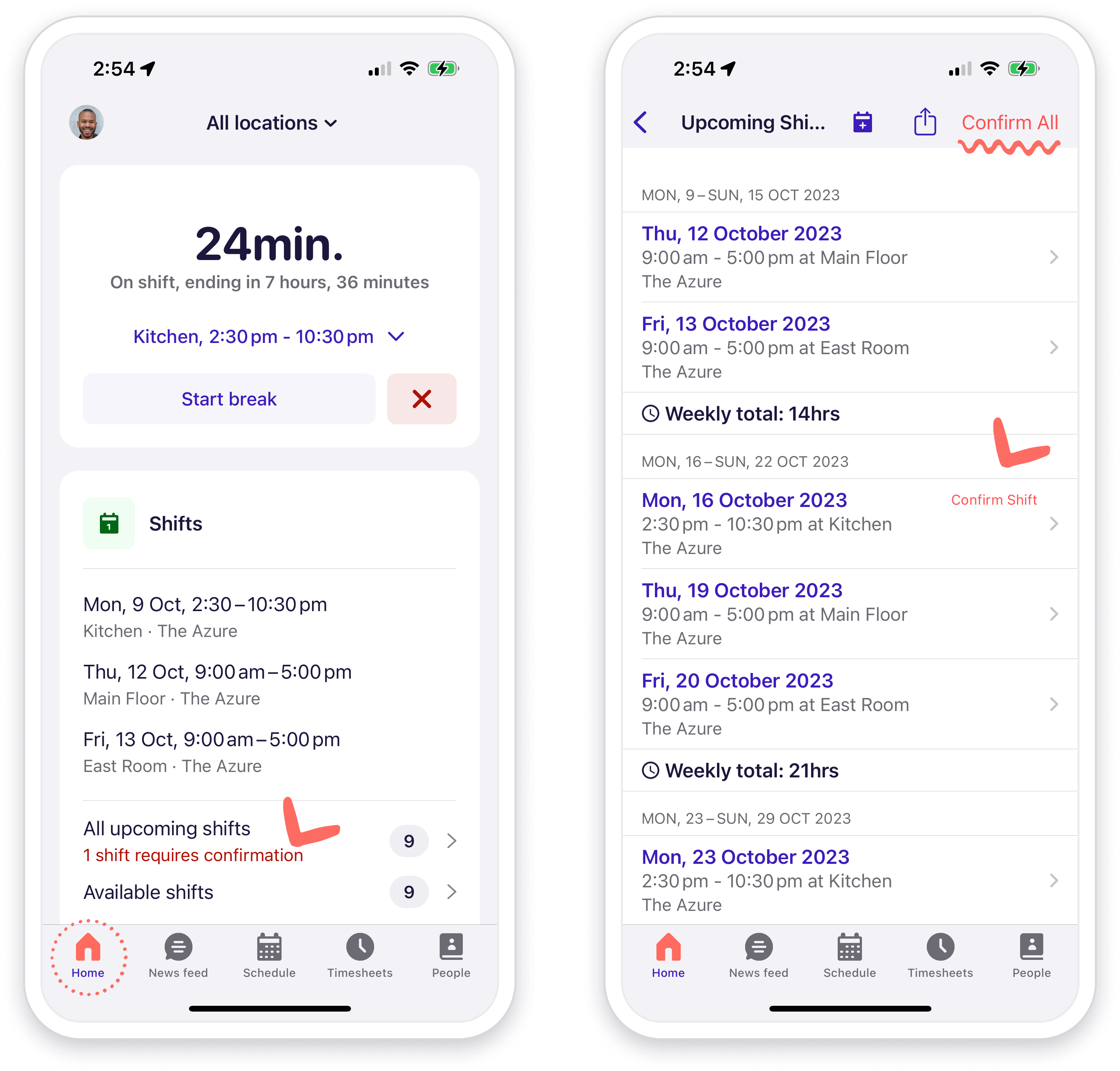 If the employee wants to view the shift details before confirming they can open the shift and then tap Confirm Shift if they are happy to work the shift.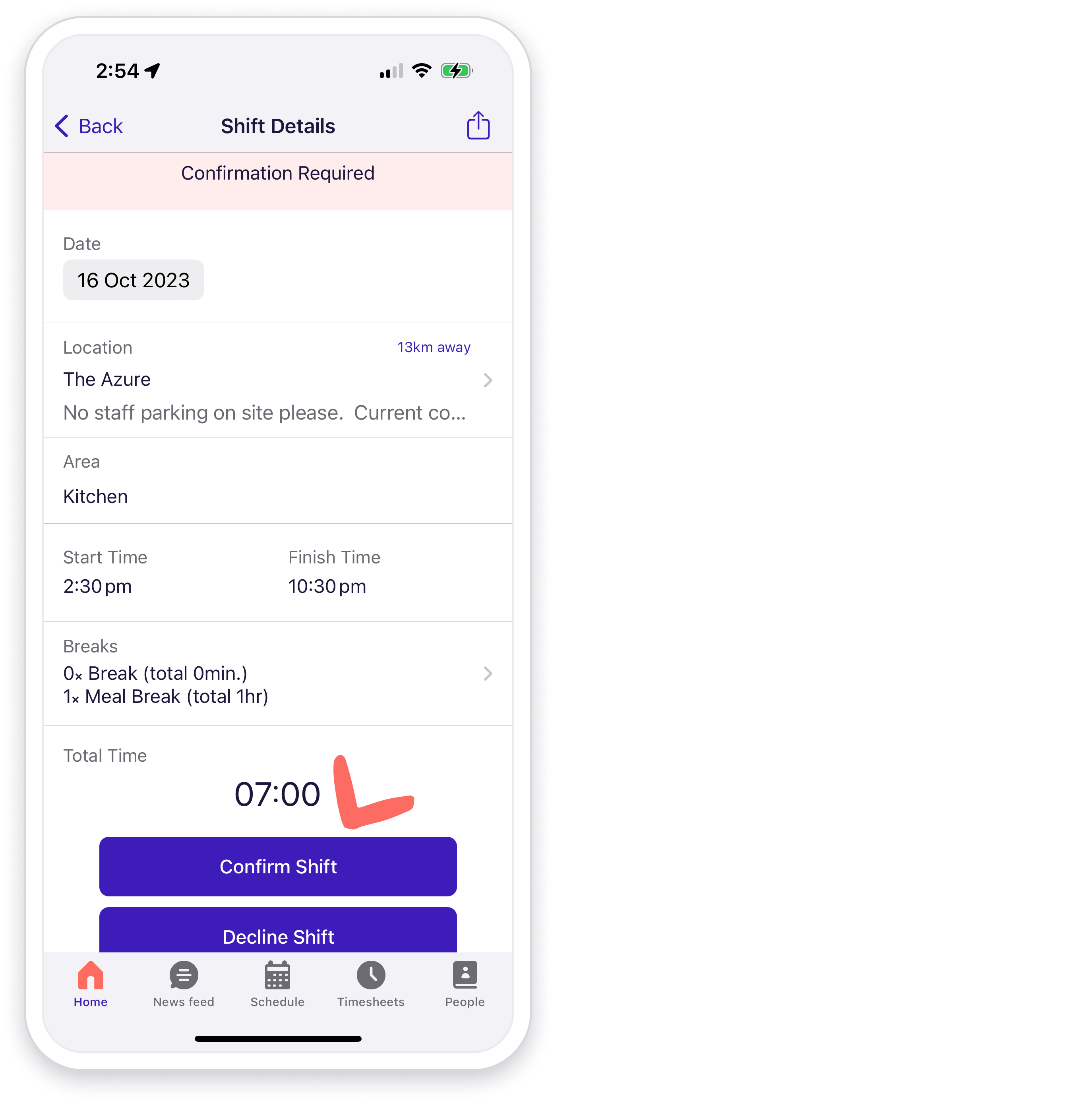 Employee declining the shift
In this example, the employee (Abby) sees they have a shift requiring confirmation.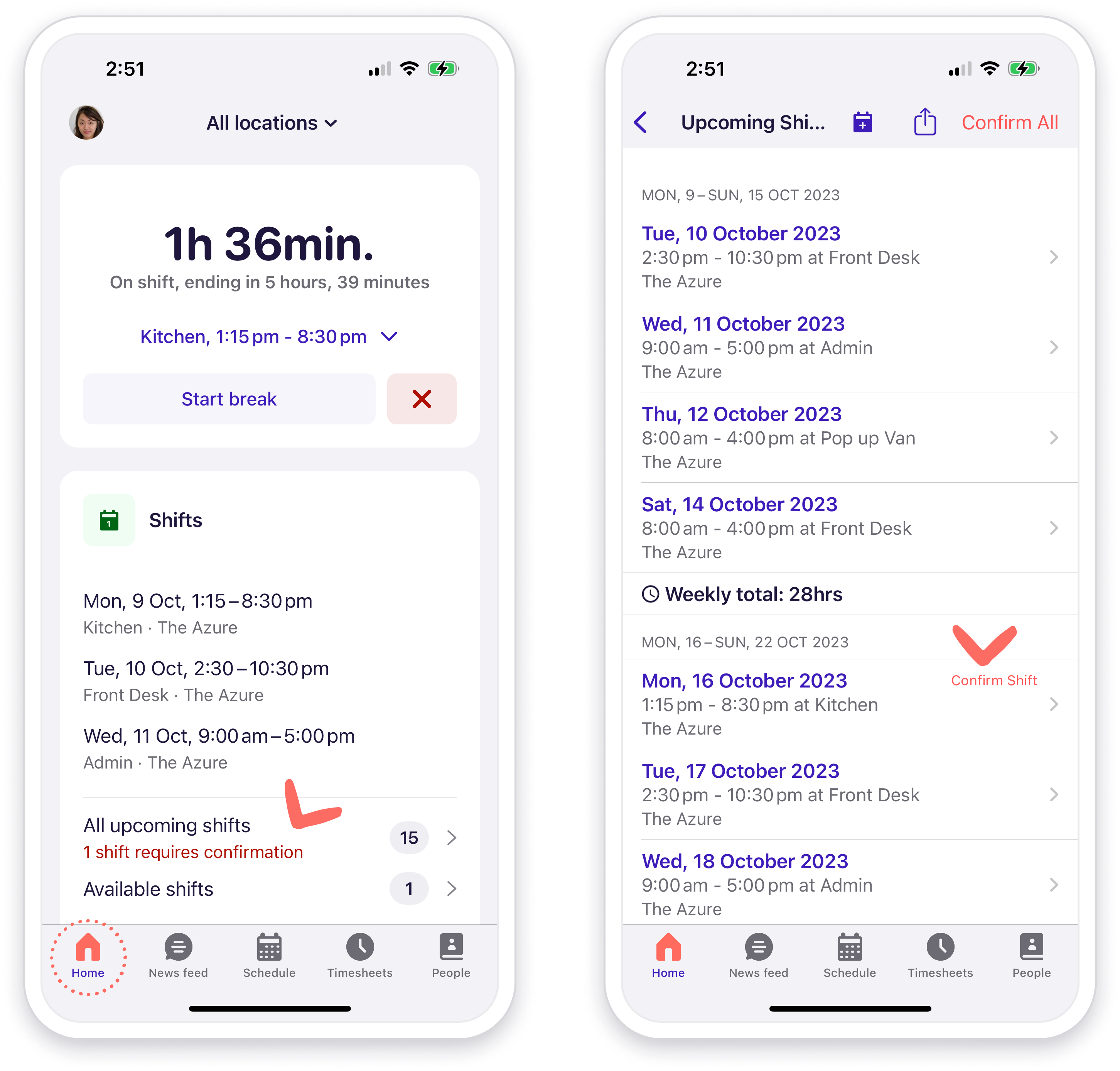 The employee needs to decline the shift and they are prompted to provide a reason for the manager.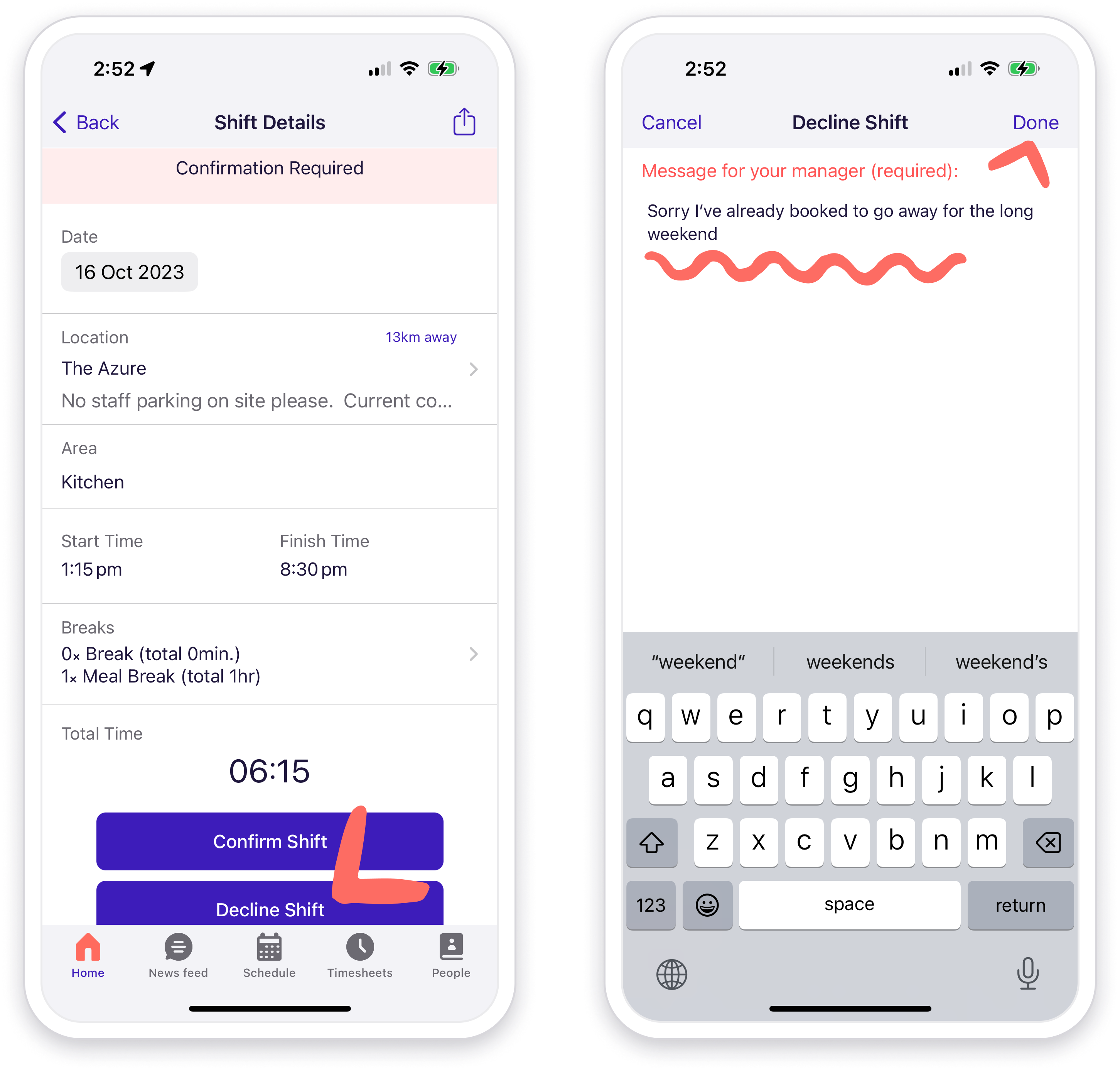 7. When the manager reviews the schedule we can see from our example that:
Pascal's shift, which was confirmed, is now on the schedule as green and
Abby's shift, which she declined, has become EMPTY with a warning icon
Tom's and Katie's shifts are still PENDING because they have not confirmed or declined them yet. Depending on the settings configured for this work location, their shifts may automatically become open shifts if they do not confirm them within the specified timeframe.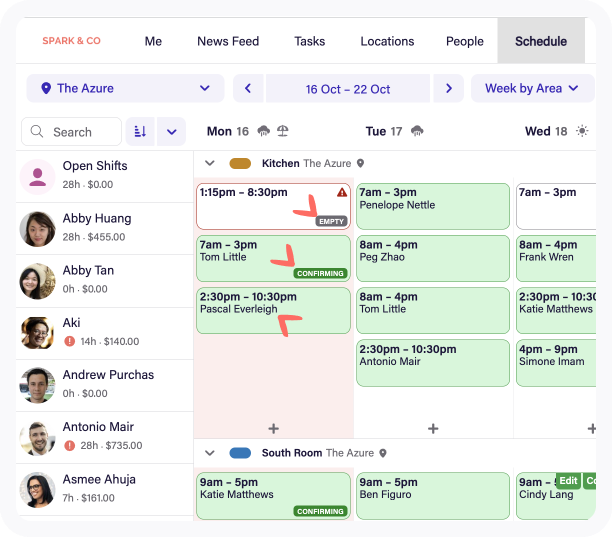 If the manager would like to find out further information about the EMPTY shift and why it was declined they can click on the shift to view it and see that Abby has declined the shift. If you want to view the reason why, just select the three dots button.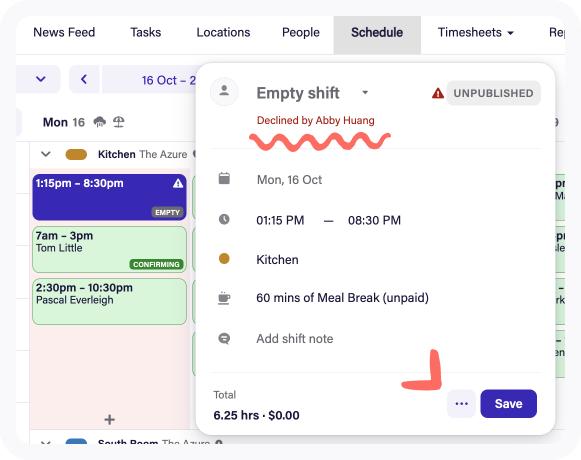 And click on View shift history.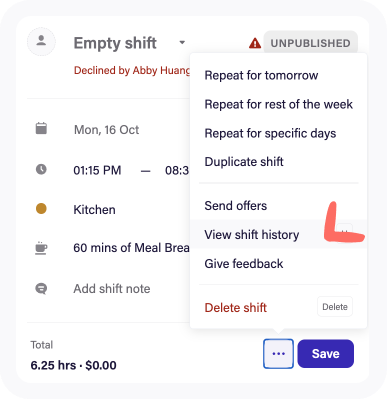 The reason for the shift being declined will be recorded.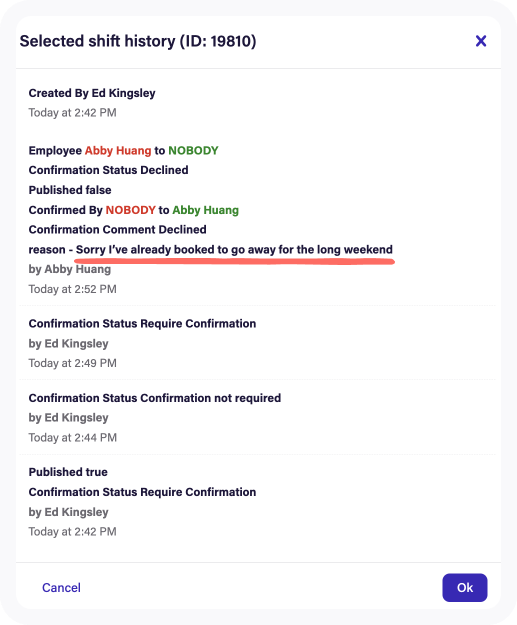 Managers can also quickly see if they have any Unconfirmed shifts or Open shifts coming up in the Dashboard on the Me tab.