The Dashboard on the Me tab offers System Administrators and Location Managers a snapshot of items that can be actioned.
What is the Dashboard?
The Dashboard sits within the Me page on Deputy and displays items related to scheduling, task management, leave and timesheet approval that are relevant to the manager viewing it at the time.
Clicking on action cards takes you straight to the corresponding item in Deputy.
How to access the Dashboard
All users with an access level of Supervisor, Location Manager and System Administrator can access the Dashboard by logging on to the Deputy website and clicking on Me as shown below: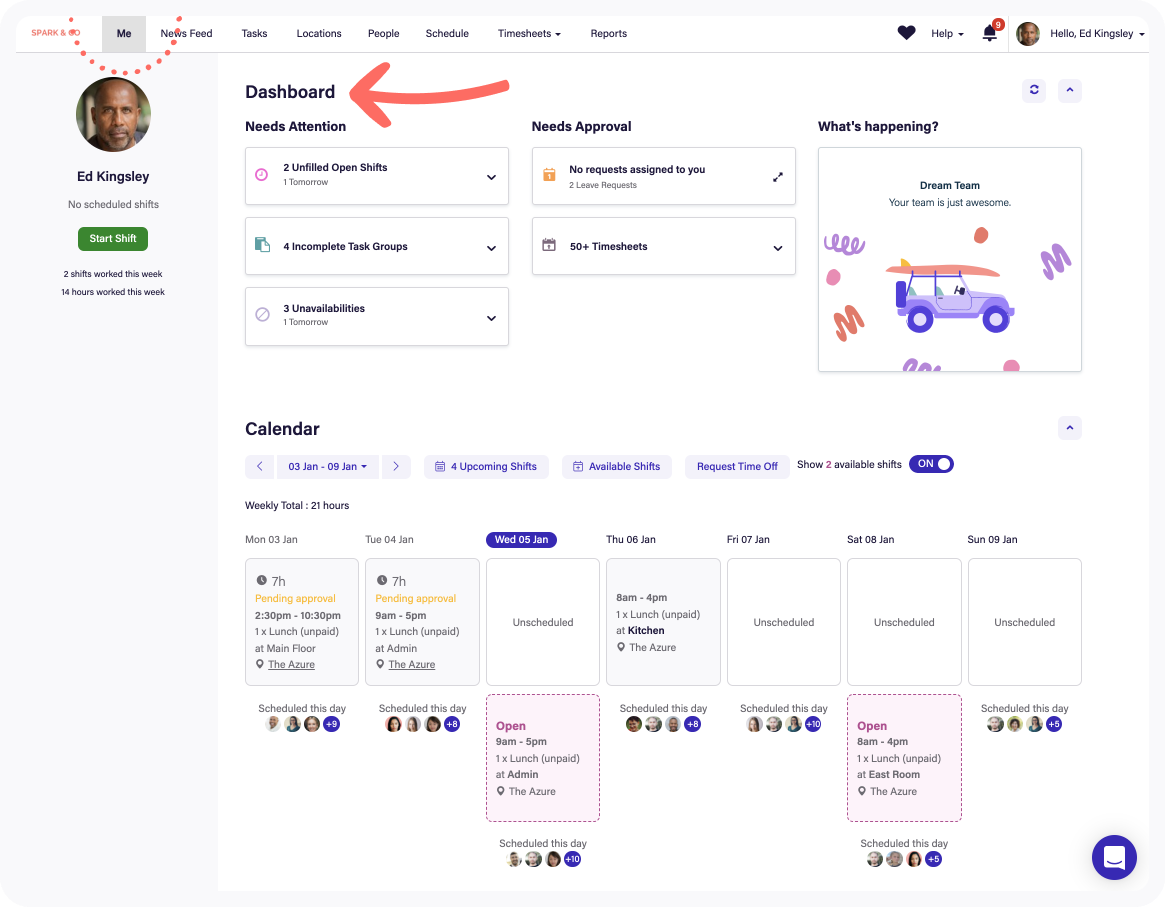 Users with an access level of Employee will still see an overview of their own Calendar, details about their shifts, any available shifts and requesting time off but will not have access to the Dashboard as shown below: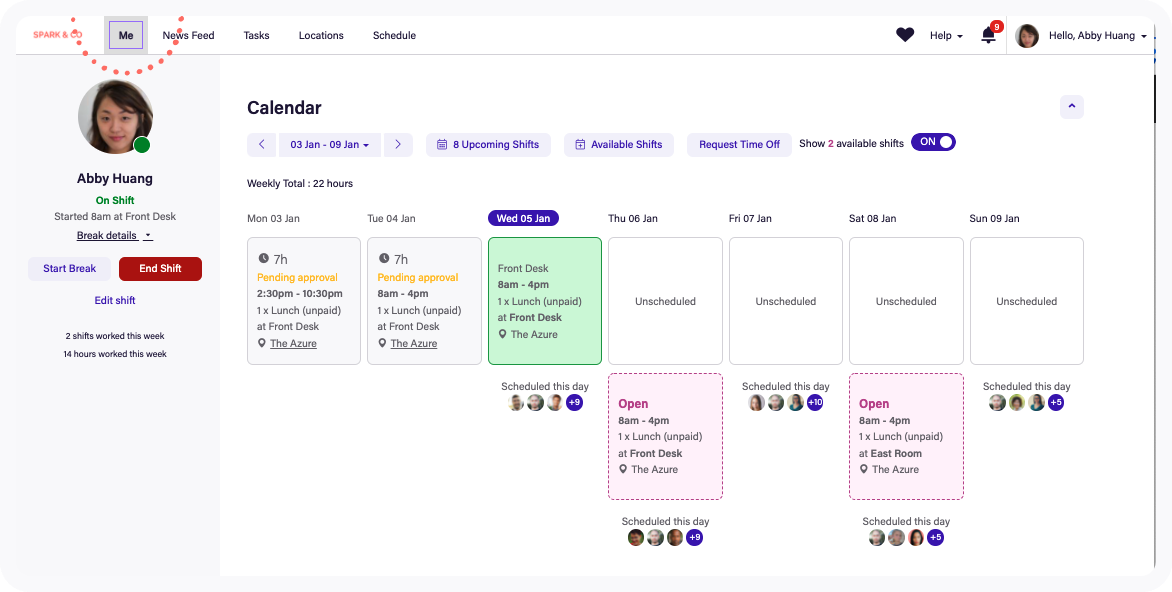 Dashboard sections
The Dashboard displays actionable items in three sections:
Needs Attention

- Notifies you of any shift items which need to be actioned, i.e. open shifts, shift swaps

Needs Approval

- Displays leave requests and timesheets which need to be approved/rejected

What's happening?

- Allows you to see a snapshot of the day's shift, including the number of team members running late, people on leave or birthdays for that day
Below is an example of the Dashboard:

Note: All cards in the Dashboard are clickable. Clicking an item in the collapsible card will take you to the corresponding section within Deputy to action the item.
Additional note regarding permissions/access levels: The Dashboard view is based on permission levels. It is only visible to System Administrators, Location Managers, and Supervisors. The viewable cards you see will be based on what functionality your user access level allows in Deputy.
Needs Attention
This section primarily focuses on shift options and items that need to be confirmed, swapped or filled.
This section will include:
Open Shift - Will display published open shifts

Unconfirmed Shifts - List of shifts that have been published, but have not yet been confirmed (if Shift Confirmation option is selected)

Unpublished Shifts

Shift Offers - Displays a list of offered shifts

New Unavailability - Displays any new set unavailability in the system.
Needs Approval
This section searches for items in your Deputy account that require an item to be actioned.
Needs Approval will show data from all-time that need to be actioned.
Timesheets - Displays timesheets that need to be actioned, with the number showing the number of timesheets needed to be actioned

Leave Requests - Shows any leave requests to be actioned, with the displayed number representing the number of leave requests received

Shift Swaps - Shows any Shift Requests that need to be approved. This will appear based on your Location Settings preferences
What's happening?
This section shows information regarding the current day, and the team members currently on shift.
What's happening focuses on the current day's events
This section will display the following sections:
Running Late - If any team member is currently late for their shift, they will be displayed here. It is not possible to remove or disable this element

People on Leave - Will display any team member who currently has leave for the day

Birthdays - If it is a team member's birthday
How to show/hide the Dashboard
Showing and hiding the Dashboard on the Me page is simple.
Click the arrow icon on the top right of the screen to collapse or reveal the Dashboard.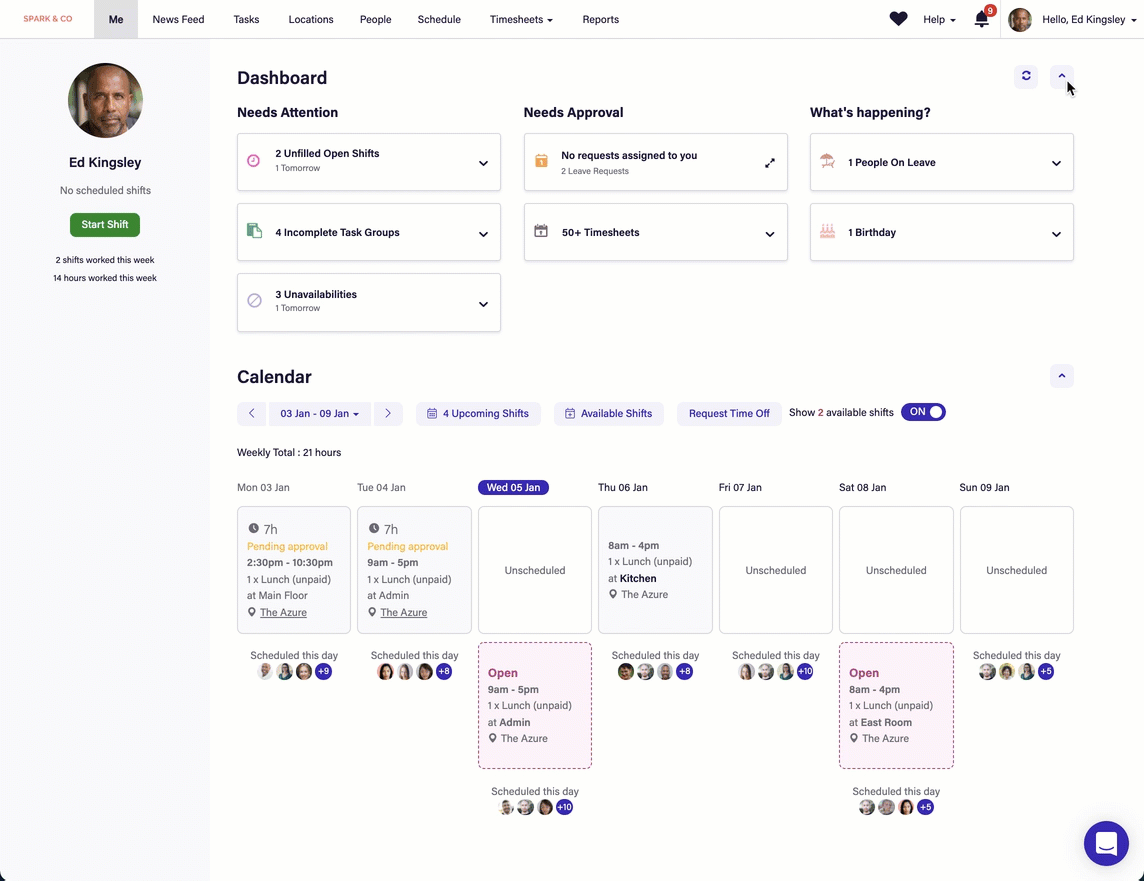 Refreshing the Dashboard
If you have changed any data and the Dashboard does not immediately reflect the data changed, you may need to refresh the Dashboard.
To do this, simply click the Refresh icon as shown below.