This guide provides a quick overview of how to configure your Deputy account in the easiest, and fastest way, allowing you to start scheduling and managing your team as quickly as possible.
In this guide, we cover 4 simple steps for setting up your account in Deputy and answer commonly asked getting started questions. We also have some industry-specific guides with some extra tips and tricks for customising Deputy for your business.
Before we get started ensure you are logged into Deputy with access levels of either System Administrator or Advisor.
1. Set up your business
Setting up your account to mirror your business will make it easier and faster to schedule in Deputy. Before jumping in, it's worth taking a moment to understand two important concepts in Deputy - Locations and Areas.
Locations and Areas define the structure of your account, and the way they are set up will influence how you schedule and manage your team members.
The relationship between Locations and Areas is best summarised as Location being the parent, and Areas the children. A single Location can have multiple Areas within it.
A Location tends as a store, physical address, project or client, or department if you run a larger business.
Areas are often then the teams, physical areas or roles that you schedule team within that Location.
Depending on your industry and the type of business you run, you may have one or many locations in Deputy (extra Locations are free), each with its own Areas.
Here's a brief illustration of how the two concepts relate to each other in Deputy in the context of Hospitality, where an organisation runs both a restaurant and a cafe/bar.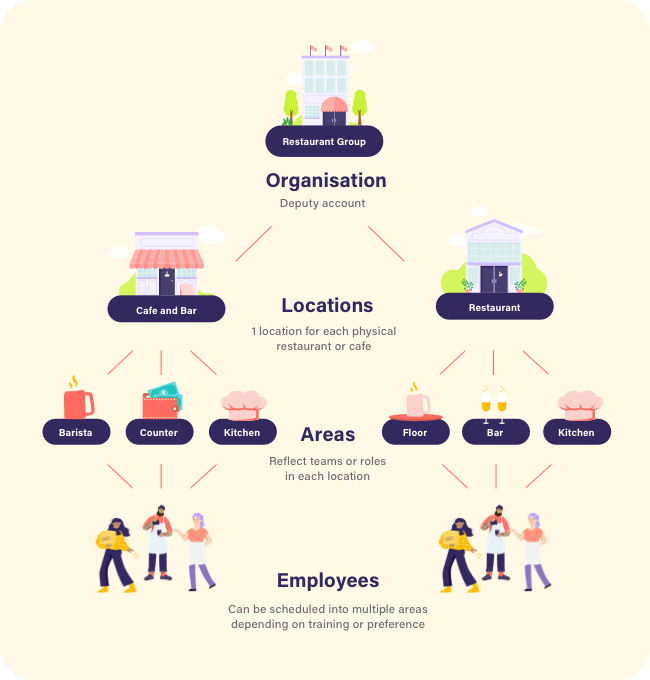 Retail is similar, where you would have a Location for each of your stores, and each Location (store) would include Areas like shop floor, cashier and manager.
This may be similar for GP and Emergency clinics, where each clinic is a Location in Deputy, and the Areas within each Location reflect the teams like Doctors, Nurses and Receptionists.
On the day of your team member's shift, they will clock into the Area they have been scheduled into, and the timesheet will reflect the Area they worked in.
For more information about how to set up your Locations and Areas, check out Organisations, Locations and Area set up.
When you created your account, you will have created your first Location. To add Areas to this Location or create a new Location, head to the Locations tab.
Areas can be added by clicking Edit Settings next to the Location name. You can also add training requirements and colour codes for each Area in your schedule.
2. Customise your account settings
Once your Areas are set up, it's now time to configure your Location to ensure it reflects how your business operates and how you manage your team today.
This can be done by amending the Scheduling and Timesheet settings, found within the Location Settings. Here are a few of the settings that are most important for you to consider:
Scheduling
Open & close times for your business.

Default shift durations. Setting your default will save you from changing the duration each time you create a new shift.

Whether team members can swap shifts, and if your manager needs to approve each swap.
Timesheets
How you'd like team members to clock in and out (choose out of web, mobile, iPad Kiosk, Android Time Clock)

Whether team members can modify their timesheets after a shift (this is on by default, you may like to turn this off if you'd prefer only managers can edit timesheets)

Whether timesheets are rounded to the nearest hour

Settings for how meal breaks are scheduled and managed
3. Add your people
Now you've configured your Locations, it's time to add your team. To do so, head to the People Tab, click Add People, then Add/Import Multiple People.
At this point, it's important to understand that you can add your team without notifying or inviting them to join (this can be done later).
This means you can get a feel for Deputy, create your first schedule and ensure Deputy is the right fit before you communicate the changes.
There are 3 main ways to add your team.
1. Import from your Payroll (Recommended)
If supported, the fastest and easiest ways to add your team is by syncing their details directly from your payroll system. This can be done from the following systems:
Australia & New Zealand - Xero, MYOB, Sage WageEasy

United States - Gusto, ADP Run, Netsuite

UK - Xero, MYOB
We recommend importing from your payroll because it means you avoid manual data entry and ensures team members' details match up between the systems (this makes payroll fast and easy).
Here is a dedicated help article to step you through the process.
2. Bulk Import from spreadsheet (CSV)
A CSV file is simply a type of excel spreadsheet. You can download a template here, fill out your team member's details, then import by selecting Excel from the drop-down.
Important! Be sure to save the file as a .csv so the import works correctly.
3. Add manually
To add manually, simply add your team member's details in the boxes underneath.
Important! If you're adding manually, be sure to match team members' names and emails with your Payroll system. This will help quickly and accurately export timesheets to your payroll system, and cut your payroll time from hours to just minutes.
4. Add Pay Rates and set up Awards (Au) and Pay Conditions (US)
Adding pay rates and setting up Awards (Au) or Pay Conditions (US) allows Deputy to automate pay calculations to simplify payroll, and lets you create costed rosters so you know exactly how much you're spending on labour each hour or day.
To add pay rates and Awards (Au) or Pay Conditions (US) to a team member, head to the People tab.
From here, select the team members you'd like to apply the change to by ticking the box next to their name, then click Bulk Actions and Set Rates
If you're not using one of our pre-created Awards or Pay Conditions, you can choose from a selection of ways in which your staff can be paid different rates, including:
By day - Different rates for each day of the week

By day type - Different rates for weekdays, weekends, and public holidays,

By Area - Different rates based on the Area of the business the work in

Salary - Set rate for the month or year
If you're in Australia and using one of our Awards, search for the relevant Award under Pay Rates and select from the drop-down menu. From here, you'll simply need to add the base rate and Deputy will take care of the rest.
If you're in the US and using one of our pre-created Pay Conditions, search for the relevant Pay Condition and select from the drop-down menu. From here, you'll simply need to add the base rate and Deputy will take care of the rest.
Frequently Asked Questions
What is a Location?
Location is generally a physical site, store, job, project, client, or department relating to your business.
Your business in Deputy can have one or multiple locations, pending on how you want to set up your account.
For example, if you manage 4 different medical clinics that are located in 4 different geographical locations, you could set up 4 different locations within your Deputy account.What is an Area?
Each Location consists of multiple Areas. Areas can be task, responsibility, role, or department based teams or physical areas within in a Location.
For example, in hospitality, you may have a Front of House and Back of House area of work. In a medical clinic, you might have a Nurses, Admin or Reception area of work.
What is the difference between an Area and a Location?
Location will always have a set of Areas in it. The relationship is best described as parent (Location) to children (Areas).
Team members receive schedules based on which Area they are scheduled to work in at a given Location. At the time of their shift, employees clock into the area of work they have been assigned to.
What is a user?
User is a team member in your business that uses Deputy, whether that's an employee, manager or owner.
Deputy bills on a per-user-per-month basis on any of our monthly plans.
What is an integration?
An integration is simply a connection between Deputy and another one of your software tools (like your POS, Payroll or HR system). Deputy can integrate with many different systems to help increase your productivity across your business. A full list of Deputy's integrations can be found here.
Deputy integrates with POS systems so you can import your sales or bookings data to better understand how many people you need working at a given time.
We also integrate with Payroll systems so you can export your timesheets directly to payroll, without requiring manual data entry between the two.
What is an Award?
In Australia, an Award is an Australian term that relates to the legal documents created by the Fair Work Commission that set minimum pay rates and terms of employment for team members in given industries.
What are access levels in Deputy?
Access levels in Deputy are permission settings that dictate what team members can see or do in Deputy.
For most customers, there are 5 Access Levels to choose from:
System Administrator - Most senior permissions, with access to all of Deputy. Including the ability to create new Locations.
Location Manager - Generally general or senior manager(s) of a Location. Can add and edit people's details, edit the Location's settings and export timesheets for payroll. Location Managers can see employee pay details.
Supervisor - Generally a shift manager, can create schedules as well as review and approve employee timesheets. Cannot see employee pay details.
Employee - The most common access level is an Employee, that uses Deputy to view their schedule and clock in for shifts. Cannot see employee pay details.
Advisor - An Advisor is someone that may support the set up and running of your organisation but doesn't necessarily work in it. You can add up to 10 advisors per account for free.
Can I change the access levels of my team members in Deputy?
Yes, you can change the access level of your employee. Follow this guide on how to change access levels.
Can my employees see other employees' pay rates?
Employees are unable to see other employees' pay rates. Only Location Managers and System Administrators will be able to see the pay details and rates of their staff. Supervisors can see the contact details for team members in their Location but not their pay rates.
What happens when I connect my HR or payroll software to add people?
It simply imports team member details. Until you choose to export timesheet data during payroll, nothing will change in your payroll system.
What team member details will sync from my HR or payroll software?
This depends on your Payroll provider. Most commonly Deputy will sync details like name, email, date of birth. Some platforms like Xero can also sync leave balances. Search our Help Center for more details on integrating with your payroll provider.
What is my username and password for Deputy?
Your username is the email you used to sign up for your Deputy trial.
Deputy sent you a temporary password at the time of sign up, which you can reset to a new password for your account. Search "Your Deputy login details" in your inbox to find the email.
To recover your password, simply press "Forgot Password" at once.deputy.com.
Where can I find my Kiosk Pin?
Your Kiosk pin was emailed to you by Deputy. Search "Welcome to Deputy" in your inbox to find the email.
How do I turn on the photo requirement for Kiosk?
Go to Locations, select Edit Settings, Timesheets settings and configure the setting "Require photo when starting, ending shifts in Kiosk"
How can I prevent team members from clocking in/out on their smartphone?
Go to the Locations Tab, select Edit Settings, then from the Timesheet settings you'll see a setting called "Allow Employees to Clock in via Mobile Device"
I need help to create a new Deputy account
If you need more help setting up a Deputy account check out our webinar training on How to set up your Deputy account
You can also request help from an account manager via the Deputy Help Center if you need assistance creating a new Deputy account.
1. If you are not already logged into Deputy you will be asked to sign in or sign up with your email address.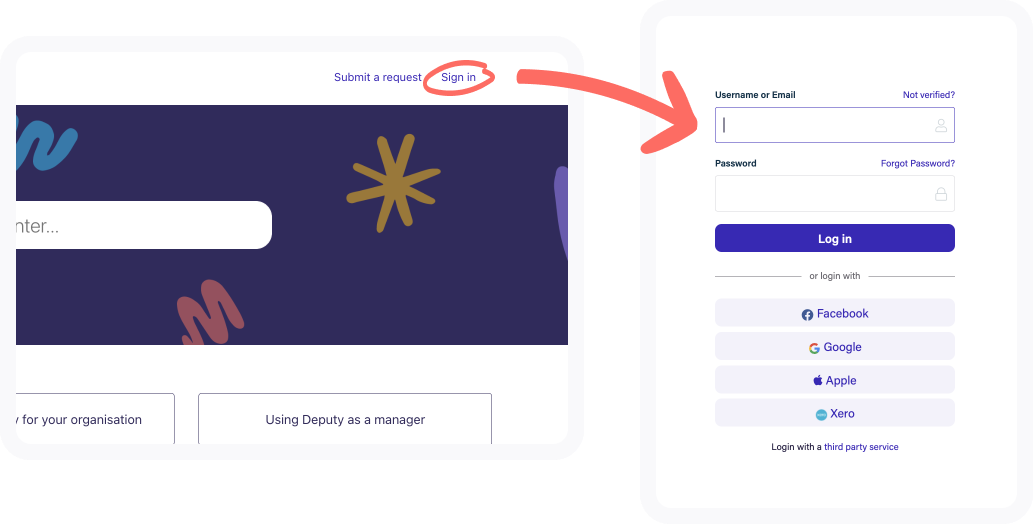 2. Once you are logged in you will see your name appear in the top right-hand corner. Now you can click on Submit a request.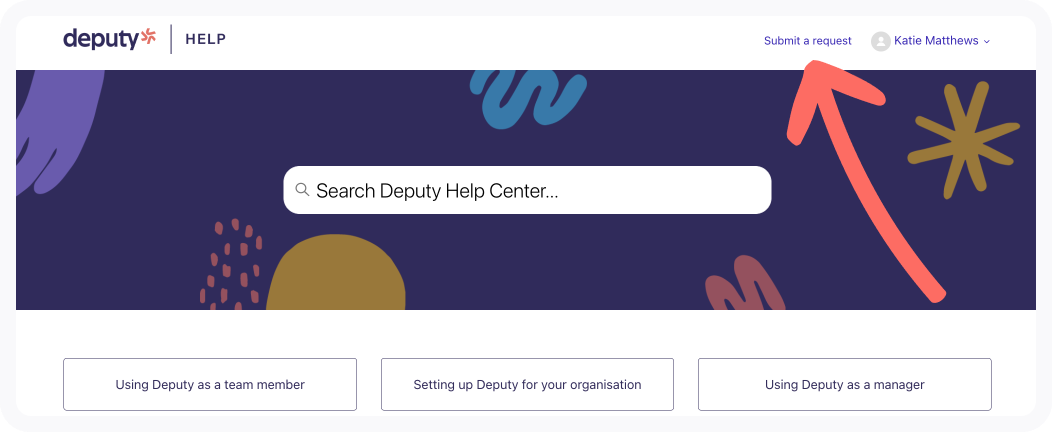 3. From the drop-down, select Upgrade Your Deputy Account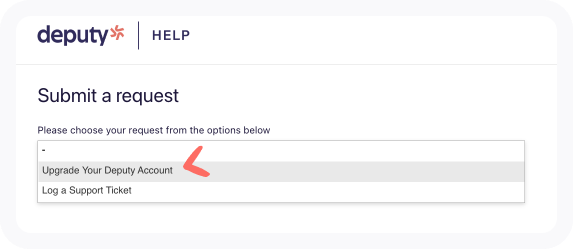 4. Select Setup new account.
5. Let us know how many users you'd like your account to have and when you need it completed by. You can add further details or even an attachment if you need. Click Submit to send the request.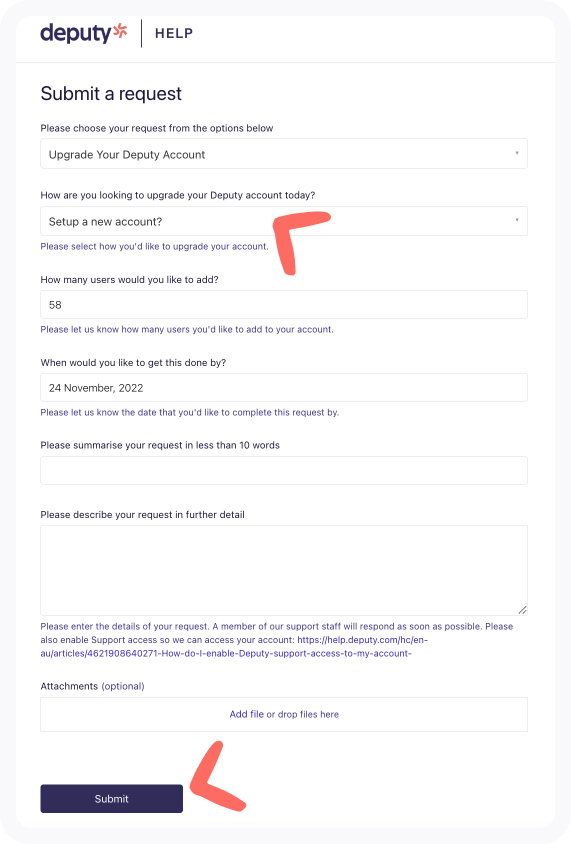 6. You need to then enable support access to your Deputy account and an account manager will be in touch with you via the email address you use to log into Deputy.