How does new hire onboarding with Deputy work?
New hire onboarding allows you to digitally collect and record vital employee information. Deputy automatically collects the following information during every onboard:
Personal details

Emergency contact details

Bank (payment deposit) information

Tax details & new starter form (P45)

[optional] Documents you ask them to provide as part of their employment
[optional] Documents you ask them to electronically sign such as employee contract of company information document as part of their employment process.
Sending a request to your employee to complete their onboarding process will send out an SMS and an email to the specified destinations. You will not be charged for the outbound SMS containing the invitation link.
Once the employee has successfully completed the onboarding process the manager will be sent an email to notify them to review the documents and also the employee will be invited to set up their password to access your organisation on Deputy.
How much does it cost?
Onboarding a new hire
Once you have set up onboarding then you are ready to onboard a new hire.
Note: the manager who initiates the onboarding of the new hire is the one who will receive the email notifying them that the onboarding form has been submitted.
1. Click on the Add People button on the People page and select Onboard new hire.

2. Enter the following details about your new team member:
First Name

Last name

Email Address

Mobile phone number

The name of the main location they will be working at (you can add to or change this later)
The Deputy access permission level you would like to assign.
Note: check the contact information very carefully! If you enter the wrong phone number when onboarding, you can't just update it in Deputy and resend. You need to delete the onboarding request and start again.
then continue scrolling down the page.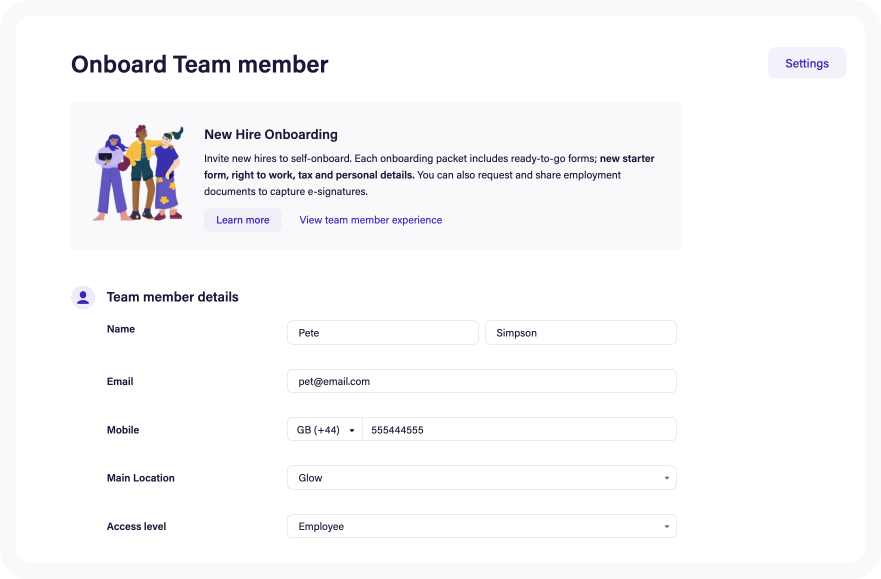 3. Select from the search field any document(s) that are required to be completed and signed. You can also set up a new template if the one you require is not on the list.

4. If the document template has customised fields set up then you will be asked to complete these fields to send the documents to the new hire. Your answers will be populated in the custom fields of the document template when the document is sent.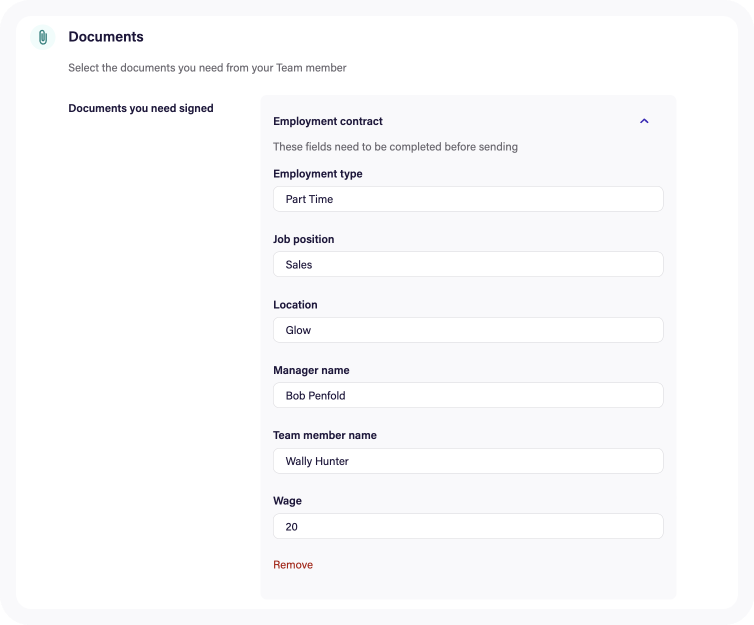 5. Tick the checkboxes to select any documents for the list that you require them to upload.

6. If you have set up additional questions to ask your new hire they will be displayed.
When you have completed all the fields you can click Onboard team member and the new hire will be sent both an email and SMS with a link for them to complete onboarding.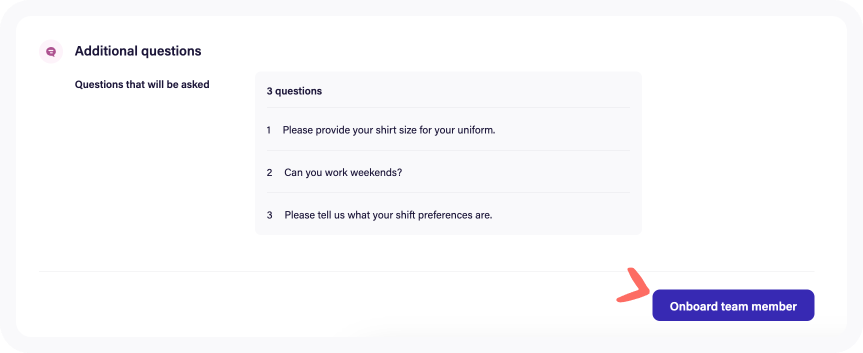 You will be notified by email when they have completed onboarding and the team member will then automatically be sent an invite to download the Deputy mobile app and join your organisation on Deputy.
Note: if you accidentally entered the wrong email address for your employee when you first sent the onboarding invite, you can update it later and resend the onboarding invitation to the new one. Read more in FAQs.
Onboarding an employee already in Deputy
If your employee is already in Deputy but you'd like them to complete the onboarding process and upload documents you can still do this.
1. Click on their name from the list of team members on the People page then select Onboarding Form from the menu on the left-hand side. Click on Onboard Team member.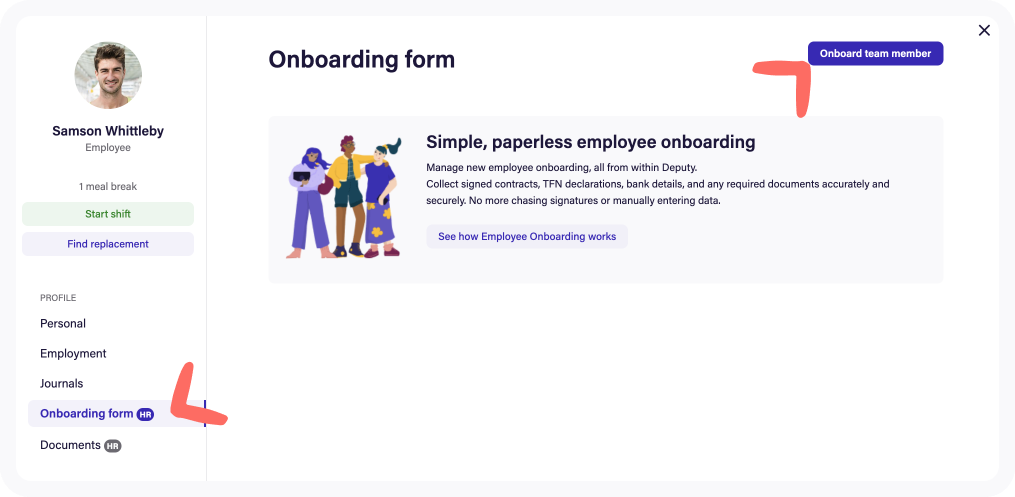 Enter the email and mobile phone number of your employee, and follow the steps as described in How to Onboard a new hire and click on Onboard Employee.
The team member will be sent both an email and SMS with a link for them to complete onboarding and you will be notified when they complete it.
How to check the status and progress of your employee's onboarding forms and documents
Once you have sent the onboarding invitation to your employee, you will be able to see the status within the People tab, underneath their name.
You will be able to filter for each of the onboarding statuses to quickly see who's been sent an onboarding invitation, which onboarding needs to be reviewed and who has been approved.

How to review your new hire's onboarding forms and uploaded documents
You will receive an email letting you know when the employee has completed their onboarding forms.
1. To review the information your employee has completed or document uploaded, either click on the Review and approve link in the notification email or else click on their name in the People tab. You can also use the Filter in the People tab to display team members you need their onboarding approved.

2. Click on Documents from the list on the left-hand side to review any documents that have been submitted by the new hire.
If you are happy with the onboarding forms and document submitted, go ahead and approve it by clicking Sync and approve.
Once approved, your team member will receive a copy of any documents they signed.
You can also print the onboarding form to PDF by clicking on the print icon.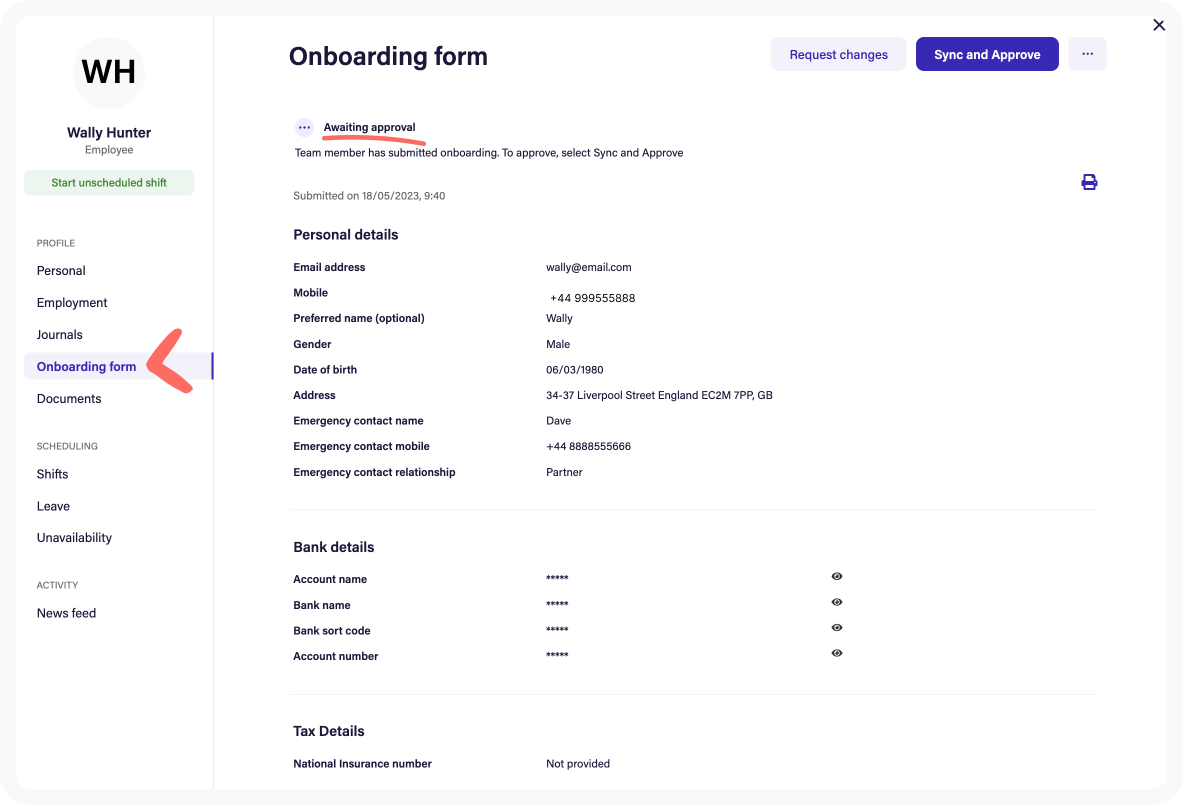 3. When you click on the Documents tab you can also download any signed documents you requested or documents that have been uploaded. You can download each document individually or if you have multiple documents you can select them all using the checkbox selection and click Download to download them to your computer as a zip file.
Note: Documents stored on Deputy will be available whilst you maintain an active subscription to a Deputy plan. If you are required to store certain records for a specified amount of time to comply with any legislation then it is recommended that you download and store documents in your own document management system.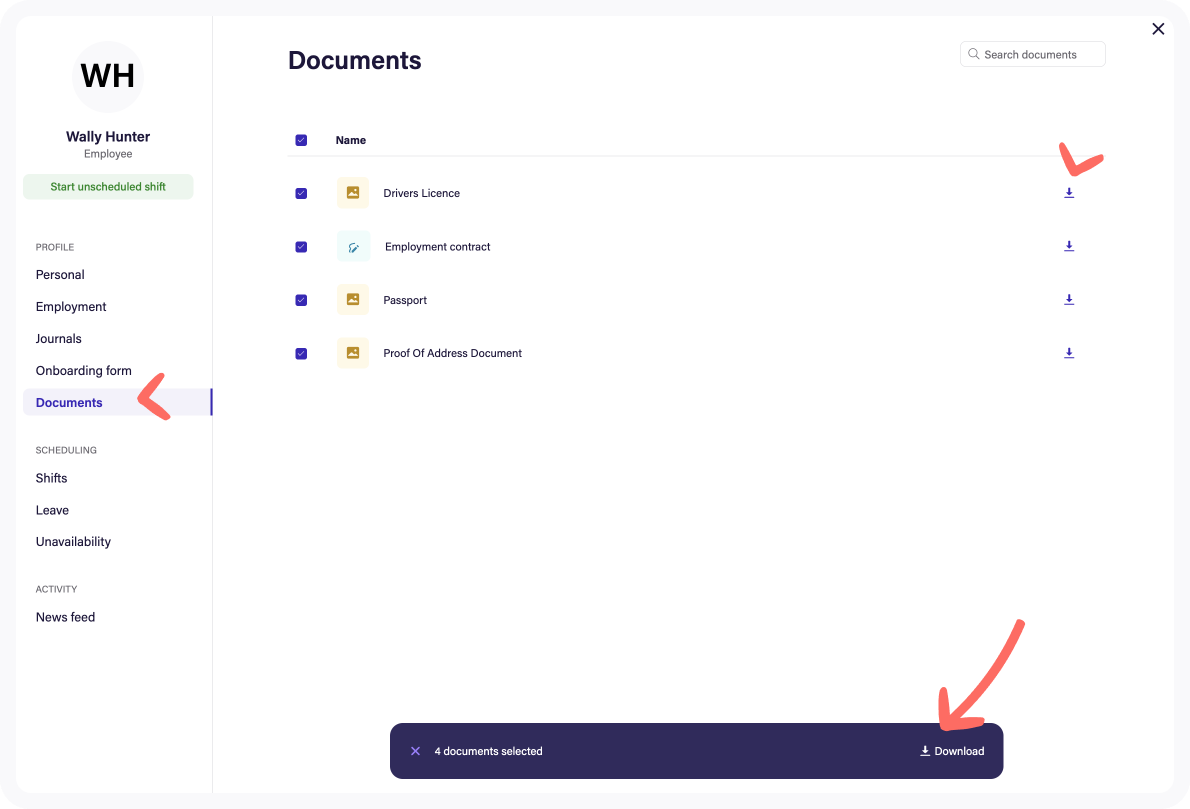 4. If you notice that there is something not correct with what the employee has supplied you can click Request changes on the top right of the Onboarding form screen. You will be asked to type a short message to explain to the new hire what you would like them to correct or resubmit and the employee will receive a new link to update the document.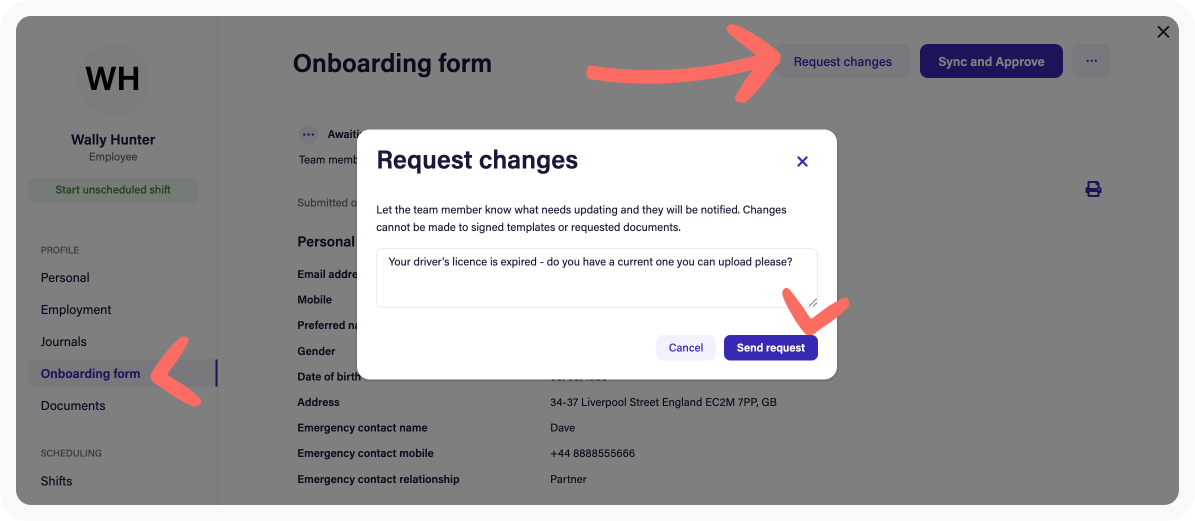 How to export submitted onboarding information as a CSV
Managers can export submitted onboarding information (in either 'awaiting approval' or 'completed' state) from their team members including:
Personal details
Bank details
Tax details
Right to work info (UK)
1. On the People tab, click on Add People then Onboard new hire

2. Click on Settings.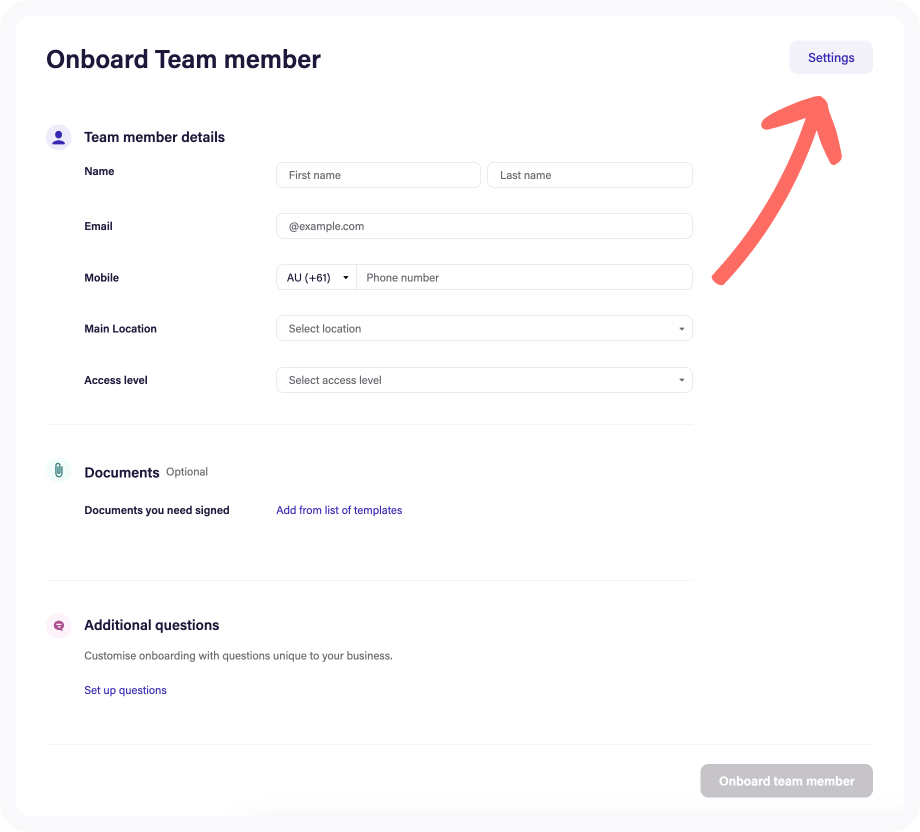 3. Click on Go to onboarding export.

4. Use the search field, location and date selector to refine the list of onboarding forms submitted by your team members. Tick the check boxes of employee onboarding information you'd like to export and click Export.

5. A CSV file will be downloaded to your computer.
How to delete requested documents
If a manager has sent a new hire an onboarding form and then later realise they have requested the wrong form to be signed or documents to be uploaded, the new hire may find they are unable to complete the onboarding form. To correct this, managers can resend the onboarding link and select the correct template or remove the incorrectly requested documents so that the new hire is able to complete the onboarding form and submit it.
Note: The Resend link button only appears once the invitation has been sent and the new hire has not yet submitted it. If your new hire has already submitted the onboarding form and you realise you need to make amendments you can click Reset onboarding.

To resend a link for onboarding to a new hire with amended templates or document requirements:
1. On the People tab, go to the Onboarding forms in an employee's profile
2. Click Resend link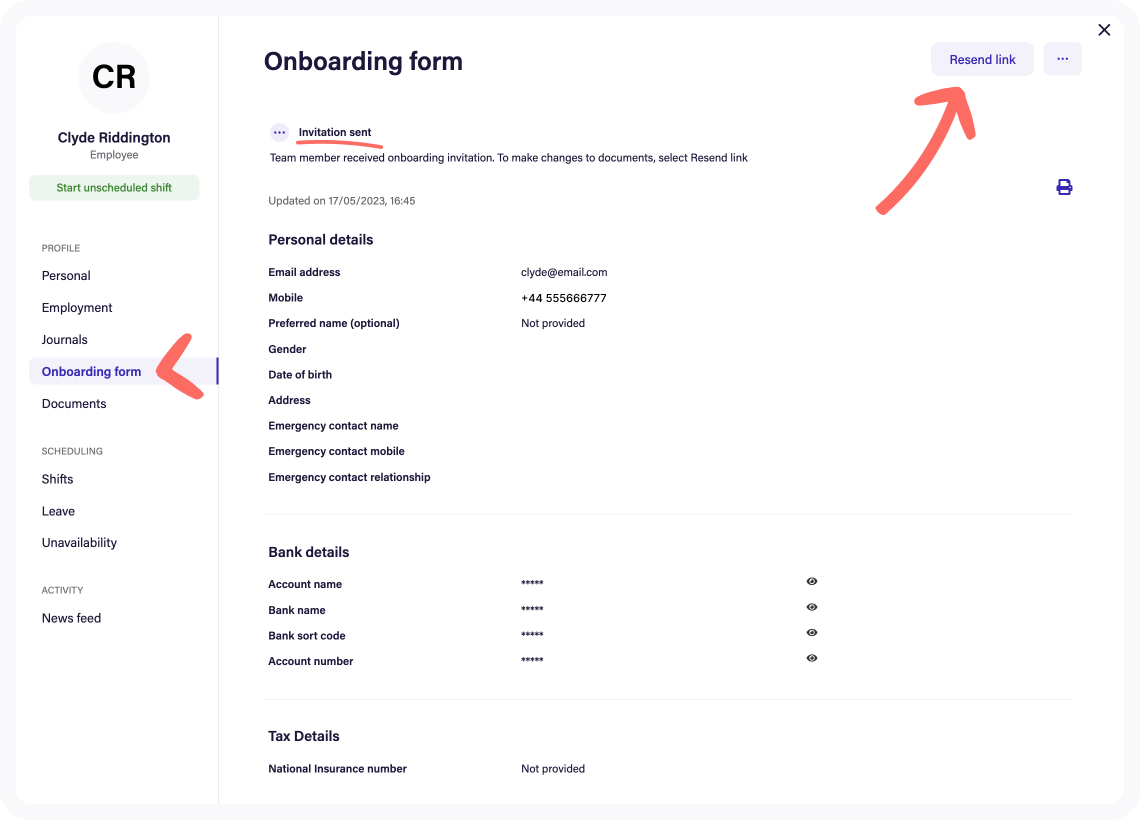 3. A popup will appear where you can make changes to templates and requested documents. Click Remove for any documents no longer needed, add a comment if required and then click Update and resend.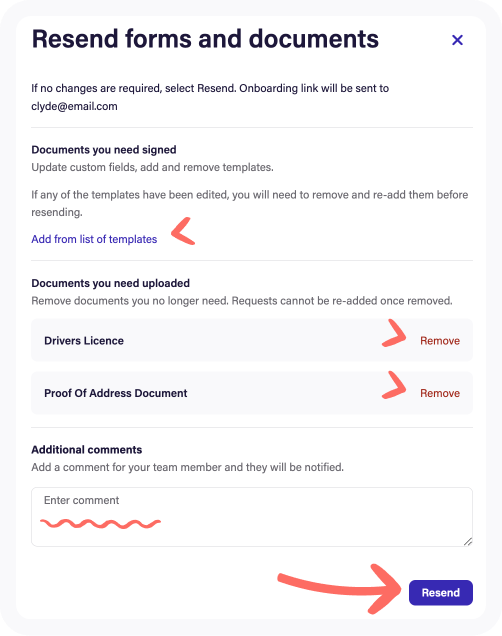 How to reset or delete an Onboarding request that has been sent
You may have sent out an onboarding request to a new hire and then later decide you need to delete or reset the onboarding request. There are a number of reasons why this might happen:
wrong documents were requested/sent
incorrect email or mobile number was entered (Note: if you enter the wrong phone number when onboarding, you can't just update it in Deputy and resend. You need to delete the onboarding request and start again)
accidentally sent an onboarding invite
no longer want to store the data/documents in Deputy
issues with the onboarding form which requires the updated version to be sent
Managers can reset or delete an onboarding request:
Reset onboarding
Resetting onboarding will delete any existing onboarding data and documents that have been collected during onboarding and managers will be able to resend a new onboarding invite (with documents) without being charged again.
1. On the People tab, select the employee you wish to reset onboarding for.
2. Select Onboarding form from the menu on the left-hand side and then click on the ... button on the top right side of the screen and select Reset onboarding.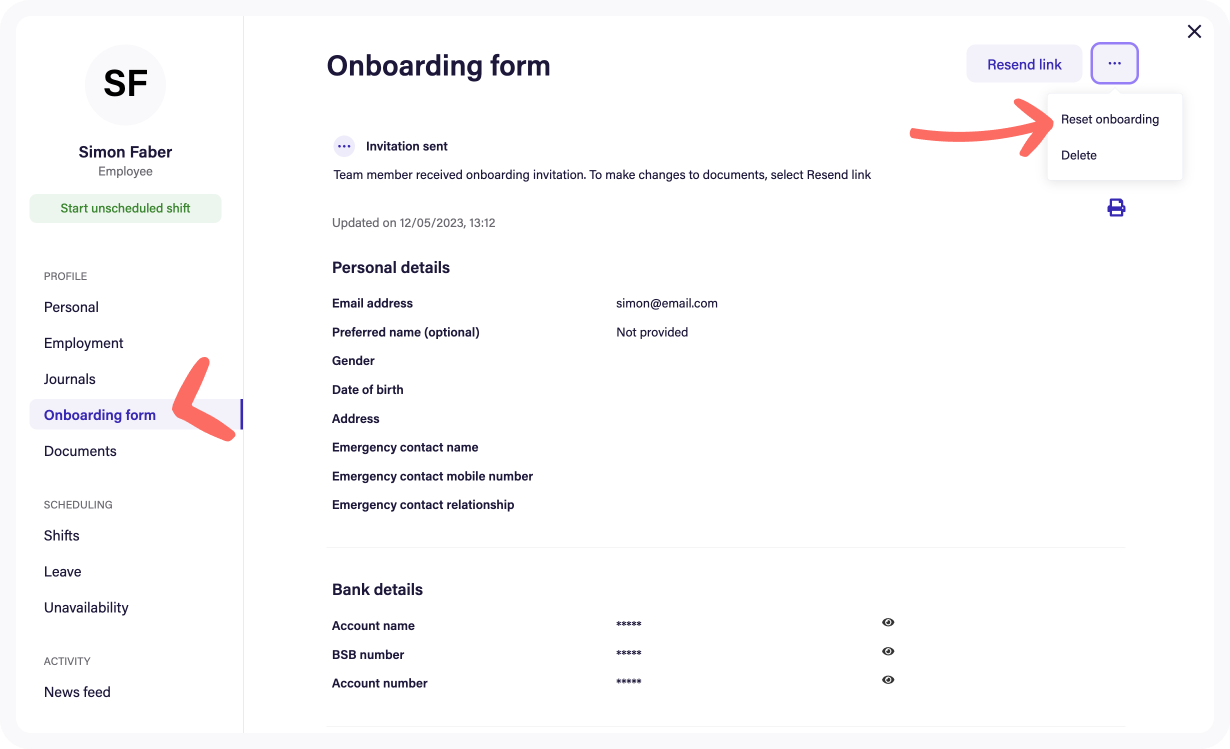 Delete onboarding
Deleting an onboarding request will delete any existing data and documents.
Note: if you send a new onboarding invitation to this employee additional charges will apply.
1. On the People tab, select the employee you wish to reset onboarding for.
2. Select Onboarding form from the menu on the left-hand side and then click on the ... button on the top right side of the screen and select Delete.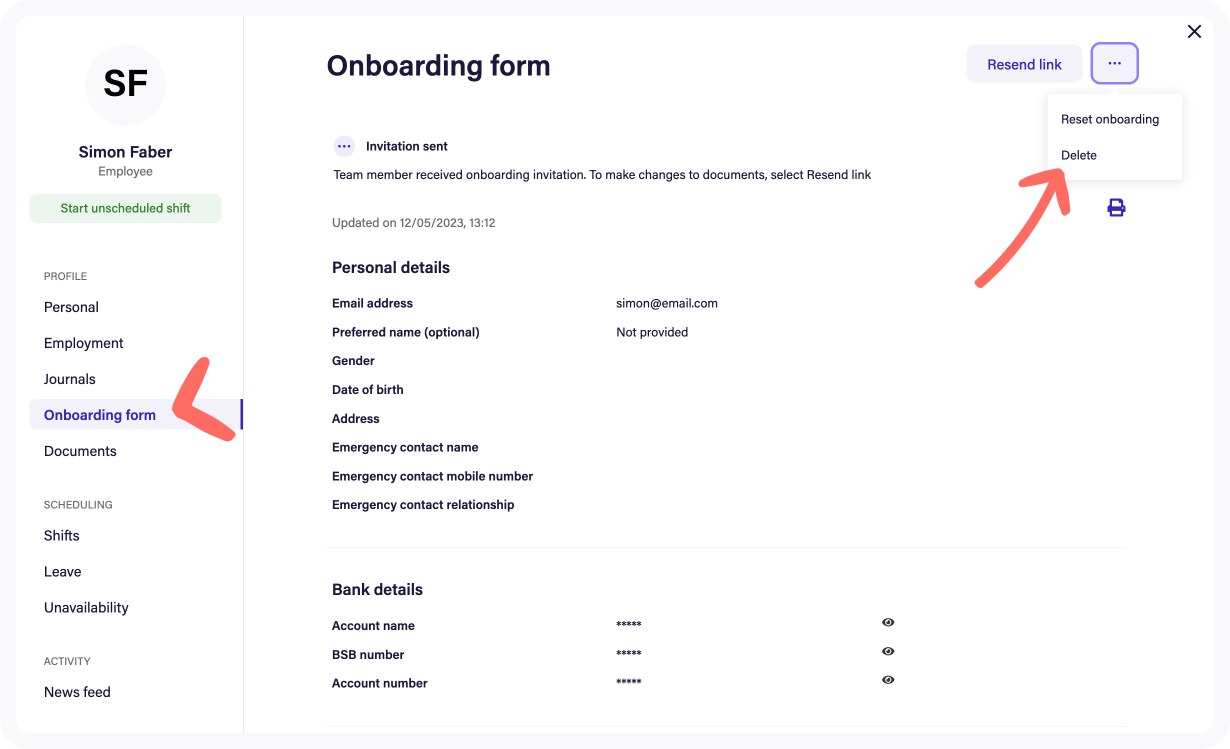 Watch a video on checking, finalising onboarding and requesting changes