A comprehensive guide to what information Deputy accesses when you use our mobile application.
The article is written for team members who may have been asked by their workplace to download Deputy's mobile applications onto their phone and are interested in what information is accessed when using the application.
We will cover the following topics:
What data can Deputy access that is linked to you?
An up to date list of the data that is linked to you when you use the Deputy mobile application is displayed in the App Store where you download Deputy. In the App Privacy section, we list the information that may be linked to your identity and what it may be used for.
You can also read Deputy's Terms and Privacy Policy.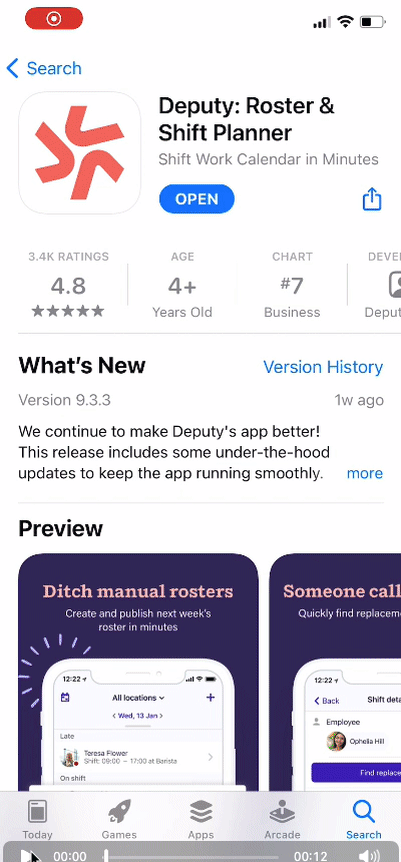 In summary, we may use the following information for these purposes:
Advertising, Marketing or Product Personalisation
Email address

Name

Product Interaction
Analytics
User ID

Device ID

Product Interaction
App Functionality
Precise and Coarse Location

Email address

Photos and videos

Customer support

User ID

Product Interaction

Crash Data

Performance Data
For more information on allowing or denying Deputy Mobile application access to data such as contacts, photos and location please read Deputy Mobile Application - Permissions and Data Usage
Data privacy
At Deputy, maintaining the privacy and security of your personal data is one of our key priorities. We understand the great responsibility of looking after your data. We have implemented stringent privacy and security measures to ensure that your data is safely stored and securely managed.
Location Capture during clock in / clock out
Deputy may capture your location when you clock in and clock out or start / stop a break.
Why?
To remove any doubt or possibility for misunderstandings about how many hours were worked, and in which location.
Also, as a safety measure, our location capture provides a record of who has checked in on-site.
When?
Deputy only captures your location at the moment of clock in and clock out or break start and stop.
Deputy is not tracking your location at other times and managers only see the locations that are linked to clock on and clock off times or break start and stop times for your shift.
What if I don't allow Deputy to see my location?
It is possible to use Deputy without enabling access to location services on your mobile app as explained in Location Capture - FAQ however not all features will be functional.
How accurate is the location tracking?
How do I know I've clocked in at the correct location?
When you tap Start Shift in your mobile app a page will display to confirm how far you are currently are from your assigned work location, the accuracy of the distance, as well as the confirming the shift start and finish times and breaks allowed. You can review all this information before you tap Submit to start the shift.
Therefore, it's easy to ensure you are clocking in at or very near the assigned work location.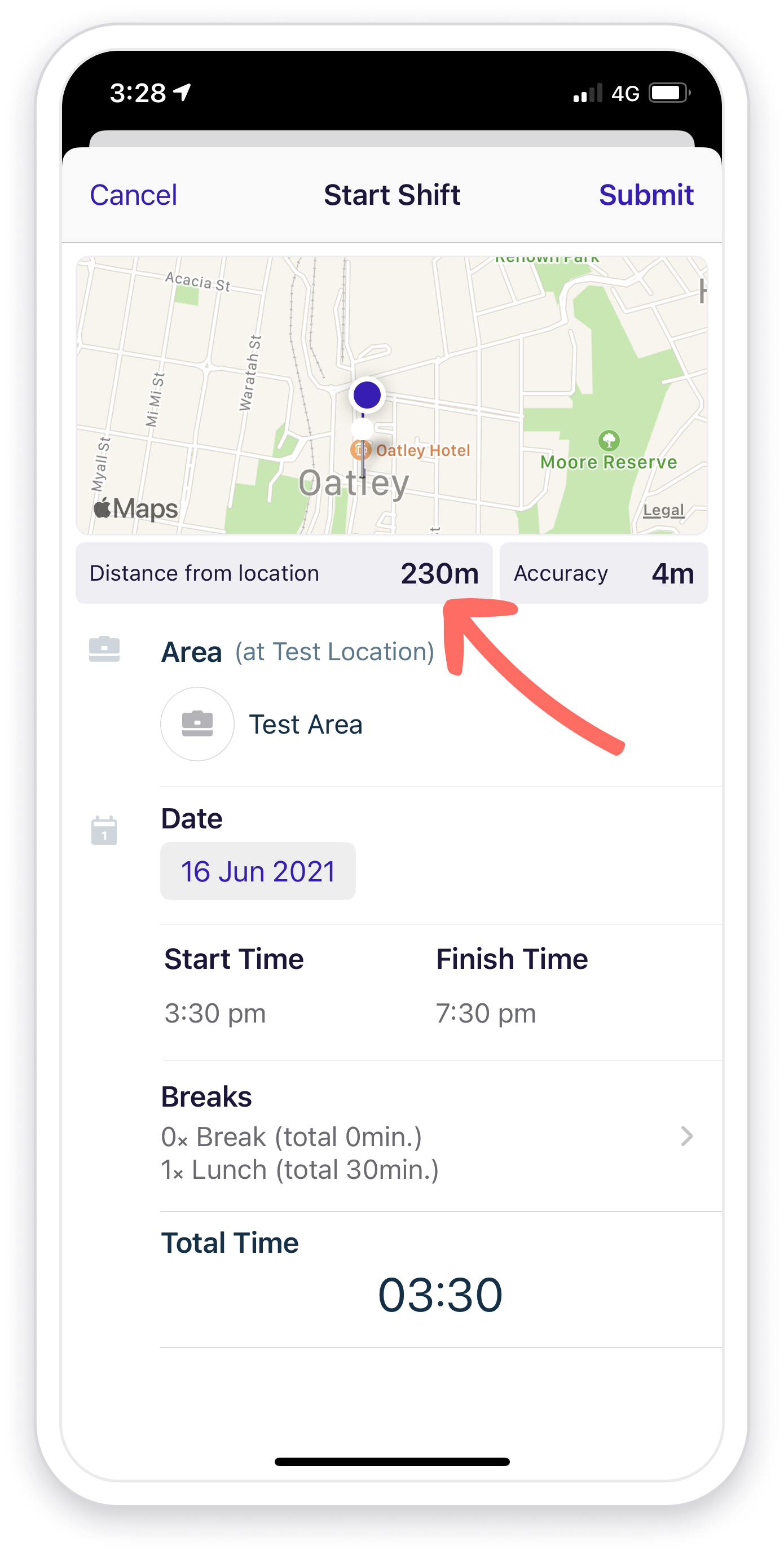 How close do I have to be to the scheduled work location to clock in or out?
The answer to this depends on what the manager has configured for your location.
If, for example, your manager has set that team members should clock in within 100m of their assigned work location address and you clock in for your shift 230m away then the manager will receive a notification (as shown below) when you clock in away from work.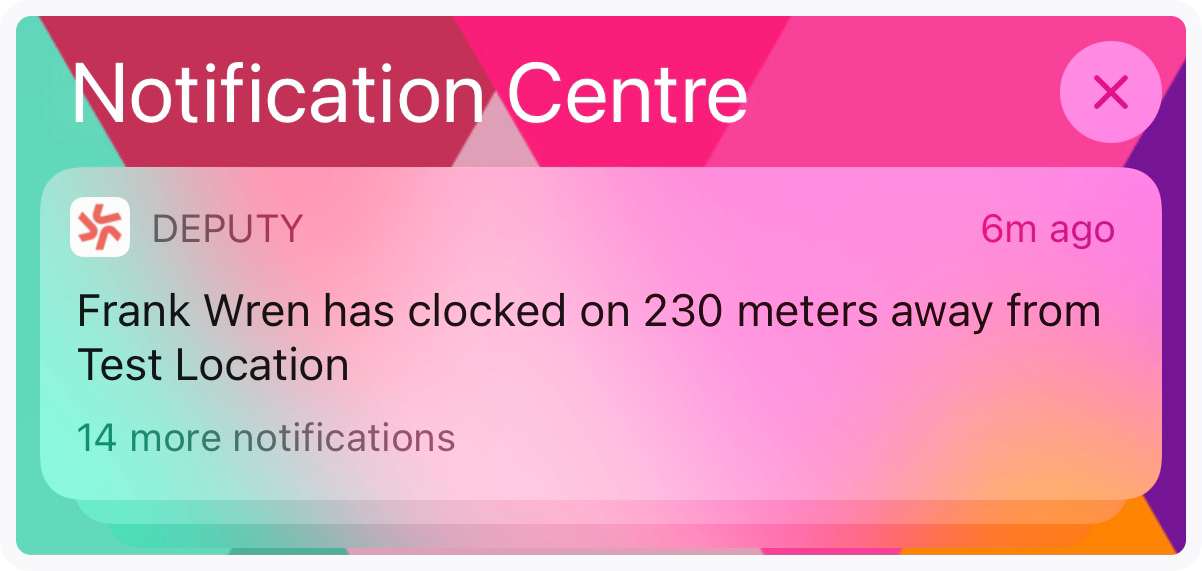 Also, a warning will appear on the affected timesheet to let the manager know that the clock in or out event occurs outside the configured geo alert limits for that shift.
When reviewing the timesheet, the manager will be able to see a pin location on a map where you clocked in or out as well as a pin displaying the scheduled work location.
Where can I find more information on location capture for managers?
For information on setting up work areas that team members can clock into away from the main physical work address please read Site Scheduling.