Block your team from clocking in and out away from their shift location.
What is Geofence?
Managers approving timesheets have the ability to view the clock in and clock out location of their team members who clock in via the Deputy mobile apps. Furthermore, managers are also able to:
set up notifications

to let them know when their team members clock in too far away from their scheduled work location; or

enable the Geofence feature in Deputy which goes one step further by blocking team members from clocking in on their mobile when they are too far from their scheduled work location.
Note: Deputy does not track any user's location outside the clocking on and clocking off action on their mobile devices.
When is the Geofence setting applied?
When enabled, Geofence will apply to all team members clocking in and out for shifts on their phones or mobile devices including those:
Clocking in and out on the Deputy iOS and Android mobile apps
Clocking in and out via the Deputy website on mobile devices
Note: the Geofence setting will NOT be applied in these scenarios:
Clocking in and out on the Deputy website on a computer
Clocking in and out on the Deputy Kiosk for iPad or Deputy Timeclock for Android
Clocking in and out on the Deputy Web Time Clock
Clocking in and out for breaks on any device
How to enable Geofence
Only users with an access level of System Administrator, Advisor or Location Manager are able to enable Geofence for their Locations.
To enable Geofence in a Location:
1. Firstly, ensure that the address of your location is accurately recorded in the Location tab.
Select the Location you wish to configure Geofencing for and click on Edit Settings. Then in General, update the address location if required and click Save.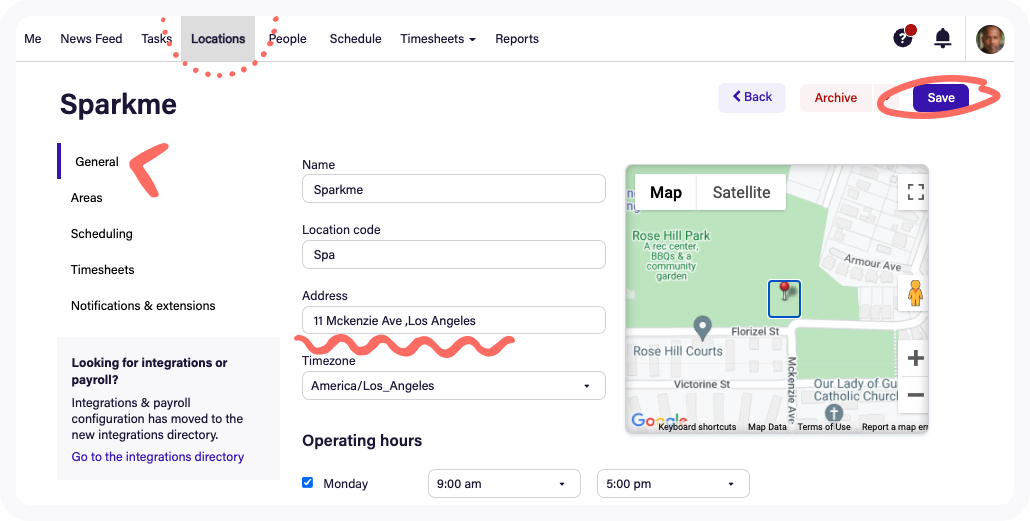 2. Now on the Location tab, click on Timesheets and toggle ON Block (geofence) clocking from outside a set distance.
3. Adjust the distance from your work location that you will allow team members to clock in by adjusting the slider under the map and click Save.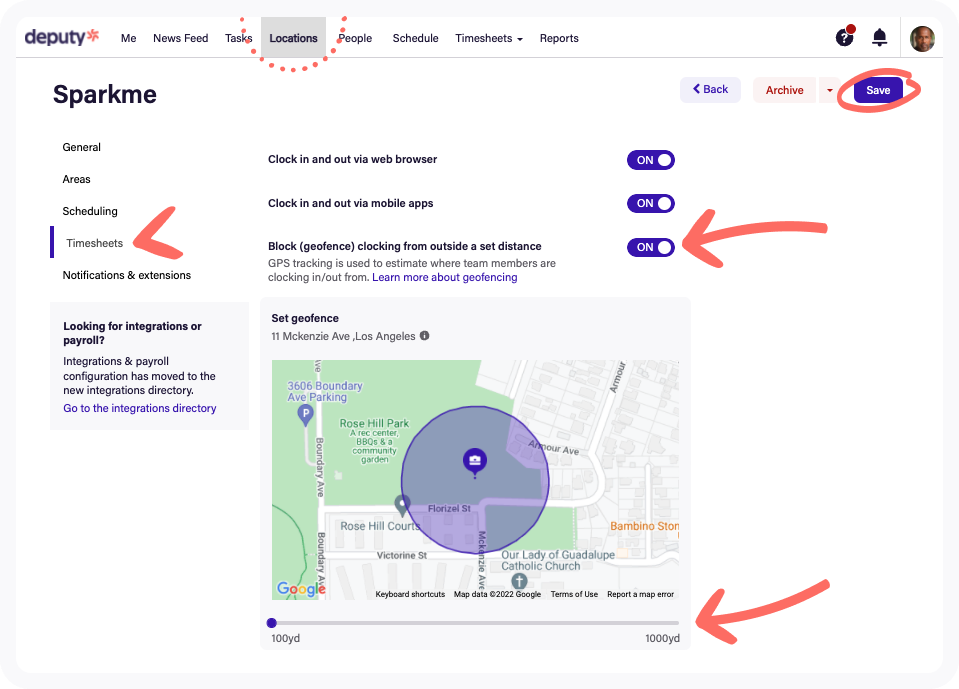 If you do not have a physical address configured for an Area then the Geofence setting will use the address you have set for the Location to determine whether a team member is able to clock in for the shift.
What will my team members experience with Geofence enabled?
When clocking in or clocking out on a mobile device for a shift at a Location or Area with Geofence enabled, the team member will be able to clock in as normal if they are within the distance the manager has configured for the Geofence radius.
If a team member attempts to clock in for a shift outside the radius the manager has configured they will be blocked from starting their shift.
In this example:
Abby attempts to start her shift on her Deputy mobile app 13km from her work location and is blocked from starting her shift. The start shift button is greyed out and can not be tapped on to start the shift. If Abby taps on the work location, she can see the location on a map.
Abby will need to move within 100m of her work location to be able to clock in for her shift.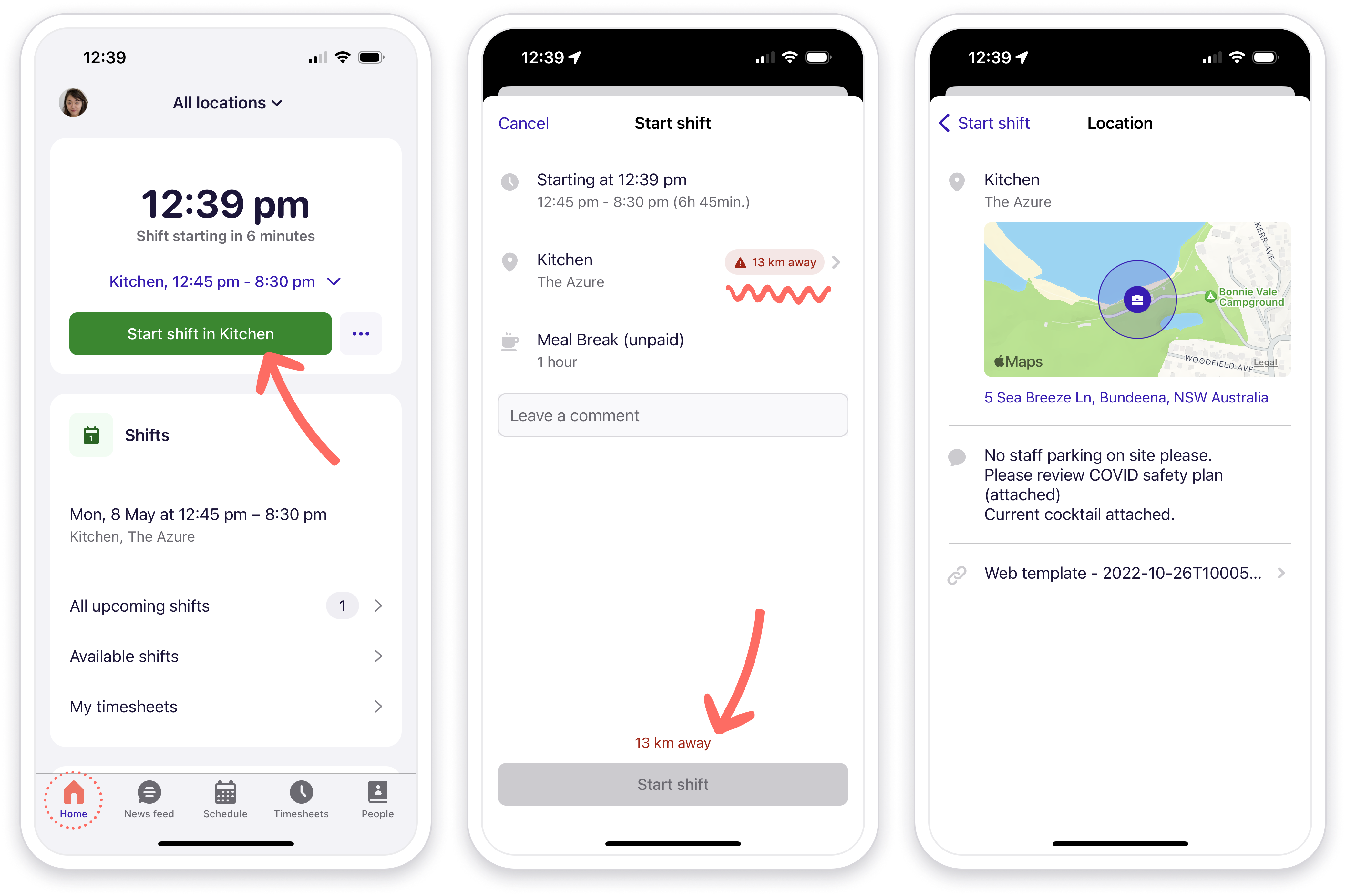 FAQ
When is the Deputy mobile app accessing a user's location? Is Deputy tracking me all the time?
No, Deputy only captures a user's location at the point of clocking in and out of a shift on the Deputy mobile app. We do not access or store location information throughout the shift or at any time when using the Deputy mobile app other than when clocking in and out.
How do you determine a team member's exact location when they clock in and how accurate is it?
The location captured by Deputy when clocking in and out for shifts is derived from the location information provided by the user's own device. The accuracy of the location on a mobile device is affected by a number of factors. The accuracy of the location is displayed for the team member when they are clocking in and out.
Read more about Location Accuracy.
How is the Geofence radius measured?
The distance used is the most direct straight line measurement (also known as 'as the crow flies') between the user clocking on or off and the workplace location. It does not take into account walking or driving distances between the two points.
My work location does not have reliable mobile phone reception. Will Geofencing still work?
Since the accuracy of the location information on a user's device can be affected by inferior mobile phone reception, you may find that team members' ability to represent their location accurately when clocking into Deputy is reduced and team members are possibly blocked from starting shifts.
In cases of persistently poor mobile phone reception in your work locations, instead of enabling Geofence, you may wish to consider enabling the manager notification for when team members clock away from location. Managers will receive a notification and a warning will appear on the team member's timesheet to let the manager know they did not clock in at the location. However, they will not be blocked from clocking in this case.
Do team members need to clock in and out from breaks within the Geofence radius?
No, the Geofence setting will not block team members from clocking in and out of breaks away from the shift location.
What happens if a team member forgets to clock off when leaving work and then is blocked from clocking off after they leave the shift location?
Team members will be blocked from ending their shift if they are away from the location.
There are a number of options available:
The team member can return to the location to clock out and amend their timesheet to reflect the correct clocking out time (if timesheet amendments have been allowed by the manager)

The team member can message their manager via News Feed who can close their timesheet for them

The team member can do nothing and the timesheet will automatically close after 23 hours and adjust the clock off time to the originally scheduled shift time.
What is the minimum and maximum range of the geofence parameters you can set?
The minimum is 100m and the maximum is 1km for regions using metric measurement.
The minimum is 100yd and the maximum is 1000yd for regions using imperial measurement.
Due to the varied accuracy of GPS, we chose 100m/100yd as the most commonly requested minimum. Anything smaller than that could increase false positives i.e. the team member is actually at work but the geofence telling them they are too far away to clock in due to GPS inaccuracy.
Why am I seeing units of measure on the mobile app which don't match my locale?
On the mobile app, distance is displayed in miles, feet, yards and meters. What you will see depends on:
The address associated with your global profile

Your mobile device's language setting (ie. Australian English, American English, etc.)
Ensure these items are set properly in order to see your desired units of measure.