This article is written for System Administrators or Location Managers setting up Deputy Extensions to add additional functionality to your Deputy account.
For more information on how to activate a Deputy Extension or a complete list of Deputy extensions available please read Notifications and Extensions.
This article will cover these Timesheet related extensions:
Approved Timesheet/Leave Request > Accrue And Deduct Leave Balance
IMPORTANT: The leave accrual and deduction extension will not be available to customers who signed up to Deputy after June 30th 2023. Existing customers can continue to use this feature but it will be replaced by an improved leave management system in the coming months.
This extension allows you to automatically deduct and accrue Leave Balance if you have this setting on.
When a leave timesheet is approved, this extension will automatically adjust the employee's leave balance.
You can apply the settings for all types of leave including annual or sick leave. There is also the option to deduct leave only or accrue and deduct leave. Accrual of leave will be applied according to the rate you set.
You can choose whether employees accrue leave while on paid leave using the toggle.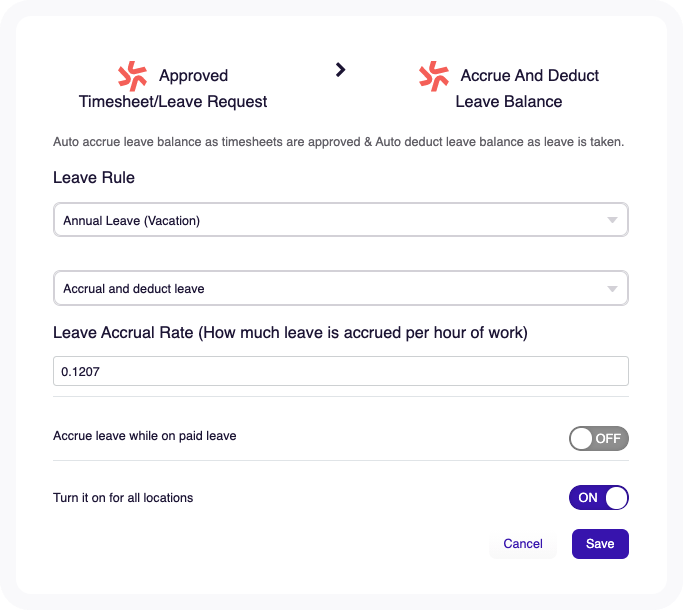 You can read more about Accruing Leave in Deputy.
Forgotten Timesheet > Send Notification
This extension will send a notification to a team member reminding them to submit a timesheet for their shift.
This can be useful for industries such as labour-hire or project management where you need to see time worked on given jobs, but don't necessarily need your employees to clock on.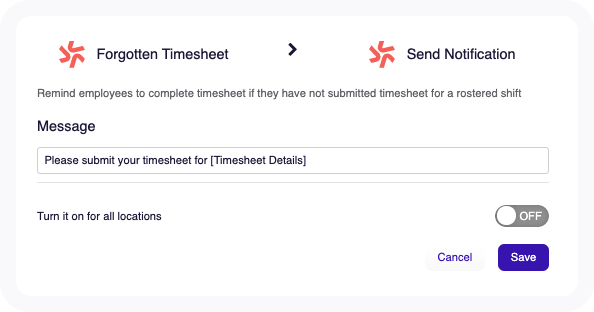 Review Timesheets > Send Notification
This extension will send a periodic reminder to employees to remind them to review their Timesheet prior to running payroll.
You can choose the frequency, time of day, the date of the start of notifications and whether you need to exclude any Areas from the reminders.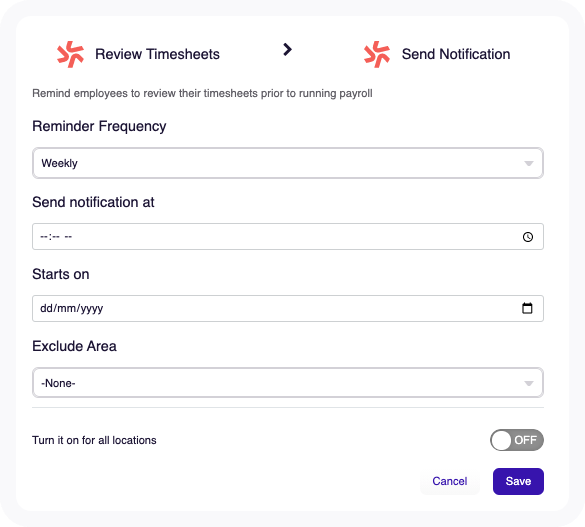 Split Timesheets > Split Timesheets by Rosters
This feature is suited to businesses that have employees working across multiple areas or units, such as large hotels with different bars and gaming areas. Instead of having to clock on at each area throughout a shift employees can clock on once when they begin a shift and again when they finish.
Timesheets are automatically divided into the scheduled areas. As an example, if you schedule an employee for a shift working as a cleaner then they work in maintenance later the employee won't need to clock off for each and it'll be automatically split in two.
Include Gaps From Rosters option:
Yes

- If you select Yes, this means that any gap in between split shifts will be included in the one timesheet. For example, an employee working 8pm to 6am, then 8am to 2pm will have their timesheets consolidated.

No

- This option will split the timesheet into separate timesheets regardless of split shift.