Before you start
Please note that you must have a valid email address to create an organisation. If you have already used your email address to sign up as a team member, you may create an organisation here. If you have already signed up for a trial with the same email address, you will be unable to begin another.
Signing up
You may sign up to Deputy from our homepage, by clicking Start Free Trial at the top of the page.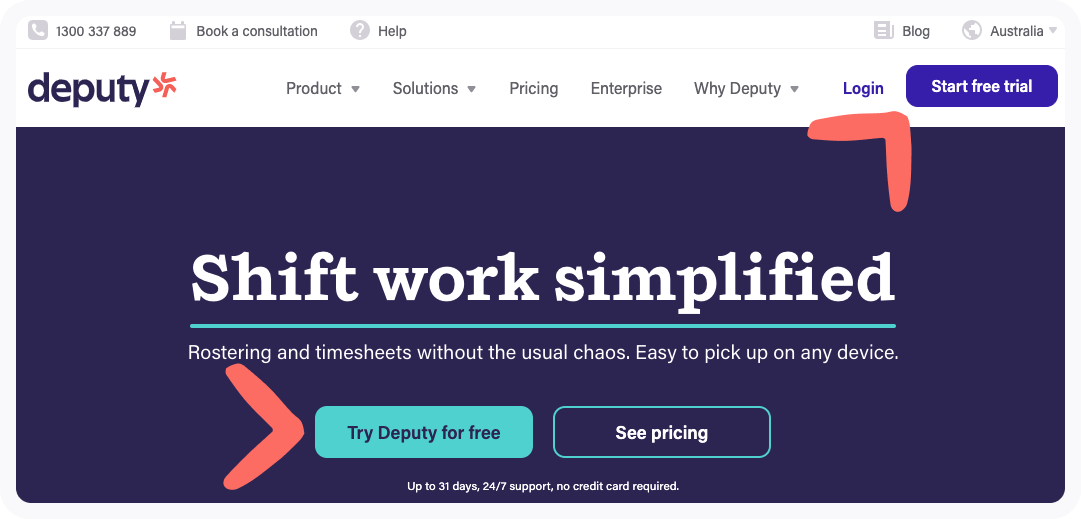 When you first sign up you will be asked to complete your name and work email address then click Get Started.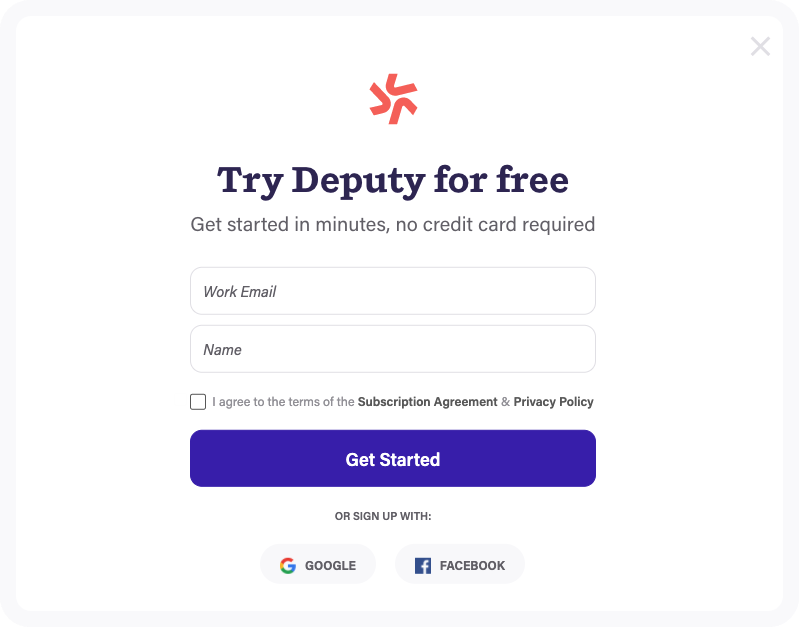 You will then be asked a series of questions about your organisation that will tailor your experience and enable you to set up your organisation faster.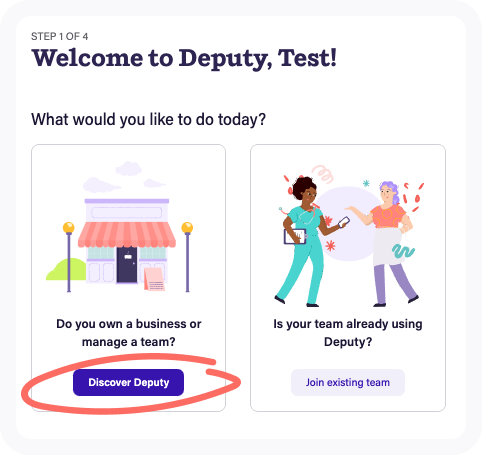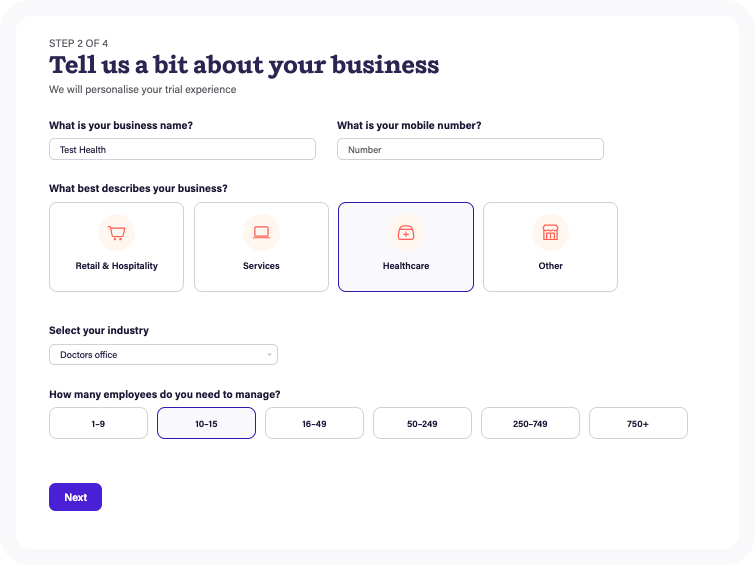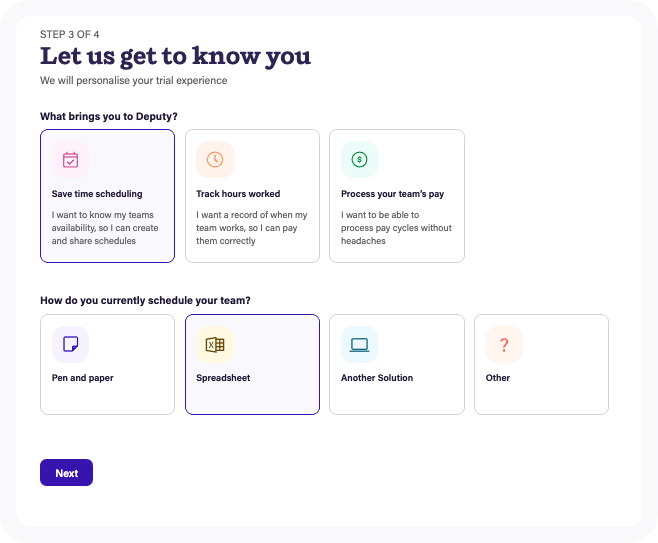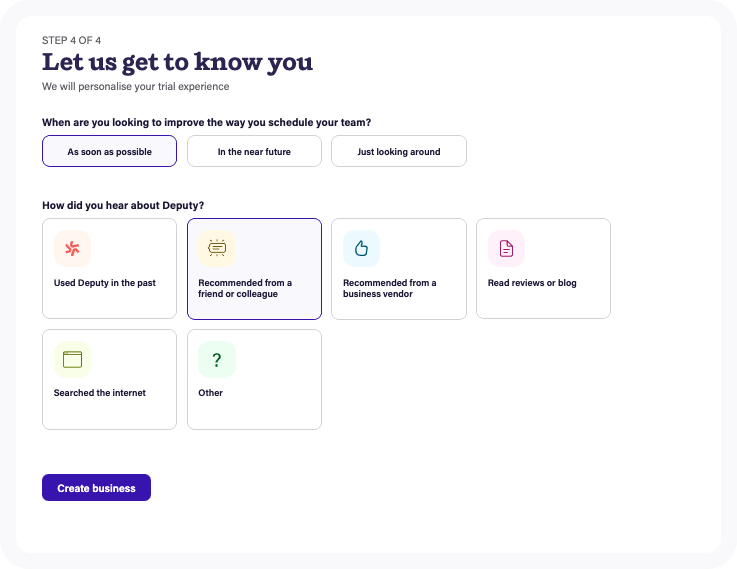 Creating your location(s)
After signing up, depending on the answers to Step 2 above, a location will already be added for you with work areas assigned typical to the industry you indicated.
You can add a new location by clicking Add Location. You can further update your location address and other settings by clicking Edit Settings.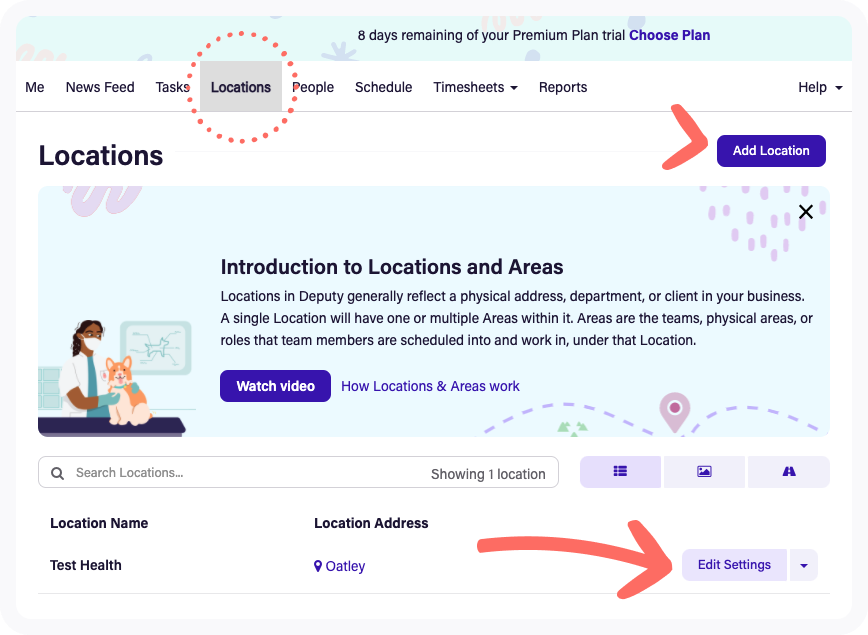 You may create any number of new locations as necessary. Alternatively, once you have one set up you may like to duplicate it to save time.
Create your scheduling areas
For each location, you will be asked to create your first scheduling Areas.
Depending on the answers you provided during signup, work areas typical to the industry you indicated will already be added to your first location.
Areas are used to separate your team members into the categories most useful to you, whether these be areas of work, customer names, or occupations in themselves. You will schedule your team members to these areas based on your work setup.
You may create as many as you need in each location.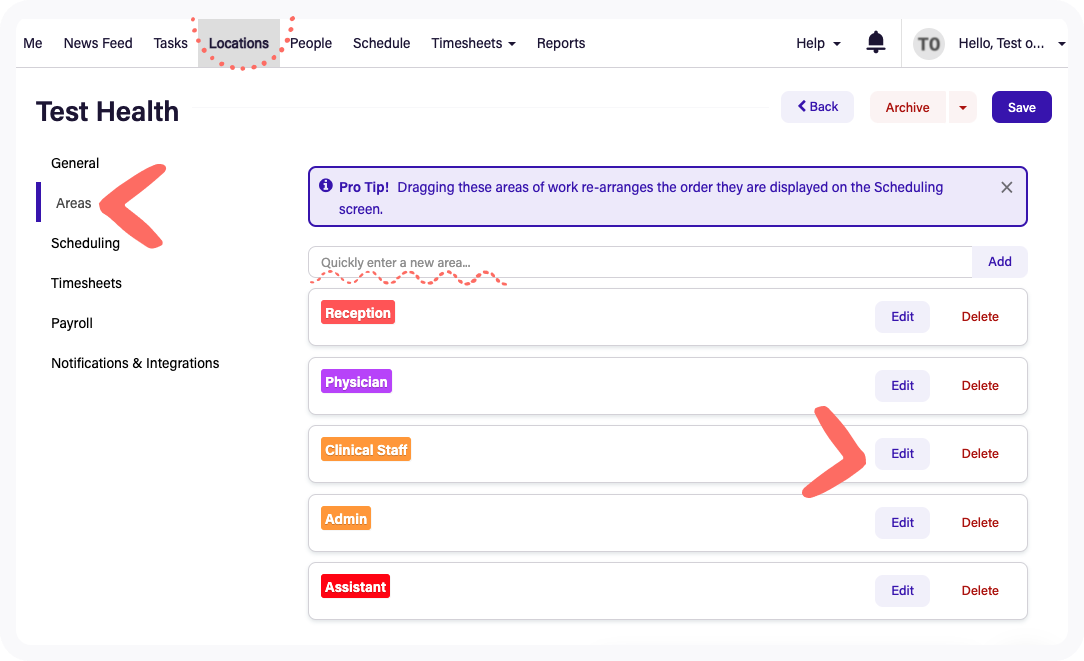 Other settings you can configure in Areas include:
Adding team members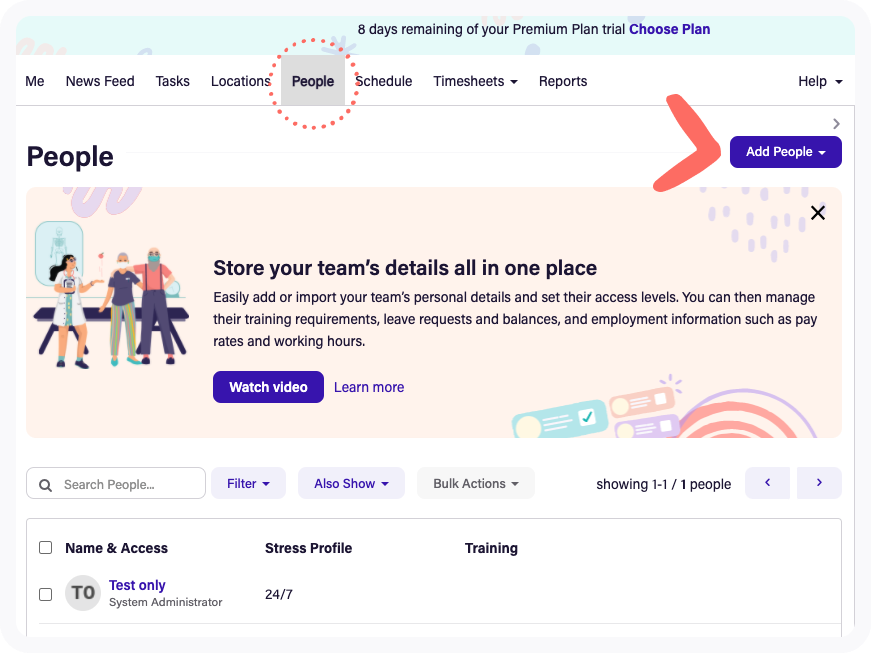 There are a variety of ways you can add team members including:
When adding team members, it is not strictly necessary to enter their email addresses and phone numbers, however without at least an email address your team members will not be able to create an account with your organisation, meaning that they will not be able to login via Deputy.com, or use the mobile app. For this reason, we recommend that your team members have an email address attached to their account.
If you do not want to invite your staff to the team yet, please toggle off the "Send Invitation Email" option. This will prevent your team members from logging in online unless you send the invitation.
You may come back to the People page at any stage and add more team members or edit the settings for the people you have already added. There is also a bulk update setting to make the same changes to multiple people at once.
Scheduling and settings
Once you have added a location, scheduling areas and team members, you will be ready to start scheduling your team members.
Before you begin scheduling, we recommend that you customise your settings first. You can access the scheduling settings for each location by going to your Locations tab, then click Edit Settings to the right of your location. Next, click Scheduling on the left. In your Scheduling settings, you may set options such as:
your opening and closing times

starting day of your week

default shift and meal break length

approvals for swapping and offering shifts

shift confirmation settings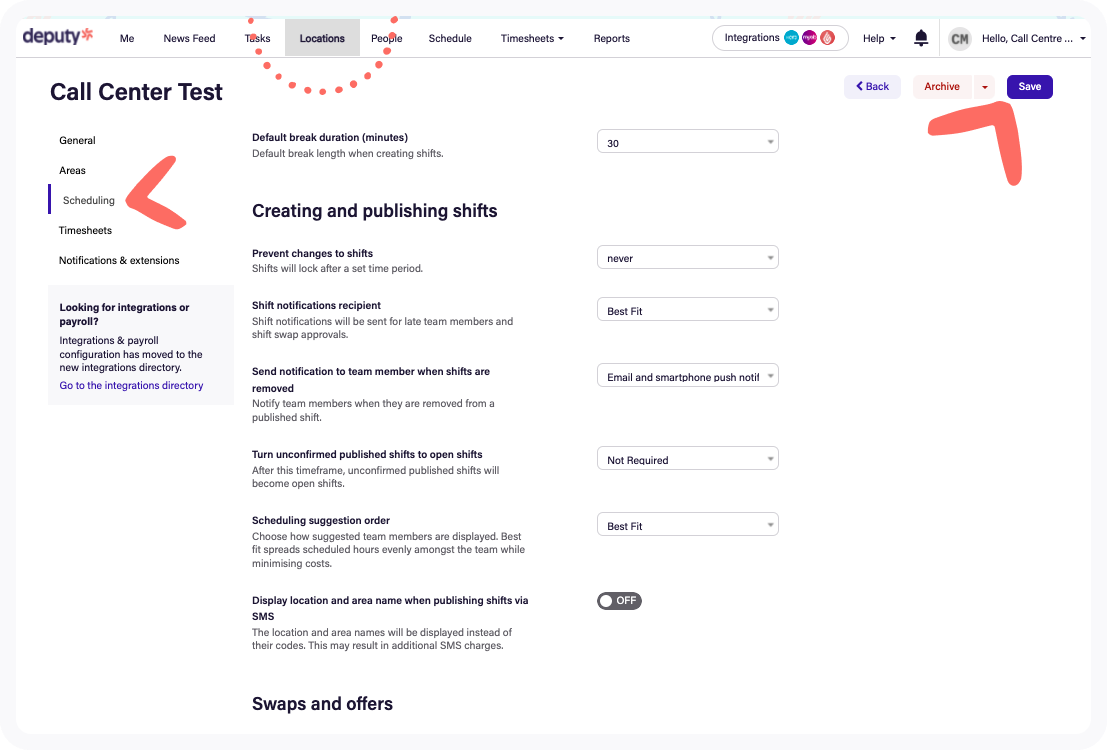 When you have finished making changes, please click Save before you leave the page.
Scheduling functions in Deputy are quite extensive, so as a result, the subject has its own collection of articles. We recommend reading it to make the best use of everything available for you. Note: Any SMS shift notifications you send when publishing shifts during your free trial period are also free!
Deputy Kiosk for iPad/Android Time Clock
Alternatively, the Deputy Kiosk for iOS / Android Time Clock will allow you to create and maintain a dedicated time clock service on your premises. You can download the tablet app from your respective operating system's stores (iOS App Store, Android Play Store). Once the tablet is set up in your location, you may not use it in another location unless you reset it, however, you may have multiple tablets in one location if necessary. Please see here for information on starting a shift with the Kiosk/Time Clock.
Smart Scheduling with Deputy's Business Insights dashboard
Use Smart Scheduling to make informed business decisions, ensure optimal schedule coverage with clear and accurate data-driven insights.
With Deputy, it is possible to integrate your sales data with your projected wages in real-time, allowing you to make your business decisions based on reliable, up to date information. On the Schedule page you may access the graph by clicking the Graph button, which will display the current data.
Deputy allows you to integrate directly with a number of POS. For instructions on how to link your POS system with Deputy, please see our article.
You may also enter sales data for the past weeks if you wish to. In future weeks on your roster, you will see yellow lines displayed on the graph. This is your predicted sales, calculated as an average based on data from previous weeks.