What is an Area in Deputy?
As explained in Organisations, Locations and Areas set up, Areas are the teams, groups or roles that work together at each Location in your organisation.
Example: At a cafe, you might create these Areas in Deputy:
Barista
Waitstaff
Manager
Kitchen
Example: At a hair salon, you might create these areas in Deputy:
Front desk
Junior stylist
Senior Stylist
Apprentice
We set up Areas in Deputy for a variety of reasons including:
ensuring each team member that is scheduled knows where they are working for their shift
allowing managers to designate certain team members to be preferred as working in a specific area
ensures team members are trained for the shift they are scheduled for
allows correct payment depending on the role a team member is performing when using Pay by Area
How do I set up an Area?
1. On the Location page, click on Edit Settings for the Location you would like to add an area to.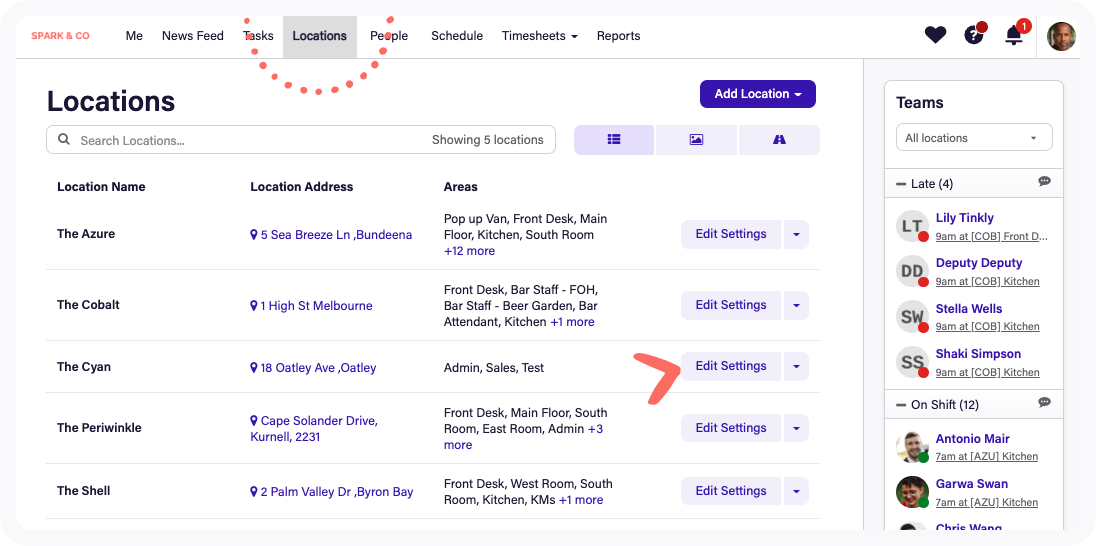 2. Select the Areas tab from the menu on the left-hand side and type the name of your new area and click Add.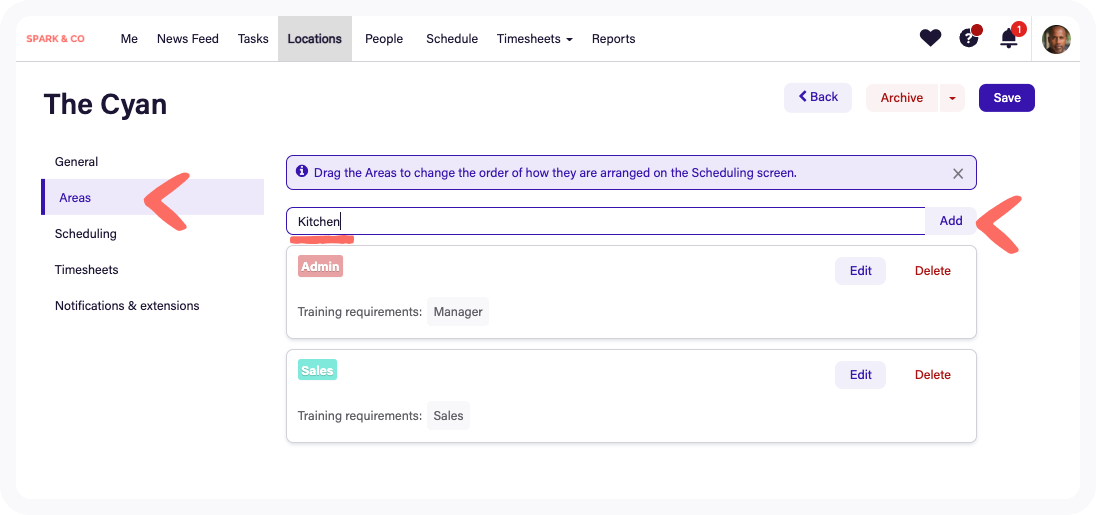 3. To further configure your Area (optional) click on Edit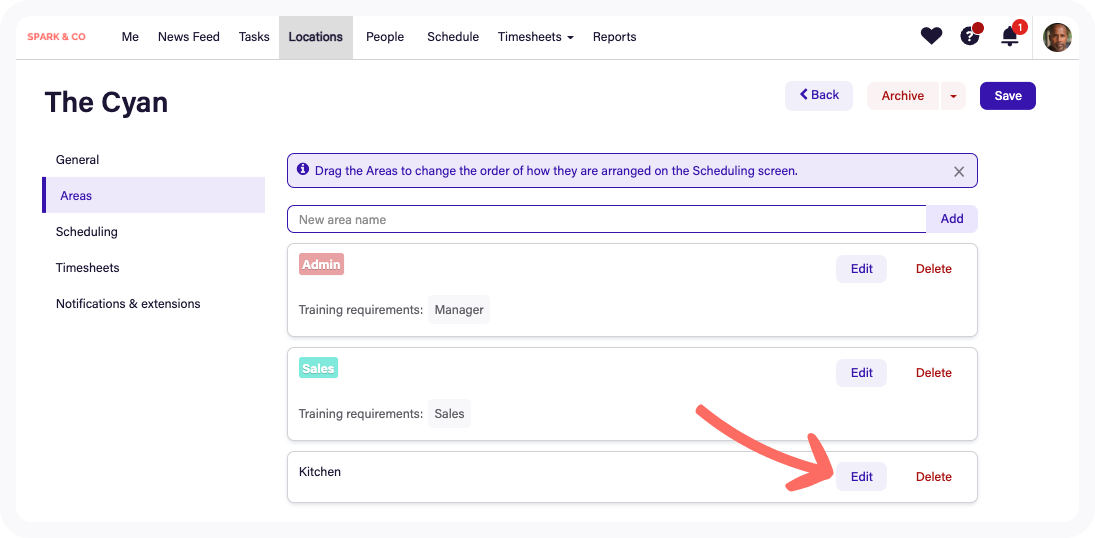 4. Here is where you can configure your Area including:
Click Save when you are done.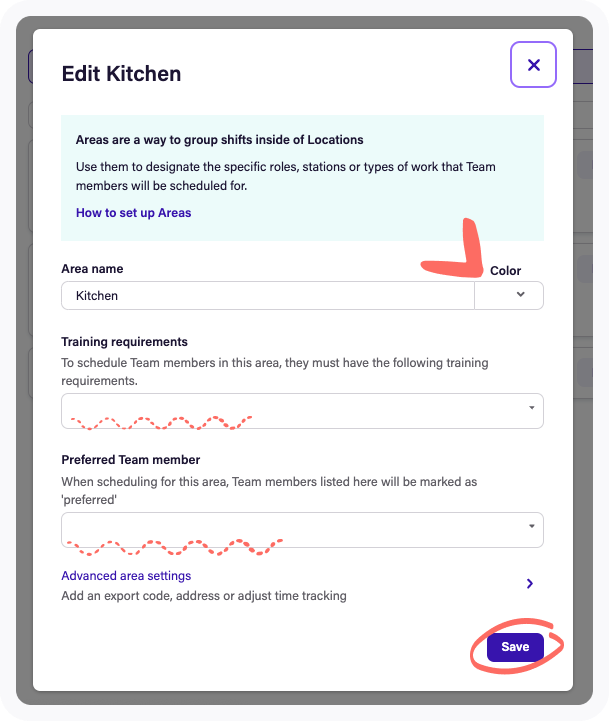 Set up Advanced area settings
1. Click on the link to Advanced area settings.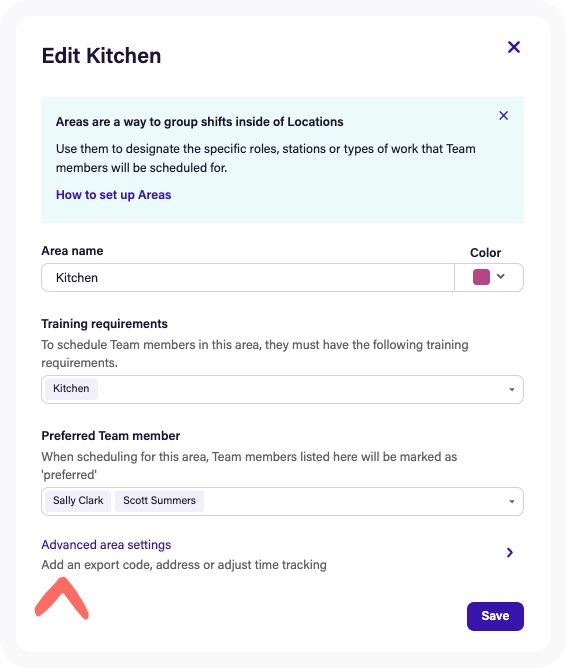 2. On this popup you can:
Assign an Export code so that shifts completed in this Area can be easily mapped to your payroll system
Choose whether shifts worked in this Area count toward worked time or whether this is a Non-worked Area.
Assign a physical address to your Area (if this area's physical location differs from your location address). This is useful for when using Geofencing.
Click Save when done.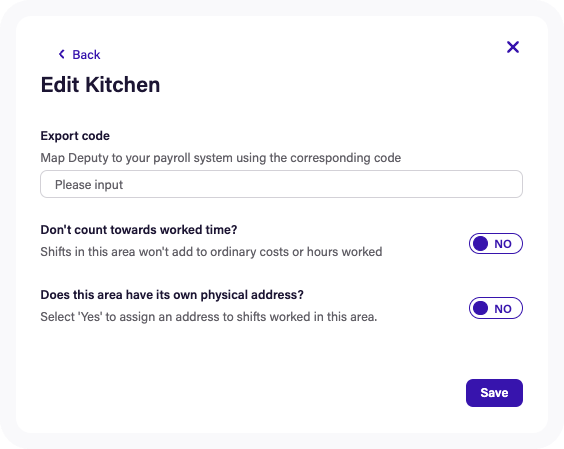 FAQs and tips for using Areas
Can I change the order that the Areas appear in on the Schedule?
Yes, you can drag the order of the Areas on the Locations > Edit Settings > Area page to control the Area order in the Schedule.
I have lots of Locations, can I add Areas to multiple Locations in a bulk action?
Yes, if you have lots of Areas to add to multiple Locations use our Bulk Update / Import Locations tool.
I want only the staff I designate to be able to work in this Area
Please add these team members' names to the Preferred Team members field when setting up your Area.
Note: other employees will be able to be scheduled in this area but only if the scheduling manager overrides a warning to let them know that the team member is not preferred for this area.
Can I approve Timesheets for Areas that 'Don't count towards worked time'?
No. If you create a shift in an area where 'Don't count towards worked time' is enabled, you will not be able to approve the timesheet that is automatically generated for that shift.
What are some other ways I can use Areas?
If you have a mobile workforce visiting customers's sites at different addresses you could set up Areas as your customers' addresses so that when your team members arrive at the customer's site they can clock in for a shift. To do this you would need to add the customer's physical address in Advanced area settings.