This article covers the ability of System Administrators to turn on or off the visibility and use of gender and pronoun information within their organisation in Deputy.
Gender and pronoun information in Deputy
Deputy provides businesses with the option to collect team members' gender and/or pronoun information or not.
We aim for all users of Deputy to feel respected, visible and as comfortable as possible using the platform, without inappropriately being asked or assigned gender where possible.
Note: some businesses in some locations are required by law to ask for and report gender information. Consult your local legal counsel for more information before configuring these fields.
Managing gender and pronoun fields
1. Select Business settings from the drop-down menu under your name.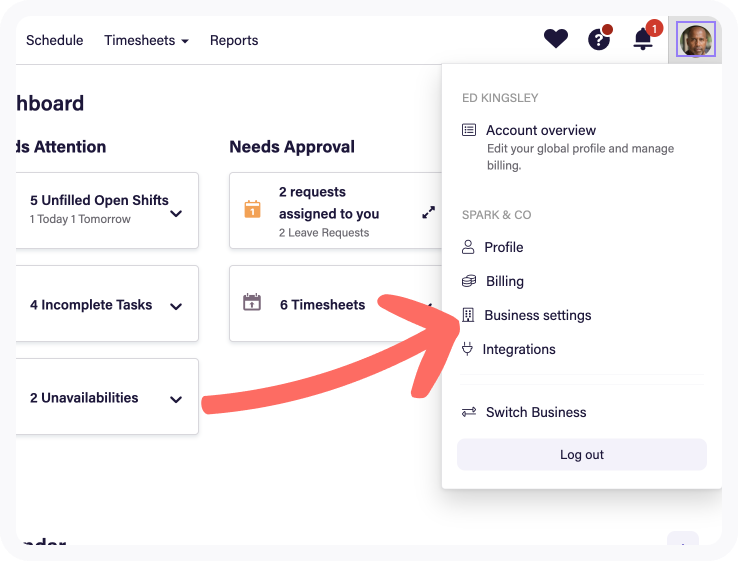 2. On the People tab, you can toggle on or off:
Display Pronouns
Display Gender on Team Member's Profile
Click on Apply Changes before you leave the pop-up.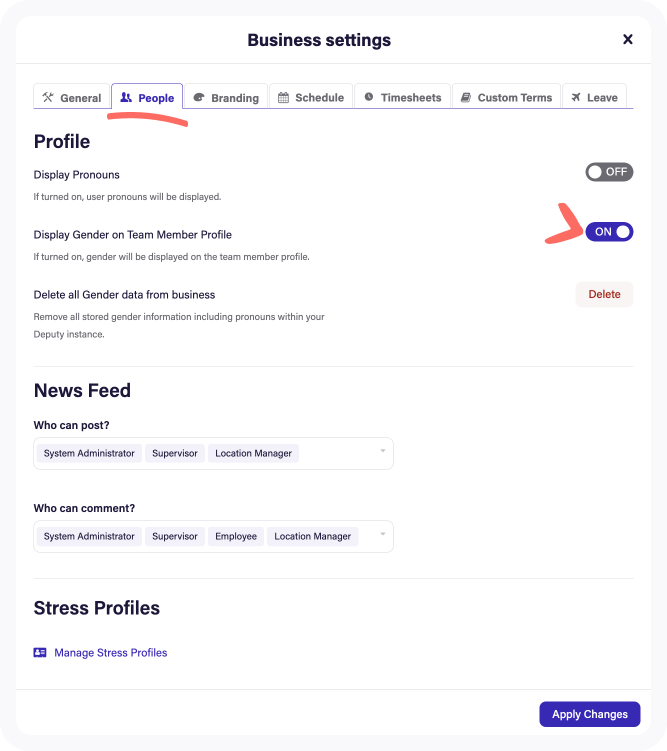 Managers can also delete existing gender information from the Deputy account by clicking on Delete. A warning will appear to confirm you want to delete all gender information.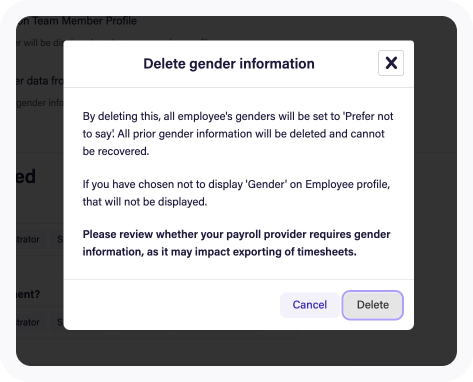 What will my team members see?
If the system administrator has configured the Deputy account to collect gender information, team members can choose from the following four options when updating their own profile to specify their gender information:
Not specified
Male
Female
Non-binary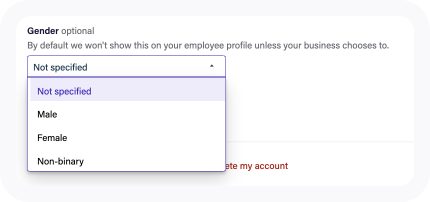 Note: the integration of Deputy with Xero will sync non-binary gender in both ways.
If enabled by the System Administrator in your Deputy account, team members also have the option to select their pronouns when
updating their own profile
. There is the option of:
They/Them
She/Her
He/Him
another custom field they can specify.

Frequently asked questions
I've enabled the gender and pronoun fields for my organisation in Deputy, why can't I see these fields in my profile on the Deputy mobile app?
The gender and pronoun field is not visible in a team member's profile on the Deputy mobile app regardless of the settings configured in your Deputy account.
Can I set my gender and pronouns in my own profile on Deputy?
Yes. The gender and pronoun options are provided in your profile if they have been enabled by your System Administrator in your organisation. If you choose to provide gender or pronoun information in your profile, it will be shared with all of the Deputy businesses that you are working with.
What Deputy plans does this apply to?
Gender and pronoun field options are available to all Deputy customers regardless of what plan they are using.
If I choose to delete all of my team's gender information, can I get it back later?
No. As soon as you delete all of your team member's gender information, there is no way to reinstate it as Deputy does not keep those records. However, you can ask your team member to provide it again via logging into the Deputy website and updating their profile.