Enabling two-factor authentication on your account is an optional setting that provides an extra level of security beyond your password.
In this article we will cover:
What is Two-Factor Authentication (2FA)
2FA allows you to have an extra layer of security. While a password can be hacked, having an authenticator means that hackers will physically need your phone in order to access your account.
An authenticator is an application that generates a code that is active for a short time.
When you log into your Deputy account, you will also need to enter the code provided by the Authenticator before you are able to access your account.
Before you Activate 2FA
Before you can activate 2FA on your Deputy account you will need to ensure you have completed these steps:
1. You will need to download the Authenticator application from your phone's respective app stores.
2. You will also need to make sure the mobile phone number set in your Deputy account is verified by entering a one-time code Deputy sends to your phone.
3. Ensure your phone's date and time settings are set to automatically use the date and time provided by your network (not just the time zone).
How to Activate 2FA on Your Deputy Account
1. Log into your Deputy account, then click Edit Profile.
2. On the Security tab, click Enable two-factor authentication. You can't enable two-factor authentication on your account without entering and verifying your mobile phone number in your Deputy account so you may be asked to do this first.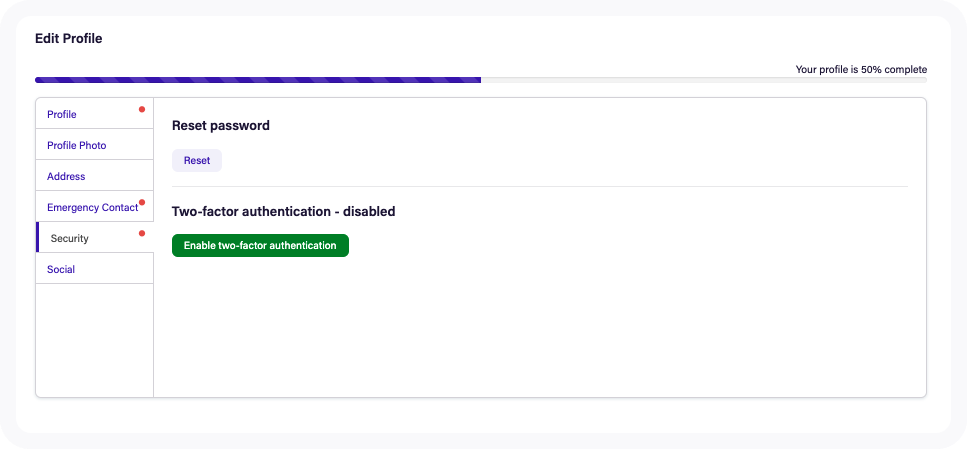 3. For security purposes you will also be asked to confirm your Deputy password.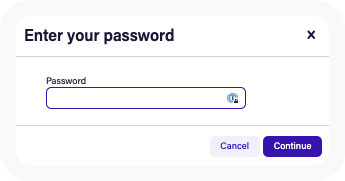 4. A pop-up window with a QR code will appear.
Note: On this screen, you will see that there is an option for managers in your business to disable 2FA if you happen to get locked out but you can withdraw this permission by unticking the check box if you wish.
Do not scan the QR code image below - it is just an example. Please scan the QR code in your own Deputy browser.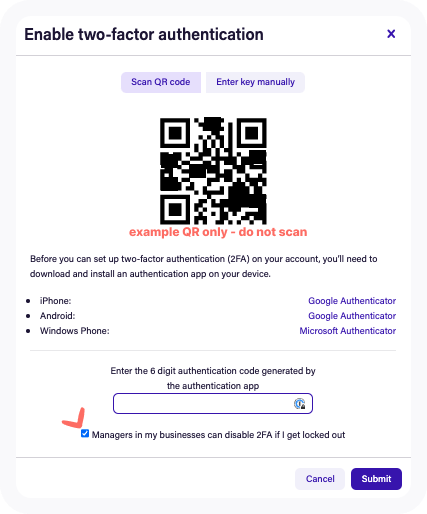 3. Now open the Authenticator app on your device and click Get started.
You will be given two options:
Scan QR code

Enter a setup key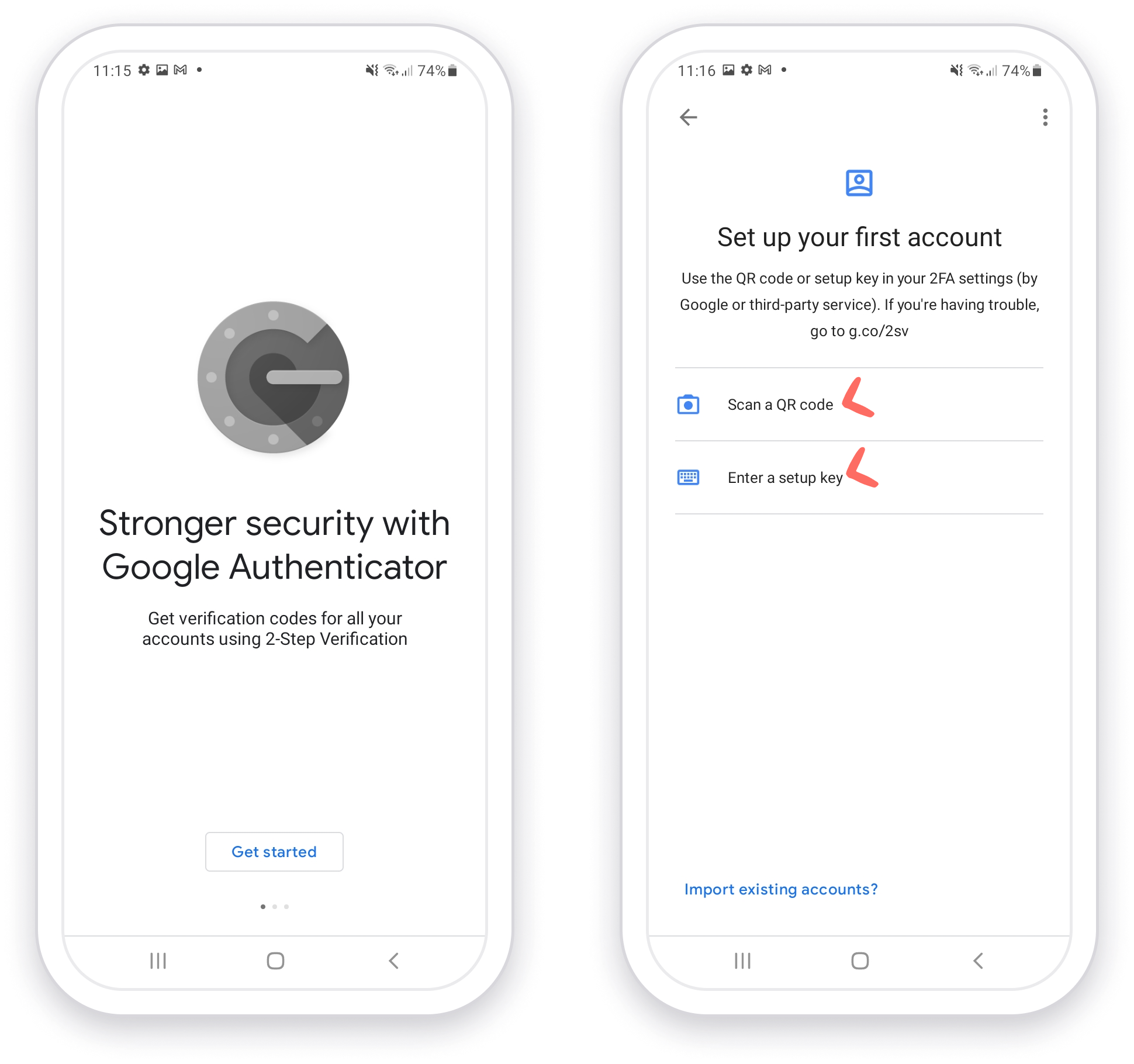 Scan a QR code
The authenticator app will ask for permission to use the phone camera to scan the QR code.

After granting permission, scan the QR code that was generated in Step 2.

When you scan the QR code in Deputy with your Authenticator app, your Authenticator and Deputy account will be linked.

You will need to then enter the 6 digit code that the authenticator generates every 30 seconds in the field in Deputy to complete the link and enable 2FA.
OR
Enter a setup key
If you select this option, you will need to click on Enter key manually in Deputy: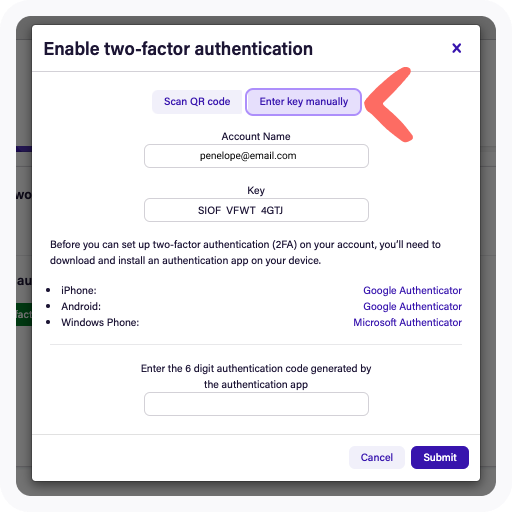 Enter the Account name and code as it is displayed in Deputy, into your authenticator app fields then click Add.

You will need to then enter the 6 digit code that the authenticator generates every 30 seconds in the field in Deputy to complete the link and enable 2FA.
How to Use 2FA When Signing into Deputy
1. After logging into Deputy with your email and password: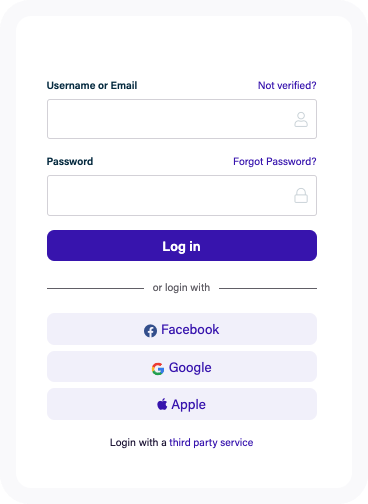 2. You will then be asked to enter a 6-digit code that is generated every 30 seconds from your authenticator app and click Submit.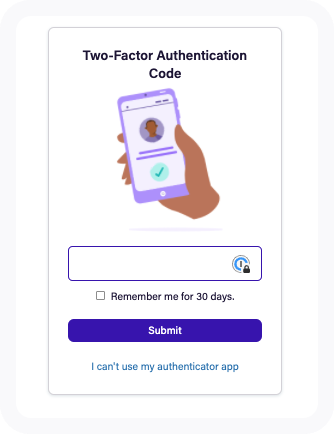 Note:
Authenticator app 2FA codes are based on time and thus require the time on your phone to be in sync with the official time.
You can disconnect your phone from the internet and as long as its time is still correct, it will successfully generate the correct 2FA codes. However, manual time settings and offline devices eventually slip out of sync.
If your phone's time is out of sync or if you have changed time zones, the best way to fix it is to change the time settings on your phone from 'Manual' to 'Automatic'. If it is already set to 'Automatic' toggle it off and on to re-sync the app.
30 Day Token
If you find yourself having to use 2FA often, you can select a simple checkbox that allows Deputy to remember you for 30 days. Simply click the checkbox.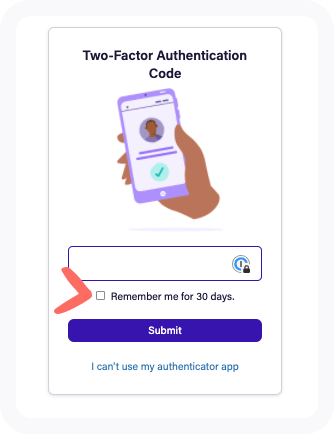 Note: this token is URL and computer-specific. If you access another Deputy URL, or use another computer, you will need to re-enter your 2FA code when you log in even if it is within the 30 day period.
Having Issues?
If you can't access your authenticator app you can click on I can't use my authenticator app.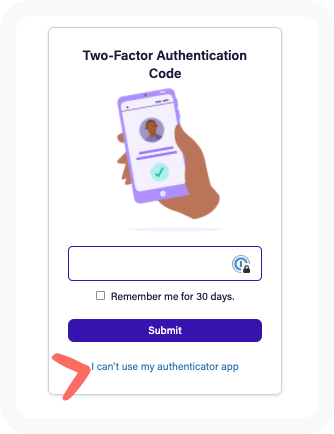 You can then send an SMS to your mobile phone that contains a code that is valid for a short time to be able to log into Deputy.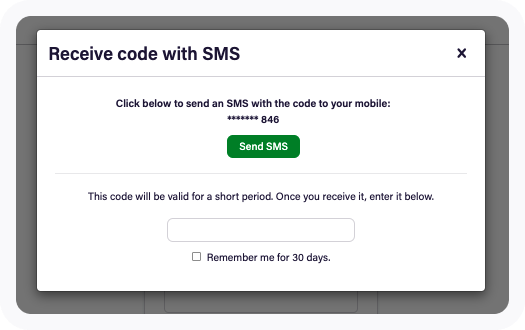 There may be times that your code isn't being sent to your mobile, via SMS or the Google Authenticator application preventing you from logging into Deputy. In these cases, please contact your organisation's System Administrator, Advisor or Location Manager to remove two-factor authentication from your Deputy account so you log in and set it up again. If you withdrew permission for managers to disable 2FA in the event you were locked out then you will need your manager to contact Deputy directly to resolve the 2FA lock-out issue.