What is Shift Pulse?
Shift Pulse is available for Premium, Enterprise or Flexi Deputy plans using the Deputy mobile apps and/or Deputy Kiosk for iPad. It is not currently available when using the Deputy website or Deputy Time clock for Android app.
Shift Pulse is a simple way for your team members to be heard, and for managers to track team engagement and take action if required.
As a manager, it's your responsibility to motivate your staff. Motivated staff can be the difference between meeting your bottom line or closing up shop. When you're supporting your team and encouraging them to grow, you're creating a workplace where everyone feels recognized, welcomed, and most importantly, happy.

Our Shift Pulse feature will help you easily capture continuous feedback from employees. A simple, one-step way for your team to share how they're feeling after every shift. With these valuable insights, managers can make changes to improve the effectiveness of the team and create a thriving workplace.
How does it work?
Capturing shift engagement
As team members clock out of their shift on their mobile or Deputy Kiosk for iPad, they will receive a question about how they were feeling during their shift. They can choose from Happy, Good, Okay, Frustrated, and Stressed. They also have the option to leave an anonymous comment.
Tracking & taking action
A detailed report allows managers to monitor their team's shift engagement trend, and view feedback that can be actioned.
How do I turn on Shift Pulse?
Only users with System Administrator or Advisor access levels can enable Shift Pulse.
On the Deputy website, select Business Settings from the menu under your name.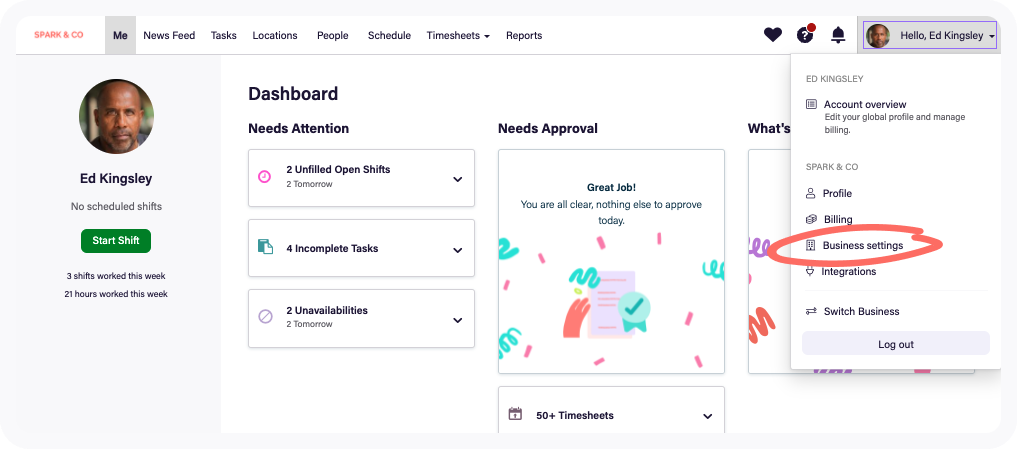 2. In the Business settings Timesheets tab, turn ON Capture Shift Engagement and then click Apply Changes.
This is a global setting. If you turn this feature on, the Shift Pulse question will be presented to all team members as they clock out of shifts at all locations in your business with the Deputy mobile apps or the Deputy Kiosk for iPad.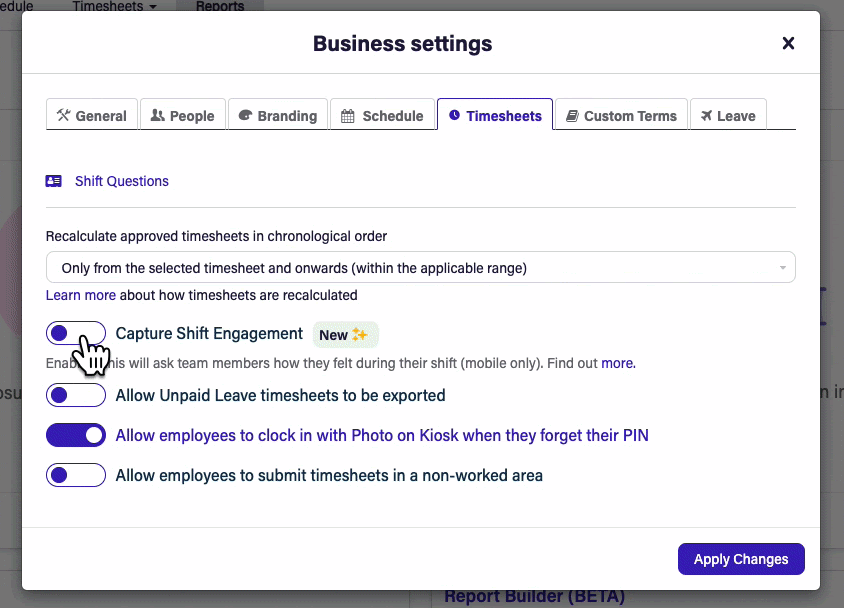 3. If you are using Shift Pulse on the Deputy Kiosk for iPad:
Ensure your iPad is running iOS 13.0 or later and you have downloaded the most recent version of the Deputy Kiosk app for iPad.

Open the Deputy Kiosk app and pull down on the team member list on the left-hand side to refresh the app. This will apply the new Business Settings you enabled in step 2.
How does Shift Pulse capture my team member's engagement?
After enabling the feature, when a team member clocks out, a new modal will appear asking your team to rate their shift across emotion categories (Happy, Good, Okay, Frustrated, Stressed), as well as providing an optional comment.
Shift Pulse will be offered on the Deputy mobile apps: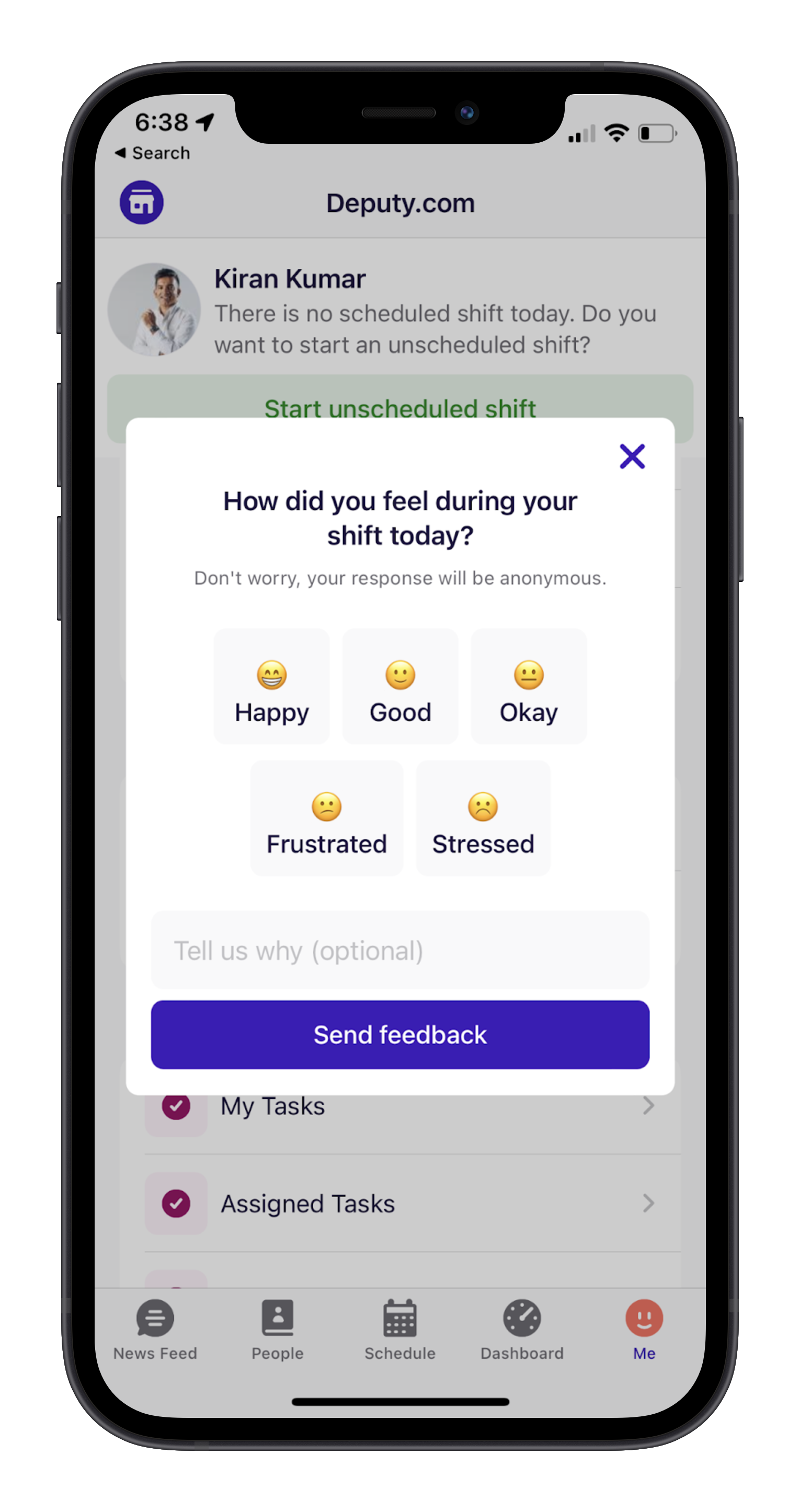 And on the Deputy Kiosk for iPad app: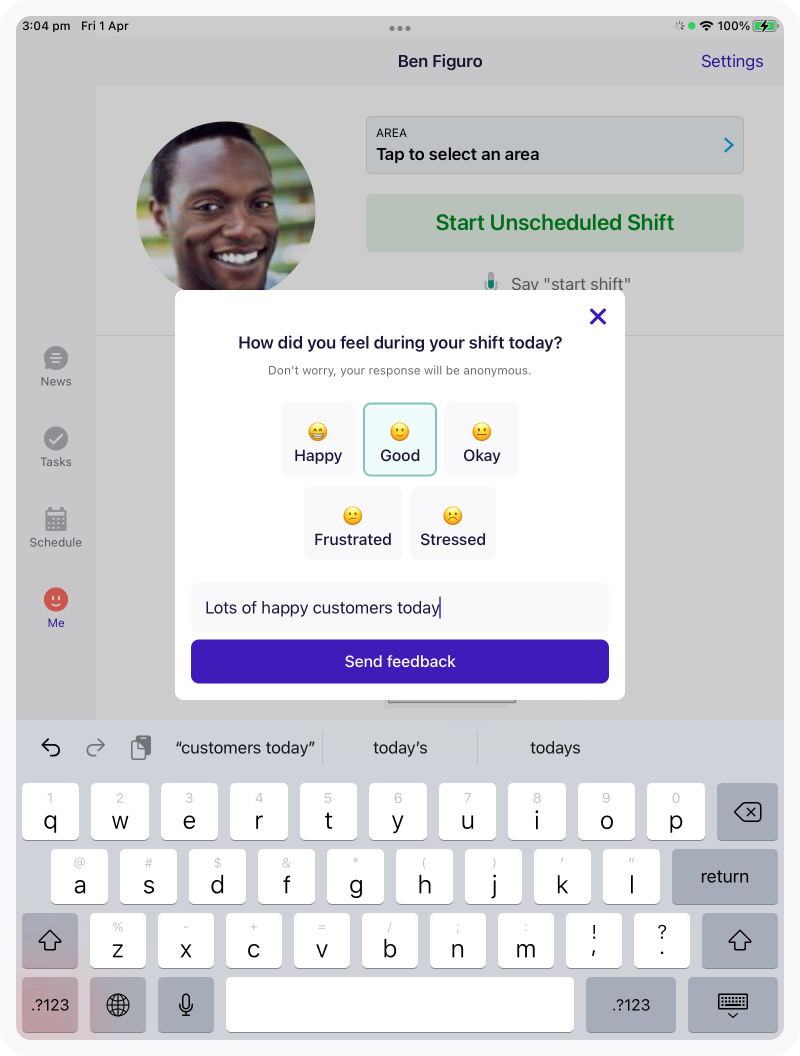 Note: Shift Pulse is not available on the Deputy website or Deputy Time Clock for Android app.
Reporting on team member engagement
Managers can access a dashboard on the Deputy website as well as a weekly summary on the home screen on the Deputy mobile app to see the rating and responses which are kept anonymous.
Who can access shift engagement reports?
A simple dashboard is available to Advisors, System Administrators and Location Managers OR anyone who has the Reporting capability turned on if Custom Access Levels are used.
How to access the shift engagement reports
Please read an Introduction to Deputy Reports for information on how System Administrators and Location Managers can access Deputy reports.
Note that Location Managers can only see information for the relevant team members at locations they manage in Deputy.
Click on Reports then Shift Pulse and View Full Report.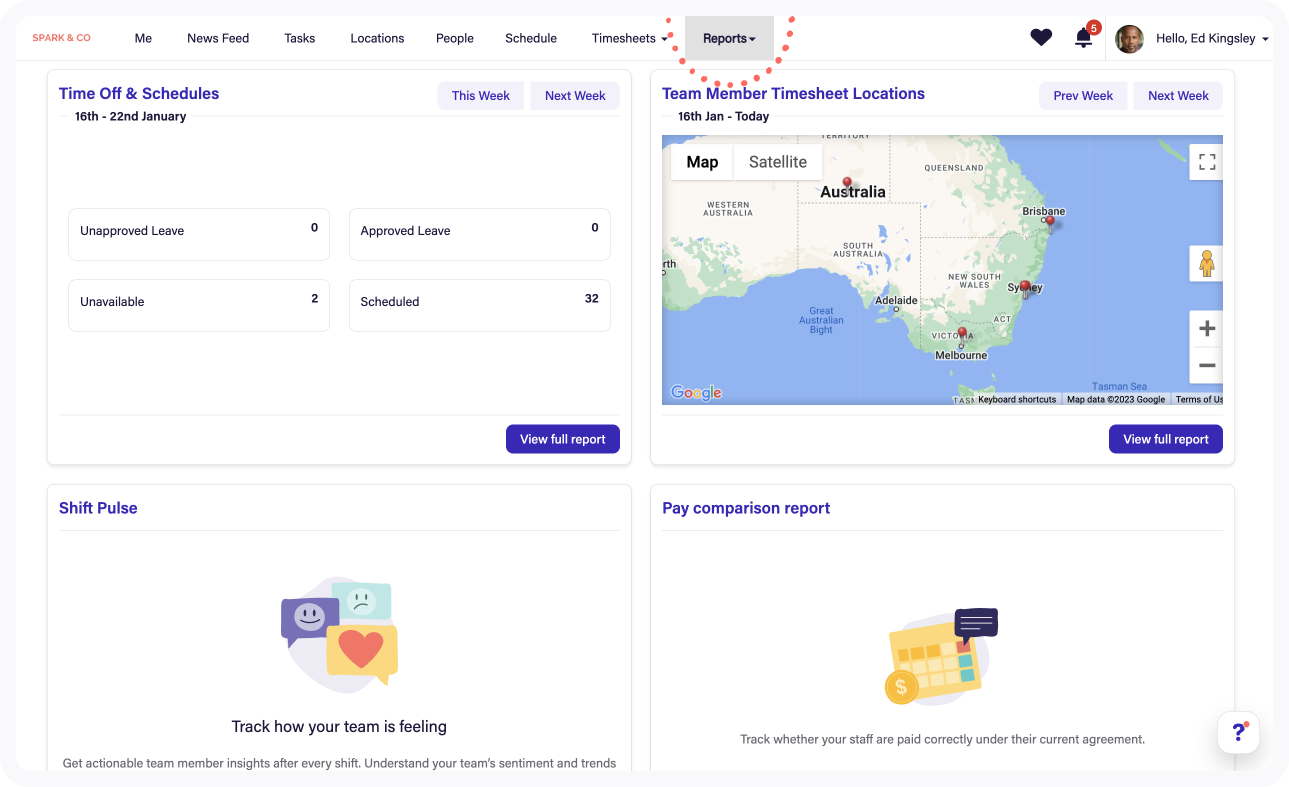 If you have turned on the Team Member Shift Engagement feature in Business Settings you can use this report to review your team member engagement as collected at the end of each shift.
You can filter this report by:
What do the reports show?
The Web report/dashboard shows:
Shift Pulse average for the selected week

Comments for the selected week by emotion category

A trend of average engagement rating for the previous 8 weeks

Ability to sort comments for the selected week by emotion category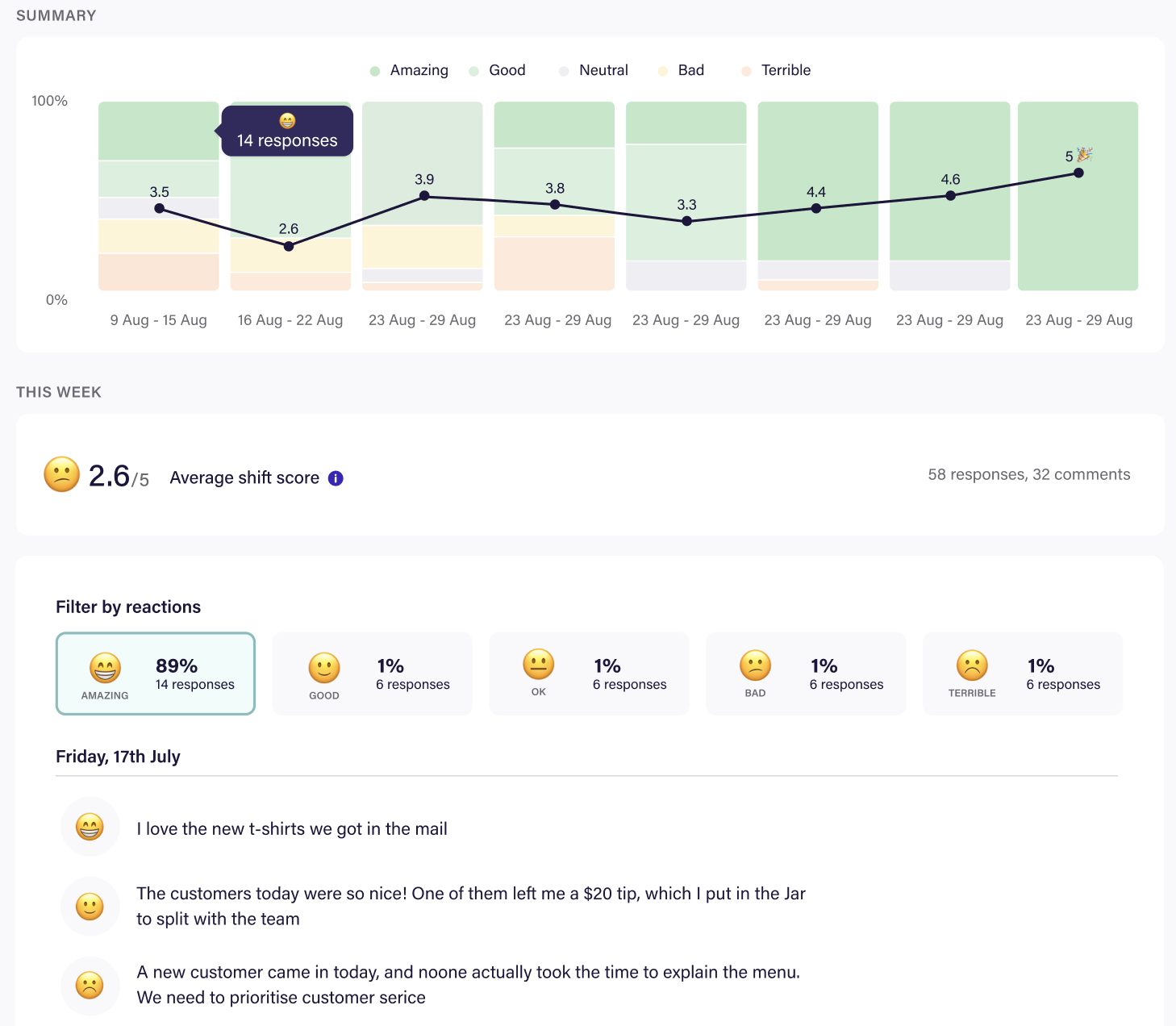 Frequently Asked Questions
What Deputy subscription plans is Shift Pulse available for?
Shift Pulse is available to Premium plan and Enterprise customers.
If our Deputy Kiosk is not connected to the internet will Shift Pulse still work?
No, if your Deputy Kiosk for iPad is running in offline mode it will not be able to access the shift pulse question when team members clock out.
Is Shift Pulse available for Time Clock Kiosk?
No, at this time, only clocking out on the Deputy mobile apps (both Android and iOS) and Deputy Kiosk for iPad will trigger the Shift Pulse question.
As a Location Manager, from which Locations will I have access to view the web and mobile report data?
The data is available only to the User's assigned Locations.
When my team member is completing the shift sentiment question, are they on/off the clock?
The clock out is completed and then the shift sentiment question is asked, so the team member is off-the-clock when completing this question. It is important when you roll this out to make sure your team members understand this and that the completion of the question is optional.
Is the Shift Pulse required for every clock out?
No, a team member can 'flick' the pop-up or simply ignore the question and navigate to another part of the Deputy app or close the app.
Why should I use Shift Pulse?
If your business wants to truly capture candid feedback from all staff members AND use that data to create action plans to improve workplace sentiment and engagement, this feature is for you. Receiving candid feedback is valuable, but can also be tough to hear, even for experienced managers.
I tried Shift Pulse, but I need to turn it off. How do I do this and what happens?
Shift Pulse can be turned off in the place that it was turned on (Business Settings). Once you turn this feature off, engagement collection immediately stops and the mobile dashboard reporting is no longer available. However, dashboard reporting on the mobile application will still be viewable to Location Managers. If you turn the feature back on, the historical data will be visible again.
If I have suggestions for improving Shift Pulse, how can I let the Deputy product team know?
When logged into Deputy, click the 'Help' icon in the upper right menu banner. Then click 'Give us Feedback' and proceed to submit bugs, feedback, and any other suggestions.
Is there a charge for Shift Pulse?
At this time, there are no plans to charge for the current release of Shift Pulse. In the future, Deputy may enhance this feature at which time there may be a charge for the enhanced feature.