What is Deputy Hire?
Deputy Hire is the system your potential new employer is using to list their new job!
Deputy allows you to apply for jobs directly from your phone or personal device and if you are successful in gaining the job you'll be able to onboard with the new organisation and receive your workplace schedule and much more, all from your phone or personal device as well!
This help article depicts how to apply for job listings using your phone but you can also use a browser on your computer as well if that's what you find easier.
Applying for an advertised role
You can scan the organisation's QR code poster or perhaps click on a job listing link in the company's social media accounts to view the organisations' Careers webpage and apply online for a new job they have advertised.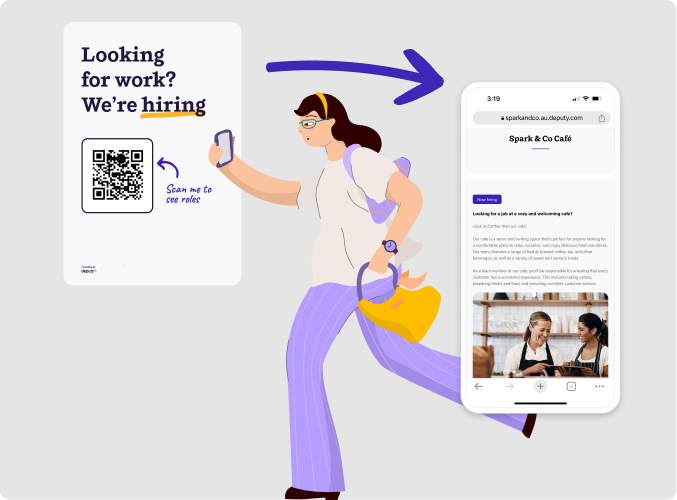 You can see all the jobs this organisation has open.
Tap on a job listing to read more about it and click Apply now to start your application.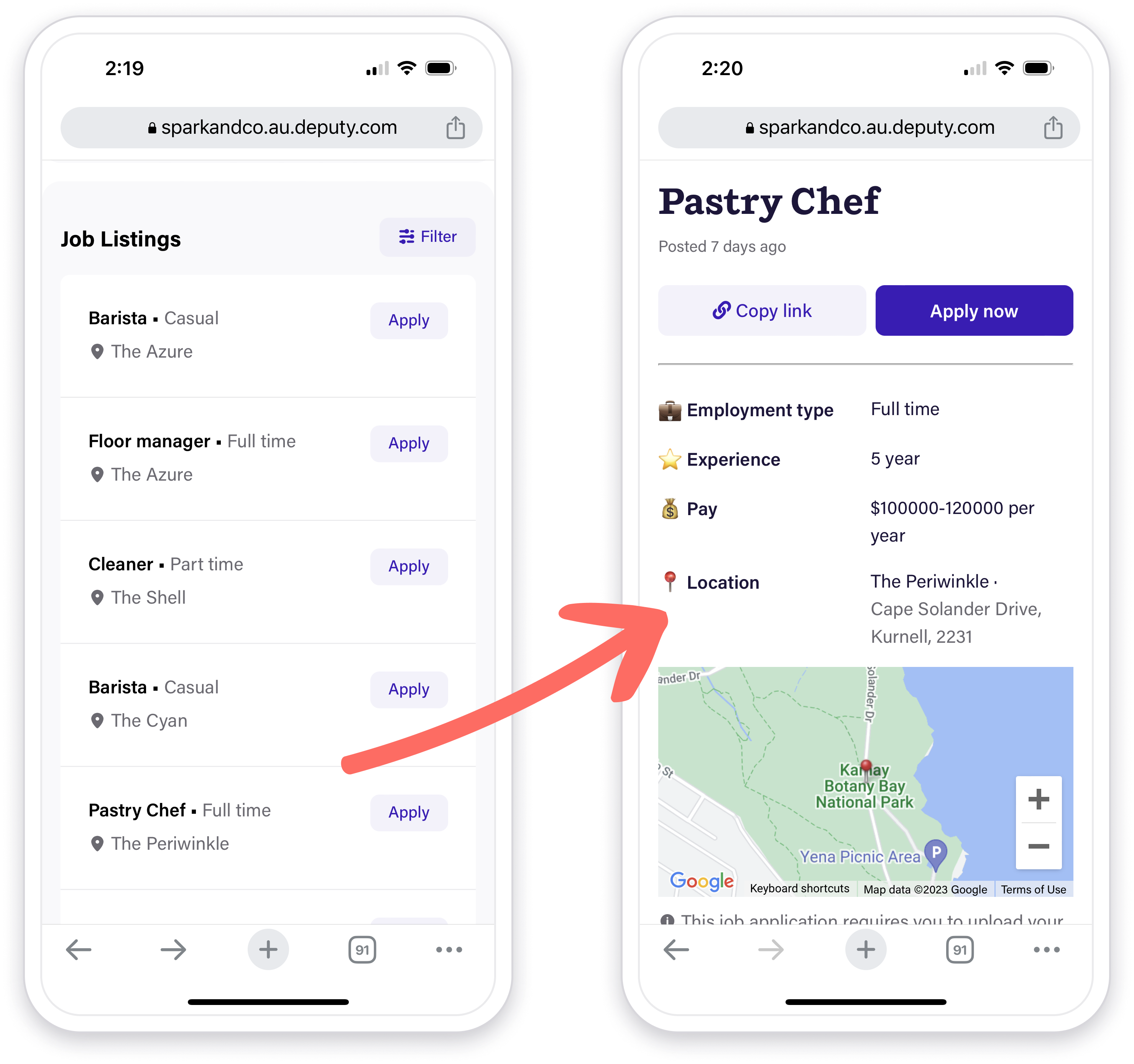 Completing your application
Before you begin, ensure you have a copy of your most up-to-date resume or CV ready to upload.
The application lists the questions you will be expected to complete and how long each will take.
Each field is mandatory to answer, if the Next button is greyed out at any point it means you may not have entered all information correctly.
1. Tap on the link to view the terms and conditions and tick the checkbox if you agree to them, then tap Get Started.
2. Enter your full name and tap Next.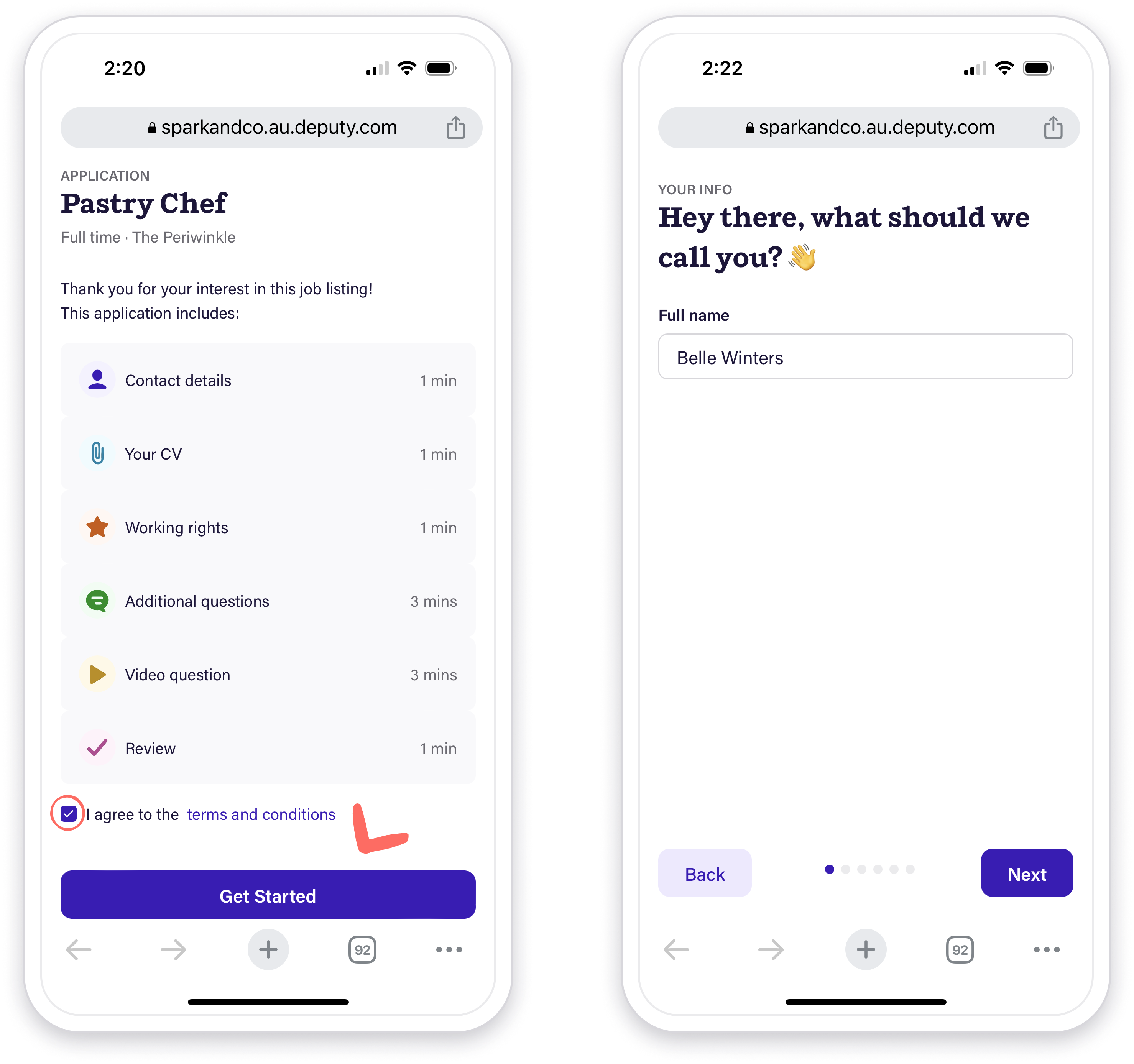 3. Enter your email and mobile phone number then tap Next.
4. Enter the postcode where you are located then tap Next.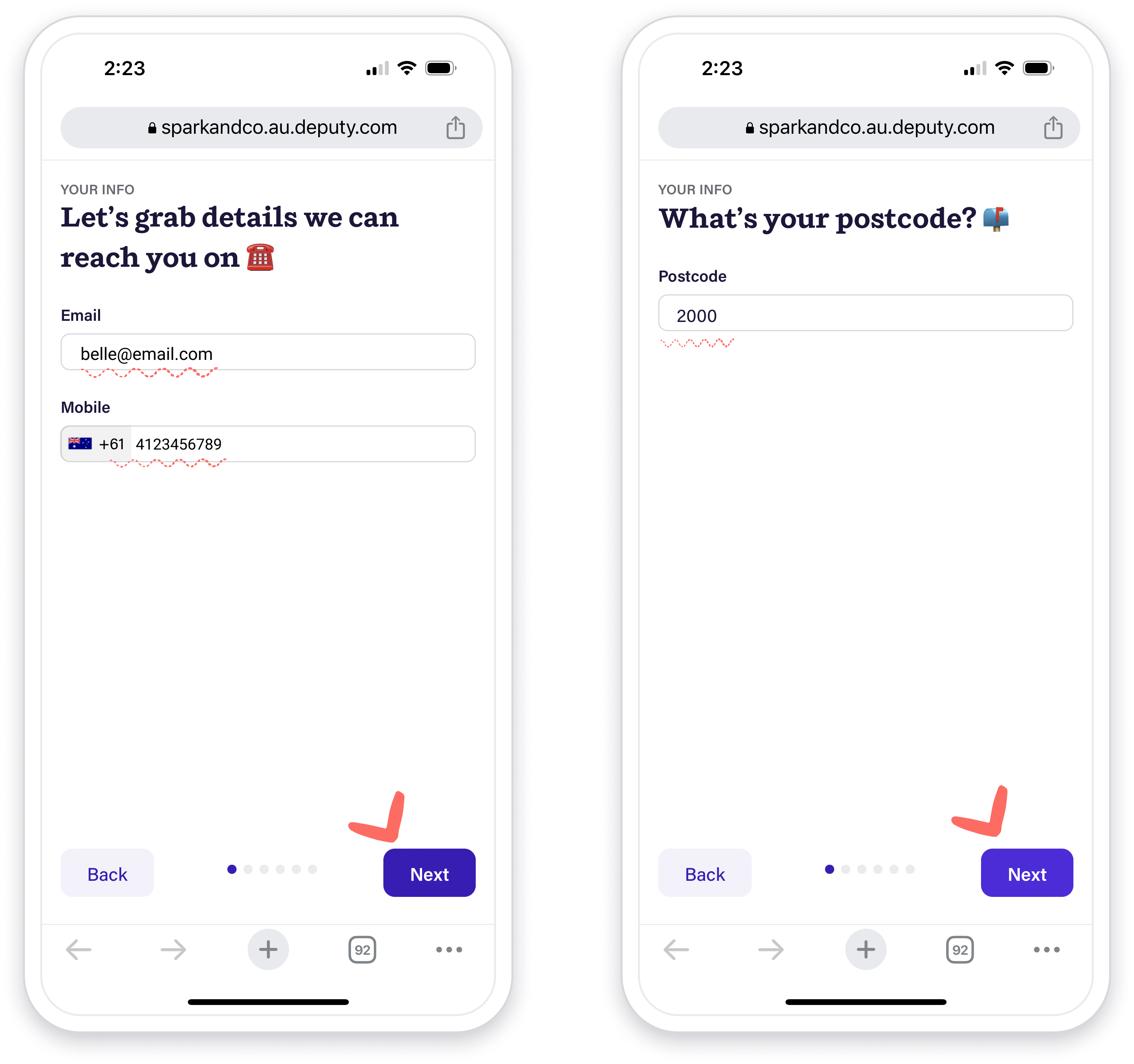 5. Upload your resume or CV. You can upload up to 3 files in PDF or image file format. Either take a photo or upload an existing file from your device. You can tap on the trash can icon if you need to remove a file uploaded incorrectly. Tap Next when you have finished uploading.
6. You will be asked about your working status in Australia. Answer the question that best fits your status and tap Next.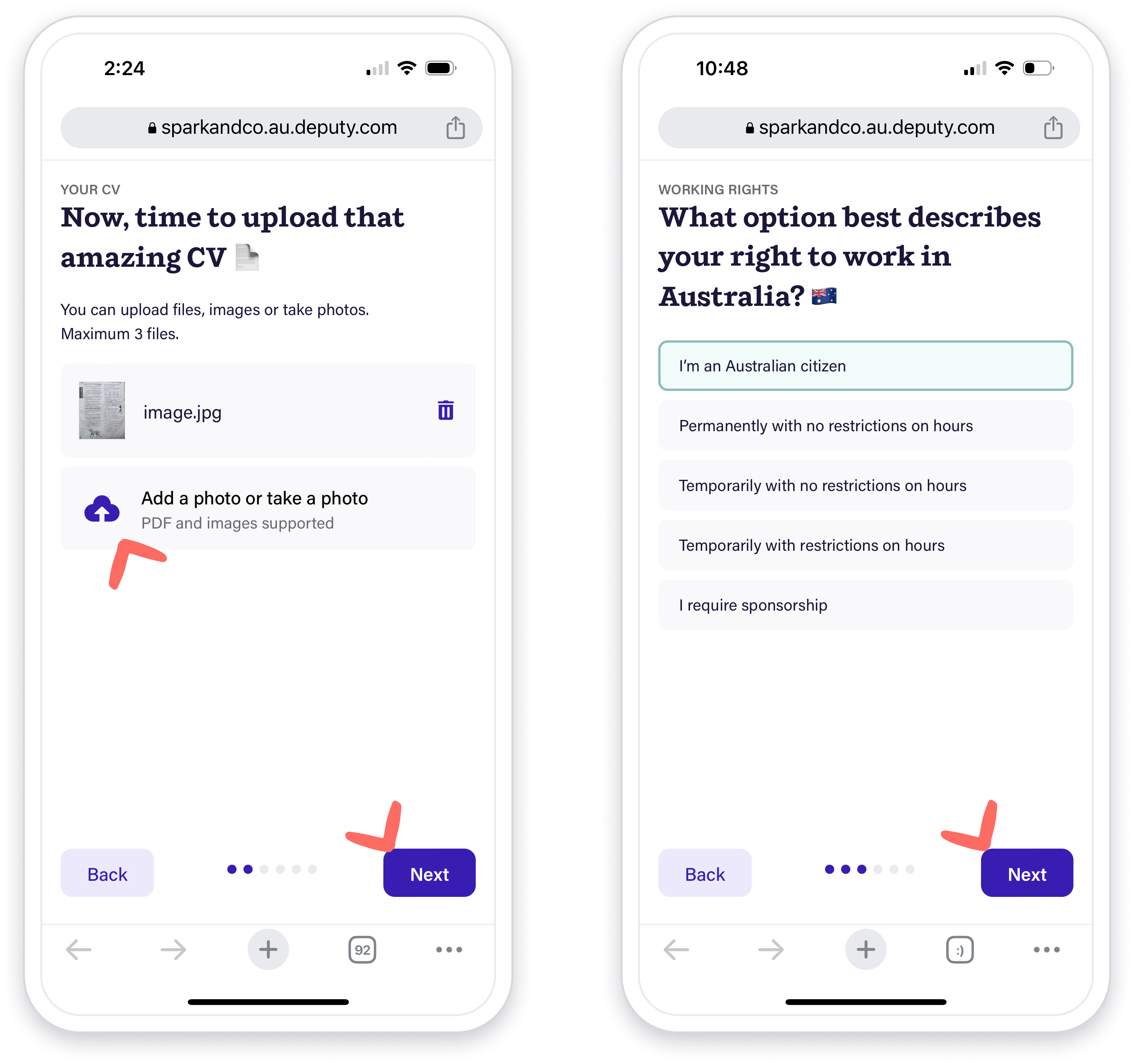 7. The employer may ask some additional questions about you such as "Can you work weekends?" or "How many years of experience do you have? Answer these questions and tap on Next.
8. A short video from the employer will now play to introduce themselves and the workplace. Once you have watched the video, you can rewatch it as required or tap Next.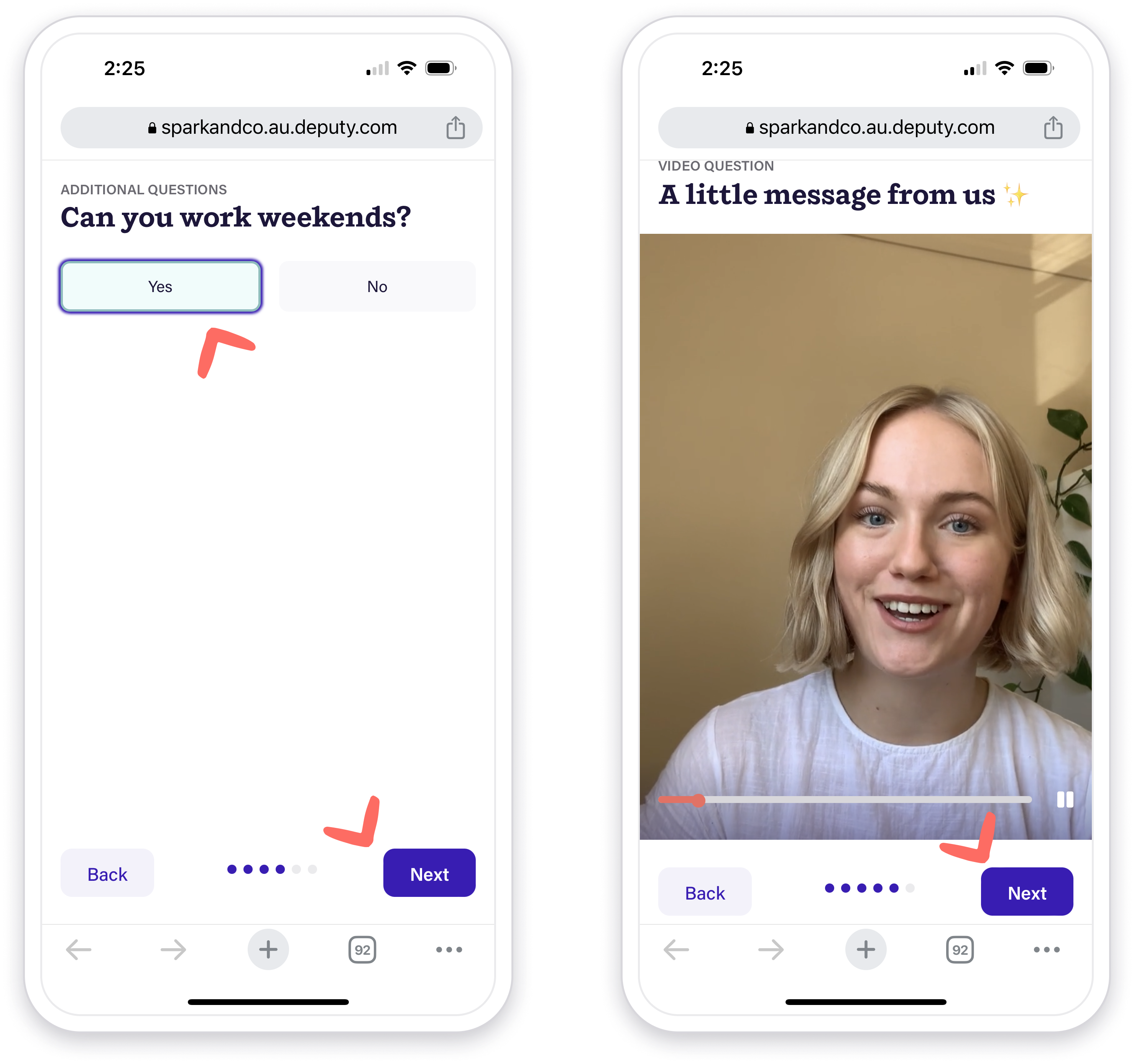 9. Now, it's your turn! The employer will present you with a question they'd like you to answer as you introduce yourself in a short video that you record. Read the question and tap Let's go when you are ready to answer the question. Note: you will be asked to give permission to access the camera or microphone on your device to record your video.
10. You have 60 seconds to introduce yourself and record your answer. Make sure you are in a well-lit, quiet space to record your video. After recording, you can watch the video back and tap on Retake if you think you need to re-record it. In fact, you can have as many retakes as you need! Once you are happy with your video tap on Use video.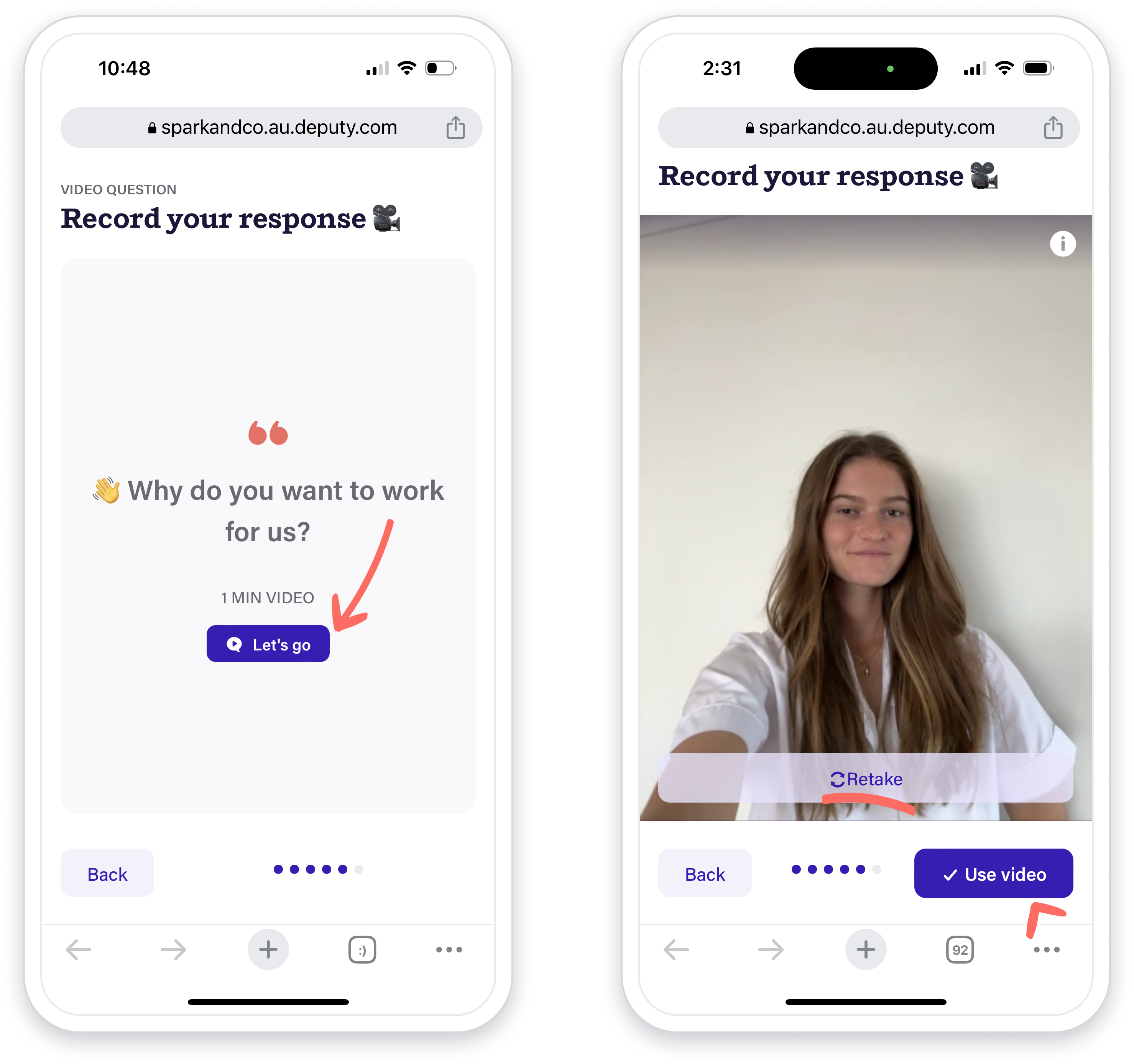 11. Now it's your chance to review what you have submitted. If you need to amend any details, just tap on Back. If you are ready to apply for the job, click on Submit.
12. You will see the following page when your application has been submitted. The employer will be in touch if they would like to follow up on your application. Good luck!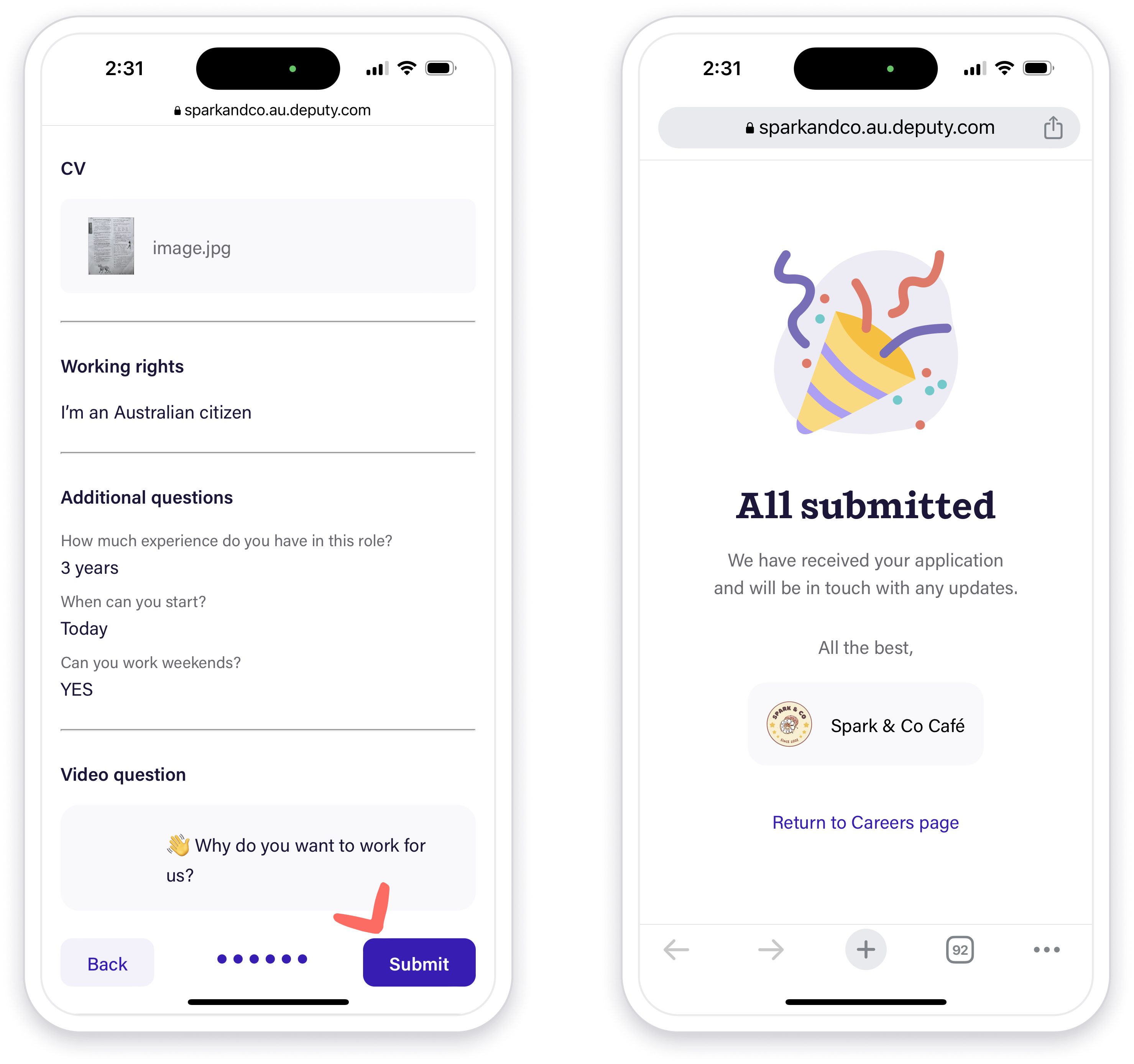 Questions?
If you have questions about the organisation advertising the role or the job application itself please get in contact with the organisation.
For more information about Deputy go to www.deputy.com