Before You Start
Before you get started, please ensure you have an active Xero Payroll subscription for the company. You will need either Standard or both the Payroll Administrator and Advisor roles attached to your login. You may check your permissions in Xero by going to Settings in the top right corner, then clicking General Settings, then Users.
If you can't see Settings at all, you do not have the required permissions. Xero Payroll is currently offered in Australia, the US, and the UK. Trying to export to any other country will result in a "scope not recognised" error.
If an employee has approved timesheets for this pay period in Xero please revert them to draft, as otherwise, an error will appear.
If you are exporting to the Payslip in Xero rather than the timesheets, please ensure before export that the timesheets are correct and have the right pay, as they may not be edited in Xero after exporting. If you are exporting directly to the Pay Run, please ensure that you have a draft Pay Run open in Xero before exporting.
Preparing To Export
While following the above guide, please keep in mind the points below:
Employees' names and email addresses should be identical between Deputy and Xero. If they are not, duplicate employees may be created in Xero. If the employee does not have an email address, we match based on the name. If they have both, we match based on email. Two employees in Xero may not use the same email address, as Deputy does not allow you to share emails.
In Xero, you will need to make sure that each employee has an Ordinary Earnings Rate (set on each employee's Employment tab). This earnings rate must be a pay rate with the Type "Ordinary Time Earnings" and the Rate Type "Rate per Unit". The Unit Type must be "Hours". If it is not, you will receive a "Pay Element Not Found" error when exporting.
If the employee is on salary, the salary must be created according to those instructions. When you add the rate to the employee's Pay Template in Xero, you will have the option to designate it as a salary.
You will also need to make sure that your employee is part of an active Payroll Calendar. Calendars dictate the pay period for that employee. This may be set on each employee's Employment tab, under "Payroll Calendar". If you have not created a calendar, you may do so in Xero in your Payroll Settings, under the Calendars tab.
If you are exporting leave (Australia only), you may export Annual Leave, Personal/Carer's Leave, Compassionate Leave, Community Service Leave, and Long Service Leave. To prepare these leave types, please follow the steps in our leave management article. These MUST have their original names in Xero. If you have changed the names of the leave in Xero, you will receive a "Bad Read" error. To fix this, please copy the leave names from Deputy back into Xero. You can also export Time Off In Lieu (TOIL), however, the name of the corresponding leave type in Xero must be Time Off In Lieu (TOIL). You can export RDO's to Xero this way.
Connecting to Xero
Next, you will need to connect to Xero from Deputy.
Read Connecting New Integrations for an introduction to connecting to third party systems. Select Xero and please make sure that you have pop-ups enabled, as you will be asked to connect your organisation.
You will be taken to Xero to login and authorise Xero to allow access to Deputy by clicking on the "Allow Access" button.
Connecting to Xero to Deputy when you have multiple business files in Xero
Note: this step has been added as a new step in the connection process since Xero implemented a security update in early 2021.
If you have multiple organisations within your Xero account you may see the following pop up when you connect to Xero. You should see further down from the screen a button to continue to use the existing organisation.
Please select the continue button and if you have multiple Xero accounts connected then it will prompt you to select which Xero account you would like to use. As shown below:
Click on the "Connect" button then "Allow access" as described in the previous section.
Exporting to Xero
Please navigate to the Timesheets tab and select "Export Time Sheets". When selecting your dates for export, they need to match the exact start and end date of your payroll calendar in Xero, even if the timesheets you're exporting don't fill the whole date range. For example, if your calendar in Xero is Monday to Sunday and the dates are 27/4/15 to 3/5/15, then you must set those same dates in Deputy, even if only exporting timesheets for the 28th and 29th. You can set them using the date selector at the top of the screen.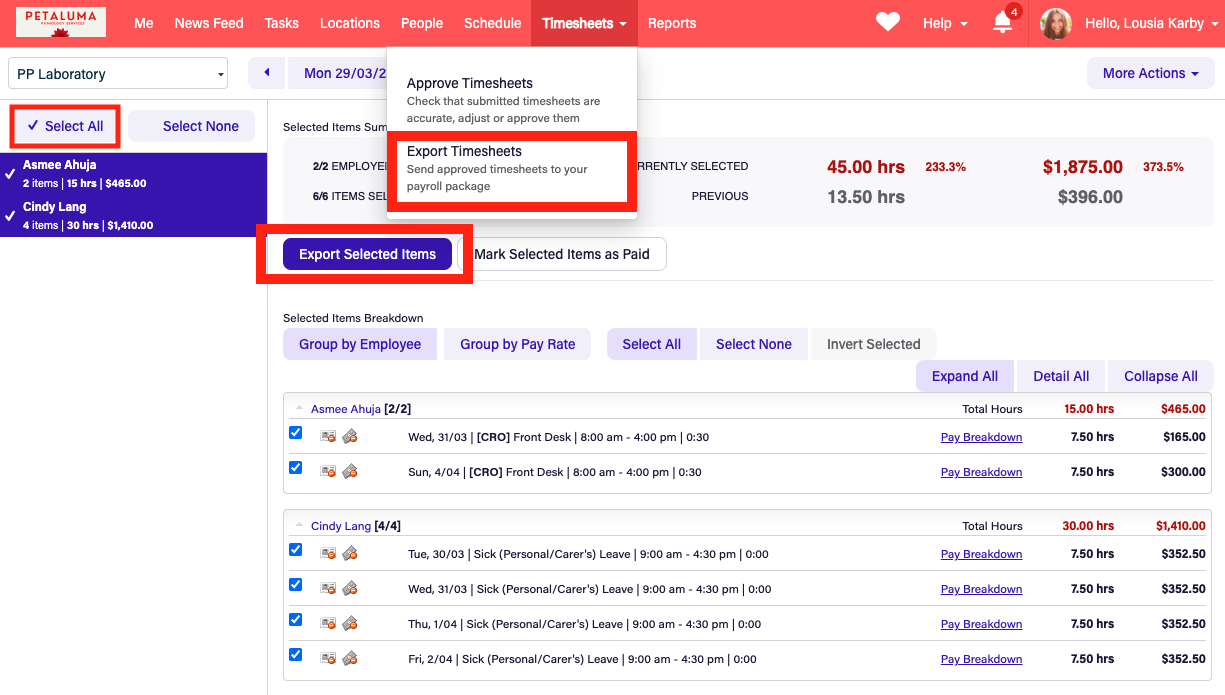 Please select the employees to export on the left-hand side. To quickly select all employees click "Select All". The details will then be displayed on the right-hand side. If you need to edit an item, please click on the item in the list to the right and select "View or edit original item". Once you are ready to export, please click "Export Selected Items"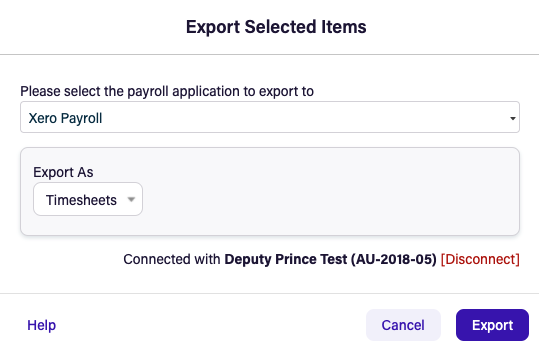 In the pop-up box, select Xero Payroll. If you aren't currently connected to Xero as explained above, you'll see a "Connect" button. Please click it and connect to the relevant Xero account.
You will now have the option to decide whether you'd like to export using Timesheets or Payslips. If you'd like to make additional adjustments to the timesheets such as adding deductions or additional allowances, we recommend using the Timesheet option. If you are happy with the rates applied to the timesheets in Deputy and need to make no further adjustments we recommend using the Payslips option, as it will enter the Pay Run directly and you may process it from there as usual.
Finally, please click "Export" to send the data to Xero.
If you receive an error, please get in touch with our friendly support team and they'll be able to give you a hand.
Custom Awards Library
If you use our built-in Pay Rate Library, we will push these Awards into your Xero account. If you currently use our Xero Award Interpretation (AU) or (US), you will not need to change anything.
When exporting an Award from our library, attempt to match the export code to the appropriate pay item in Xero. Failure to do this will create duplicate pay items within Xero.
If you change an employee's pay rate, you will need to unapprove and reapprove any affected timesheets.
If you would like to track area of work, and you are using a Pay Rate Library, you can set the area export code in Deputy to match a tracking code in Xero. This will show up as an extra column in your Xero timesheets after exporting from Deputy.
Common Xero Errors
Employee Pay Template Error
Currently, Deputy pulls ordinary rates from Xero. However, in the case of our award library, you can override Xero's pay rates in favour of Deputy's. There is a known issue where exporting Deputy's rates over Xero's will cause duplicate pay items, and thus, creates errors within Xero. Such errors include incorrect overtime rates and employees all being paid the same amount when different rates are to occur.
To fix this, log into Xero and edit the employee's pay template. Ensure that they are assigned the correct pay rules in the employee payment tab. In addition, if the user uses shift loading or period loading with a fixed hourly rate, these pay rules should be assigned to the employee's template (see image below).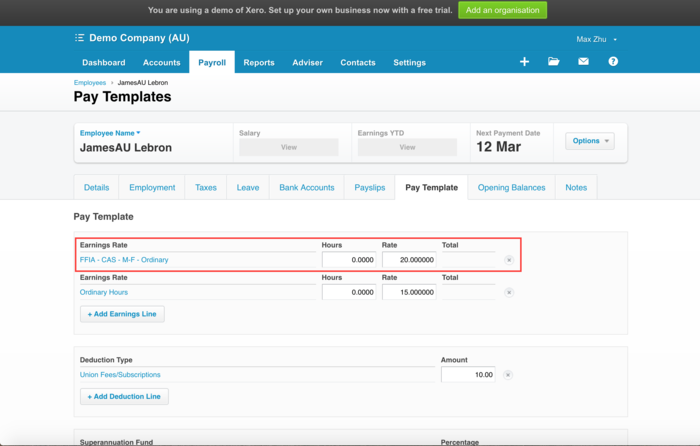 You will also need to modify and correct the employee ordinary rate within the employee's profile in Xero.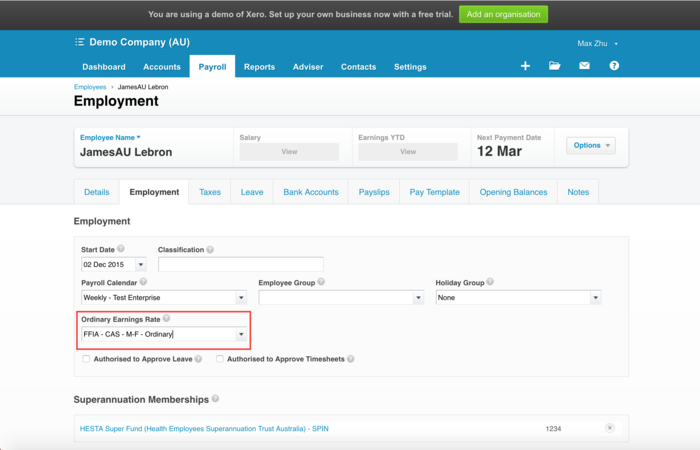 Please note that if the employee template is not fixed, the hourly rate from that pay rule will inherit the existing pay item, causing every employee to have the same hourly rate.
Additonal Note: This error exists only for our customers in the US. This will not affect Xero users in AU.
Frequently asked questions (FAQ)
Can I make pay items Reportable as W1 in Xero?
Yes. When Australian customers are exporting to Xero, you can choose to have any new Pay Items created in Xero to be Reportable as W1 on Activity Statement.
If you have existing Pay Items in Xero, you will need to go into your Xero's Pay Item settings and manually update the Pay Items as Reportable as W1 on Activity Statement.