You may want to export your data when you leave Deputy (let us know if there's something we can do to avoid you leaving us!) or for many other reasons.
There are two main ways to export your data:
IMPORTANT:
Please use these tools to export ONLY if you are leaving Deputy.
If you are exporting data so that you can update and re-import in bulk, please do not use these tools as export and import formats will not match.
For Export > Update > Import purposes, please instead use Bulk import tools.
Deputy Data Exporter
The Data Exporter allows you to pull stored data from Deputy as a CSV file that you can view in a spreadsheet report format.
Please ensure that you have System Administrator access level permissions for the account you would like to export data from.
Step 1: Connect the Data Exporter to your Deputy account
1. Click on the following link to go to the Deputy exporter site:
2. Click Connect with Deputy.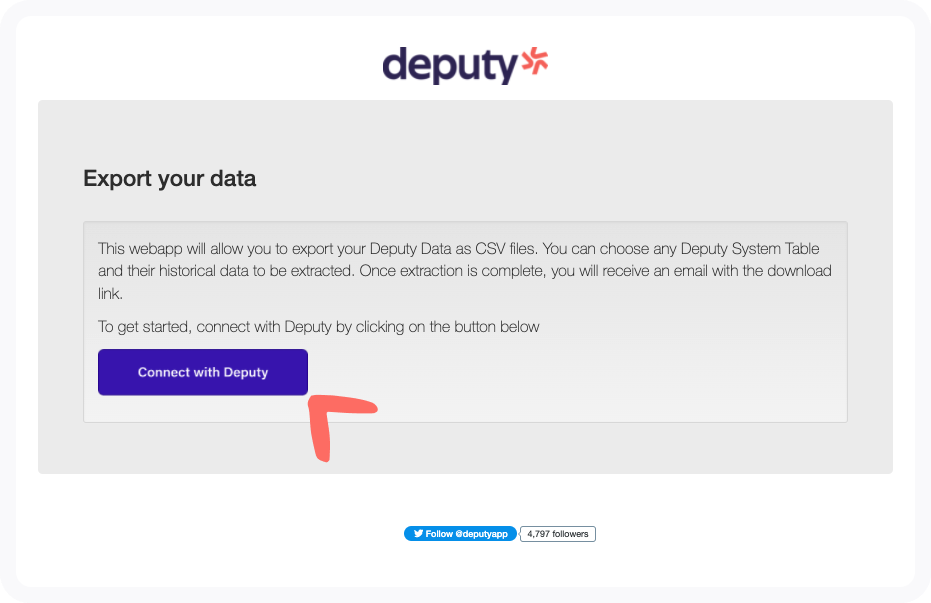 3. Log into your Deputy account.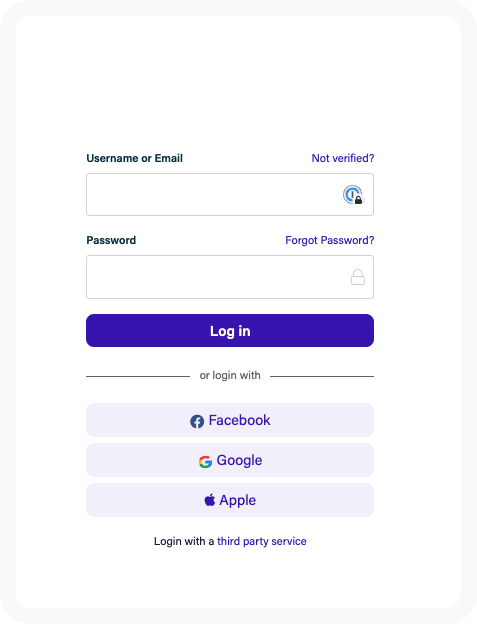 4. Select the name of your organisation in Deputy you would like to export from.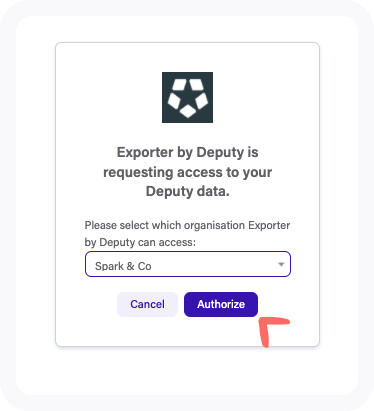 Step 2: Select your data
1. Select the data source. You can select from the following:
Address
Company
Contact
CustomFieldData
Comment
Employee
EmployeeAgreement
EmployeeAgreementHistory
EmployeeAppraisal
EmployeeAvailability
EmployeeHistory
EmployeeRole
EmployeeWorkplace
EmploymentCondition
EmploymentContract
Event
Geo
Journal
Leave
LeaveAccrual
LeaveRules
Memo
OperationalUnit
PayRules
PublicHoliday
Roster
SalesData
SystemUsageTracking
SmsLog
Task
Timesheet
TimesheetPayReturn
TrainingModule
Training Record
2. Select the Date Period you would like to export records from by selecting a date to extract records after and also created before.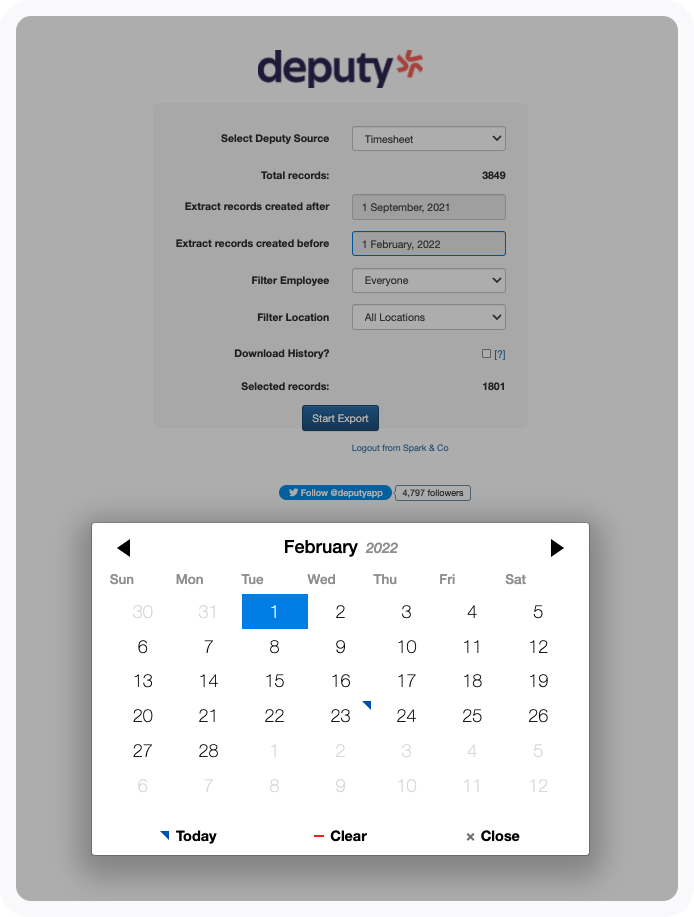 3. Select to extract data associated with a specific employee or all employees.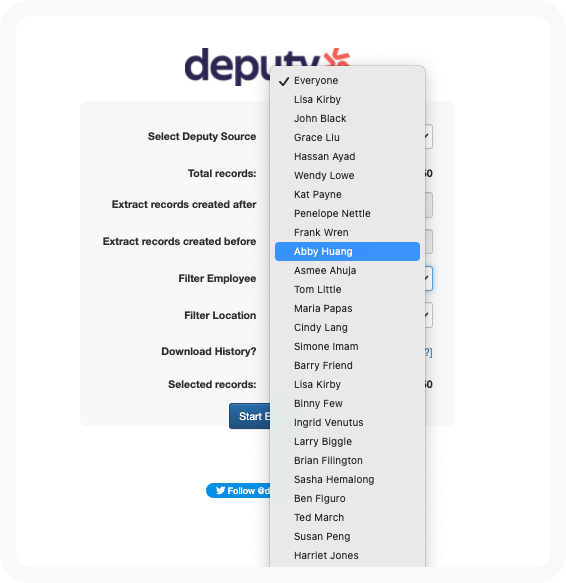 4. Select to extract data associated with a specific Location or all Locations.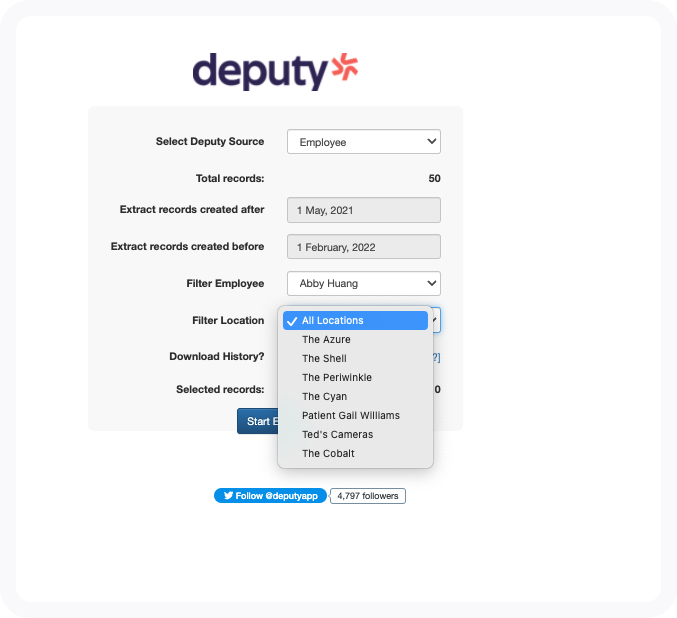 5. Choose whether to download the history of the data with a version tag. This may result in a longer download time.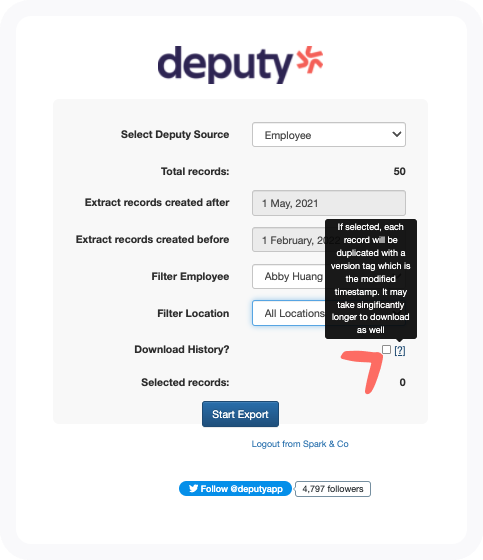 This allows you to select the location you would like to export data from.
Step 3: Export your data
After you have defined your dataset, you will see a count of all records that apply to the selected data set.
In the example shown below, Timesheet records for Abby Huang working at location The Azure between 1st September 2021 and 1st February 2022 including version history will be downloaded.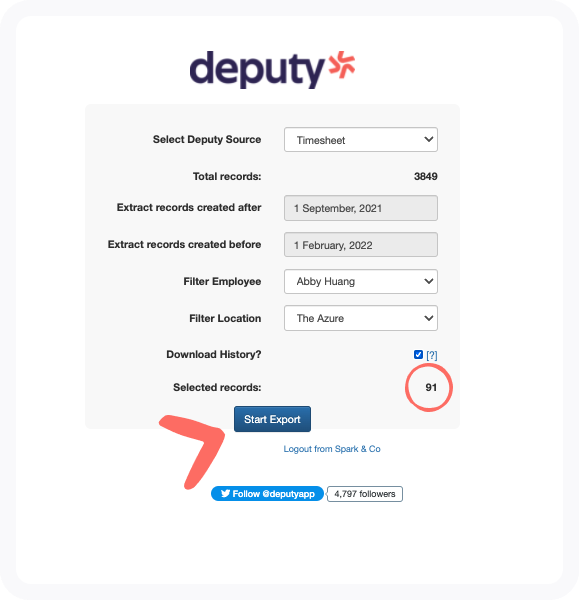 As this takes time, you will be presented with the following screen, which explains that your export file will be sent to email address of the system administrator who logged into the account to export the data.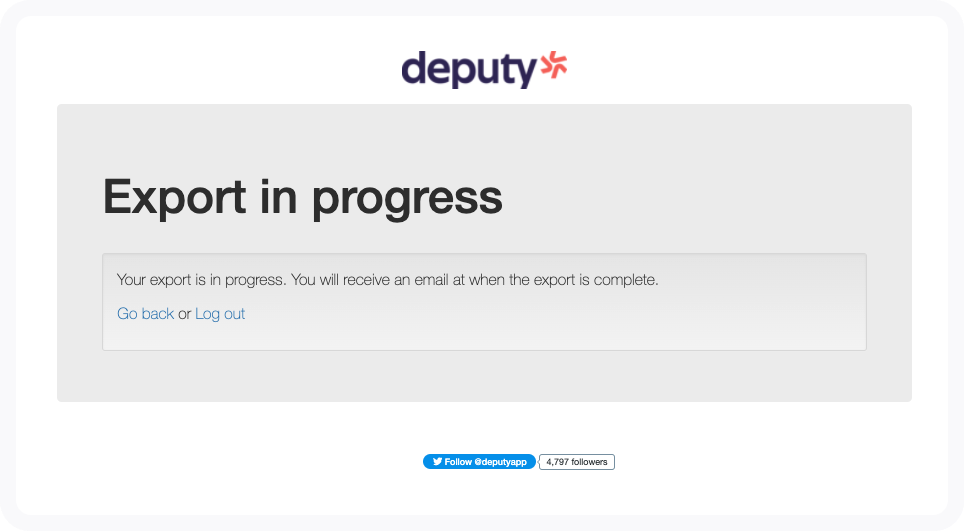 Note: You can click Go back to select another data set to export or click Log out to be logged out of your Deputy account.
Step 4: View your data
You will receive this email when the file is ready for download: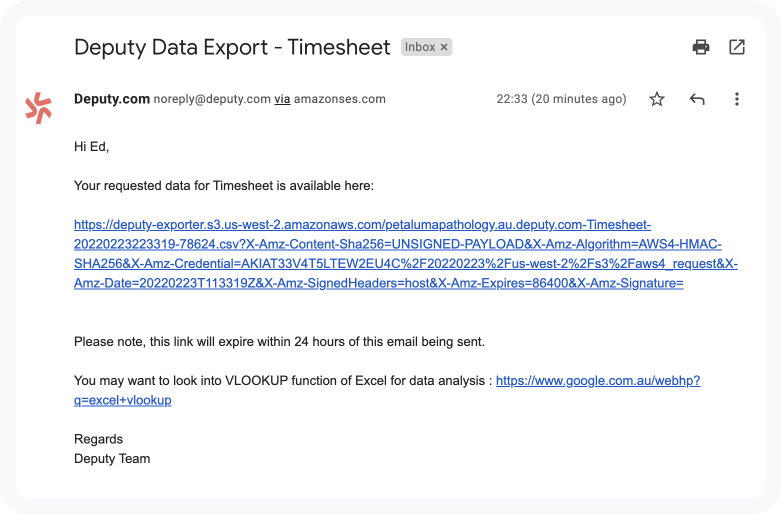 2. Save the CSV file to your computer.
3. Open the file in Excel.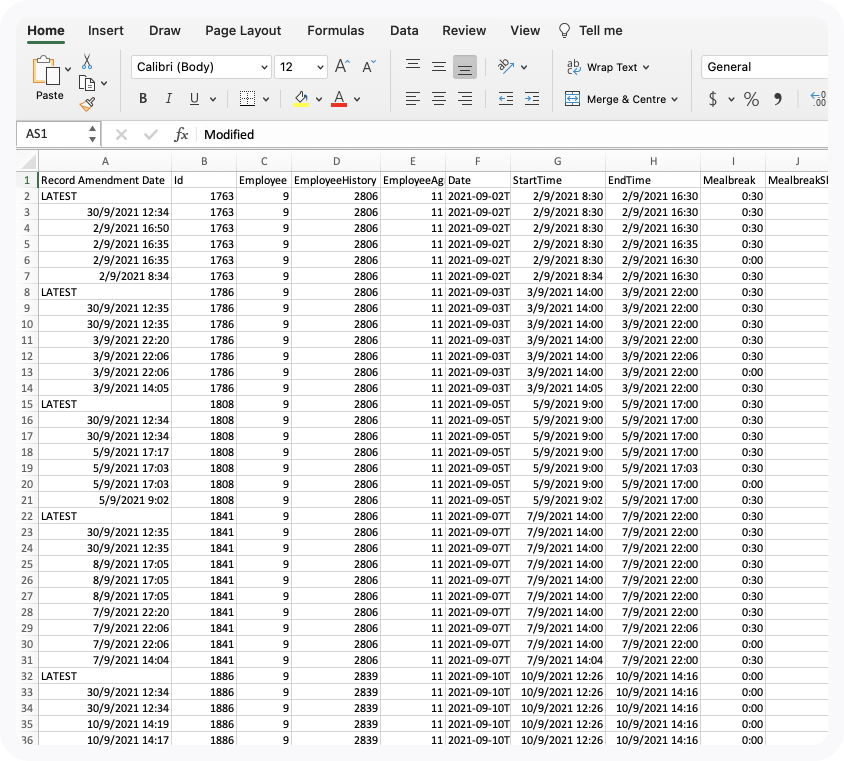 Deputy APIs
If your data requirements are complex and you have an IT team, you can use
Deputy APIs
to export the required data.