This guide is only for Enterprise accounts on the new People experience (rolling out from May 2022) and will cover:
Getting started
Before you begin, ensure you:
Edit your employee employment details
On the People tab, select the name of the employee you wish to edit details for and then select Employment from the left-hand side of the screen.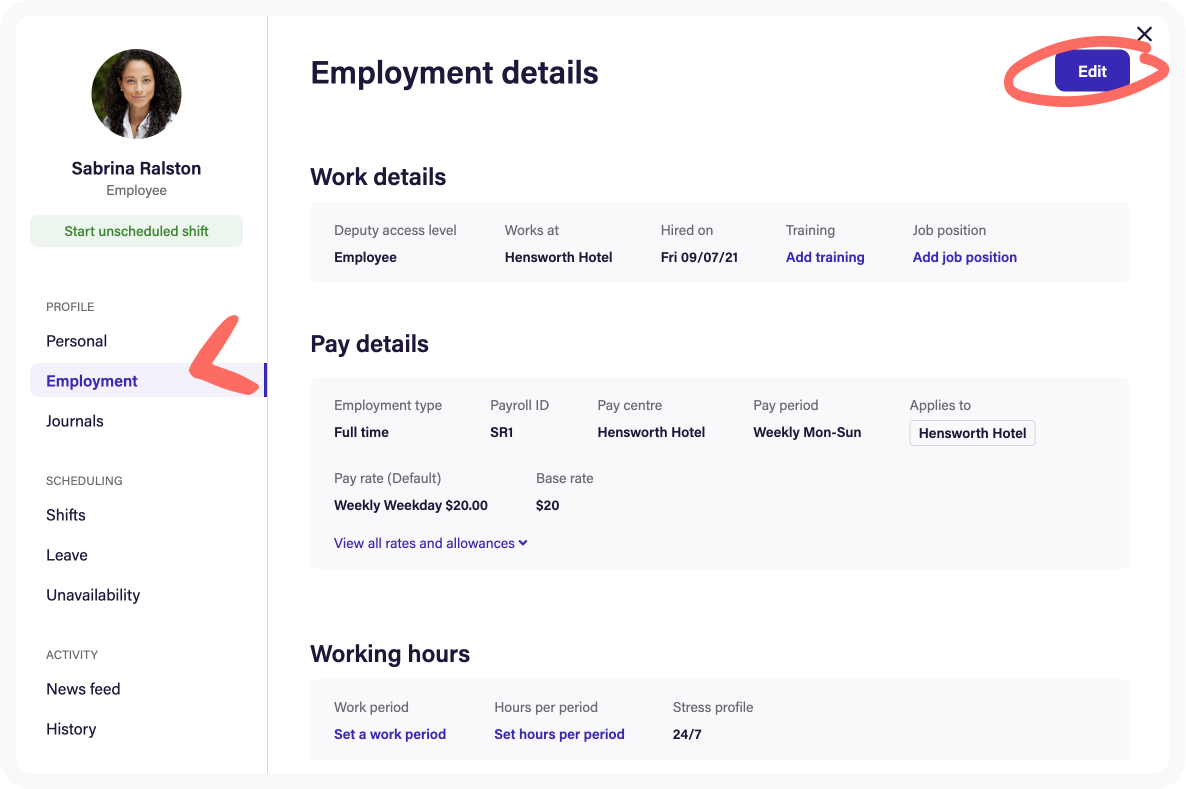 Assigning locations to your team members
Assigning a team member to a location allows them to appear by default as available to be scheduled. It also allows you to set up pay details for those locations.
To add locations to your team member, in the Work Details section, navigate to Works At. Click Add locations to open up a dropdown of available Locations to tick to select. Click Add locations and then click Save on the top right.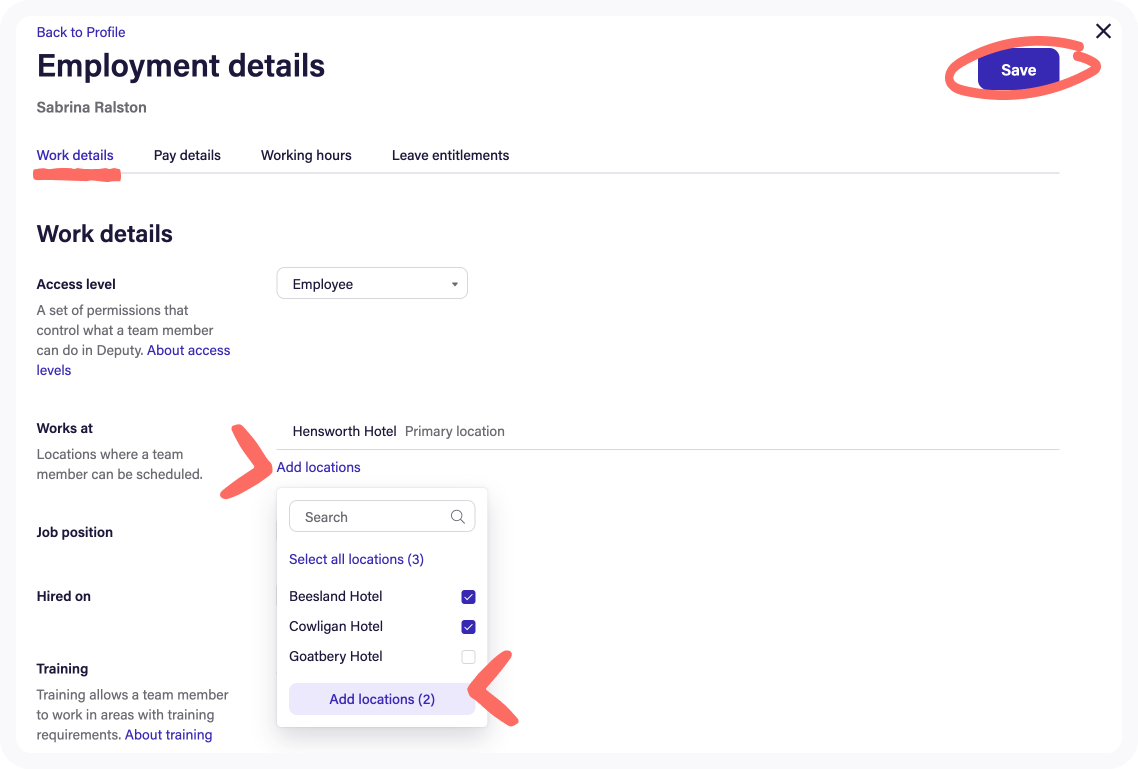 If you need to remove a location you can hover over the assigned location and then click Remove.

Don't forget to click Save when you are done.
What's a primary location?
A primary location is regarded as your team member's default workplace - that is, where they most commonly work. Depending on your setup, this could be a particular store or role.
This location drives:
How the employee is paid by default

What leave entitlements the employee is entitled to

What appears in several reports and views throughout Deputy
It is highly recommended that the Primary Location is always assigned to a pay detail, so that your employee will always receive that pay.
If you need to change a team member's Primary Location you can do this by hovering over the location and clicking on Set as primary location.

Creating a pay detail
Next, click on the Pay details section to set up the rules for how an employee will be paid. If the employee hasn't had this set up before, it will appear something like this: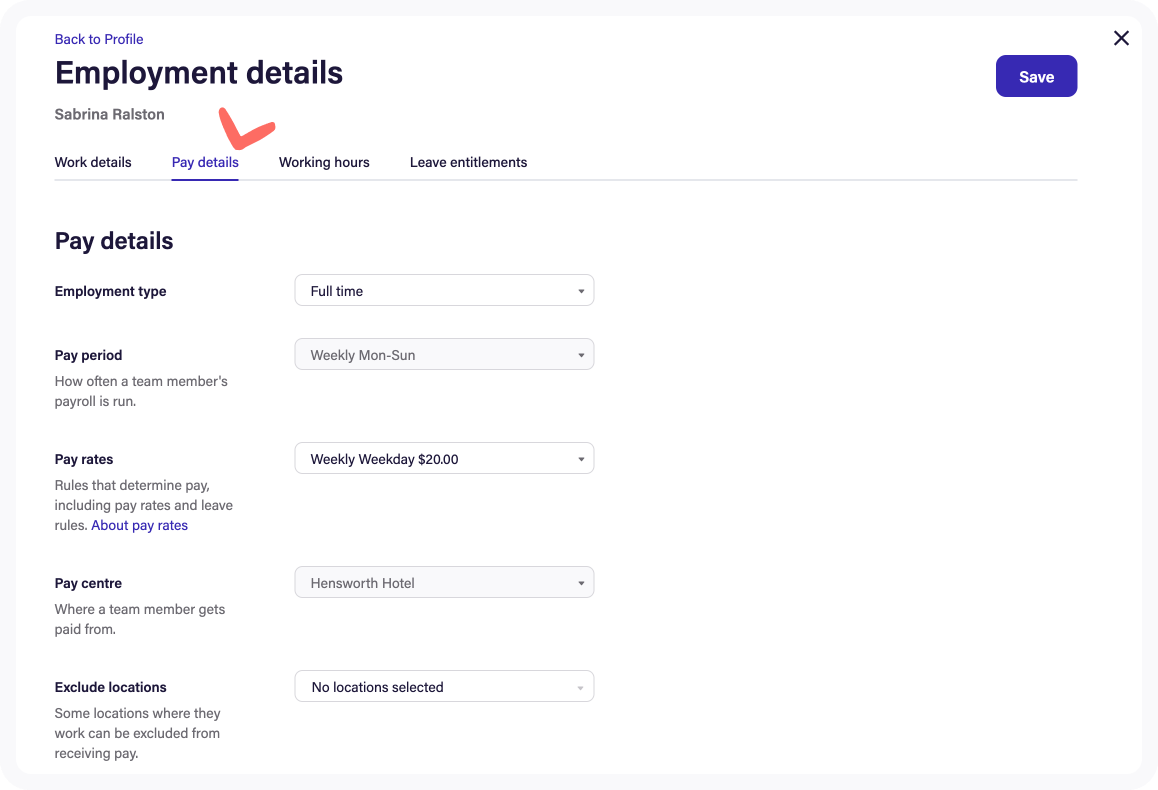 Let's look at each of the fields to complete:
What's an Employment Type?
Employment type is used to filter and categorise team members' pay rates. You may see different employment types available depending on the geographical location you operate your Deputy account in.
| | | |
| --- | --- | --- |
| | AU | UK and US |
| Full Time | ✅ | ✅ |
| Part Time | ✅ | ✅ |
| Casual | ✅ | ✅ |
| Contractor | ✅ | ✅ |
| Salary | | ✅ |
| Hourly | | ✅ |
Select the required employment type from the drop-down list: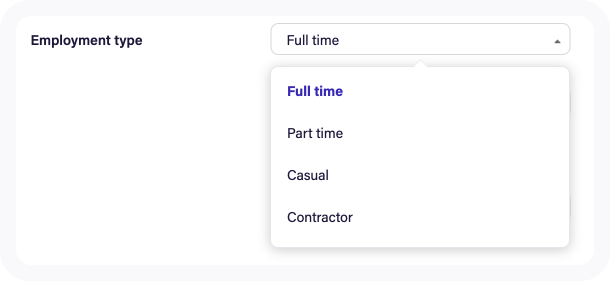 What are Pay Periods?
A pay period is the recurring time frame used to calculate earned wages, such as overtime. Usually, this is the recurring period over which someone gets paid.

What are Pay Rates?
Pay rates are the rules that determine how someone gets paid, from when overtime is triggered to any penalties and loadings a team member is entitled to. Are usually already configured for you to select from.
The pay rate options populated in the dropdown list here are dependent on what option you selected for Employment Type and Pay Period in the fields above.

What is a Pay Centre?
Pay centres (also known as cost centres) mark where your employee's time will be costed to. This field is compulsory.
Note: Deputy only allows the combination of Pay Period and Pay Centre to be used once per employee. To make another pay rate, you will need a different Pay Period and Pay Centre combination, or to edit an existing pay detail (which may be archived).

What does 'Exclude Locations' mean?
When there is only one pay detail (active and archived) assigned to a team member, the option to Exclude locations is presented.
This field is intended to give you the option to exclude particular locations from the Pay Rate. Selecting a location in this field means that if an employee works at this location, they will not be paid. This can be useful for locations like training days, secondments, or similar.
In the Work Details section, we also show which locations are not paid with the Pay Unassigned label.
If a team member has multiple pay details, to exclude a location, simply don't assign it to any locations (active or archived.)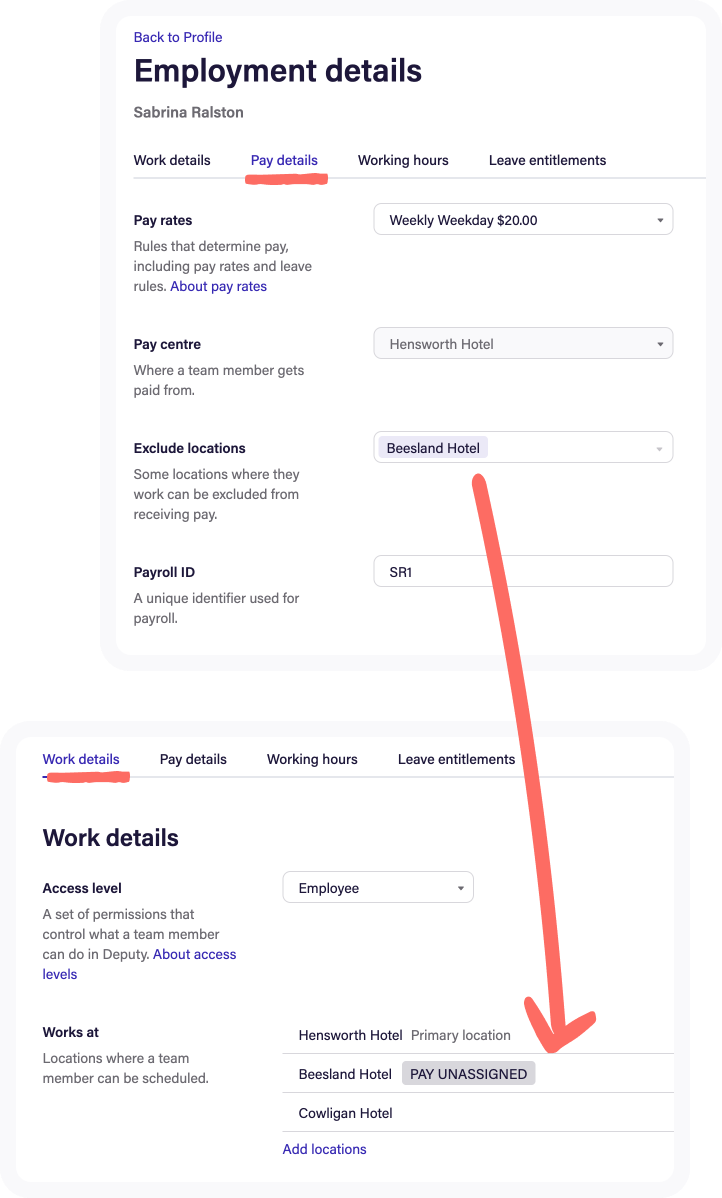 What's a Payroll ID?
Payroll IDs are an identifying number or word that is usually combined with your payroll system to identify who your staff member is. This field is optional.
What about Salaried staff?
If you have a salaried staff member, when you select the salaried pay rate the following drop-down will appear.
This allows you to enter the salary for the team member as either an annual or per pay period amount.
Read more about Salary allocation.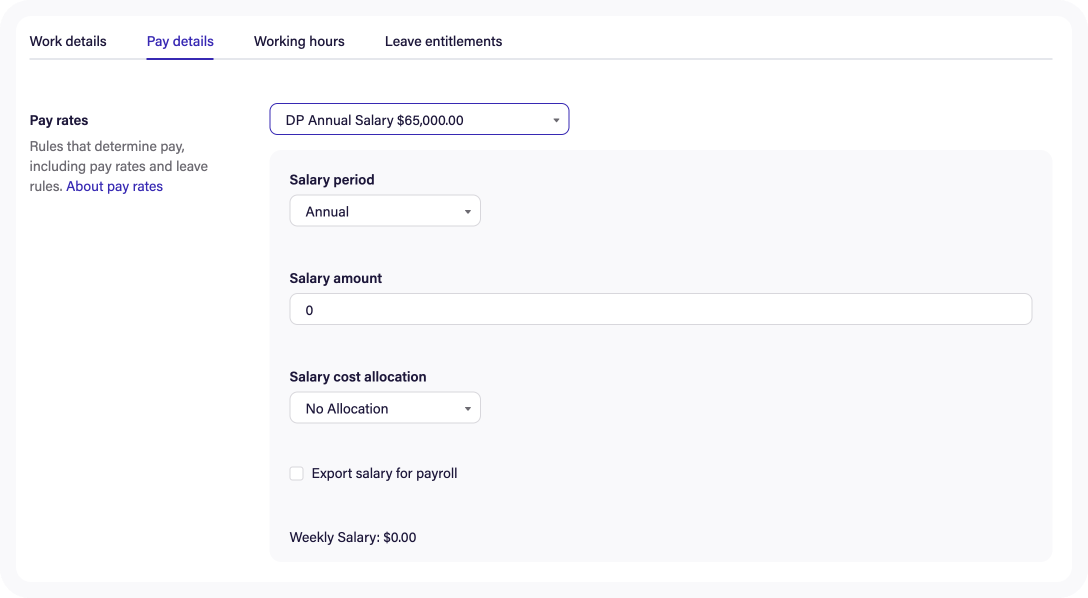 Creating multiple pay details
Sometimes staff need multiple pay details - perhaps they get paid differently across locations or need to be costed to different cost centres.
To set up more pay details, click on Add pay detail.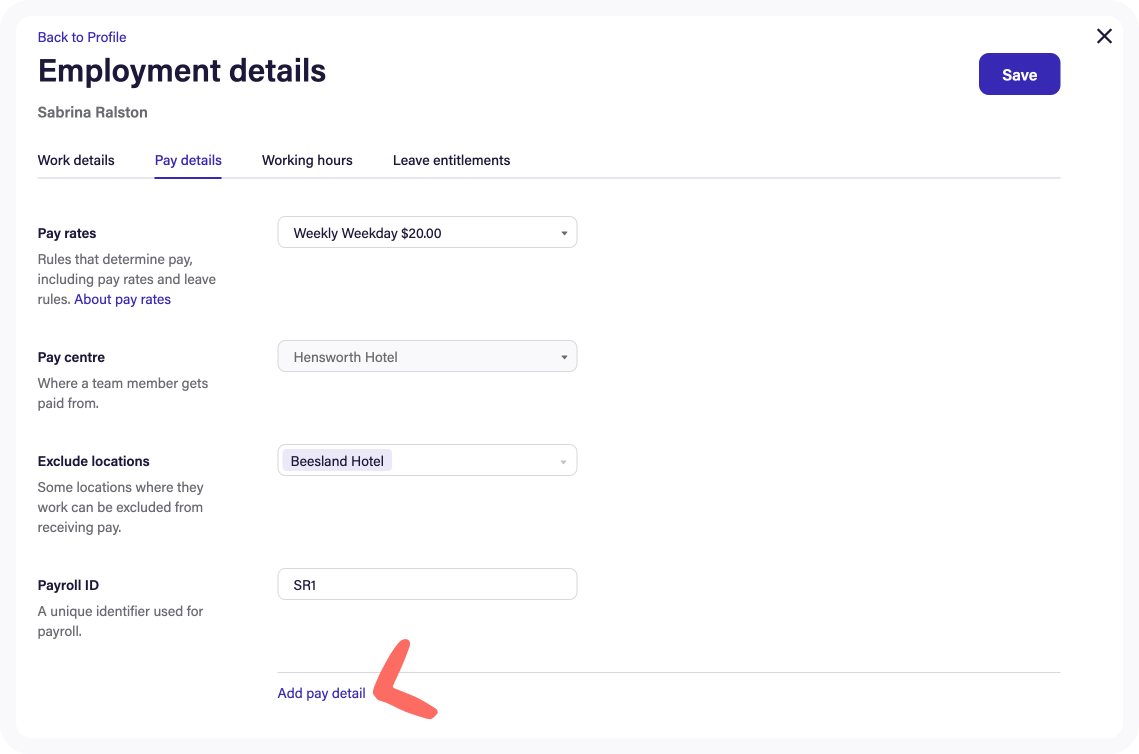 This will launch a new page for you to enter the information for the additional pay detail using the same fields as previously described to create a pay detail. Once you have configured the new pay detail you can click Add pay detail. You can delete a pay detail by clicking on Delete pay detail (or Archive one that has already been added previously)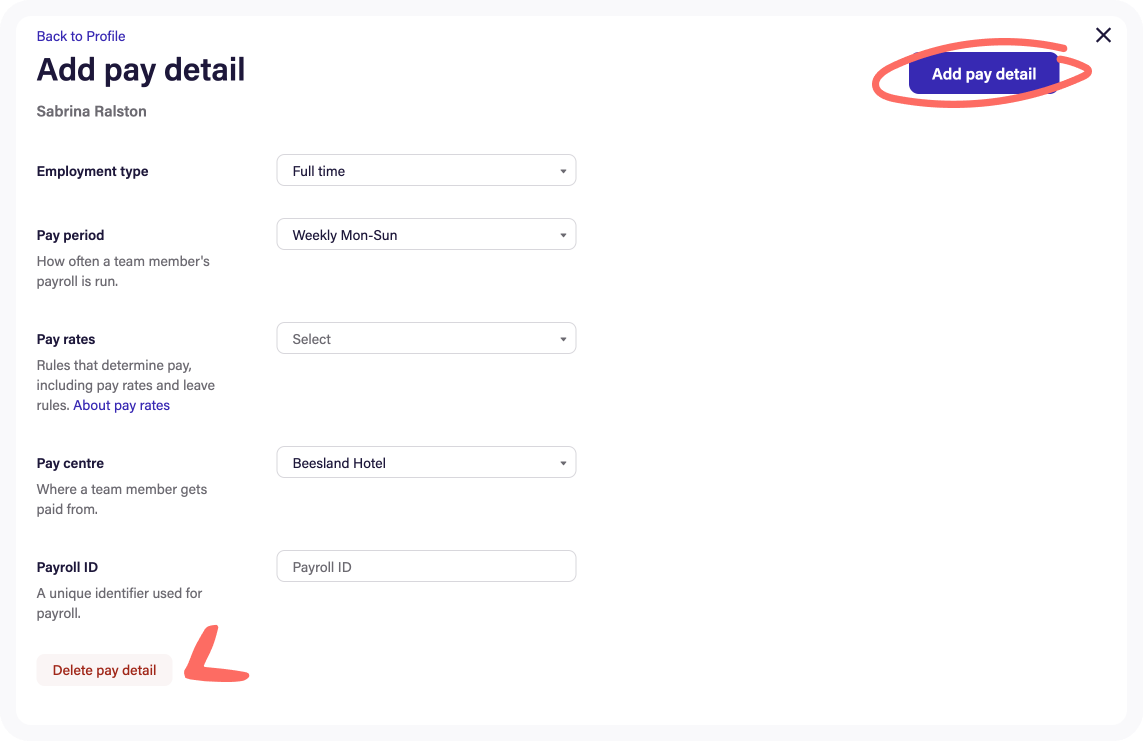 Note: Deputy only allows the combination of Pay Period and Pay Centre to be used once per employee. To make another pay rate, you will need a different Pay Period and Pay Centre combination, or to edit an existing pay detail (which may be archived).
When done, remember to assign locations to the pay detail and to save.
Having multiple pay details will change your view to something resembling this: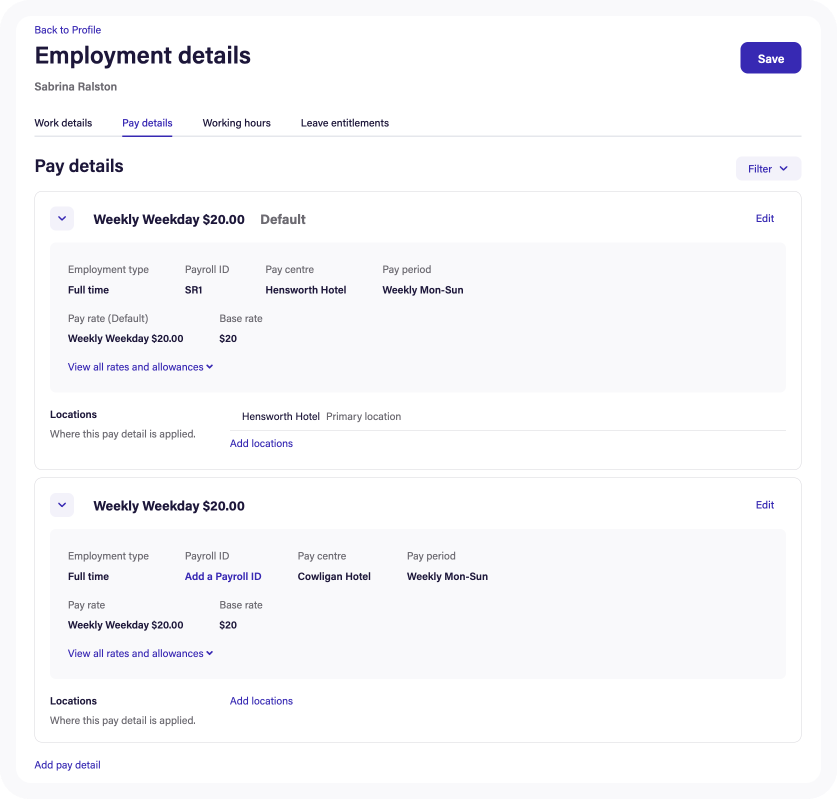 Assigning locations to a pay detail
Once you have configured your pay detail, you need to assign it to locations for this to take effect.
Deputy will look at timesheets worked by your employee. If the timesheet location matches one of the locations that you have assigned a pay rate to, it will use that. Otherwise, it will default to the pay rate that you have assigned as the team member's primary location.
To assign a location to a pay rate, click the Add Locations button under the pay rate and assign relevant locations.
Note:
A location can only be assigned to ONE pay detail per employee. To assign it to another one, please remove it from the old one first.
The Primary location will determine which pay detail is the default pay detail - please ensure this is assigned correctly.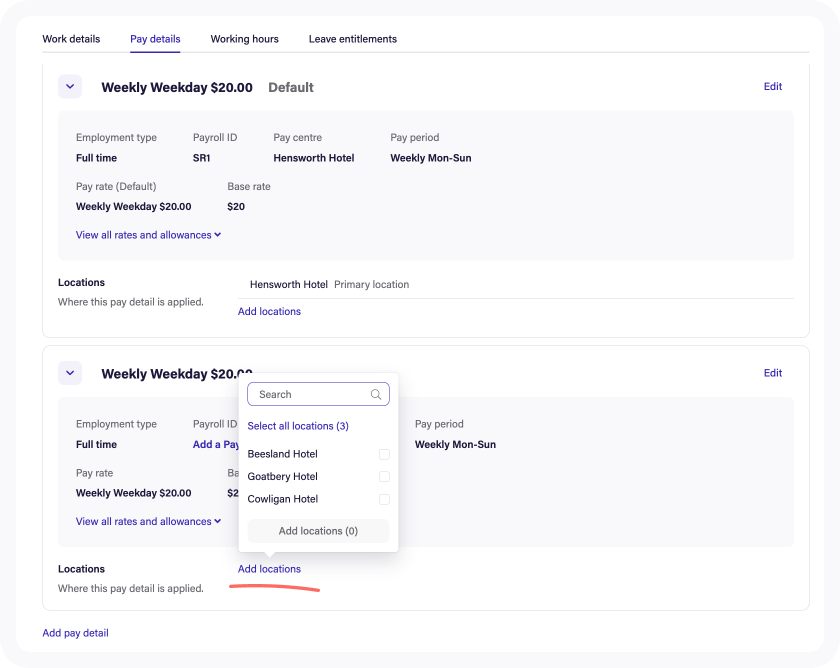 Editing a Pay Detail
Click Edit on a pay detail to change the settings of the pay rate.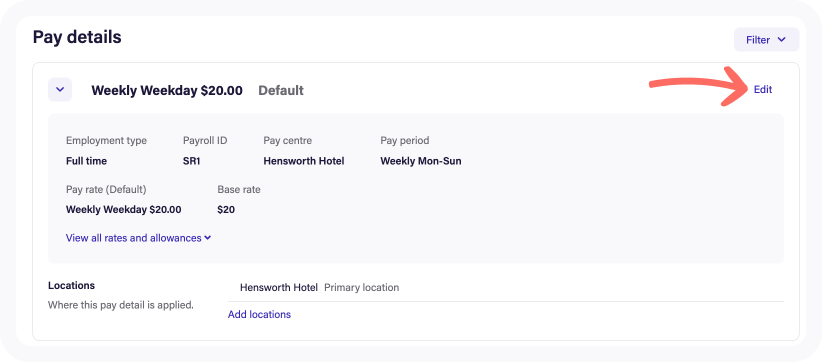 Note that after a pay detail has been used, the Pay Centre and Pay Period cannot be altered for data integrity and audit reasons. Please create a new pay detail if you wish to change these details.
Archiving and unarchiving a Pay Detail
Sometimes a person no longer needs a pay detail, and you no longer wish to see it in your people profile. To solve this, the best solution is to archive the pay detail.
Click on Edit for the pay detail you wish to archive, then click Archive pay detail.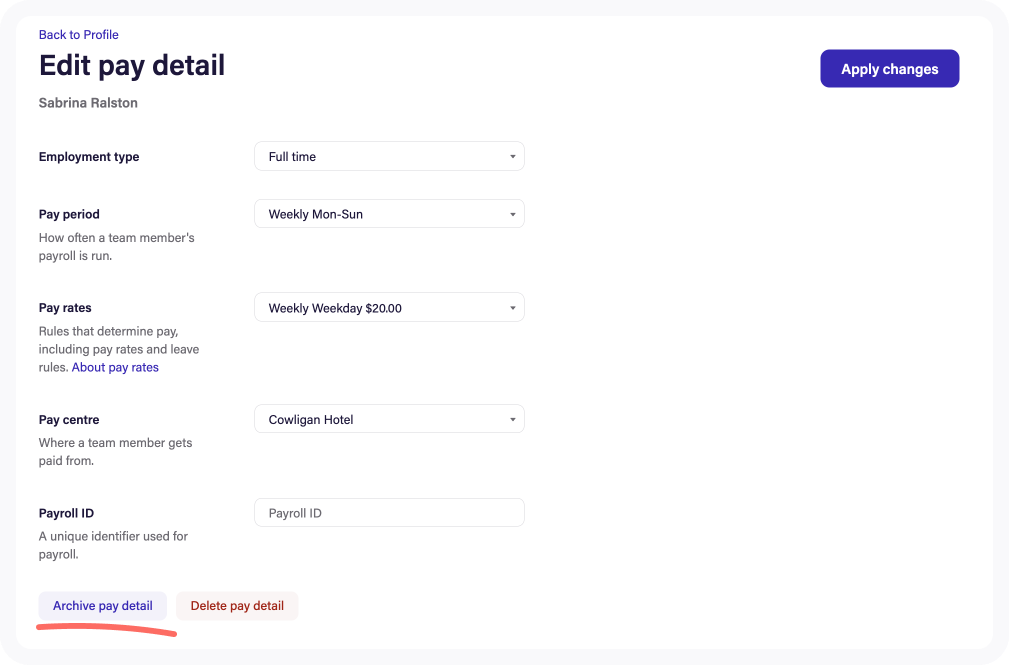 To view any archived pay details, use the Filter to view Archived pay details.
Click on Edit for the pay detail you wish to unarchive.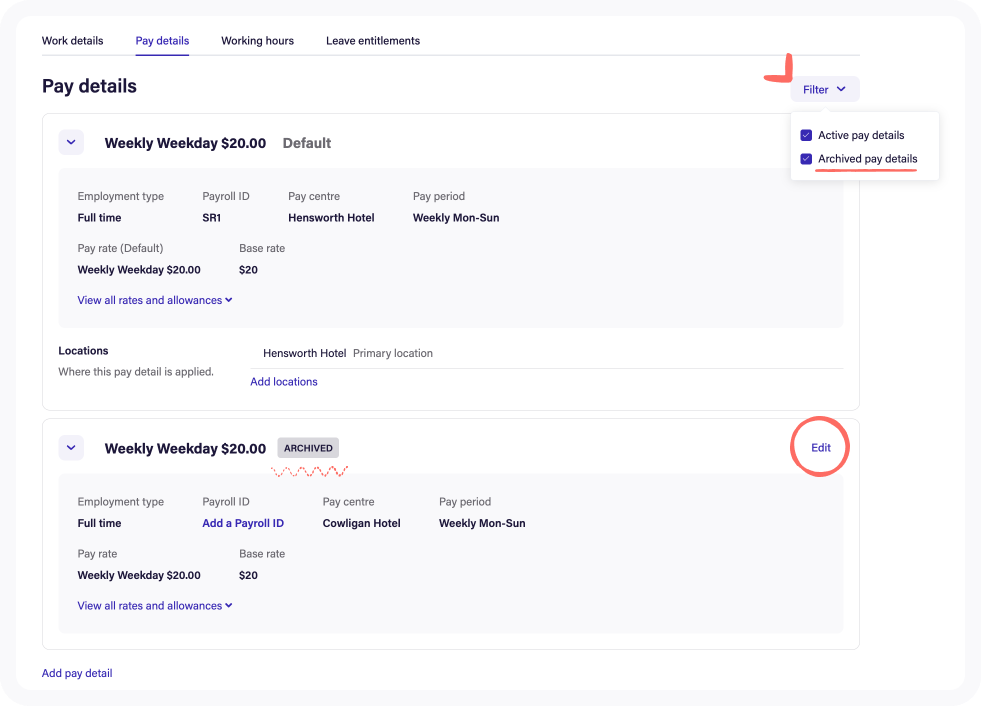 Click Unarchive pay detail.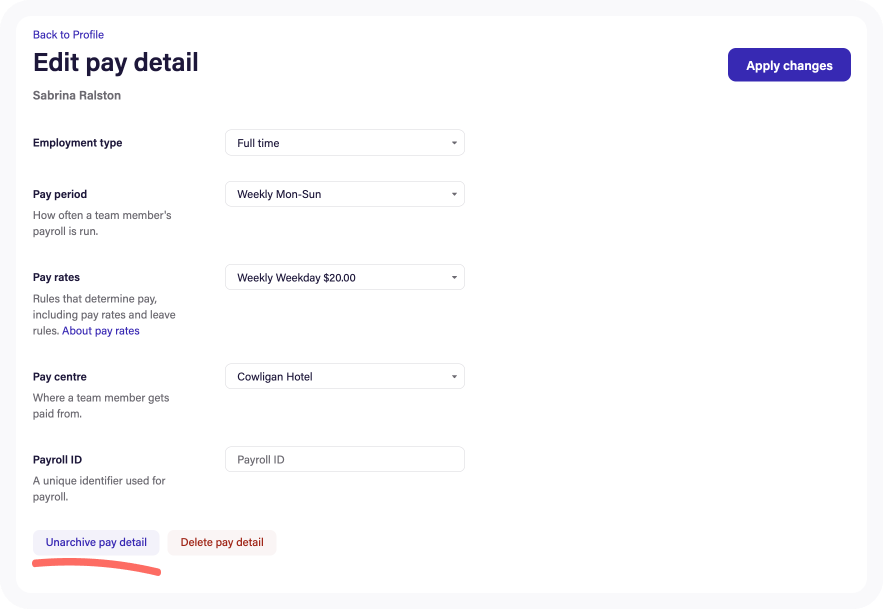 Leave entitlements
In Enterprise, the leave entitlements are tied to an employee's pay rates. Employees are entitled to all the leave types in the pay detail that their primary location is assigned to.
Enterprise users cannot alter this in the Edit view.