Overview
People are the heart of your organisation. In Deputy, people can be added, updated or archived as your organisation grows and changes. We recommend that you do this through the People tab. This guide will mention the main functions on this tab and how to change them to suit your business.
For more information on adding, updating, or archiving people, read our People FAQ.
Note: Your ability to view and edit people in Deputy is controlled by your Access Level, and is limited to who you manage. If you feel your access level is incorrect, or are unable to view the details of those who you manage, consult your Organization's System Administrator.
Getting Started
From the top banner, choose the People tab to navigate to our people page.
View all of your team members

Use Bulk Actions to update multiple employees at once

Viewing a team member's profile - Personal
Click a team members name or use the View button to enter the view mode.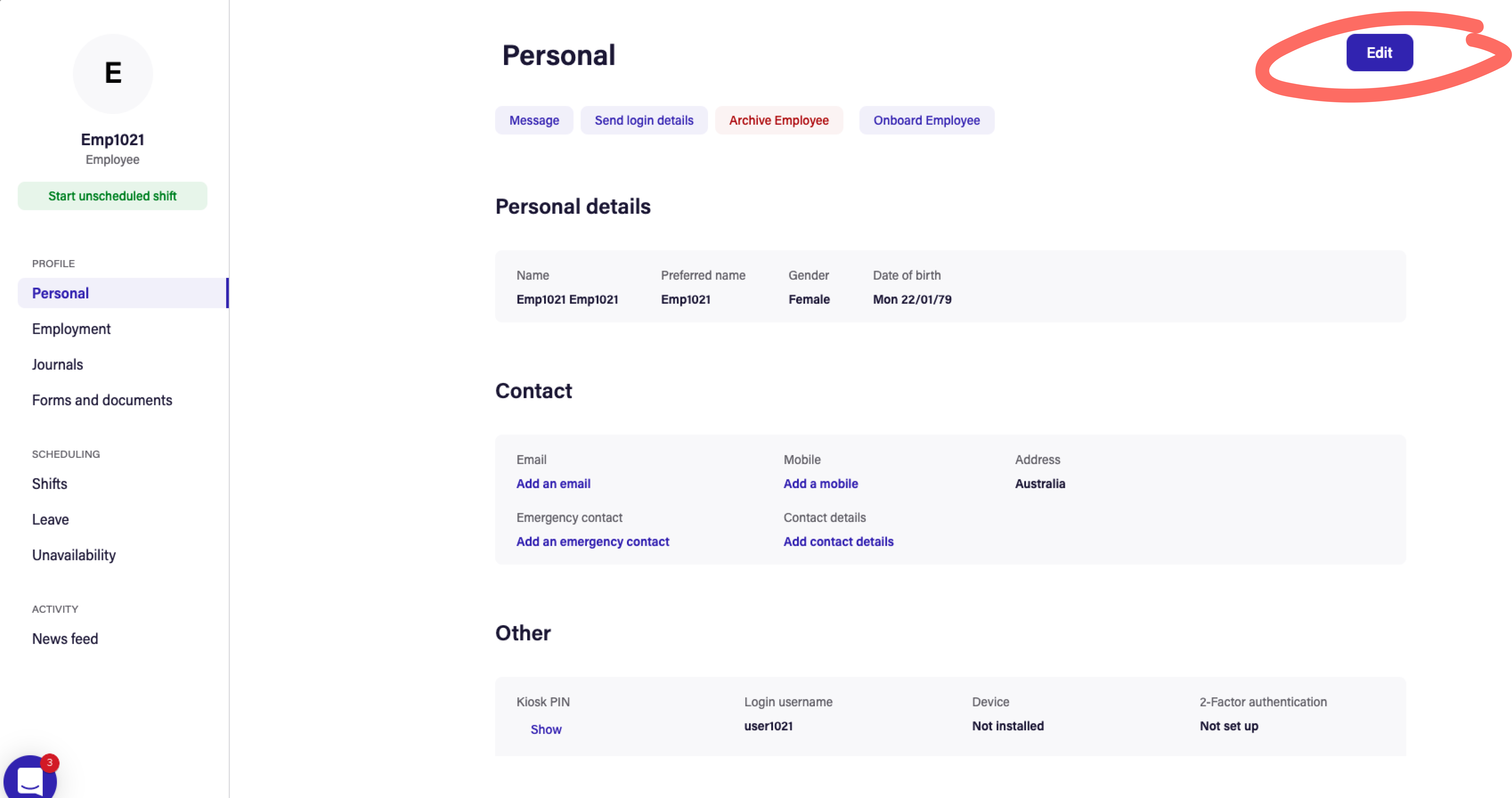 View mode of the Personal Tab allows you to do the following:
Edit team member details

Message an employee

Send login details

Archive a team member

View their personal details

View their contact details

View other information and custom field responses
Editing a team member's profile - Personal
Pressing the edit button allows you to change the following fields about a team member:
Personal details, such as their photo, name, gender and date of birth (some fields locked once invitation accepted by an employee)

Contact Details

Allow Login - select false to prevent this user from logging in

Custom Field values. Employee Custom Fields come in handy when there is a need to document information that may not be present in Deputy. Some use cases can be legal names, an employee point system, or noting employee's with knowledge of other languages.
Remember to save once you have finished making your changes!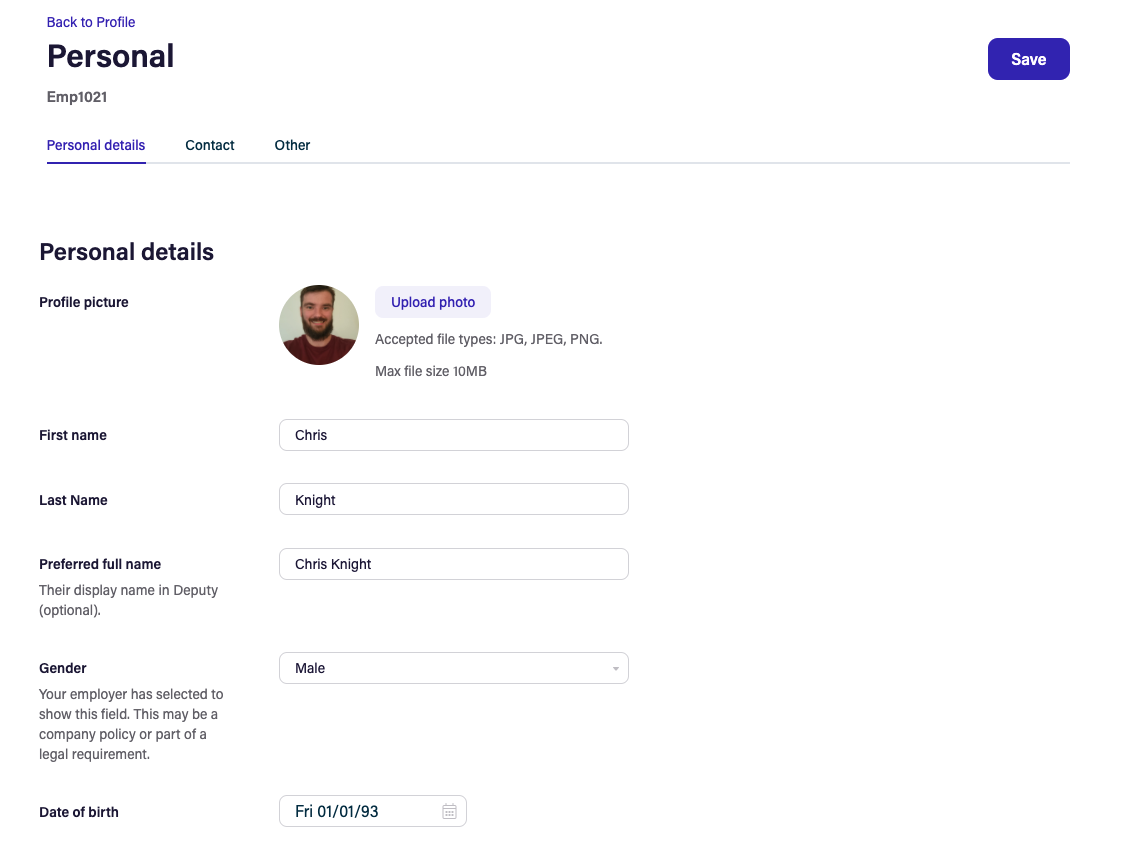 Viewing a team member's profile - Employment
Click the Employment tab on the left to go to view the employment details of your team members.

Work Details, including access level, primary location, and training
Pay Details,

detailing what pay rates a team member is on

Working Hours,

including stress profiles

Leave Entitlements
Managed and Preferred Areas
Clicking the Edit button allows you to edit these.
Editing a team member's profile - Employment
Pressing the Edit button allows you to change the following values about your team members employment details:
Access Level - what permissions the team member has within Deputy (click here for more)

Works At - specifies where a team member can be rostered

Hired On - the hire date for the team member

Training - what training a team member has completed. (click

here

for more)

Pay Details - what pay rates a team member has. Click

here

for a deep dive on these.

Note: Employees without pay details can still be rostered and their time approved but their timesheets cannot be exported.
Stress Profiles - Stress Profiles are guidelines for scheduling that help prevent over scheduling an employee based on applicable labor laws. More information on stress profiles

.

[Advanced] Manage Areas - Permission permitting, this will allow the employee to schedule and approve time sheets for any worker who works in the selected areas. These permissions will also apply to any child Locations of those Areas (even if those child Locations are not specifically listed).
[Advanced] Preferred Areas - Deputy uses preferred areas when auto scheduling employees to ensure the best employee is working in the right place.

Note: You can also set Preferred by starting with the Area in the Schedule Tab, and adding people to it, using the method detailed here, and is ideal if you need to add multiple people as preferred to one Area.
It is not recommended to use advanced functionality unless advised to by your consultant or account manager.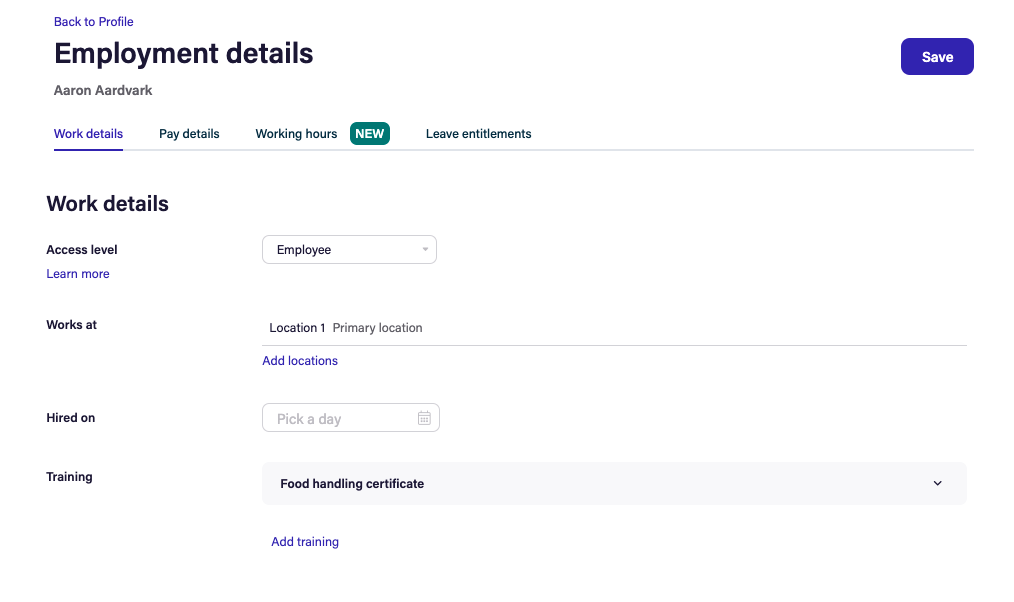 Journals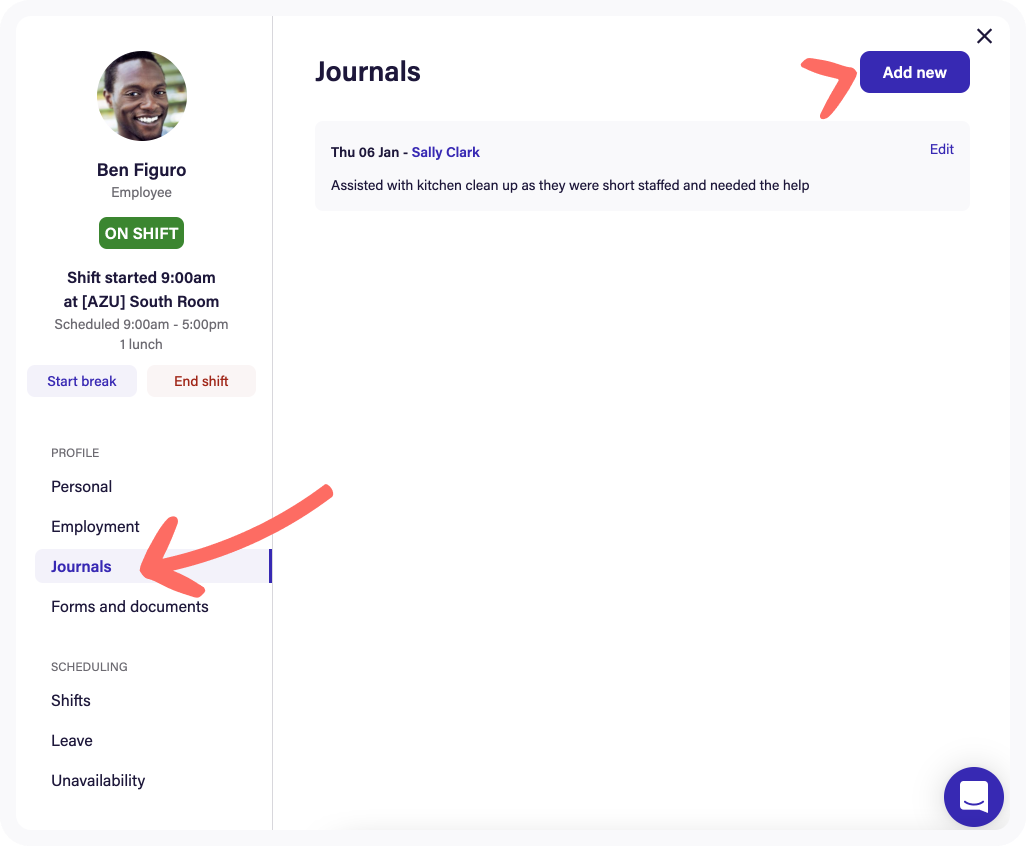 You can find Journals on the left. Click here for more on Journals
Shifts
The Shifts section allows you to view a team members upcoming shifts and past timesheets.
You can use the Replace button on upcoming shifts to select a replacement employee.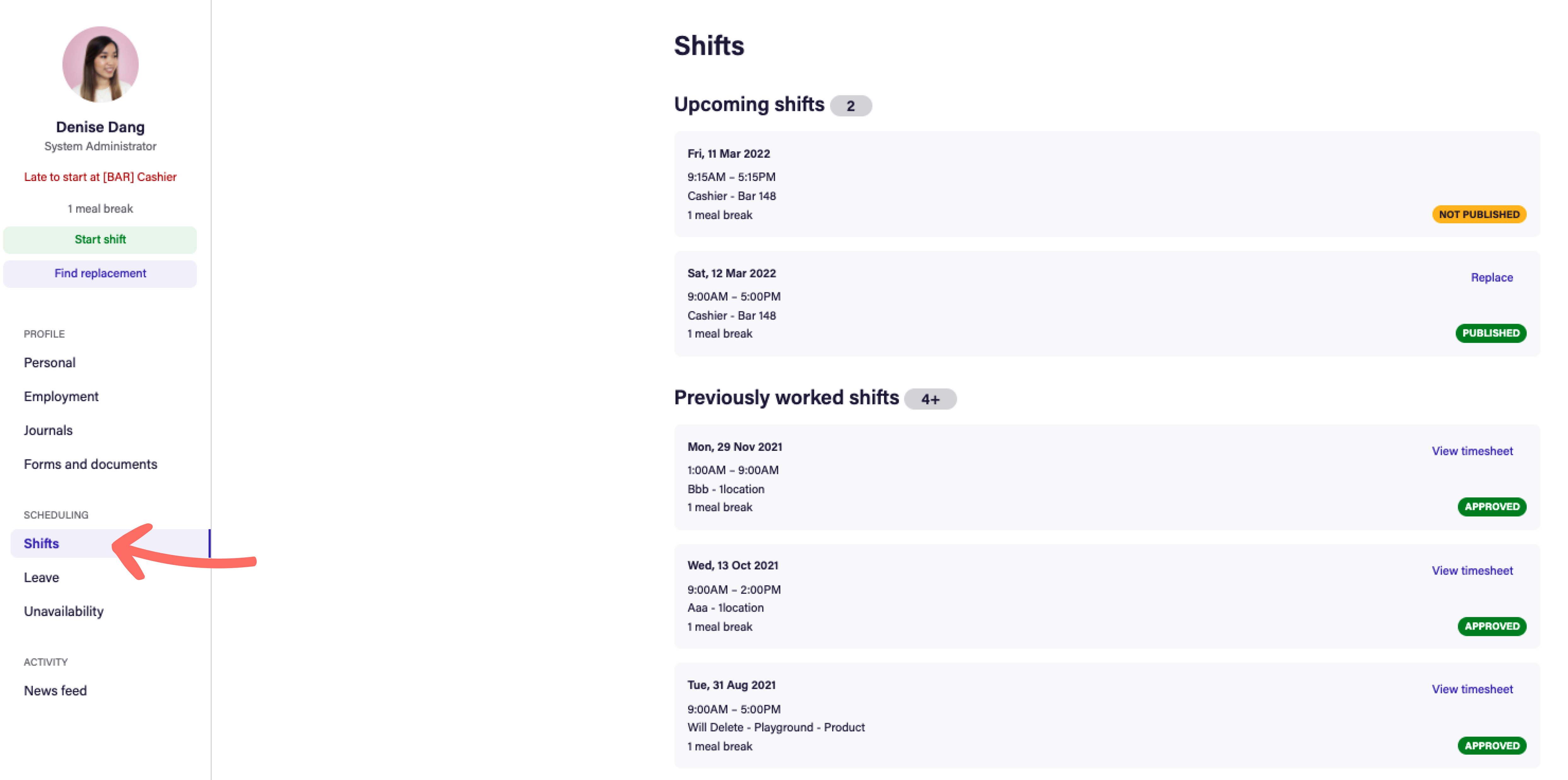 Leave
To edit an individual team member's leave balance, go to the People tab, then click on the name of the team member you would like to modify.
Select Leave from the left-hand menu and click Edit.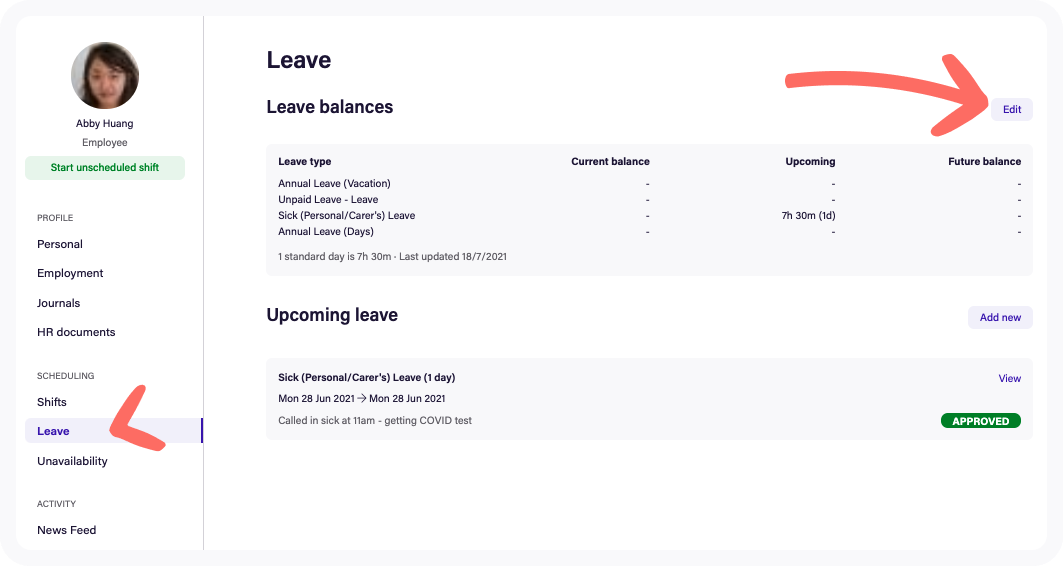 From here, you can change the values, represented in days or hours, depending on how the leave type was configured. When you are done making changes, click Save.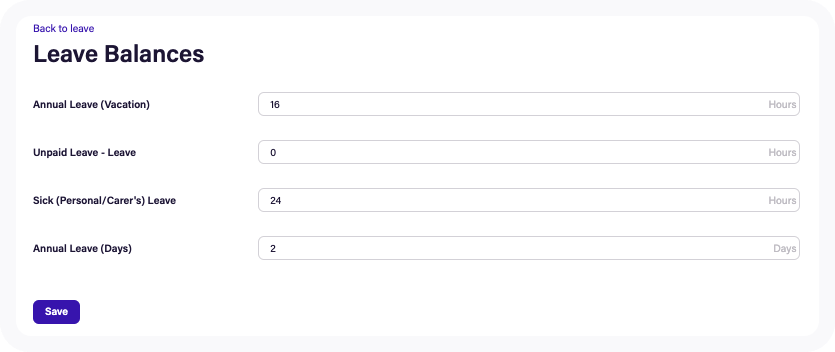 As noted previously, you will need to assign leave entitlements to the team member before you can edit the balances. This is done by assigning them a pay rate.
Unavailability
To view and edit a team member's unavailability, click on the Unavailability section from the left-hand side panel and click on Add new.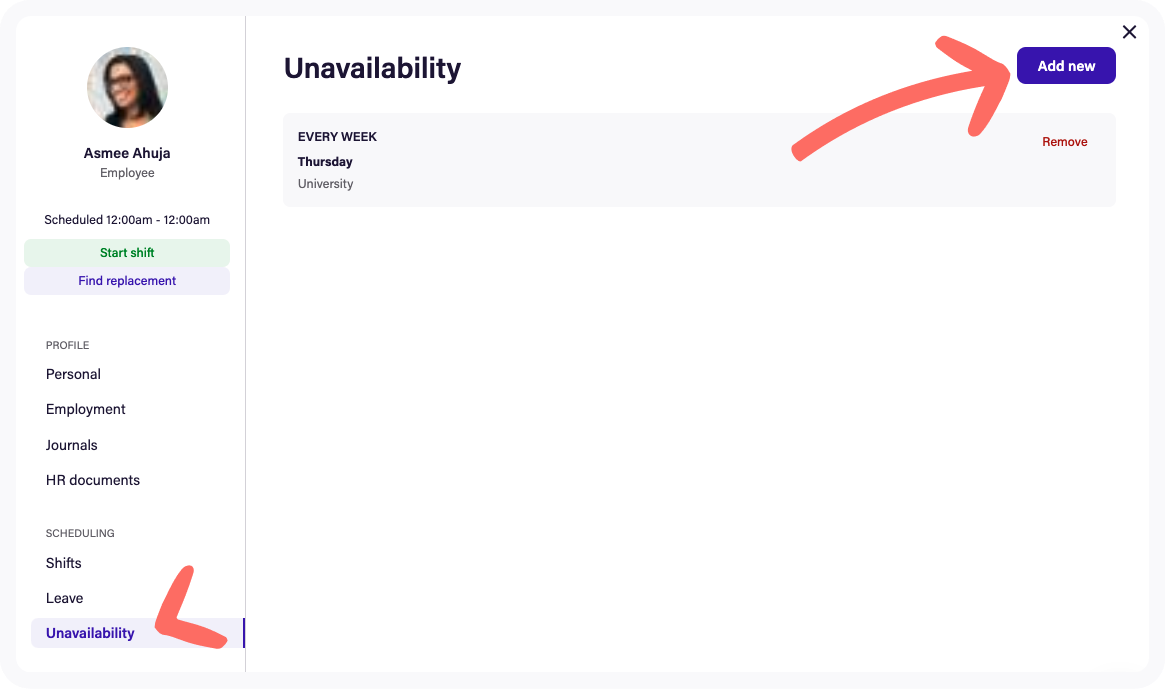 Whether you need to enter full day or a particular time of unavailability.

The date range of unavailability

Repeat frequency (if not a one-off event):

every month on a specific day of the week

every month on a specific date.
Then click Submit request.