The Xero Marketplace is a new way to trial and subscribe to Deputy.
By subscribing via Xero, you are able to:
Create a trial using your existing Xero login credentials.

Subscribe, upgrade and downgrade your Deputy Plan.

Pay via Xero - meaning one invoice and one place to manage your subscriptions!
Trialling Deputy through the Xero App Store
To trial deputy through the Xero App Store:
Log in to your Xero account

Agree to the permissions & choose the organisation you wish to connect to Deputy.

Enter some details about your business & enjoy Deputy!
How to subscribe to Deputy via Xero Marketplace
After creating your trial from the Xero Marketplace, you are able to pay for your subscription through the payment information you have already provided to Xero.
Log in to your Deputy organisation.

At the top of your screen, you are able to see how many days of your trial remain. Click Choose Plan in this top banner to be redirected to the Xero plan page.

Choose the correct plan based on your business size.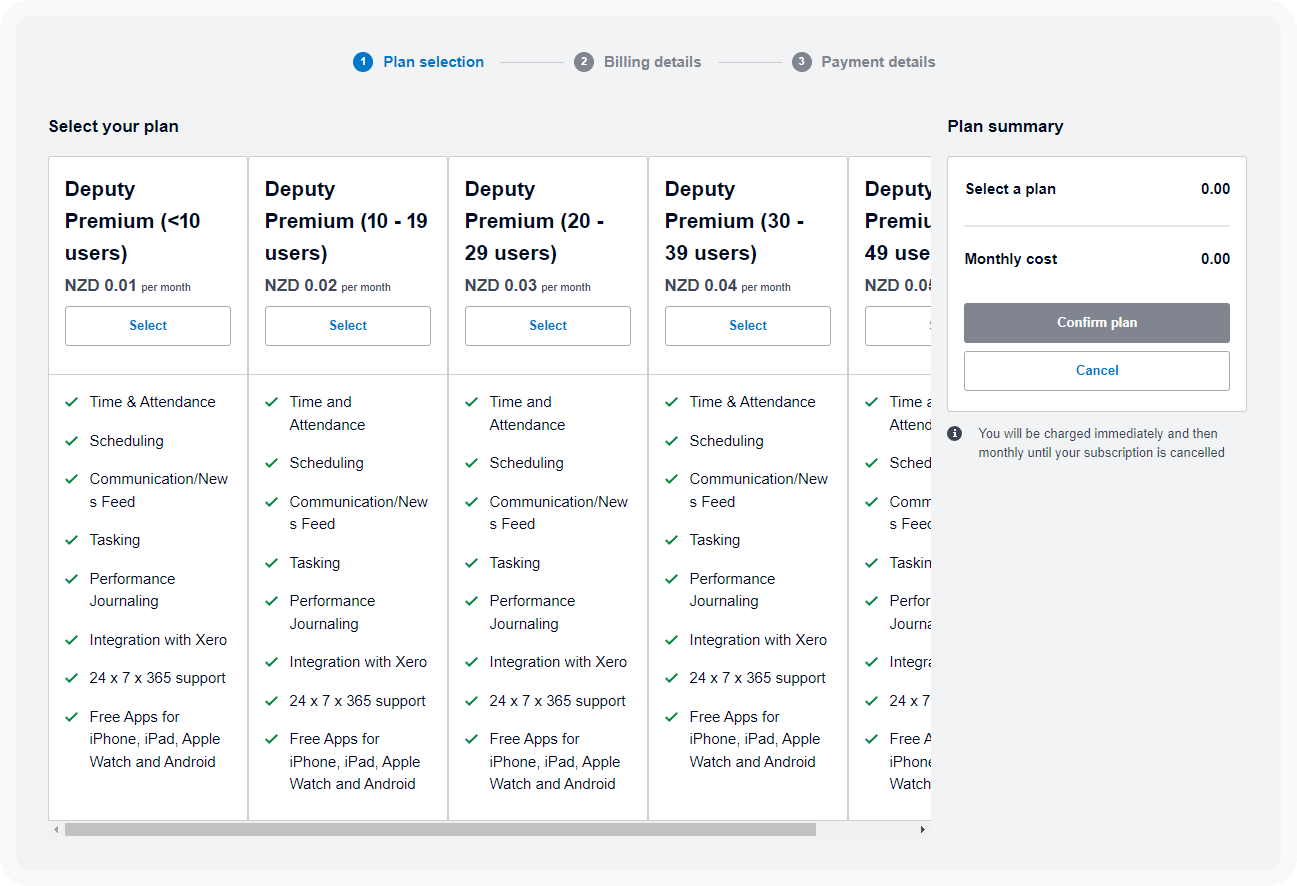 4. Click confirm plan - your new plan will take effect immediately.
App Store Subscriptions are only suitable for businesses with up to 50 team members. For larger plan sizes, please contact sales at 1300-DEPUTY (1300-337-889).

App Store plans are based around user tiers - if you wish to add more than your current tier, you are able to navigate back to this screen and upgrade to a higher plan.

Changes will take effect immediately for plan upgrades, or at your next billing date for plan downgrades and cancellations.
Changing your subscription
1. Navigate to the Xero App Store
2. Click Go to connected apps on the right-hand side.
3. From here you can manage your subscription, including upgrading, downgrading, cancelling, and viewing invoices.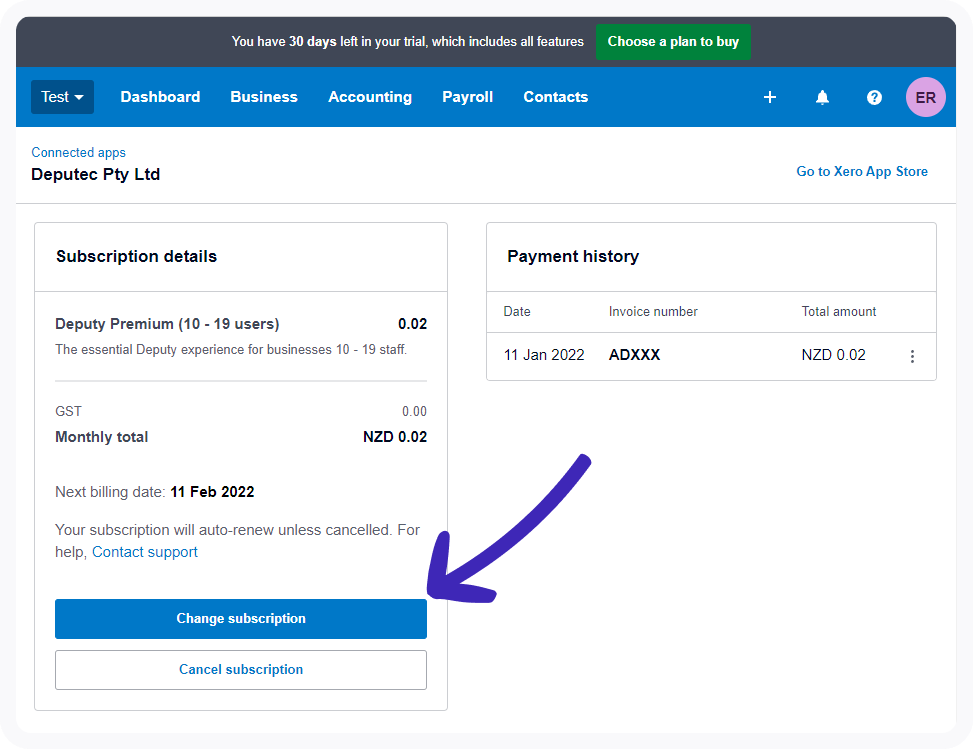 How to sign in to Deputy using your Xero Credentials
Signing into Deputy using your Xero Credentials on Web
2. Click Login with a third party service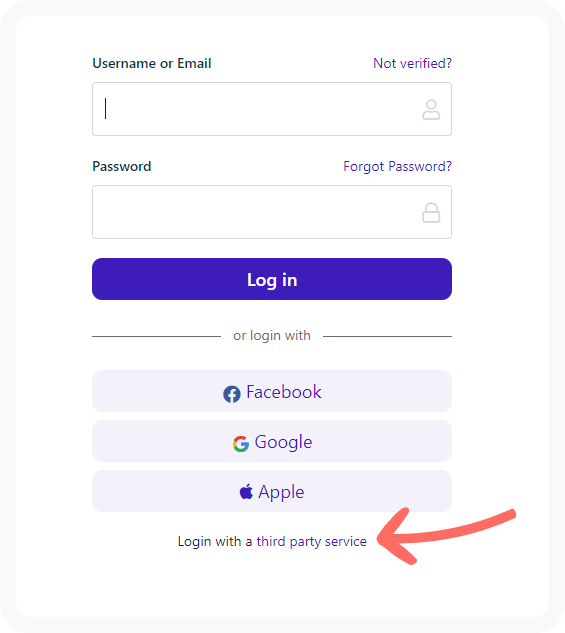 4. Enter your Xero credentials!
Signing into Deputy using your Xero Credentials on Mobile
1. On the home screen, tap Have an account? Log in
3. Enter your credentials!
FAQ
Will I receive a new invoice?
Yes - after subscribing to Deputy through the Xero App Store, you will receive a new Deputy-specific invoice emailed monthly. You will be charged monthly based on the date you originally signed up for your subscription.
When do downgrades and cancellations take effect?
After cancelling or downgrading, you will be able to keep using the features in your current plan till your next billing date.
How do I change to a Deputy Plan that isn't Premium? OR
If I signed up through the Xero app store how do I change to managing my subscription directly with Deputy?
When subscribing to Deputy through Xero, you can choose or change to different Deputy Premium plan tiers, however, if you need to change your Deputy account to another plan such as Scheduling only or Time and Attendance or you just want to manage your subscription directly via Deputy then you will need to follow these steps:
Your subscription and access to your Deputy account will continue as normal until the Xero marketplace subscription expires.
After the subscription expiry date, when you log in to Deputy you will be asked to upgrade to a new Deputy plan. Note: if you previously used to log in to Deputy using your Xero credentials, this time instead use the Forgot password link to create a new password to log in.
Your subscription will now be managed only within Deputy.