Managers have the ability to view information about their Team member's time whilst scheduling, reducing the need to switch between multiple pages.
Time-off visibility in the schedule
1. On the Schedule page, select one of the following views:
Week by Area
2 Weeks by Area
Monthly by Area
and then click on the area called Time off at the top of the schedule.

2. You can click the three dots (...) next to Time off to choose whether to toggle ON or OFF:
so you can view only the information you need to see when scheduling.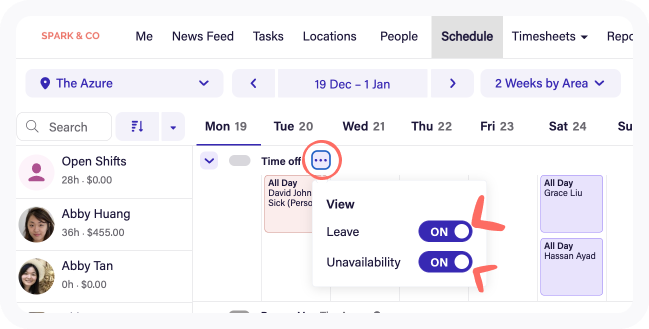 What do the colours in Time off mean?

Pink = Team member has submitted Leave (PENDING label shows leave that is not yet approved by the manager)
Purple = Team member has submitted Unavailability
Note: you cannot approve leave directly in the schedule. To manage leave requests, you may be interested in reading more about Manager's awareness of leave.