Note: please make sure to check with your relevant state laws for the details on the length of time required for the paid leave and any other requirements.
You must be a System Administrator to set up new leave roles.
Create a new leave policy
1. Select Business settings from the drop-down menu under your name.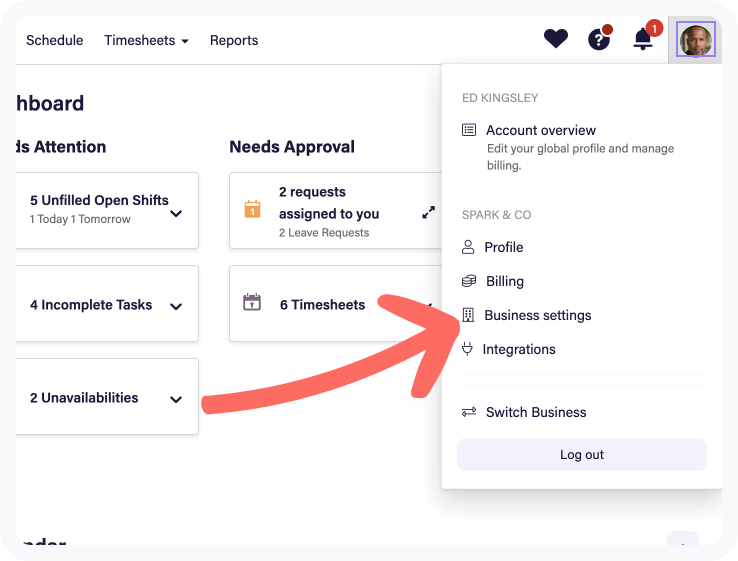 2. On the Leave tab, click on Leave Rules.
3. Click on New Leave Condition.

4. Enter the settings you require for the new leave rule and click Save this Leave Condition.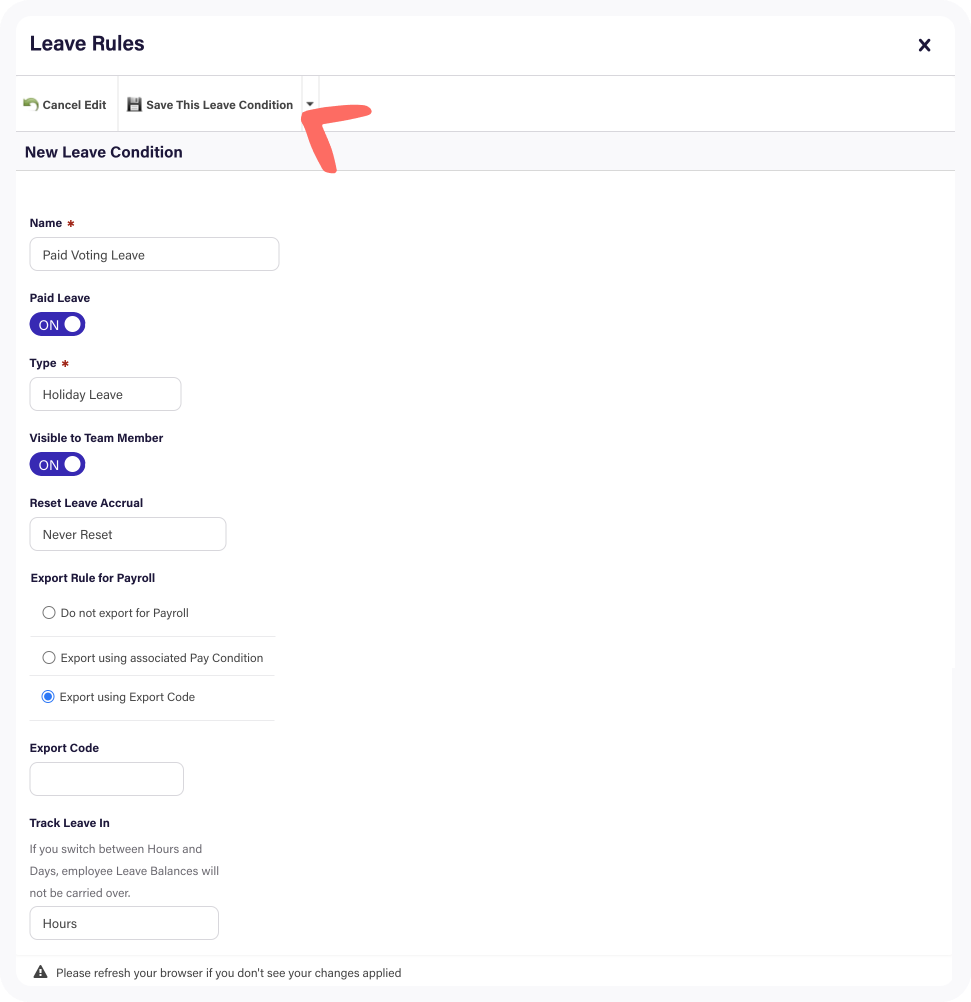 You may choose to use the following settings to help set Paid Voting Leave up but be sure to check and follow your company policy and/or state regulations.
Field:
Enter or select:
Notes
Name
Paid Voting Leave
Paid Leave
ON
Visible to Employees
ON
Reset Leave Accrual
Never reset
Export Rule for Payroll
Export using Export Code
Export Code

"dp_annual_leave" or

"dp_sick_leave" or

user-defined code

If you wish to have the paid Voting Leave process in your payroll provider under your existing "vacation" or "sick" leave type, then use either the code "dp_annual_leave" or "dp_sick_leave".

If you wish to have the paid Voting Leave processed as a separate leave type, you will need to enter your appropriate payroll earning code, and also manually input the leave in your payroll provider. You can manually review the taken leave using the "Time Off & Schedules" report, and then manually input that leave into your payroll provider system. "

Track leave in:
Hours or Days
This choice will be dependent on your company or state regulations.
Assign the new leave rules to eligible employees
1. On the People tab, use the tick boxes on the left-hand side to select the eligible team members.
2. Click on Bulk Actions and choose the Add leave entitlement.
3. Choose the appropriate leave type and then click Save to apply the new leave rules to your team members.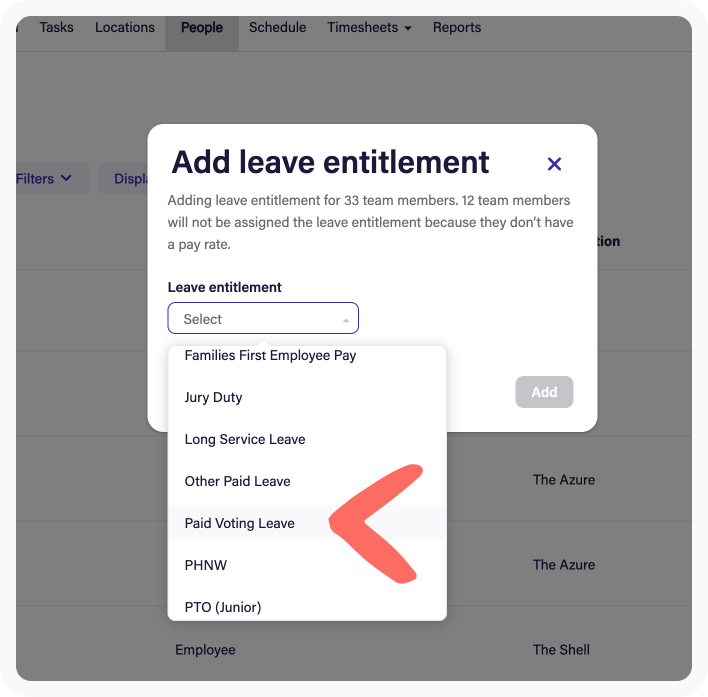 Assign a leave balance to eligible employees (optional)
You can manually set the leave balance for team members under the individual employee profile, or by using a 'Bulk Actions' update. Read more in Leave Balance.
Note: Adding the balance of these hours into Deputy allows employees to see available hours and helps managers track if an employee has enough hours to request the time off. Please note this is entirely optional.
Export the new leave hours from Deputy
Employees and managers should follow set procedures for requesting and approving time off with these new leave rules.
Note: Comments are required to submit a leave request.
Reporting
Once you have exported the normal working hours and any regular paid vacation or sick time, you will need to run a separate report for the new voting leave rules. This report will provide all voting leave hours taken during a specified time range.
Navigate to the Reports tab. Select the 'Report Builder (BETA)' option and click 'create new report' and then 'leave'.
Once loaded, click 'Edit Report', then 'Configuration' and 'Filters.' Change the date range filter to match your pay period and select 'Run'.
Note: You can run this report for each pay period by updating the date range filter in the report and selecting 'Run'.