This article has been written for managers who need to manage leave requested by employees on days they are scheduled to work.
For more information on setting up Leave in Deputy please read Leave Management.
What is partial day leave
Employees can apply for leave as a full whole day or just for several hours of a day, which is partial day leave.
Leave can be placed partway through a day by an employee, even if they have a scheduled shift on that day.
Partial day leave works by allowing employers and employees to add two overlapping events to an employee shift and gives the employer or manager more options when dealing with these specific scenarios.
Partial day leave affects one of the following:
Employee already has a shift scheduled and applies for leave that occurs partway through the shift

Employer/manager schedules an employee whose leave occurs partway through the shift
In either case, whichever item is created second will appear on top when viewing via the schedule day view.
Applying for partial day leave
As an employee, you can select the hours in which your leave application applies.
To do this, apply for leave for a particular day and uncheck the checkboxes to add the desired start of the leave time and end of the leave time.
After you have done this, select the leave type, include a comment and the manager you would like to notify.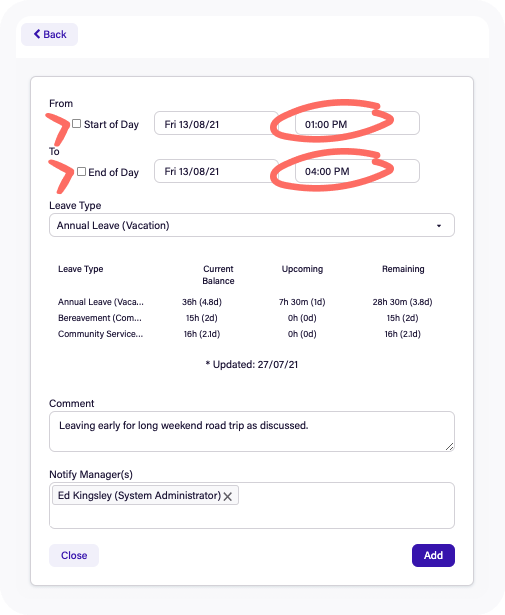 Approving/declining partial day leave
As the manager receiving the leave request, you will be notified that the employee has a scheduled shift during the leave period.
In the leave application box, first select 'Approve Leave' or 'Decline Leave'.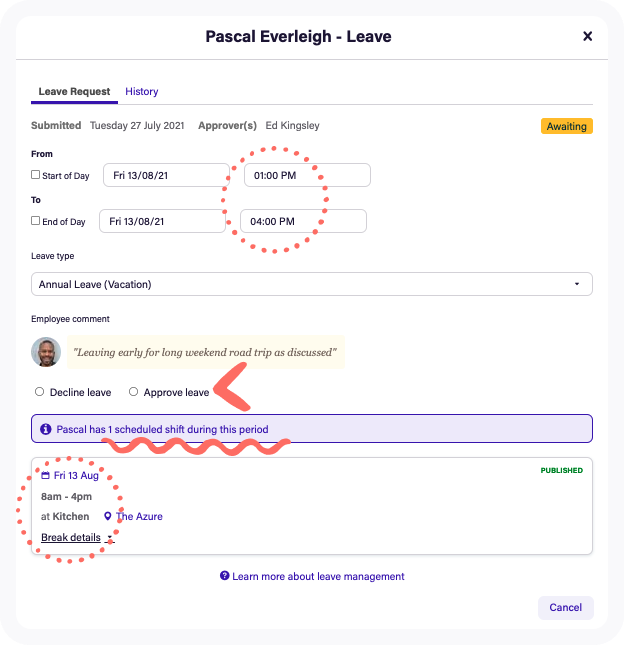 If you accept the leave application and the period applied for clashes with a shift, that particular shift will be displayed, with three options:
Make

Open

Remove employee from shift

Keep employee in Shifts
You can select any of these depending on your preference.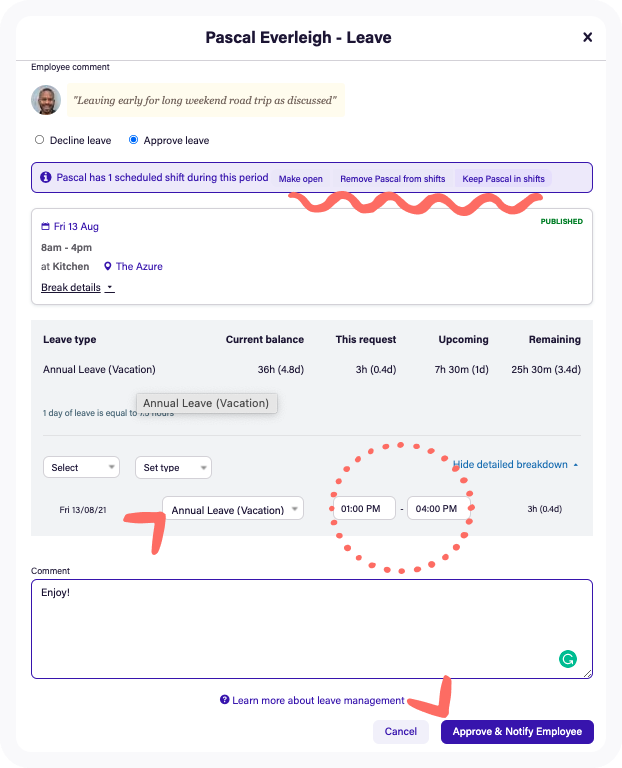 Now confirm the details of the leave application, including the leave type, and the date and time of the leave period and click Approve and Notify Employee.
Viewing partial day leave
Here, you can see employees with leave requests for that day. If the approved leave is for the entire day, the entire day will be marked. However, if the leave only applies to a number of hours in that particular day, only that specific time frame will be marked.

In this example, the manager chose to keep the employee on the shift and approve the partial leave. You can see a warning triangle icon appears on the shift as a reminder that leave has been approved during this shift.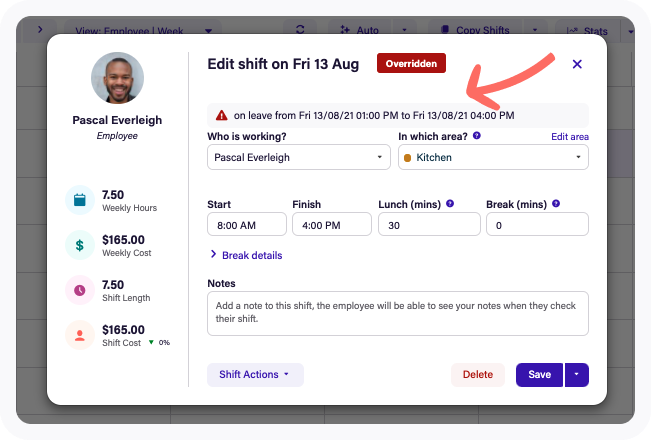 The employee will clock on for their shift in the morning and then clock off at 1pm to head off on their vacation, instead of the scheduled 4pm. A timesheet will be then created for the worked hours from 8am to 1pm and then the second timesheet will be created for the approved leave from 1pm to 4pm.
You may also be interested in: