Along with exporting timesheets in Xero Payroll, Deputy can export timesheets as invoices for billing clients or contractor issued invoice.
For general preparation on timesheet export view this article.
Accounts Receivable Invoices
This is ideal if your employees have worked with customer and you want to bill time worked to customers (e.g. Recruitment companies). Deputy does not have CRM capability so we will assume you are using Deputy's scheduling area's or locations as customers. You can certainly setup Customer names such as "ABC Pty Ltd", "ACME Ltd" as scheduling areas or locations.
Once the customer has been setup, employee's clock on and off to generate timesheets in the location or location's areas. Timesheets must be approved for them to be exported. To export these timesheets as invoices, go to Timesheets -> Export Timesheets
Select All, and choose "Export Selected Items".
Choose "Xero Invoice (Accounts Receivable Per Area)". You may need to Connect to Xero here to establish connection between Deputy and Xero.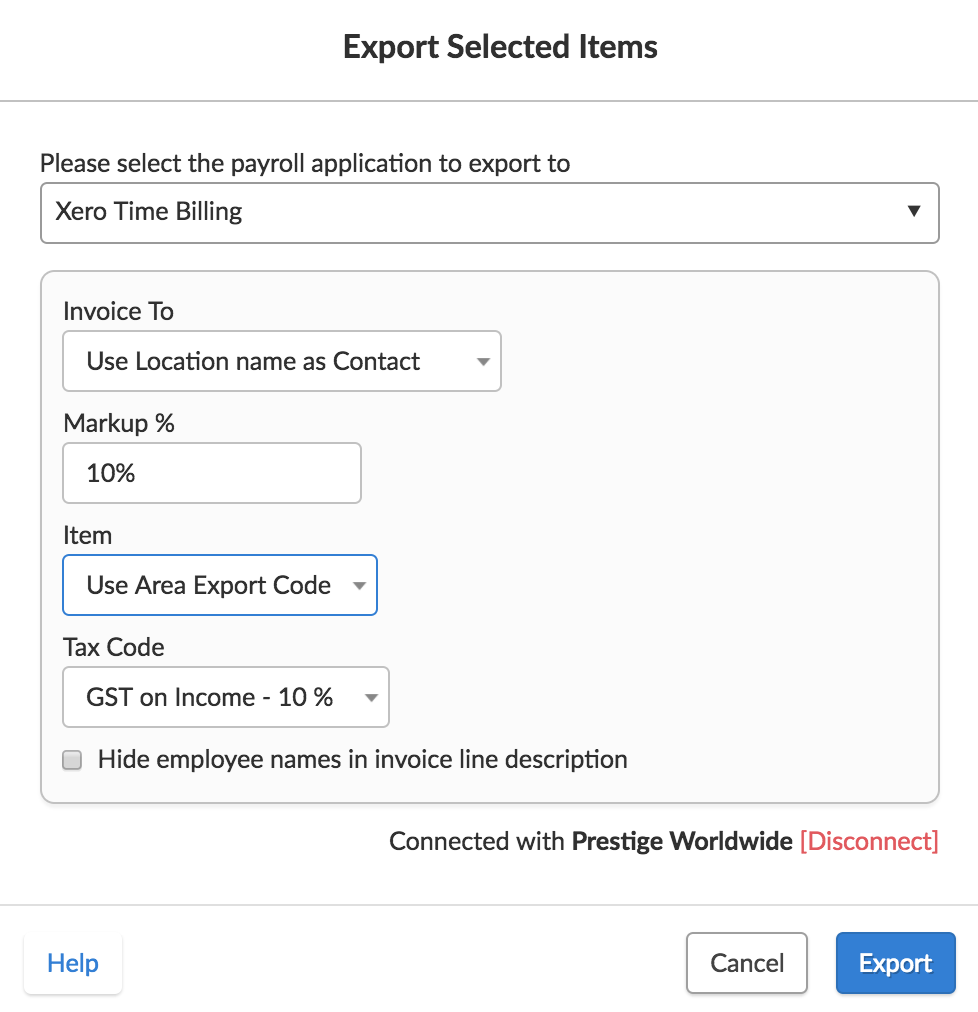 Invoice to: Whether to treat each work area as a customer or the whole location as one customer? You can use area name/area export code/location name to group your invoices

Markup: based on the employee's hourly rate of pay, you can apply a markup %

Item: Specify the item from Xero Inventory. Please note, if you select an item code, it will ignore the % markup above and use the selling price specified with the item. You can magic map Area Export Codes to Item code. To edit the area export codes, go to Settings of your location, then Roster/Scheduling areas and edit the area to have the Xero Item Code in the export code field.

Tax Code: Tax code for the invoice line

Hide Employee Names: Deputy created invoice will include the employee name by default. If you want to hide it, select this option.
Once you export the selected timesheets, an invoice will be created per area of timesheet. You may have 10 employees working in 3 separate areas with 90 timesheets for the week. This will generate 3 invoices with 'customer' as the area name and each timesheet as a separate line. It will automatically match tracking categories based on area's export code.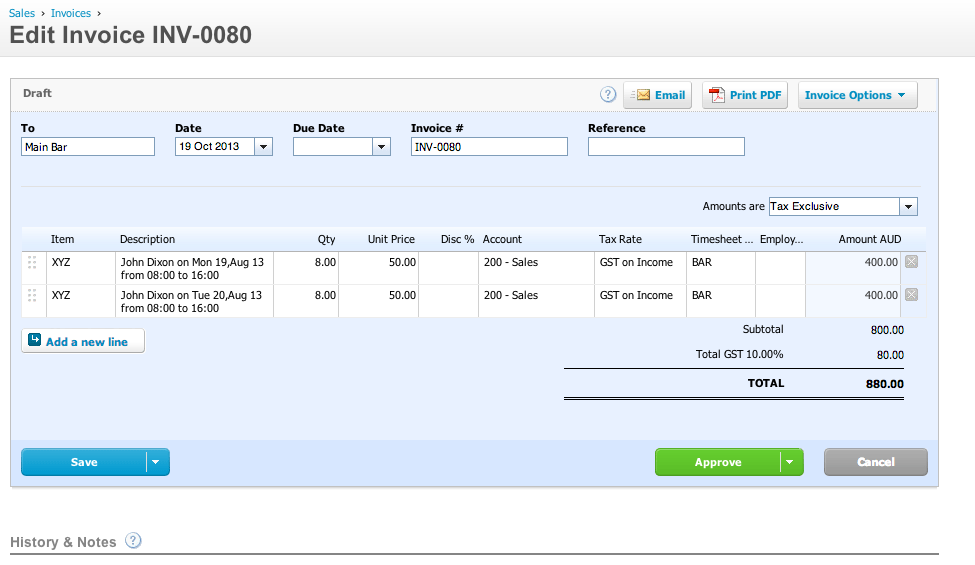 Weekend/public holiday rates
If you charge your customer special weekend or public holiday rates, Deputy can automatically cater for it! For example, you may have an Inventory Item called cleaning, and there is special Saturday/Sunday/public holiday rates. In Xero Inventory Item you can create them with :
Cleaning - general cleaning work

Cleaning [Sat] - for any work on Saturday

Cleaning [Sun] - for any work on Sunday

Cleaning [PH] - for any work on Public Holiday

Cleaning [Wed] - You can even charge a Wednesday rate if you like.
Deputy will automatically match the best inventory item for the timesheet. The invoice lines will be created for exact hours done on the day. E.g. for a shift beginning at 8pm Friday to 3am Saturday, will go in with 4 hours of Friday rate and 3 hours of Saturday rate.

Accounts Payable - Contractor Invoices
Just as much you can generate invoices for customers, you can also generate self-issued invoices for contractors for the hours they have worked. Usually in contractor industry (be it Tech, Design, outsourcing etc), you have to wait for the invoice from the contractor to pay them. In Deputy, since you can truly track the hours of work you can just pay them!
Similar as above: select "Xero Invoice (Accounts Payable per Employee)"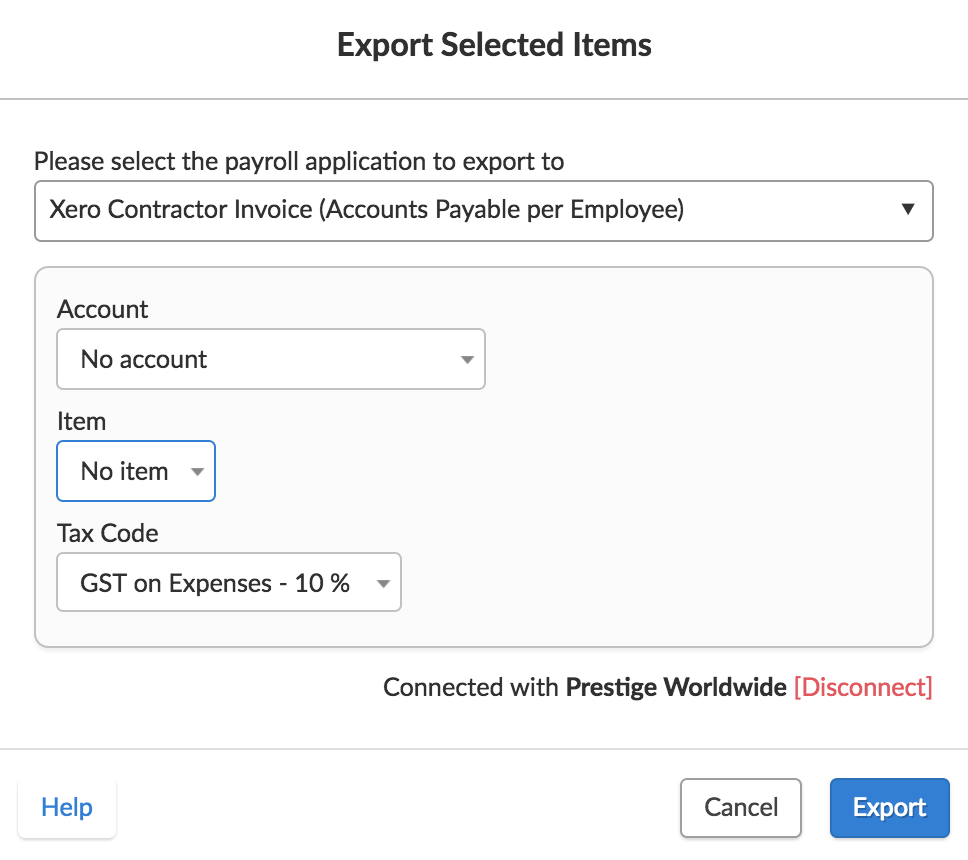 Account: which account the invoice lines should be using?

Item: specify the item from Xero Inventory. Please note, if you select this item code, it will ignore the hourly cost of the employee and apply the purchase price specified with Item

Tax Code: tax code for the invoice line
Hit Export and it will create one invoice per Employee. It will automatically match tracking categories per invoice line based on the "Export Code" of the areas.