Updated June 27, 2023
We recommend using the New York City Hospitality Labor Law if you are in New York, Long Island & Westchester and are in the hospitality industry.
For this Labor Law, we recommend that a user with System Administrator access in your account click on Business Settings in the drop-down menu under their name on the top right of the screen and then select the Timesheets tab.
Click on the Recalculate Approved Timesheets setting and select the All Timesheets within the applicable range option then click Apply Changes.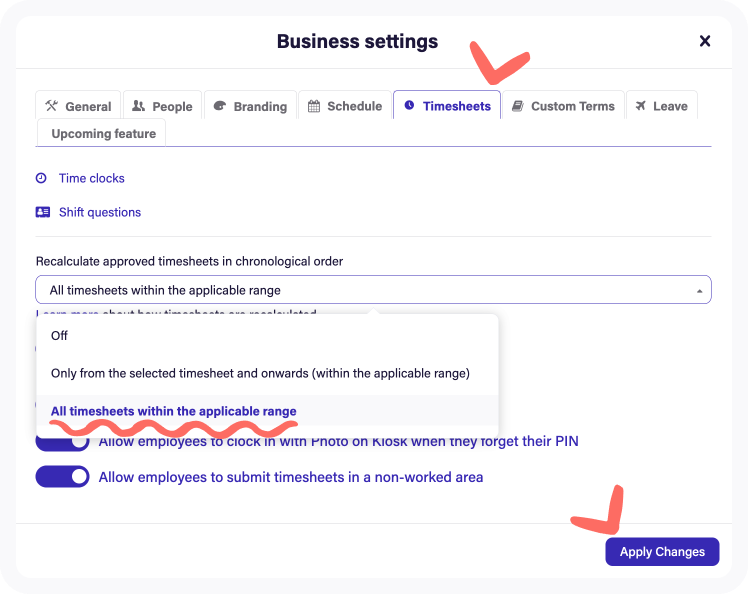 New York Hospitality Labor Law
| | | |
| --- | --- | --- |
| Pay Condition Name | Multiplier of Base Rate of Pay | When Does This Trigger In Deputy? |
| Base rate - US Regular Base | Base hourly rate specified by customer | Triggers when no other pay condition is met |
| US Overtime 40 hours | 1.5x the base hourly rate | Triggers after 40 hours is worked in a week |
| FLSA Public Holiday | 1.5x the hourly base rate | Triggers on any public holiday designated by the customer on the Deputy roster |
| Spread of Hours | 1 unit at a rate to be specified by the customer (default is currently $15) | Triggers if there are more than 10 hours before the start time and end time in a day, inclusive of meal and rest breaks and time between split shifts. |