There may be an instance where you need to create a new location for your organisation with the same, or very similar, settings to an existing location.
The Duplicate option allows you to create another location with the exact same settings as the one you are duplicating, which can benefit you if you open up another location and don't want to go through the location set-up process.
Duplicating a Location
Navigate to the Locations tab, then click the drop-down menu on the location you would like to duplicate. Select the Duplicate option.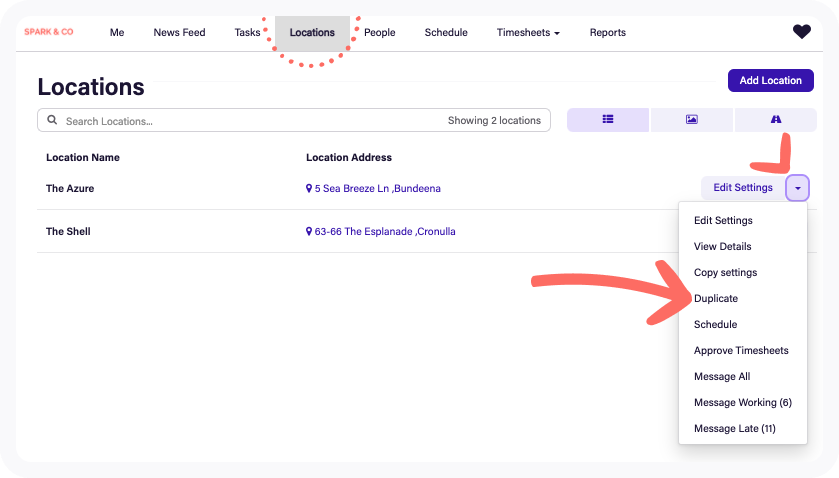 A pop-up window will appear. Here, you can select what settings carry over from the original location. You can choose the name and address of this new location.
You can also select whether to copy over:
settings (such as Areas, opening hours, scheduling and timesheet settings)

applicable payroll connections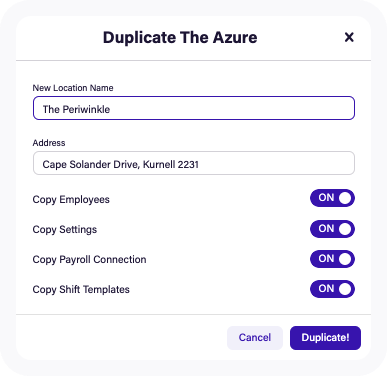 After clicking Duplicate! you will be returned to the Locations page.
The new location appears in the list view and you can click edit to further configure the settings of the new location as required.

Protip: If you already have all your locations set up but want to make bulk changes across multiple locations please also read How to Copy Location Settings