Before you begin
Before you begin ensure:
You are signed into Deputy with an access level of System Administrator, Location Manager or Advisor.
If you have connected ADP Workforce Now prior to March 2022 you will need to disconnect it first before using this new experience.
Connecting the ADP Workforce Now integration
1. On the People tab, click Add People then select Import via Integration.

2. Select ADP Workforce Now. If you have already purchased a connector the new experience should begin - if not, learn more about connecting to ADP Workforce Now here.
Pro Tip: To edit your ADP Workforce Now set up, come back to this same place in the People tab.
Setting up the integration step-by-step
After you've successfully connected the integration, you'll be taken through step-by-step to set up the integration.
Import and sync employees into Deputy
The first step involved choosing mapping either your ADP Departments or Locations to your Deputy locations.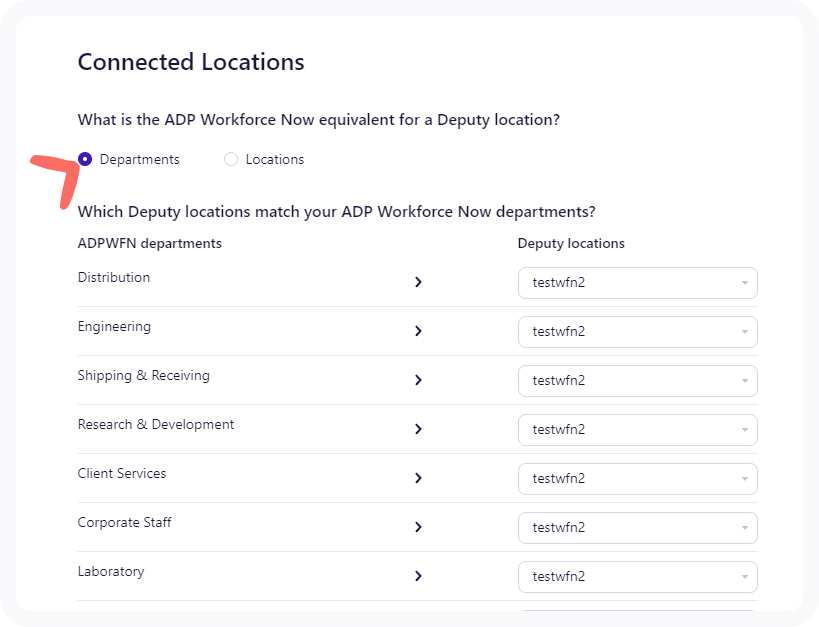 Pro Tip: Individually mapping your ADP Workforce Now locations or departments will control which employees get added to which location.
Mapping ADP Workforce Now pay rates in Deputy (BETA)
Deputy now offers the ability to map pay rates from ADP Workforce Now to Deputy library rates. This feature is currently enabled by invitation. If you would like to have it enabled on your Deputy account please fill out this form.

You can easily map your pay rates from ADP Workforce Now to Deputy library rates. This allows you to define what Deputy pay rates should be applied to an employee when they are added to Deputy based on their setup in ADP Workforce Now.
Pro tip: This pay rate sync only occurs on the initial import of the employee. Any changes after that (for example rate changes in ADP Workforce Now) will need to be manually applied to the employee in Deputy.
Importing leave balances to Deputy
Using our Workforce Now integration, you are easily able to map your leave between ADP and
Deputy. Leave types within Deputy will be matched to Time Off Categories within ADP. Learn how to configure leave within Deputy here.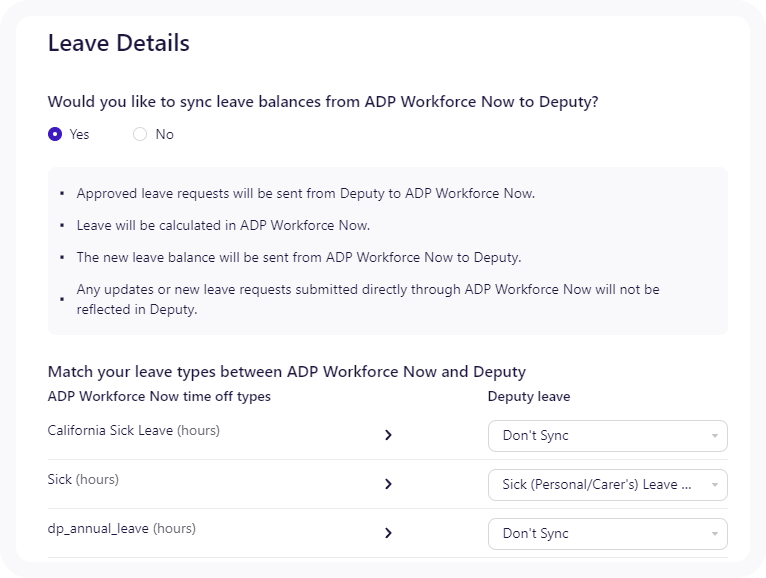 Pro Tip: If ADP Workforce Now time off is measured in hours or days, corresponding Leave Rules in Deputy need to be set to the same unit.
What data syncs between Deputy and ADP Workforce Now?
Employee fields
| | | | |
| --- | --- | --- | --- |
| ADP Workforce Now field | Direction | Deputy field | Notes |
| First name | → | First name | |
| Last name | → | Last name | |
| Personal / Work email | → | Email address | Employees get matched based on personal email and then email as the fallback |
| Mobile Phone | → | Mobile | |
| Birth date | → | Date of birth | |
| Address 1 | → | Address | |
| City | → | City | |
| ZIP | → | Zip/postcode | |
| Hire date | → | Hired on | |
| ADP File Number | → | Payroll ID | File Number of ADP user (found in employee ADP Employee Profile) |
| Location/Department | → | Location | It depends on what you have chosen during ADP Workforce Now setup |
Leave / Time off
| | | |
| --- | --- | --- |
| Deputy | Direction | ADP Workforce Now |
| Leave balances | ← | Employee time off balances |
Editing your integration setup
You can edit the setup of your integration in two ways:
Click on Integrations in the drop-down menu under your name in the top right of the website.
Or, you can head back to the People tab and to Add People > Import via Integration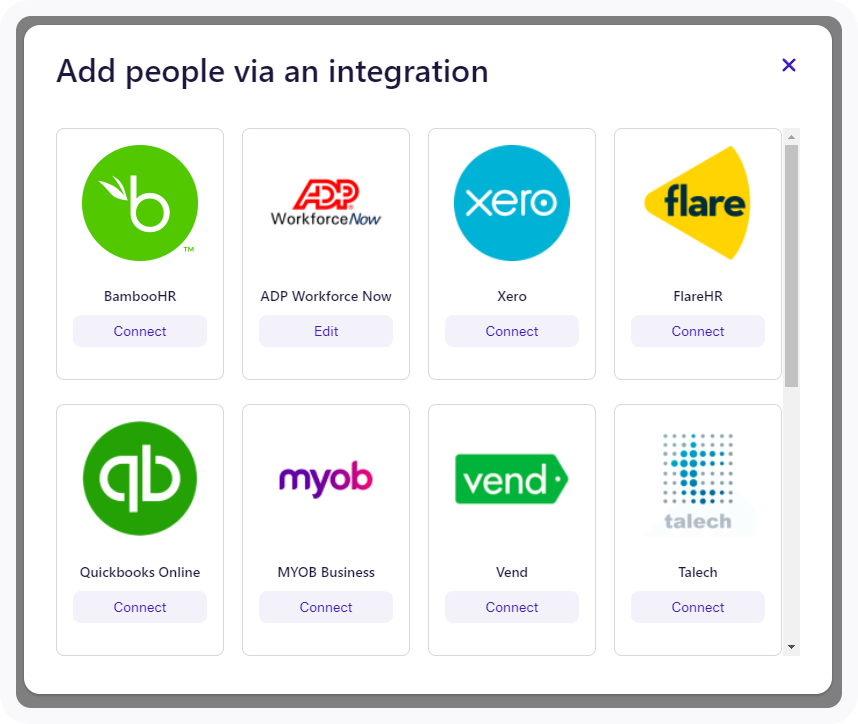 Frequently Asked Questions
How do I edit my ADP Workforce Now integration settings?
Go back to Import via integration on the People tab to do this. You will see the Edit button.
Can I only import or sync groups of employees?
You are able to select to import users by their Employment Type & Employment Status within ADP.
Can I sync employee pay rates?
Yes!
What if I have existing employees in Deputy already? How will Deputy link them?
The integration links employees between both systems using the employee's email address.
How often does the employee sync occur?
Every 15 minutes.