This article has been written for US users with System Administrator access to Deputy.
Note: When exporting Deputy data to QuickBooks Online please be aware that this integration currently does not support any complex payroll functionality beyond exporting regular hours worked. If this is something you would like to see developed please let us know by submitting a feature request.
Before you start
Exporting timesheets to QuickBooks Online (US)
1. On the Timesheets tab select Export Timesheets.
2. Use the Location and date selector to select the workplace and date range you would like to export approved timesheets for.
3. Select the employees' timesheets you would like to export.
4. Click Export Selected Items.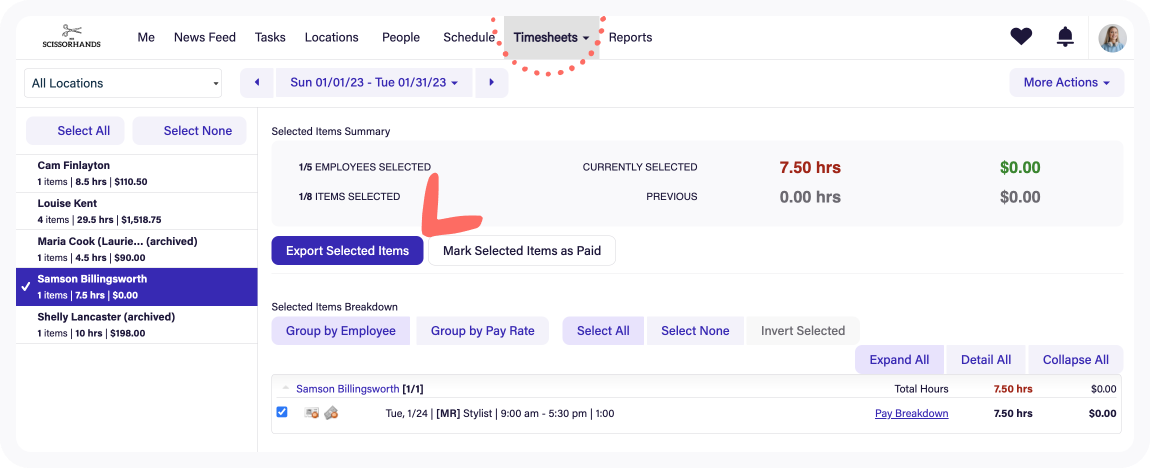 5. From the dropdown list then select QuickBooks Online (Direct Export) and then click Connect to QuickBooks.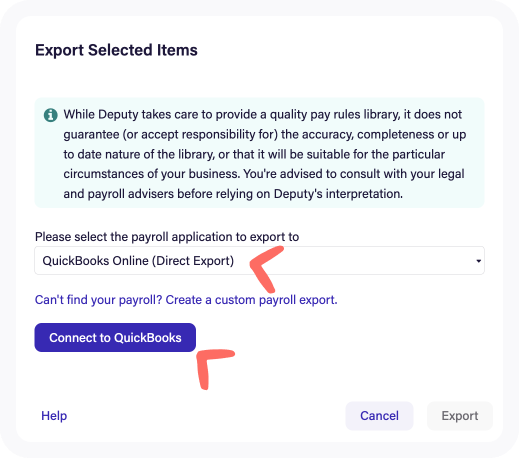 6. A window will pop up, asking you to log into your QuickBooks account confirming the company in QuickBooks you'd like to connect to Deputy. Click Connect.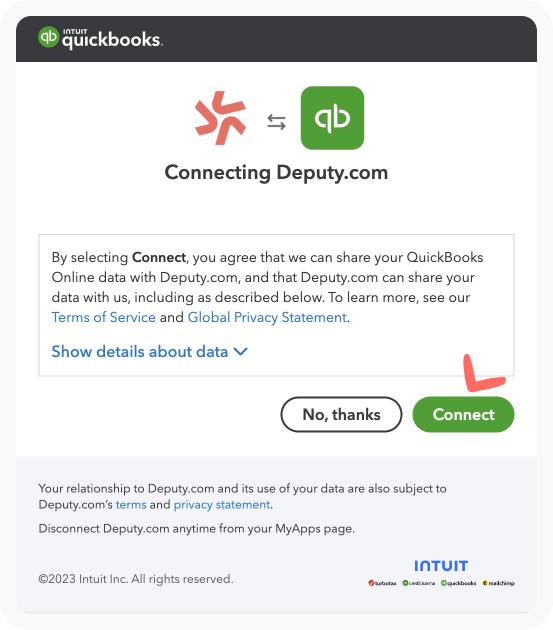 Exporting Deputy timesheet hours to employees in QuickBooks Online for simple time tracking and paying your employees
Ensure you have your employees set up with first names matching in QuickBooks Online.
1. Once you are connected to your QuickBooks Company, you can configure the export fields.
If you are exporting hours from Deputy timesheets to pay employees then you can leave the Invoice line description as "Leave blank" and ignore the following two fields then c

lick

Export

to send your data to QuickBooks Online.

If you wish to export your hours from Deputy timesheets directly to QuickBooks Online invoices (for example if you are paying contractors) then read Exporting to invoices below.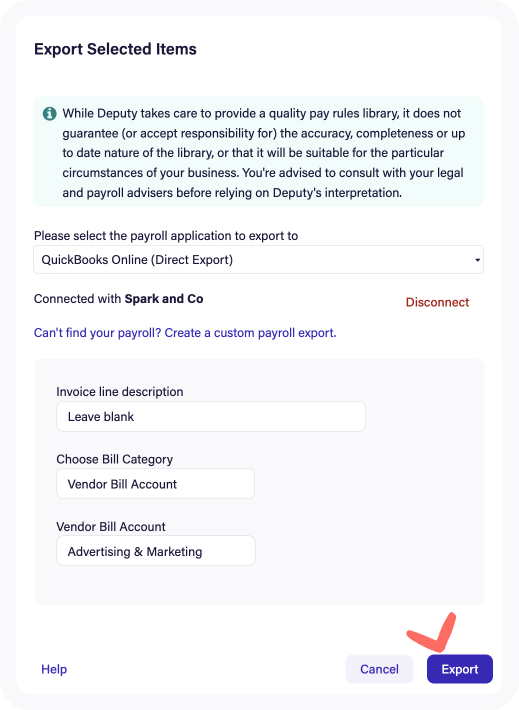 When you log in to QuickBooks Online you will see the hours have synced across to your employee's time activity. You can review this in Business overview > Reports > Time activities by Employee detail Report and select the dates you want to review then click Run. If you need to edit or delete any time you can click on the date to open the single time activity.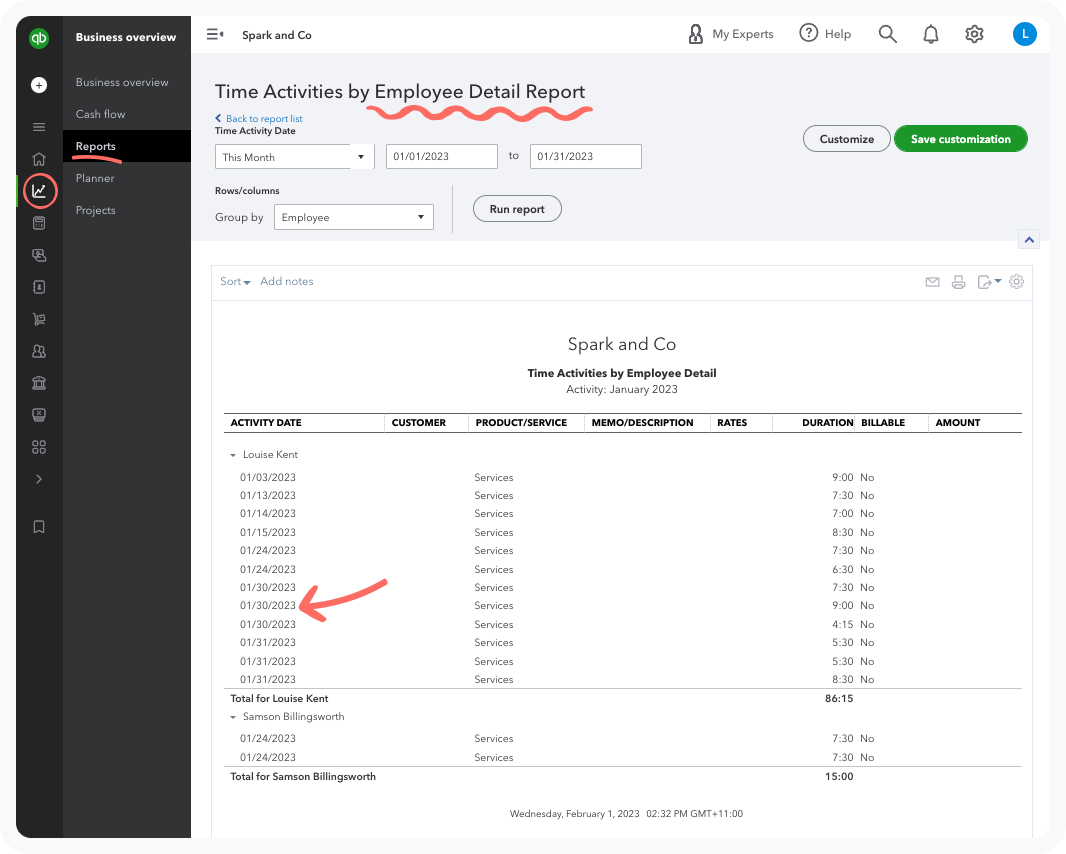 Exporting to invoices
If you have your employees set up at vendors in QuickBooks Online, you can also export hours from Deputy timesheets to QuickBooks Online invoices based on the QuickBooks Online Bill category.
To enable this, you will need to log into QuickBooks online:
1. In your settings menu select Account and settings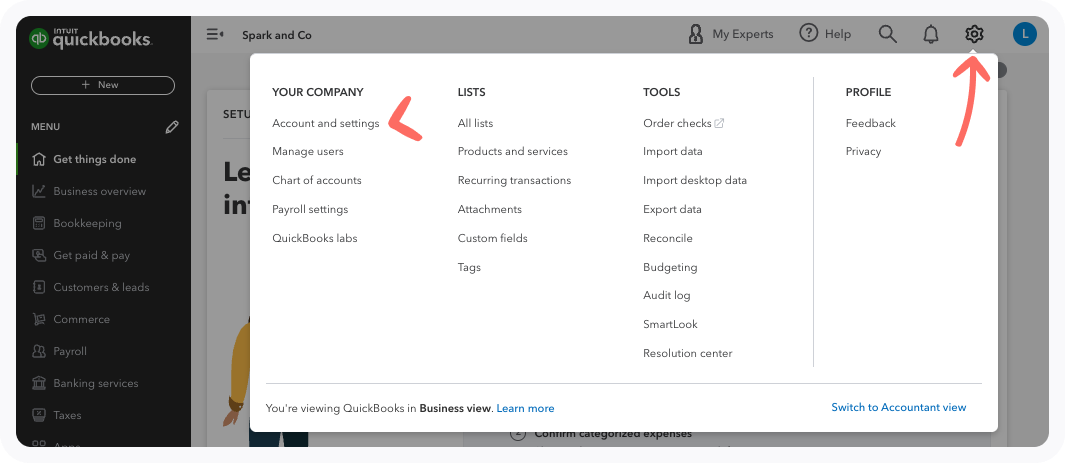 2. Click Expenses from the list on the left and toggle on the 'Show items table on expenses and purchase forms' then click Save.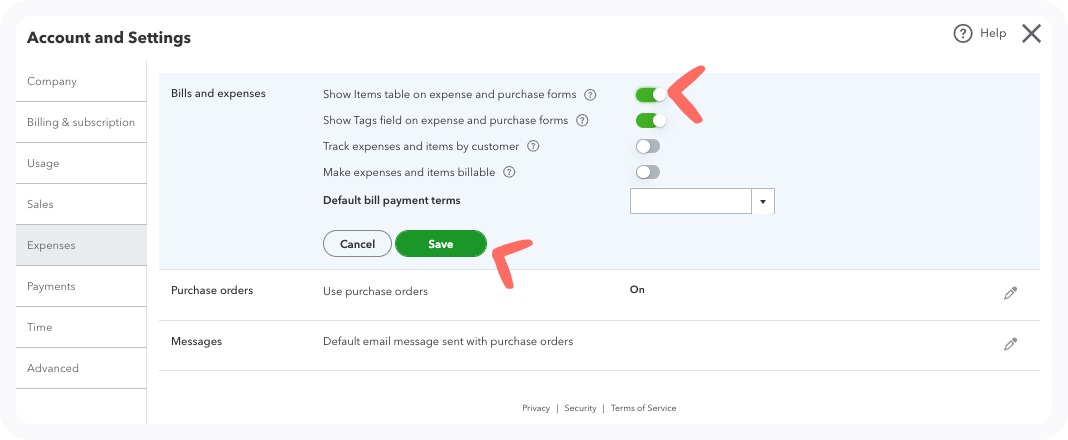 3. Now, back in Deputy, when you export timesheets as described above and you arrive at the pop up to configure the export fields, you can choose the information that will appear in the invoice and which bill category and account in QuickBooks Online the invoice will be assigned to.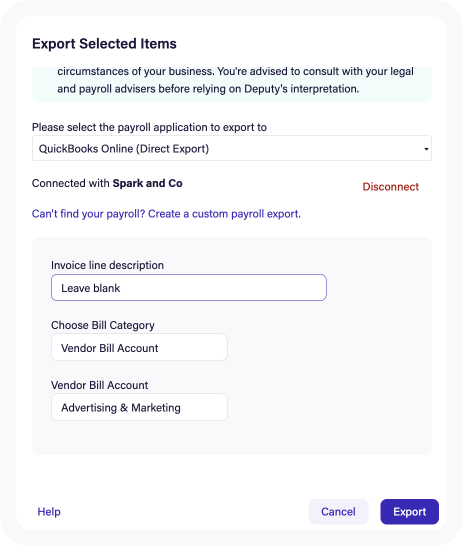 4. If you wish to use an Invoice line description, you may do so by selecting from the options:
Use employee timesheet comment
Use the employee's name with start and end time
Hide employee name but show start and end time
Alternatively, if you are just exporting time to pay employees (as described above) you may leave this line blank.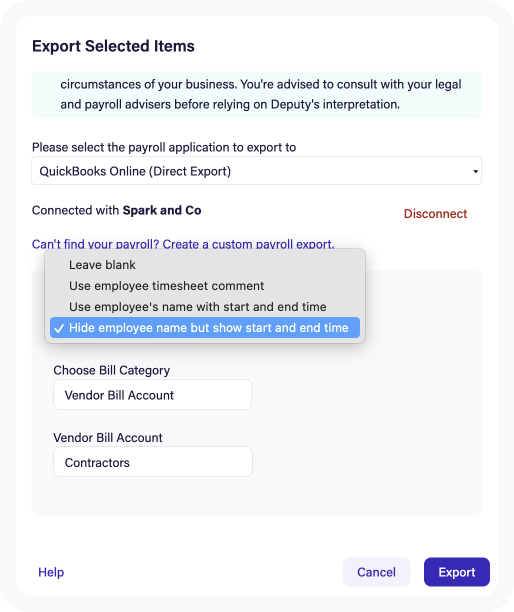 5. If the Deputy employees are set up as Vendors in QuickBooks, then the Vendor Bill Account selection will be transferred to QuickBooks and you can select a Bill Category
and a Vendor Bill Account. Note this list is populated from your Quickbooks Online chart of accounts and will update in Deputy automatically if you add or delete accounts in QuickBooks Online.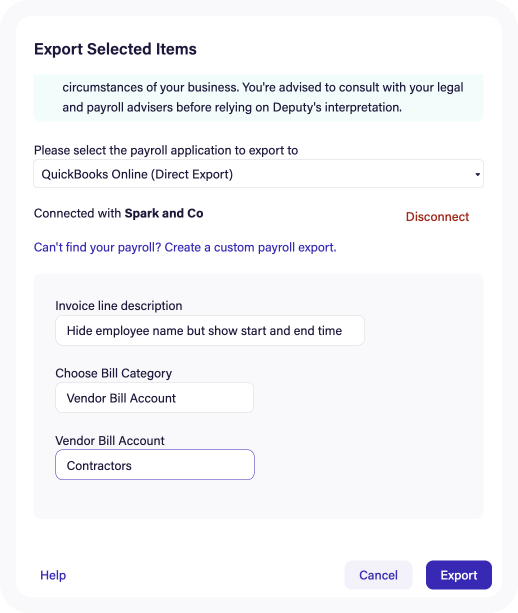 6. When you export timesheets using this configuration the details will appear in the account description.
In QuickBooks Online, on the 'Bills' page, the Invoice line description content (from the option you selected during the export process) will be synced, along with the hours from the Deputy timesheet that was exported.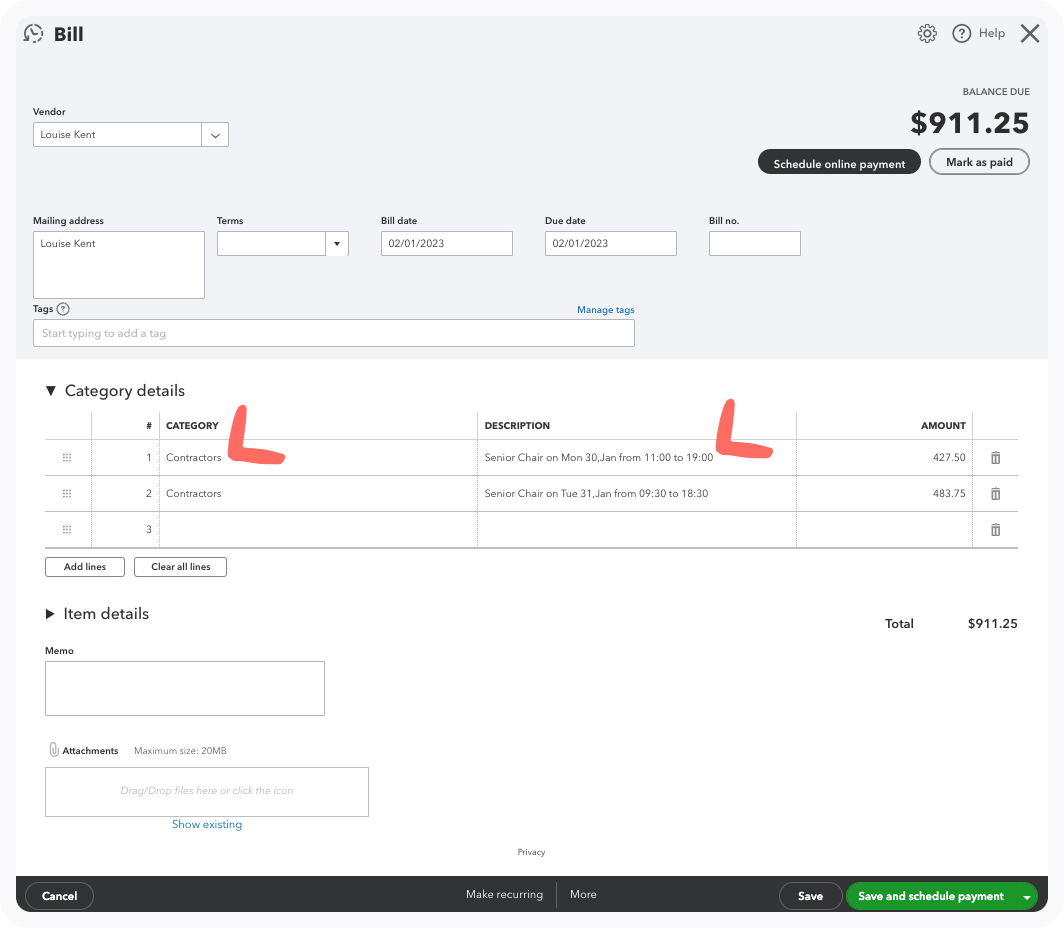 You can also select Vendor Bill Product and Sales when exporting and then select Services or Hours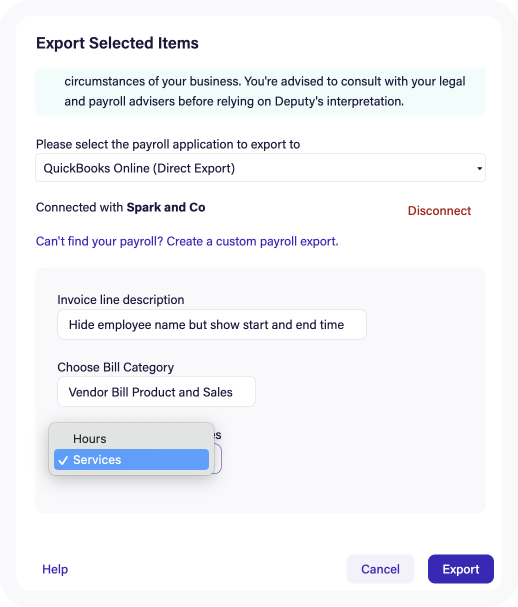 In QuickBooks Online, on the 'Bills' page, in the Items details section, the product or service column will be populated according to what you selected during the export process. The Invoice line description content you selected will be synced into the Description field, along with the hours from the Deputy timesheet that was exported.