This article has been written for US users with system administrator access to Deputy.
Note: When exporting Deputy data to Quickbooks Online please be aware that this integration currently does not support any complex payroll functionality beyond exporting regular hours worked. If this is something you would like to see developed please let us know by submitting a feature request.
Before You Start
In Deputy, you'll need to be either a System Administrator or Location Manager.

In Quickbooks, you'll need an active subscription and to have set up your employees. For information on how to correctly set up your employees in Quickbooks, please see

here

.

If you're exporting to QBO in the US, please set each employee's Payroll ID as their full name. For instructions on how to do so, please see

here

.

Set up your integration

with Quickbook Online.
Preparing To Export
Before exporting, please make sure that your employees' names are identical between Deputy and Quickbooks. If they are not the same you will receive an error. In Deputy, unapproved timesheets will not be available for export, so please make sure that all timesheets for this pay period have been approved.
If you charge your customers any special weekend or public holiday rates, Deputy can automatically cater for it. For example, you may have a task called cleaning which requires special Saturday, Sunday or public holiday rates. In Quickbooks Online you can designate Items by naming them as follows:
Cleaning - General cleaning work
Cleaning [Sat] - Any work on a Saturday
Cleaning [Sun] - Any work on a Sunday
Cleaning [PH] - Any work on a Public Holiday
Cleaning [Wed] - If you wish to charge a rate for any day of the week (e.g., Wednesday), just type the first three letters of the day, as shown.
Exporting To QuickBooks Online
First, please click "Timesheets" at the top of your screen, then "Export Timesheets".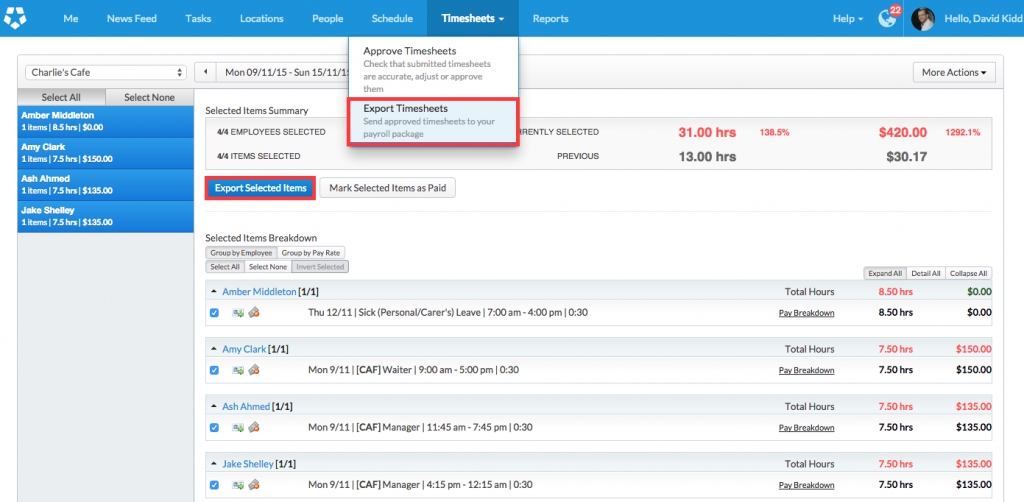 First, please select the date range of your export by using the selector, found at the top of the screen. Next, please select the location or locations that you wish to export from. This will display to the left a list of employees with approved timesheets for this pay period. Please select your employees from the list to the left, which will then display a list of their timesheets in the centre.
After you have selected the employees to export, please click "Export Selected Items", above the list of timesheets. This will display a popup, asking you to select the payroll provider you'd like to export to. Please click in the box to display the list, then select "Quickbooks Online (Direct Export)". Beneath that, you will see the option to connect.

Please click "Connect to QuickBooks". A window will pop up, asking you to log into your QuickBooks account, then to select which Company you'd like to connect to Deputy. Please select your company, after which a window will be displayed asking you to authorise the connection. Please click the blue "Authorise" button.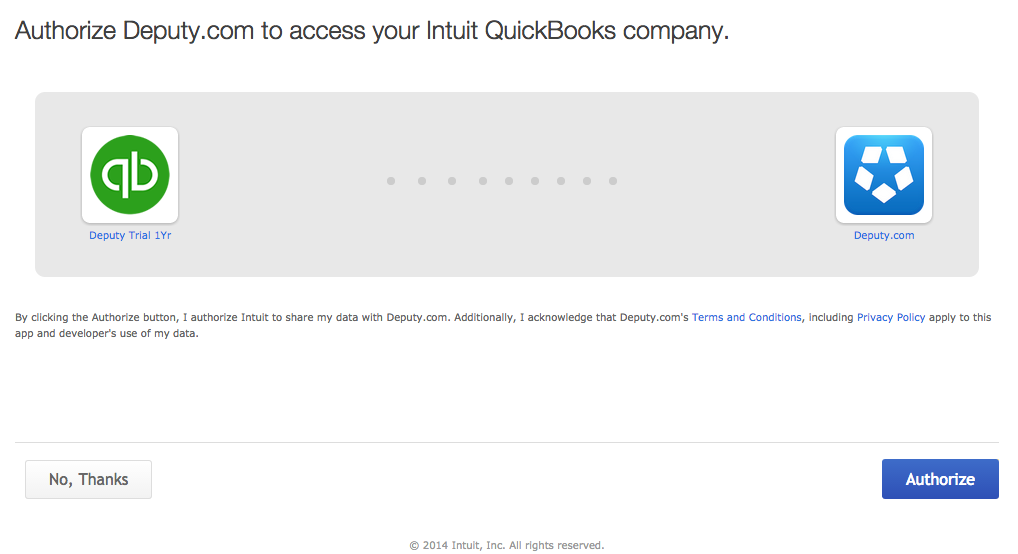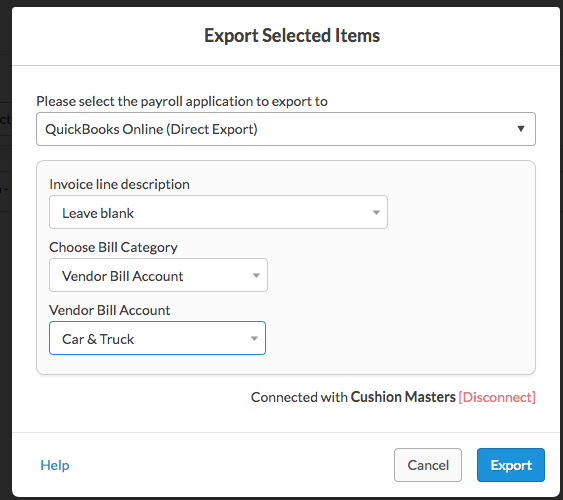 In the small Export window, you will see that you are now connected to your QuickBooks Company. If you wish to use an invoice line description, you may do so by clicking that option, then selecting either "Use employee timesheet comment", "Use employee's name with start and end time", or "Hide employee name but show start and end time". Alternatively, you may leave it blank.
In Quickbooks Online, timecards do not automatically pay vendors. In the 'Vendor Bill Account' drop-down, you can select the option to allow Deputy to automatically create vendor bills along with the timecards for the vendor's hours worked.
Finally, please click Export to send your data to QuickBooks Online. After exporting, your data will appear when you choose "Run Payroll" on the Employee page.
Please note that if your Deputy employees are set up as employees in Quickbooks the Vendor Bill Account selection will not transfer over. If the Deputy employees are set up as Vendors in Quickbooks, then the Vendor Bill Account selection will be transferred to Quickbooks.

Choose Bill Category
You can now export to QBO based on the Bill category. To do this, you will need to log into QBO.
Now navigate to the 'Account and Settings' page, and click the 'Expenses' tab. Here, you will see a checkbox labelled 'Show Items Table and Purchase Forms'. Ensure that this check box is marked as ON, as seen in the image below.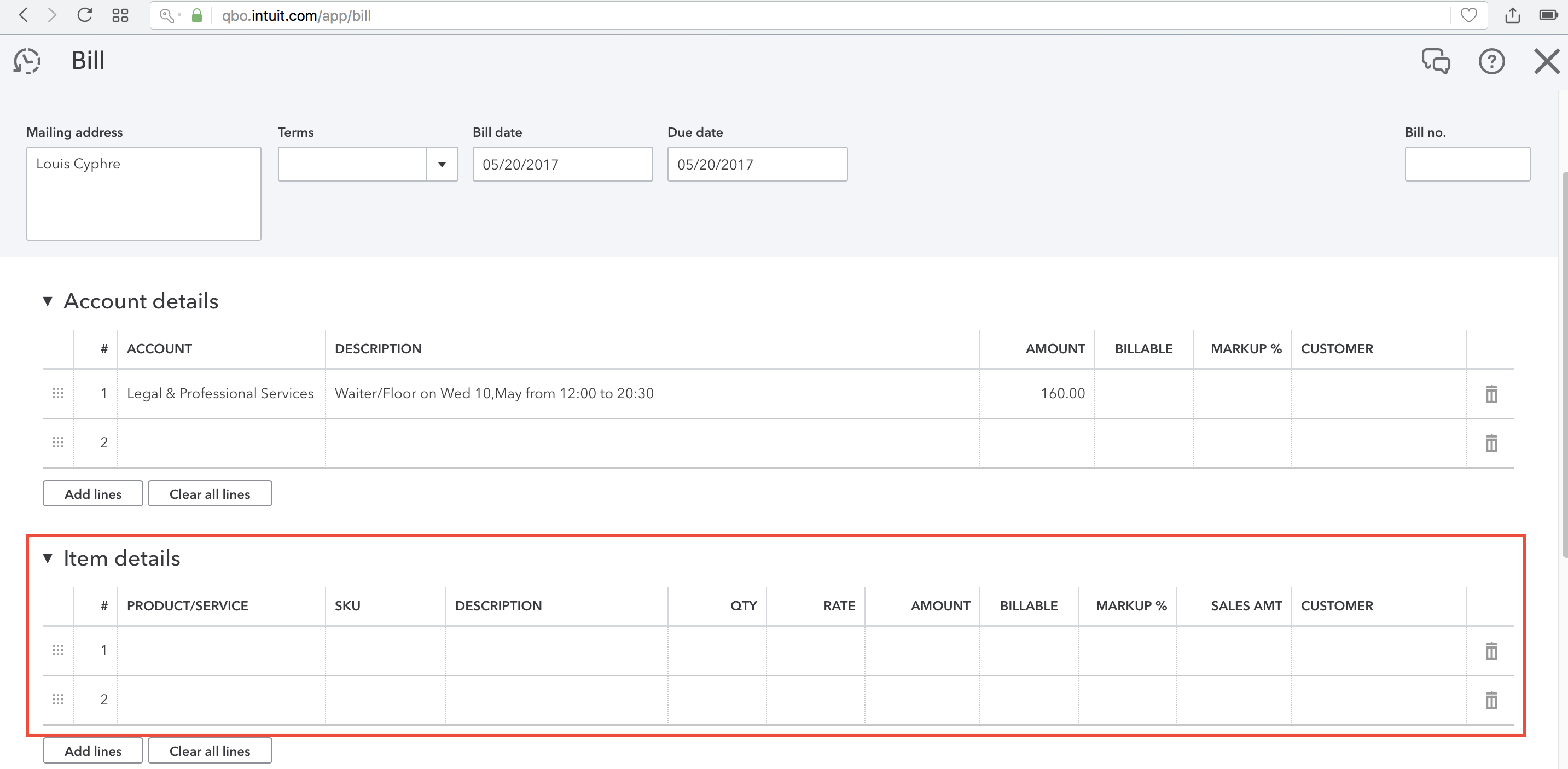 In the 'Bills' page, the 'Item Details' section will now appear.
Now when you export from Deputy, you can use the following option in the export dialog box.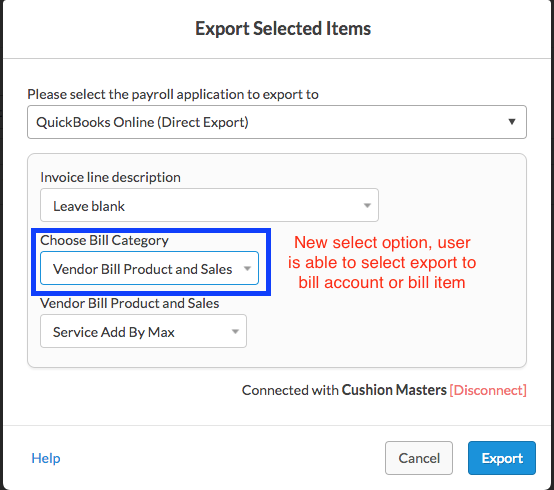 This will then be shown in QBO's Item Details list when exported.