Before we begin, ensure that you have the Deputy mobile app for iOS installed on your iPhone and are using an Apple Watch with watchOS Version 7.1 or later.
This article will cover:
Setting up the app
Login to Deputy on your iPhone

Unlock your Apple Watch and find Deputy. It will automatically log you in.
Starting and ending your shift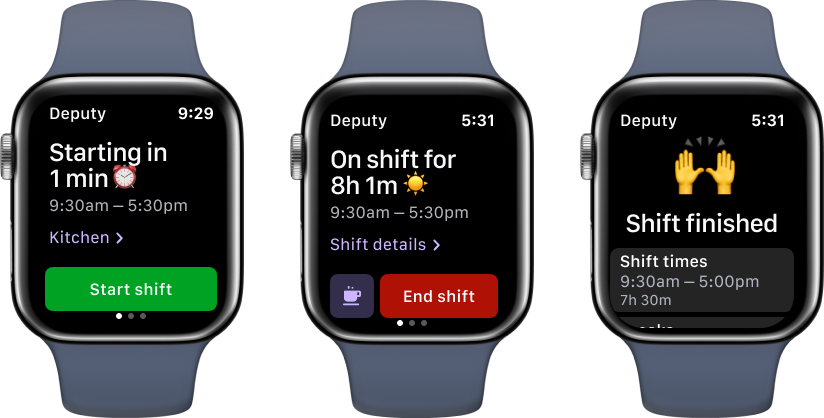 Note: Shift Questions are not supported on the WatchOS.
Starting and ending breaks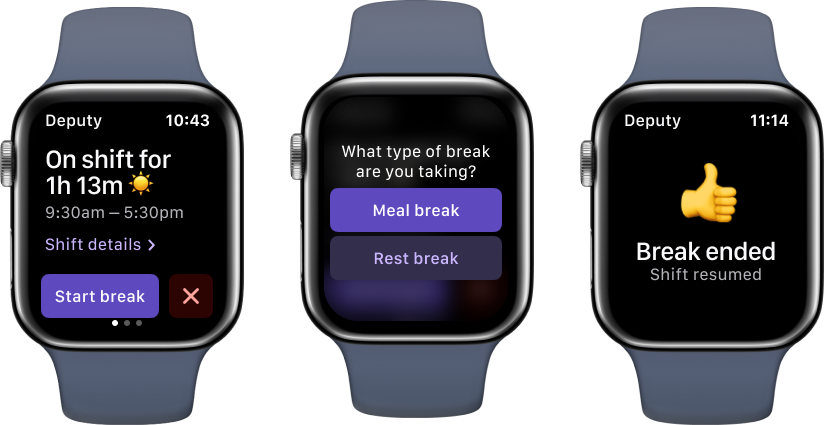 Frequently Asked Questions
Does the WatchOS app support Shift Questions?
No. Shift Questions (Custom Timesheet Fields) is currently not supported. If you require your employees to answer Shift Questions during clock in and out, they will need to do it on the iOS app.
What location is captured on my timesheet when I clock in via Apple Watch? The location of my Apple Watch or my iPhone?
If your Apple Watch supports Cellular data then the location of your Apple Watch will be logged when you clock into your shift via your Apple Watch even if your iPhone is not nearby.

If your Apple Watch does not support Cellular then you will need your iPhone close by or a wifi connection to start your shift with your Apple Watch and then that location will be logged on your timesheet.