Connecting to the new Square sales integration
To connect to the new Square sales Integration go to the Business Insights section within Deputy (Schedule>Stats>Business Insights)

Now select the sales metric on the left-hand side. Here you will find a button prompting you to connect your POS system to Deputy.

Clicking connect will show a modal containing a list of supported POS Systems. Click Square and enter your login details for when prompted.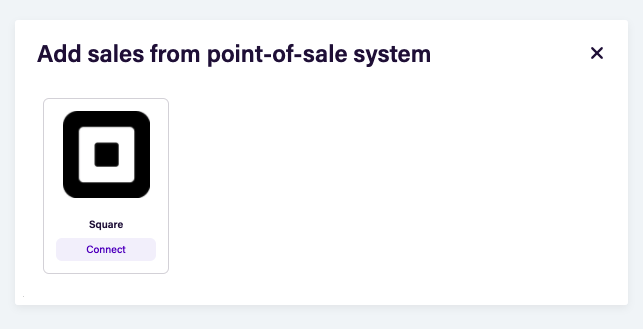 Setting up the integration step-by-step
After you've successfully connected the integration, you can begin configuring the sales sync to meet the needs of your business.
Configure Location Mappings
The first step is to map which locations in Deputy match with which locations in Square, to ensure sales are brought over accurately. Sales will be imported into the first area for each mapped location.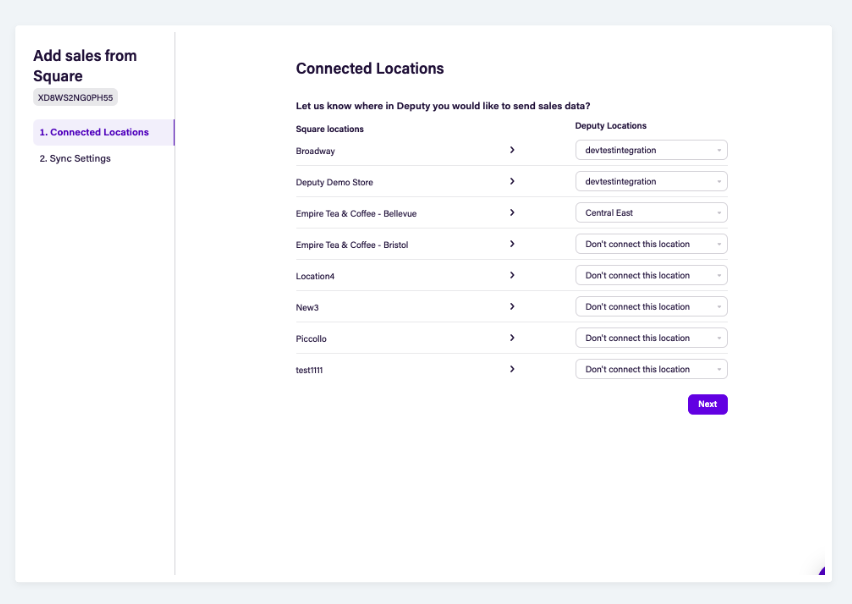 Pro tip: Choosing 'Don't connect this location' will stop sales being brought over from this Square Location.
Choosing between Gross or Net Sales
You can choose between whether Gross or Net Sales are imported from Square.
Gross Sales
The total sales amount including taxes, tips, and gift cards. This will match with the gross sales figure listed in the Square Sales Report.
Net Sales
The total sales amount excluding taxes, tips, gift cards, discounts and refunds. This will match with the net sales figure listed in the Square Sales Report.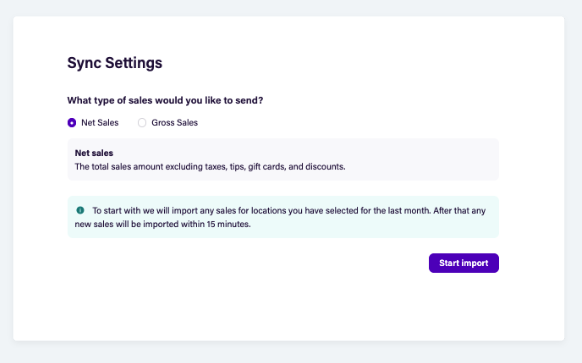 Importing sales
After you have mapped your locations and selected net or gross sales you will be able to start importing Sales from Square.
After clicking import 1 day of past data will be brought over from your Square account. New sales made will be imported within 15 minutes of being listed in Square.
Editing the new Square Sales integration
If you need to delete or edit the Square Sales integration, you are able to do so from within the sales metric.
Navigate to business insights.

Use the toggle in the top left to select one of your mapped locations

Click on the sales metric

Click the cog icon in the top right of the sales metric screen to open edit mode.

From here you can see the Square account that this metric is connected too, and edit or delete if needed.
Pro tip:
To edit or delete a Square integration you need to be a system administrator or a location manager for each location that has been mapped within this particular Sales Sync.
Pro tip: The edit and delete buttons will not show if are looking at the sales metric under the 'All Locations' tab. Please select a particular location using the dropdown in step two.
Frequently Asked Questions
Can I import item sales / transactions?
Not at the moment, but this feature will be released soon.
Can I import past sales?
Yes, you have the ability to import up to a year of past sales.