What are regular hours?
If you have team members who have an agreement to work regular days or hours, you can now apply these settings to their profile so that when you are scheduling these team members you can ensure they are being scheduled for the correct days and hours.
Note: if your team member has an agreement to work a total number of hours in a work period (but not regular agreed work hours or days) then please instead read Employee agreed hours.
How to set up regular working hours for a team member
1. To configure a team member with regular agreed hours click on their profile on the People tab.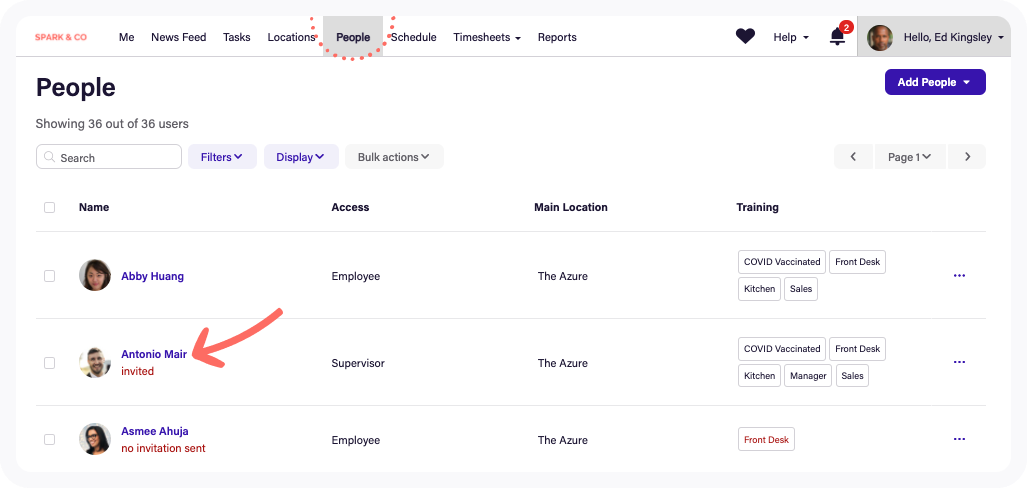 2. Select Employment from the list on the left and click on Edit.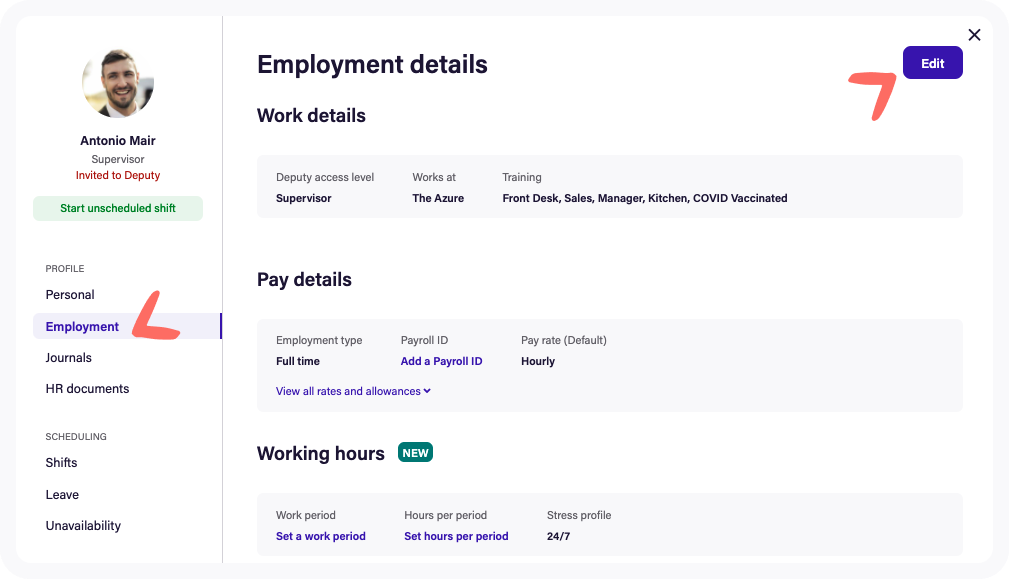 3. Under Employment details click on the Working hours tab.
4. In the Work Period section click on the dropdown menu to Create new work period (or select an existing one).
Any work period you create can be used again when setting the regular working hours for other team members in your organisation.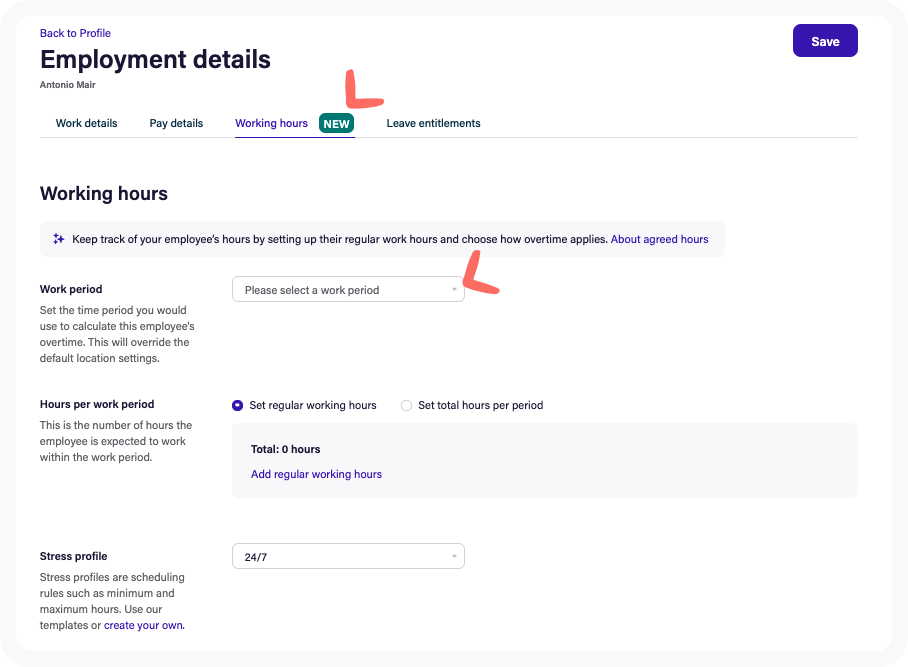 5. Select the new work period length and day of the week it starts on, then click Save.

6. To set regular work hours for the period you just created/selected, click on Add regular working hours.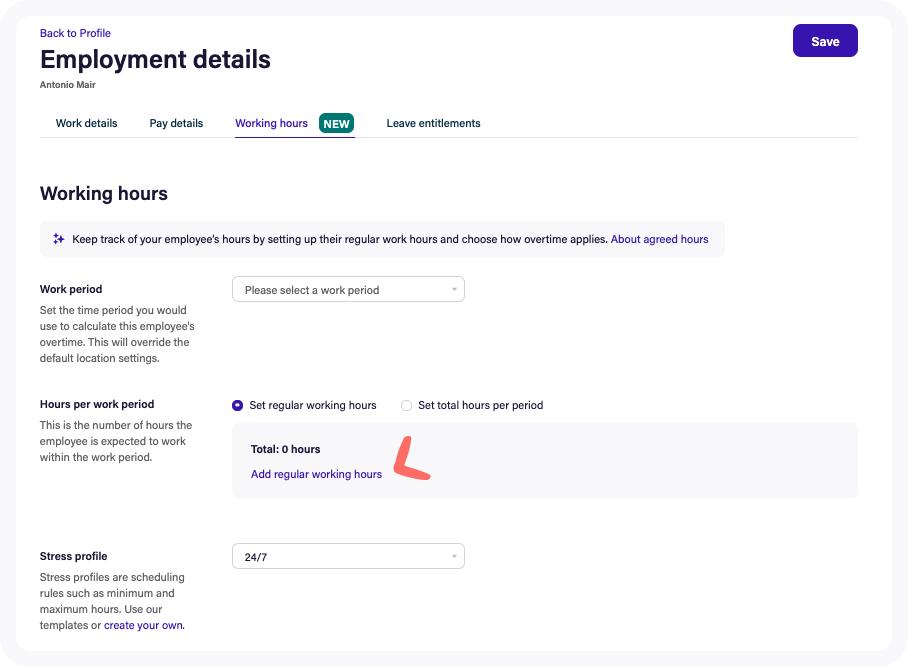 7. Select the days, hours, breaks and the area that the team member has agreed to work on a regular basis. If the work period is split over two periods on the one day you can click on the + icon to add a second shift for that day.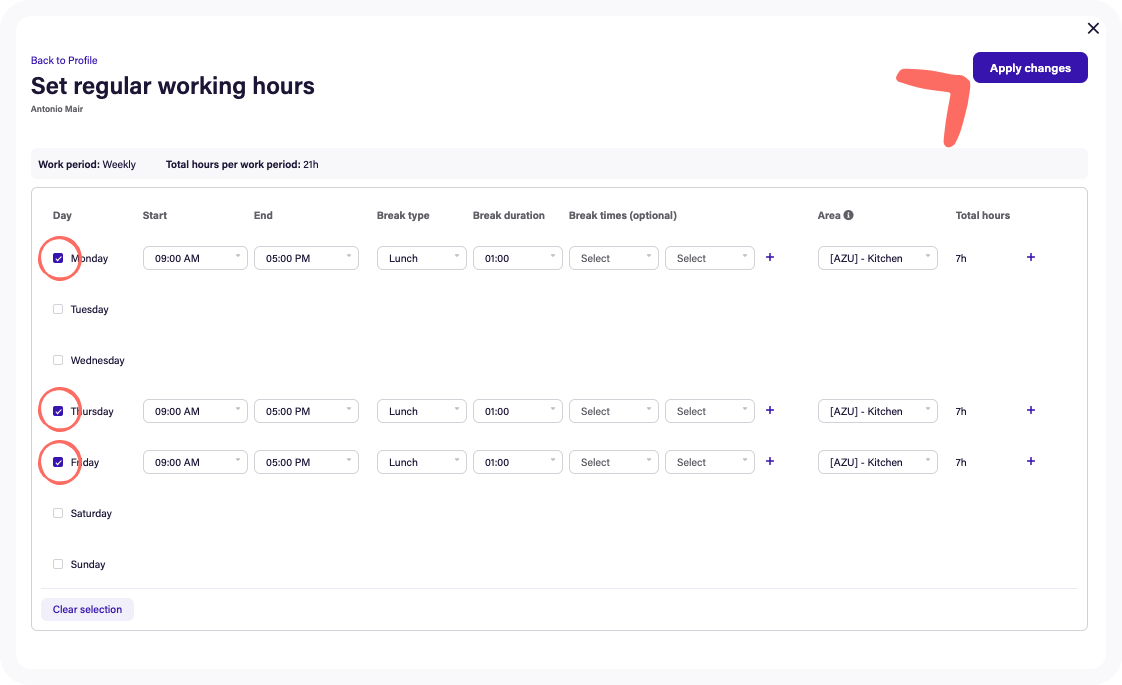 Regular working hours and overtime - for Australian customers only:
In Australia, there are many industry Awards that require overtime rates to be applied for any time worked in excess of an employee's agreed hours.
Here's an example where you would use it:
You have hired Antonio as part-time staff to work 21hrs a week, under the General Retail Industry Award (GRIA). The Award states that "For any time worked in excess of the number of hours agreed under clauses 10.5 or 10.6, the part-time employee must be paid at the overtime rate".
This means that the overtime rate will apply once Antonio works over 21 hours for the week. The week period is determined by the selected work period.
To ensure overtime is calculated and paid in excess of a team member's regular working hours:
1. Select the checkbox: Pay overtime if they work more than the expected hours for this work period.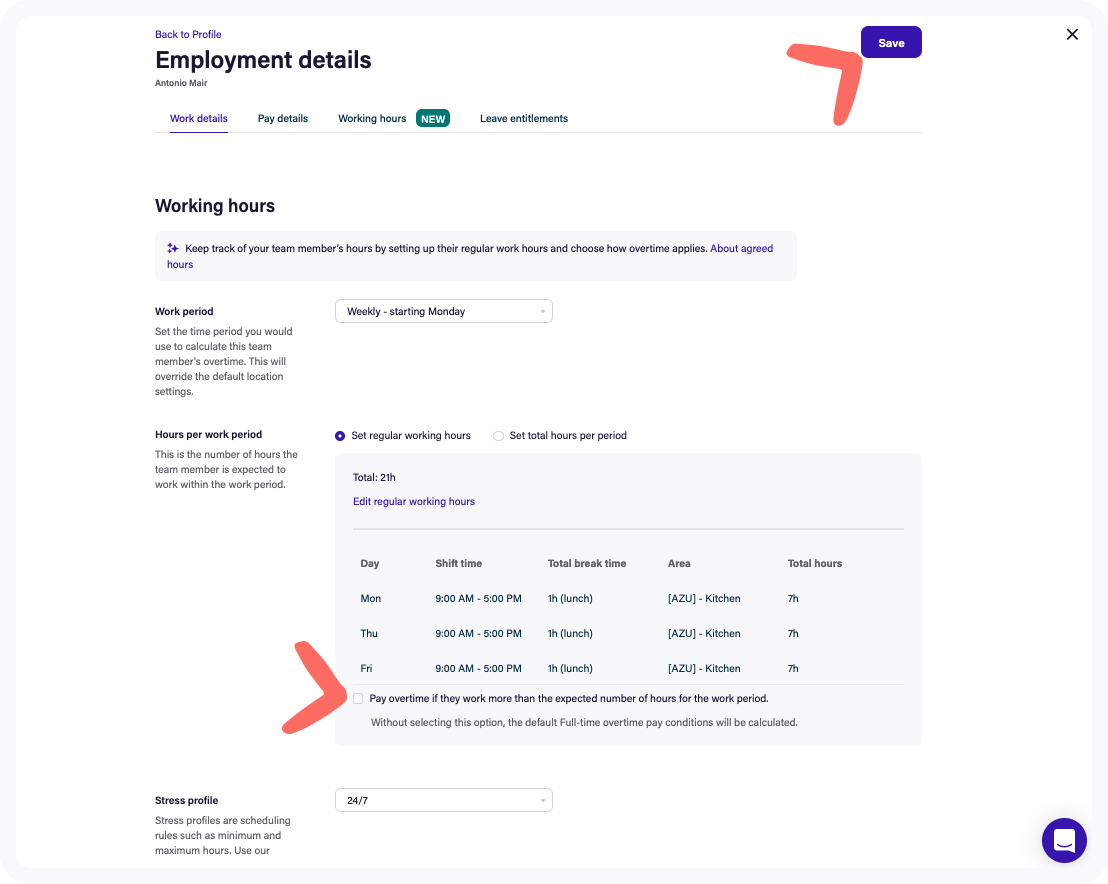 Important note: this checkbox is only available for Australian accounts only when selecting a part-time industry Award.
You may leave it unchecked for the following reasons:
under the assigned industry Award, overtime is to be paid following the full-time award rule, which is usually hours worked in excess of 38 or 40hrs. This overtime calculation is already built into the selected award rate.

or, you want to use the regular working hours for scheduling purposes only and want overtime to apply following the full-time award rule.
Scheduling a team member with regular working hours
When selecting a team member with regular working hours for a shift they are due to work you can see the hours and area that have been configured in their profile. All you need to do is:
1. Click Fill shift and the agreed details will be added to the shift.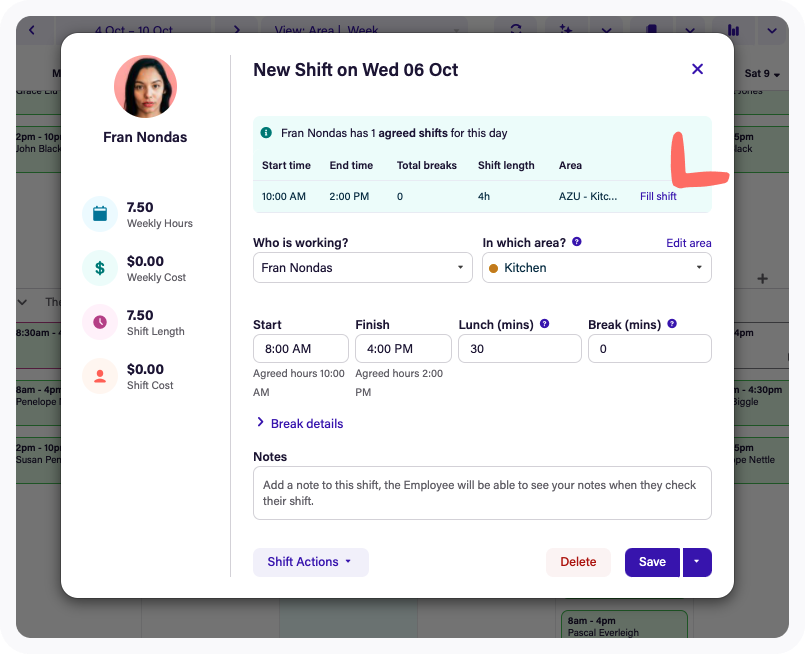 2. Don't forget to click Save.
If you try and schedule a team member with regular working hours for a shift on a day that is NOT part of their regular days or hours who will see a warning.
You can still schedule the shift if you need to by ignoring the warning.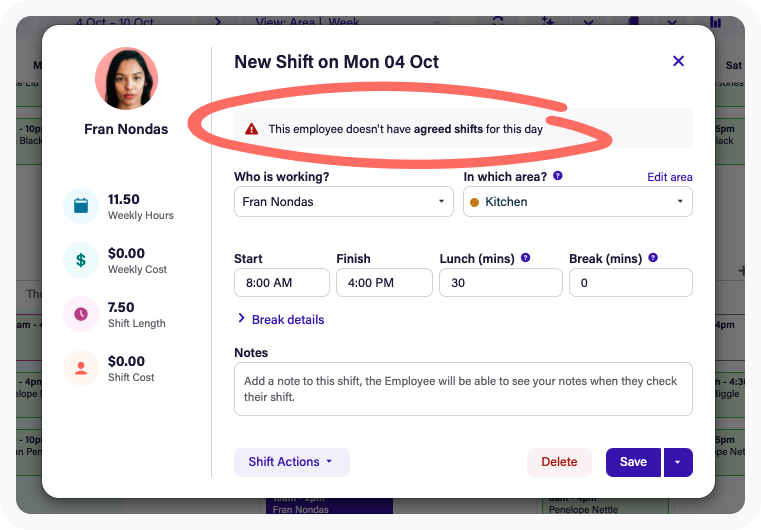 Auto-schedule all staff who have regular working hours
For team members with regular agreed working hours, you can use the auto-schedule feature to fill the shifts for those people on the agreed days.
1. Click on the dropdown for the autofill icon and select Auto-schedule agreed hours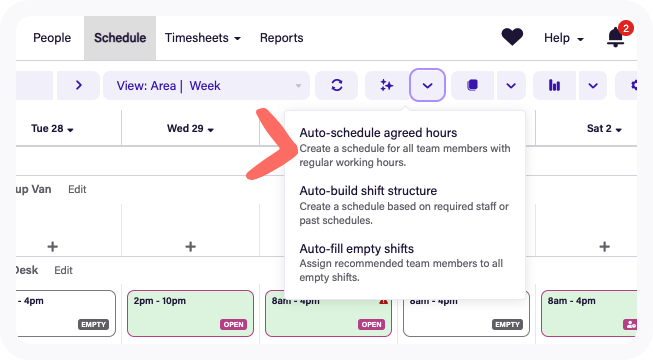 Deputy will build the shifts for you based on the configuration of agreed hours and days you have set in the team member's profile.
2. Click Build to start the auto-schedule.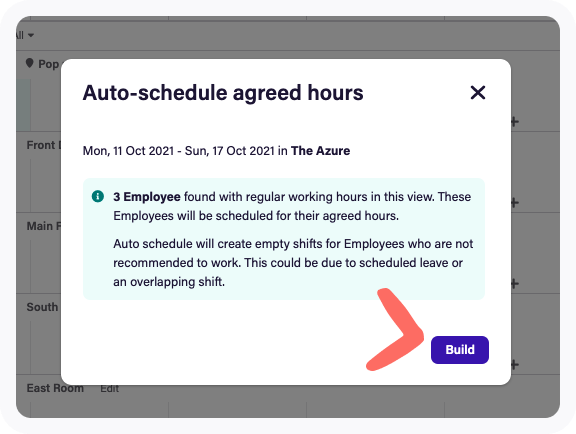 A summary will be generated and if there is a conflict due to unavailability, leave, overlapping shifts or training requirements these shifts will generate a warning as shown below: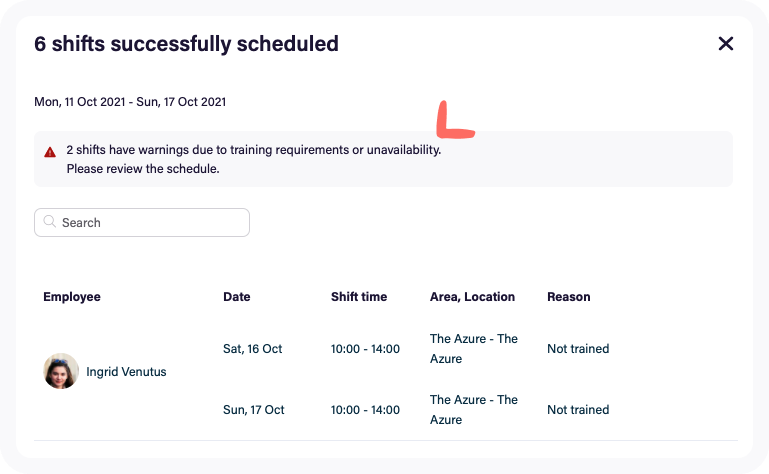 But they are still added to the schedule with a warning icon: