IMPORTANT: Once you begin this migration process you must complete ALL STEPS for the ADP Workforce Now connection to remain intact.
Deputy has begun a process of migrating users currently using our existing ADP Workforce Now integration, to our new and improved ADP Workforce Now integration. The updated integration has features such as configuring multiple locations within the one setup phase, the ability to sync with ADP Departments instead of Locations, and for the first time syncing pay rates from ADP Workforce Now to Deputy.
Why is Deputy doing this?
In 2022 our development team put in a massive effort to uplift the ADP Workforce Now integration to ensure it is of world-class standard and what you have come to expect when using Deputy. Over the years there have been numerous customer requests for features such as pay rate syncing and along with the lengthy configuration process for the old integration, it was felt a rebuild was the best way forward.
What do I need to do?
When your migration phase has begun an in-app message will begin to appear in your Deputy account when logging in. See an example of it below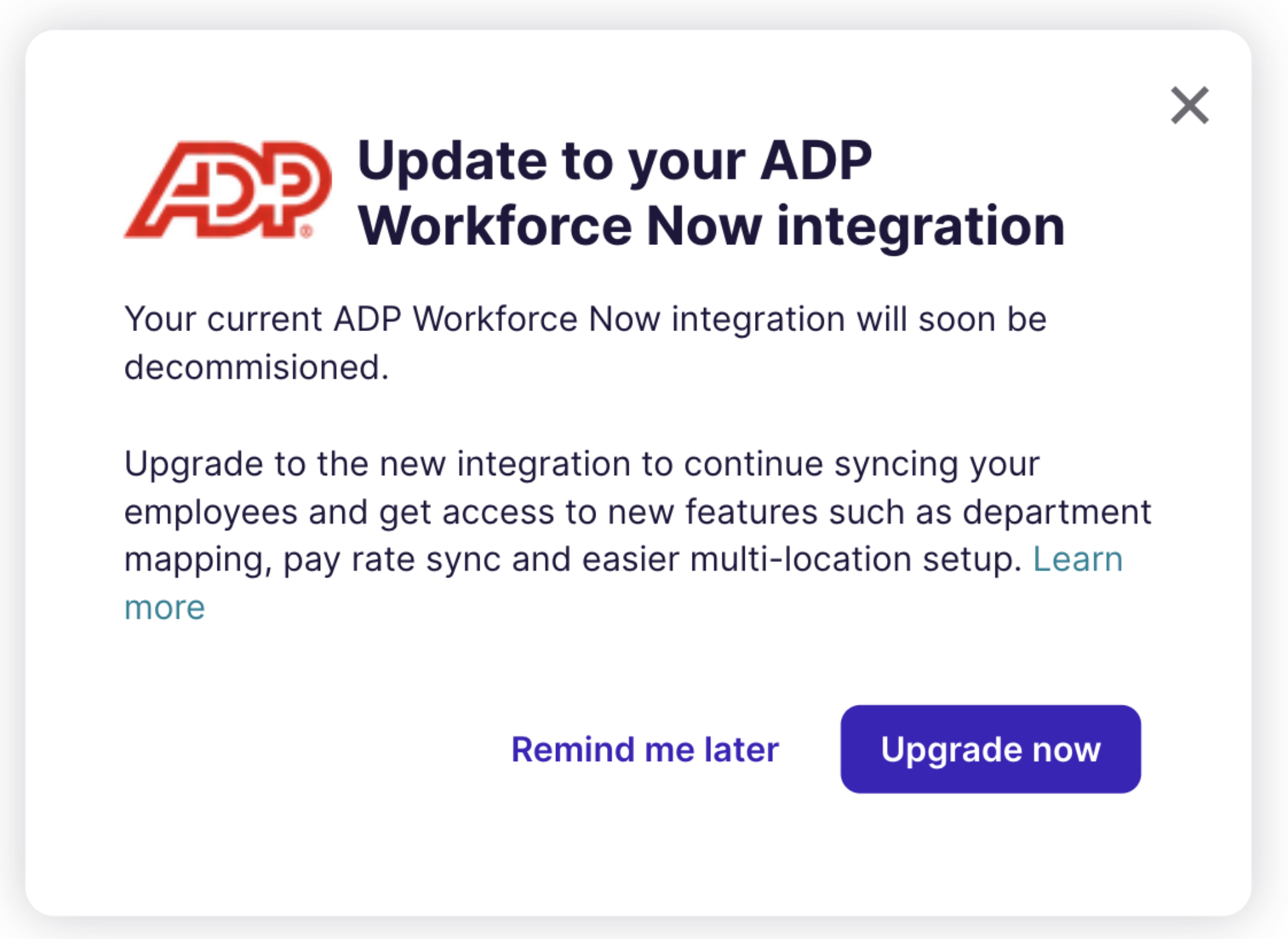 It will let you know your migration phase has begun and you have thirty days to migrate to the new ADP Workforce Now migration. Once your migration phase has begun you should follow the details further in this guide on how to connect to the new ADP Workforce Now integration.
We've also recorded a video to take you through the process step by step.
What if I do not complete the migration?
The old ADP Workforce Now integration is being deprecated and so once the full migration is complete, the connection will no longer work. To ensure ongoing connectivity to ADP Workforce Now you will need to complete the migration.
I only export timesheets does this affect me?
Yes, you will need to complete this migration however you can choose to skip importing team members once your departments/locations have been mapped.
My migration has not begun but I would like to complete it early, can I?
Absolutely we can attempt to fast-track your Deputy account depending on size and complexity. Please reach out to technical support to request an earlier migration.
I no longer use ADP Workforce Now.
In this scenario, you do not have to do anything and your old integration will be deprecated as part of the overall process.