5 simple steps for successful hiring from day one!
👋 Welcome to the Deputy's new Hire platform. Below is a simplified checklist to help you successfully set up and implement your new hiring platform.
💡 Before you start: 🎬 Watch the video below to see the full capabilities of Hire here:
🪴 Setup & configuration tasks
✨
Step 1: Setup your Careers Page
💡
Highlight your brand, vibe, and culture on your own dedicated careers page.
Customise your careers page with:
❏ Your Logo
❏ Company images
❏ Compelling copy for Section 1 and Section 2 to excite candidates about your workplace culture and vibe.
Customise your careers page URL (optional):
Did you know you can change your Deputy URL from something that looks like 86ad628500047.au.deputy.com/jobs to an easier to read URL like sparkandco.au.deputy.com/jobs ?
✨
Step 2: Configure settings to add screening questions, candidate intro video and new hire notifications
Click on Settings then:
❏ Add Screening questions - Add up to 8 questions to qualify candidates
❏ Add a business intro video - this will show up to candidates. Candidates really appreciate this as it makes them feel comfortable to apply. 📹 View a sample video
❏ Add emails where you wish to be notified every time someone applies for a new role.
❏ Don't forget to click Save.
✨
Step 3: Let's list your first Job
Upload your first Job Description - our AI-powered job description tool makes writing job descriptions a breeze:
❏ Add your first Job Listing and Publish! 🎉
✨ Step 4: Make candidates feel welcome with a candidate intro video (optional)
Adding a welcome video to candidates is a nice way to introduce yourself and make them feel comfortable. Many candidates have told us that this makes them feel at ease to submit a video.
❏ Record a basic video to introduce yourself. Tip: it works best when you keep it authentic and record with a phone camera.
✨
Step 5: Now, let's
test the application process with a dry run
💡 Before opening up job openings, test the candidate experience by applying through the system yourself. This will allow you to identify any potential issues or areas for improvement and ensure a seamless application process for your candidates.
❏ Apply for a job from your public careers page or live job listing page. Ensure you add your actual details like mobile phone number, so you can test the SMS functionality
❏ Check if the application appeared in the Applicants tab
❏ Try moving this application through the various hiring process, or even scheduling an interview!
Note: There are some sample job listings and applicants pre-populated your Deputy HR account to demonstrate how it works - don't forget to delete these before sharing your Careers page publicly.
📢 Attracting talent & promoting jobs
✨
Working with your website team
💡 Integrating with your business website is key as this is where many candidates go looking for work and it should be easy to find and apply. You can do so by:
❏ Copying your Careers page URL and linking it to your website under your existing Careers section.
❏ Alternatively, you can also Embed the job listings on your website. You can do this by clicking "Share" on your Careers Page and navigating to the "Embed" tab.
✨
Creating a QR code based venue posters to attract candidates
💡 Venue posters are a great way to promote jobs
❏ On the Careers page, you can generate a ready-to-hang QR code poster that will redirect candidates to your personal careers page. You can do this by clicking "Share" on your Careers Page and downloading your auto generated QR poster.
❏ Alternatively, you can generate a QR code and use this QR code with your own branded poster.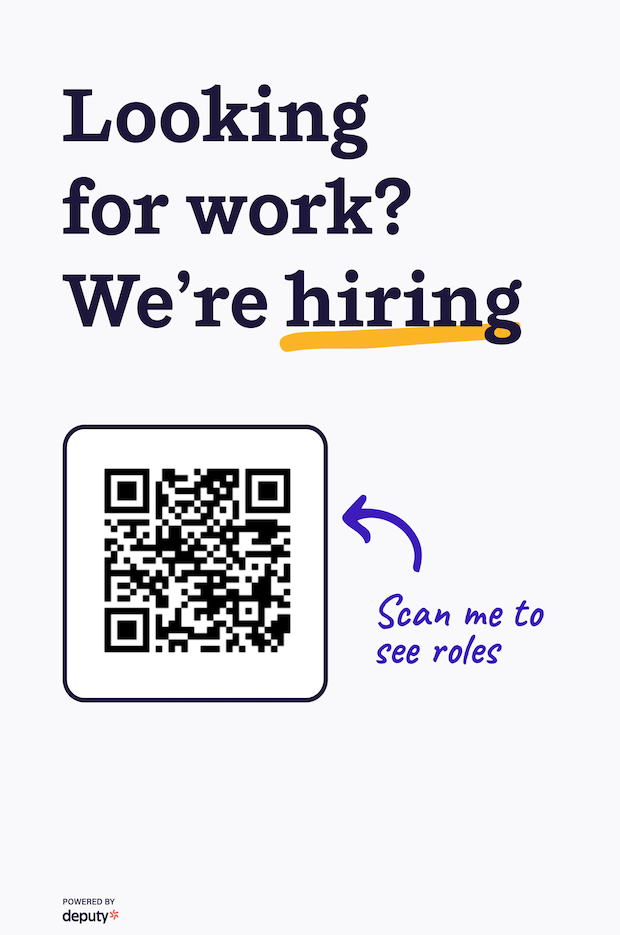 ✨
Post jobs on Deputy News Feed
💡Referrals are often the best way to hire talent. Posting on Deputy News Feed means it's an easy way to get referrals from your existing staff.
❏ Post the link to your Careers page often to News Feed to remind your staff to refer people they know to open roles.
✨
Post on Facebook Groups and your social media channels
💡 There are many Facebook groups such as these that have a large and thriving community where you can post the opportunities:
❏ Sydney Hospitality Jobs https://www.facebook.com/groups/1764357117186212
❏ Sydney Bartender Exchange https://www.facebook.com/groups/SYDBE
❏ And many more groups!
Need more detailed help or have questions? Check out our Deputy Hire help collection.