As a Deputy System Administrator and business owner, if you find that you have multiple Deputy Premium accounts and subscriptions that would be better managed as one account, this guide will step through the process to merge them.
How do I know I have multiple accounts with Deputy?
When you log into https://once.deputy.com you can see all the Deputy accounts associated with your user account.
If you are the System Administrator of these accounts you are able to merge these accounts into one account if desired.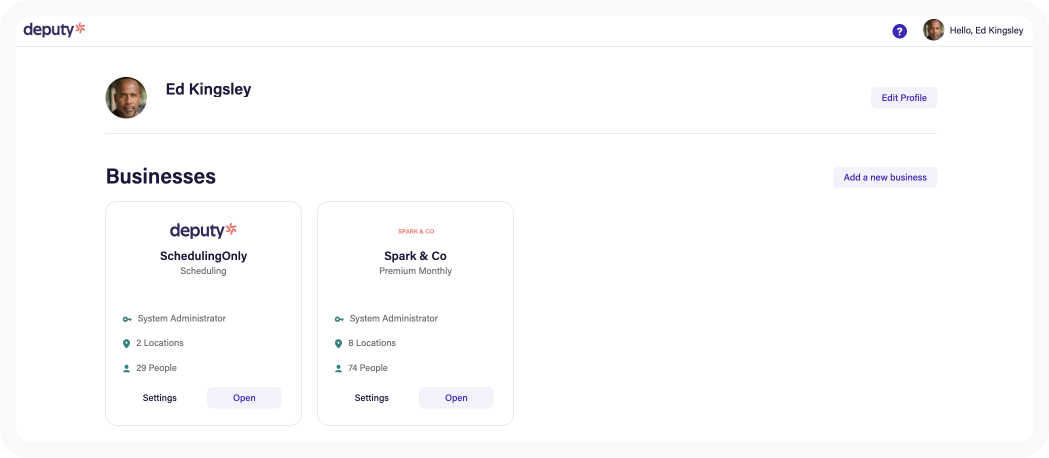 If you have used two different email logins to access Deputy and create two different organisations then you will not see them both on the same screen as shown above and would need to log into each one separately. However, it's still possible to consolidate these accounts if required.
You may also be receiving multiple subscription invoices from Deputy if you have multiple Deputy accounts.
Why might I consider consolidating multiple Deputy accounts?
There are various reasons why you might decide to consolidate multiple Deputy accounts including:
your organisation bought another business that is already operating their own Deputy account and you'd rather operate just one Deputy account
multiple Deputy accounts were set up for each business location initially but you've since realised it would be easier to manage them as separate locations in the one account.
All accounts are operated under the same company entity and you'd rather just manage one subscription cost.
Note: If any of your accounts are Enterprise plan accounts you will not be able to close these yourself, please instead email sales-finance@deputy.com.
Choose which account will remain (new) and which account will be closed (old)
If you have multiple organisations or businesses with Deputy and wish to only operate one then decide which organisation account will remain and which one will eventually be closed.
You may decide to keep the one that has been operating the longest or has the most locations or team members operating in it.
Decide on an organisational structure for the new account
Have a think about how your physical work sites are set up in your organisation and how the work areas within those sites will be represented in the new Deputy account.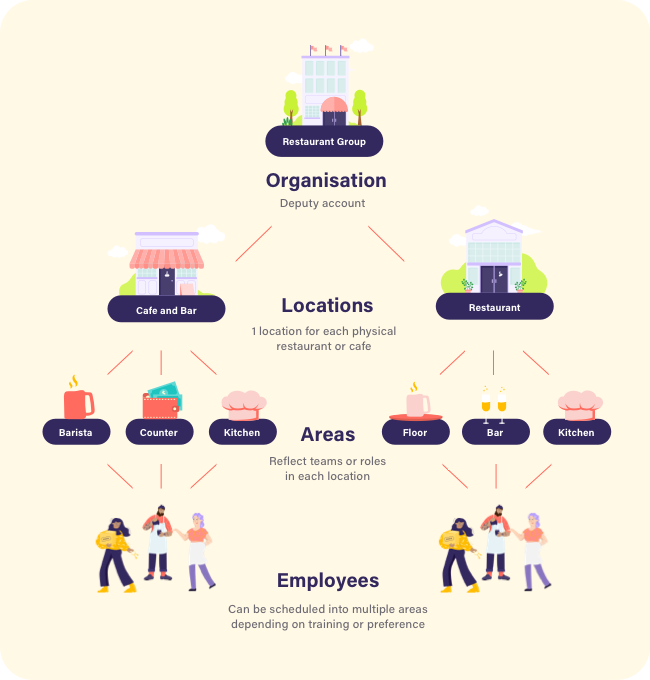 Add locations - copy or duplicate or bulk upload location settings
If you need to add locations to your new account, you have a few options:
If you would like to duplicate the location settings from the existing locations in the new account to create the new locations you can do this:
If you would prefer to export the locations from the old account you will close, you can do this by exporting the Locations from the old account and then reimport these Locations into your new account:
Note that this bulk import will not migrate the Location settings themselves. You will then need to either configure these manually to match your old account locations or if suitable you can:
from the Locations already existing in your new account to the newly imported/created Locations.
Ensure any connected integrations apply to newly added locations
If you setting up new locations please check any existing integrations to third party software you have configured, such as HR or payroll. You may need to complete the process to connect these integrations to the new locations.
Set up any location or area-related Tasks or labor modelling settings in the new Locations areas.
Decide on a 'go live' date for the new account
Once your new locations are set up and you are ready to move the team members from the old account to the new account you should decide on a go live date to communicate to staff which account they will operate from.
Since Timesheets will not be migrated you should ensure the migration occurs at the end of a pay cycle.
It would be advisable to minimise the time that both accounts are operating with all team members in both accounts as your subscription will be billed per user for both accounts.
Move your team members
Decide on access permissions
Before you move your teams into the new account decide on the access permissions. Most team members would remain at the same access level however perhaps you need to consider whether location managers now need access to multiple locations or just the one they are working at. Consider which users need System Administrator access to the new account.
Move team members from the old account to the new
For the team members you need to export from the old Deputy account you can export their information.
Once their details are downloaded into a spreadsheet you can open the spreadsheet and update any new information such as:
new locations they might be assigned to in the new account
if you've decided their access level may be different from the old account
changing the Send Invite field column to Y so that they are invited to the new account (if you aren't ready to invite them to the new account you can leave this at N and then bulk invite them later when you are ready)
Save the spreadsheet.
When you are ready to add them to the new Deputy account you can upload the spreadsheet to the new Deputy account:
You may also have to follow the same process with these team members to export from the old account and then import to the new account:
Ask your team to log into the new account only
On the agreed go live date, ask your team members to log into the new account and begin to use only the new account for scheduling and other Deputy tasks.
Download historical data and archive team members
Once you have set up the new account locations and areas and transferred your team to the new account you can begin the process of closing the old account by:
Cancel existing subscription for the old account
Once you are happy that the new account is set up correctly and you have all the information you need from the old account then you are ready to close the old account:
What will not migrate across to the new account from the old account
This data will not be transferred to the new account:
News Feed posts
Tasks
Leave balances and Leave requests
Timesheets
Schedules