Before you sync leave balance
Before you sync employee leave balances from Xero to Deputy, you may like to read these articles for a better overview:
How to sync leave balance from Xero to Deputy
If you already have your employee's leave balances recorded in Xero and have designated Xero as the source of truth for your employee's leave balances then you will want to update leave balances in Deputy with the correct balance so that they are aware of how much leave they have available when submitting leave requests in Deputy.
To do this you can activate the extension: [Xero] Import Leave Balance > [Deputy] Sync Leave Balance in your Xero integration configuration.
1. In the connected Xero integration, click on Activate.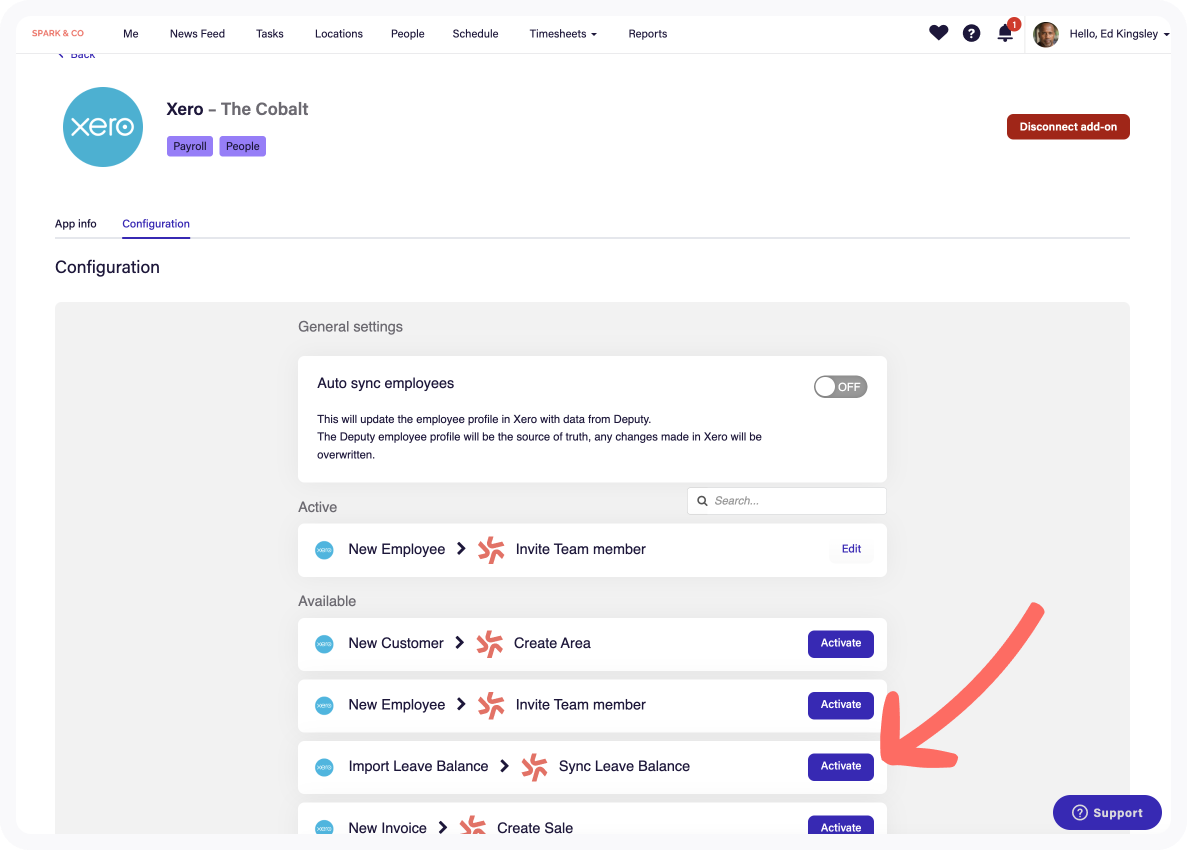 2. Click on Save.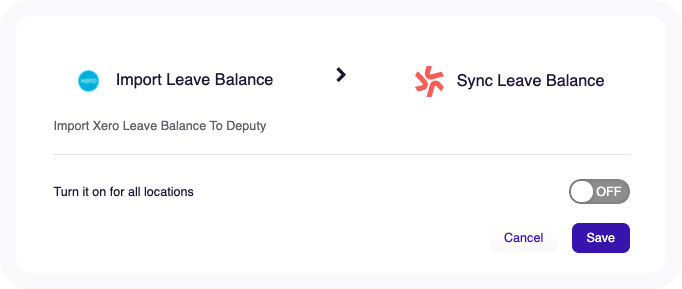 When activated, all employees in this location will have their Leave Balance imported from Xero if they have:
the leave type assigned to their profile in Xero with a positive leave balance entered AND
the matching leave type assigned to their profile in Deputy
The Xero leave balance matches against your leave export code set up in your Deputy account > Business Settings > Leave Rules. These codes are already set up in Deputy. You do not need to change the export codes. If you do change these codes the leave will not sync from Xero.
Please do not change the Leave name in Xero or the leave balance sync will not match.
| | |
| --- | --- |
| Xero | Deputy |
| Annual Leave | dp_annual_leave |
| Personal/Carer's Leave | dp_sick_leave |
| Compassionate Leave (paid) | dp_bereavement_leave |
| Community Service Leave | dp_community_leave |
| Long Service Leave | dp_long_service_leave |
| Time Off In Lieu | dp_rdo_leave |
Note:
This extension supports positive leave balance sync only. Currently, Deputy does not support negative leave balance sync via integration. If you need to enter a negative leave balance you can still enter the leave balance manually via the employee's profile.
This extension runs once a day at midnight in your Deputy account's timezone or else you can force the sync to run on demand by clicking the Run now button within the integration extension.